Hello crafty friends, I uploaded a few reels on Instagram using Pegz Connectable Stamps by Contact Crafts and I received many questions.
So I decided to write this blog post with additional info.
In a previous post here you can see card samples made using the stamps but the sky's the limit.
Watch 1- Minute Reels on Instagram to see How They work:
The Pegz Connecatble stamps are a fun way to add a personalised touch to any crafty project.

They will allow you to add custom messages, words, names, or dates on different surfaces such a paper, fabric, wood, glass, clay, sticky labels, and metal.
You can create your own sentiments for cards, scrapbooking pages, memory albums, art journals, bible journaling, etc.
personalize gifts, packaging, and tags for any ocassion.
Add the name of your kids on the school items or uniforms.
Label kitchen pantry supplies
Add expiring dates on sticky labels to your ready meals.
Stamp your own name on handmade products or packaging.
Teach your kids the alphabet and ways to communicate.
The sky's the limit!
Key Features
These stamps can be put together like LEGO pieces.
They are not toys but they are didactic.
They include some duplicated fonts.
Allowing you to create different short words.
You can mix any letter from the upper and lowercase font of the same design.
The words can be stamped in a single line or stacked together to stamp multiple lines.
You can stamp the message horizontally or vertically.
There are different font designs and sizes available to suit your different needs.
Any of the Connectable Pegz stamps are good for papercraft BUT for generic message building I would advice to get the small fonts. I love them!
1/4″ Typewriter Alpaheth – size M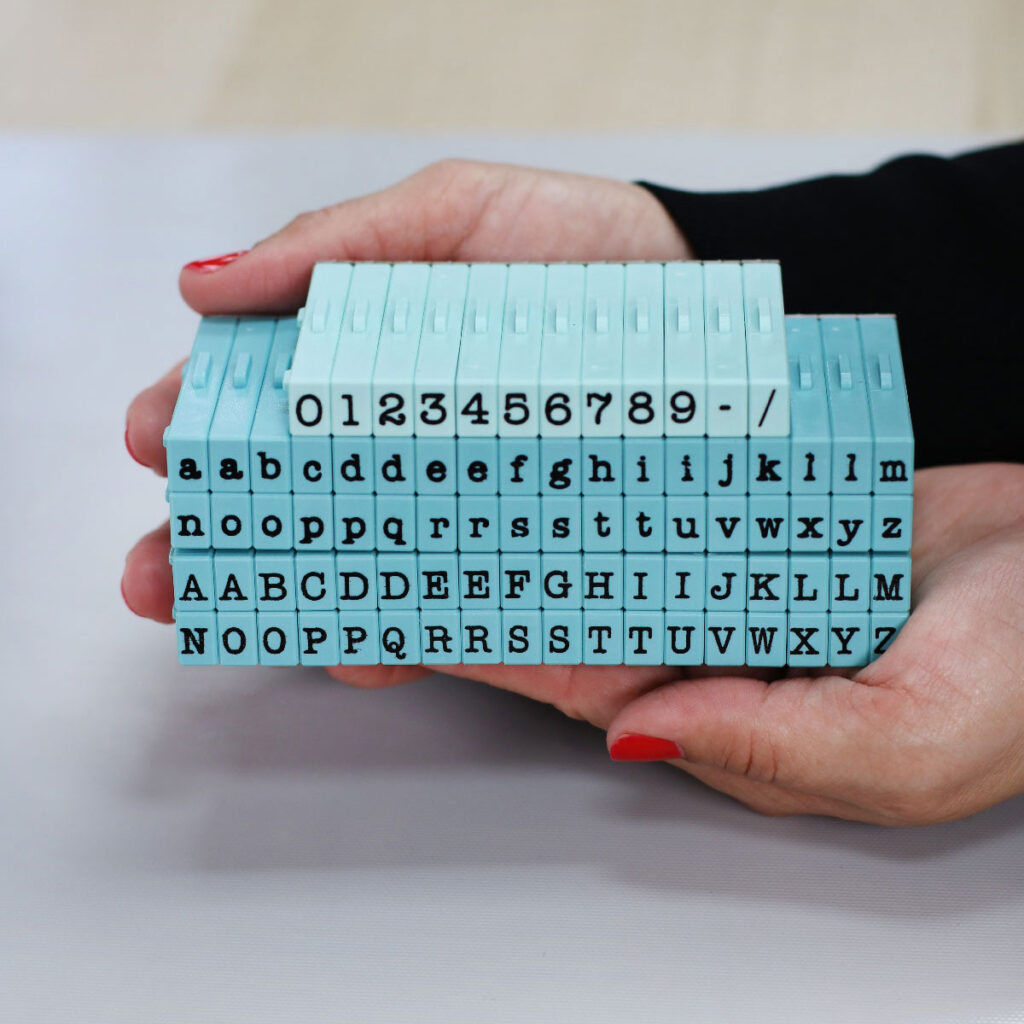 Some of the sets I have are sold by Contact USA and they are available on Amazon UK, USA and Canada.
Where to Find Typewriter Alphabet Stamp Sets – Size M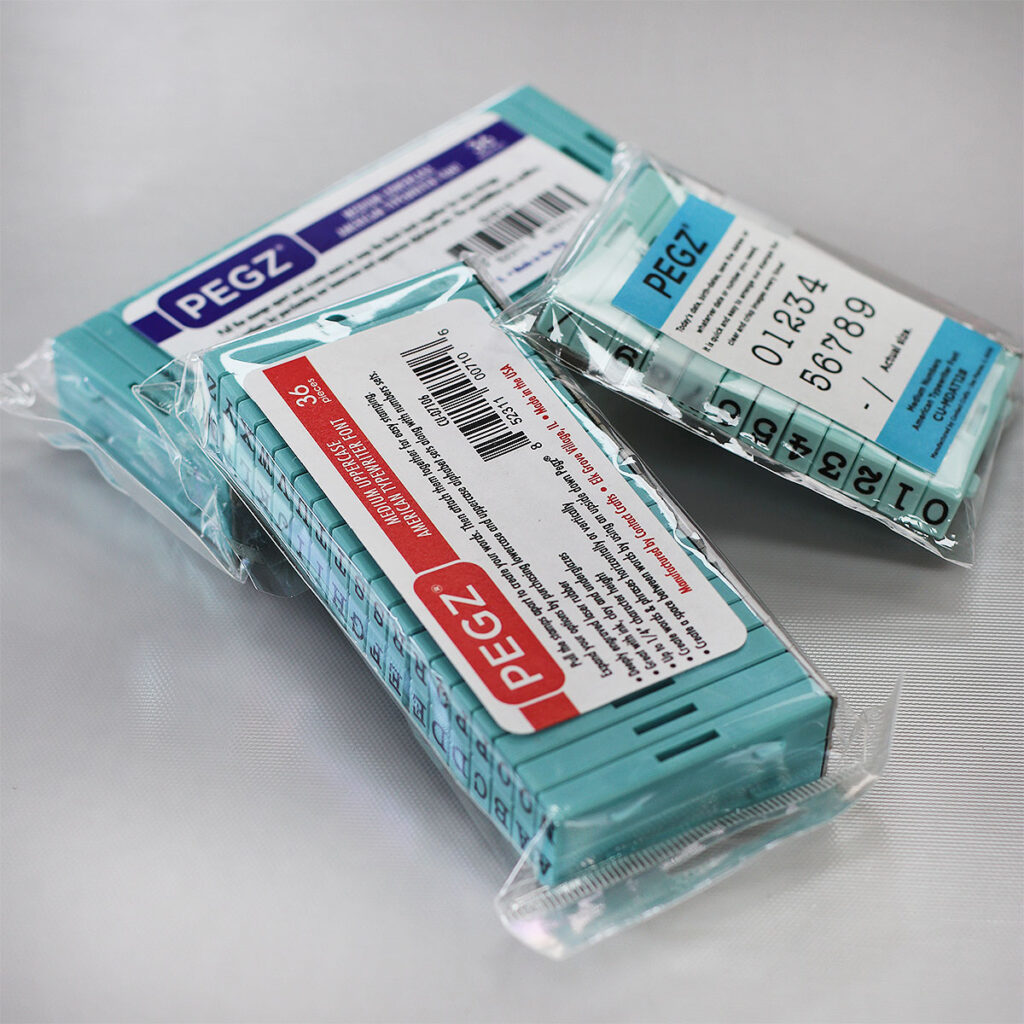 Fonts Size : The uppercase fonts and numbers are 6mm tall and the lowercase fonts are 4mm.
The banner of the 6″x6″ inches (15x15cm) inches card below was stamped using a mix of typewriter upper and lowercase fonts.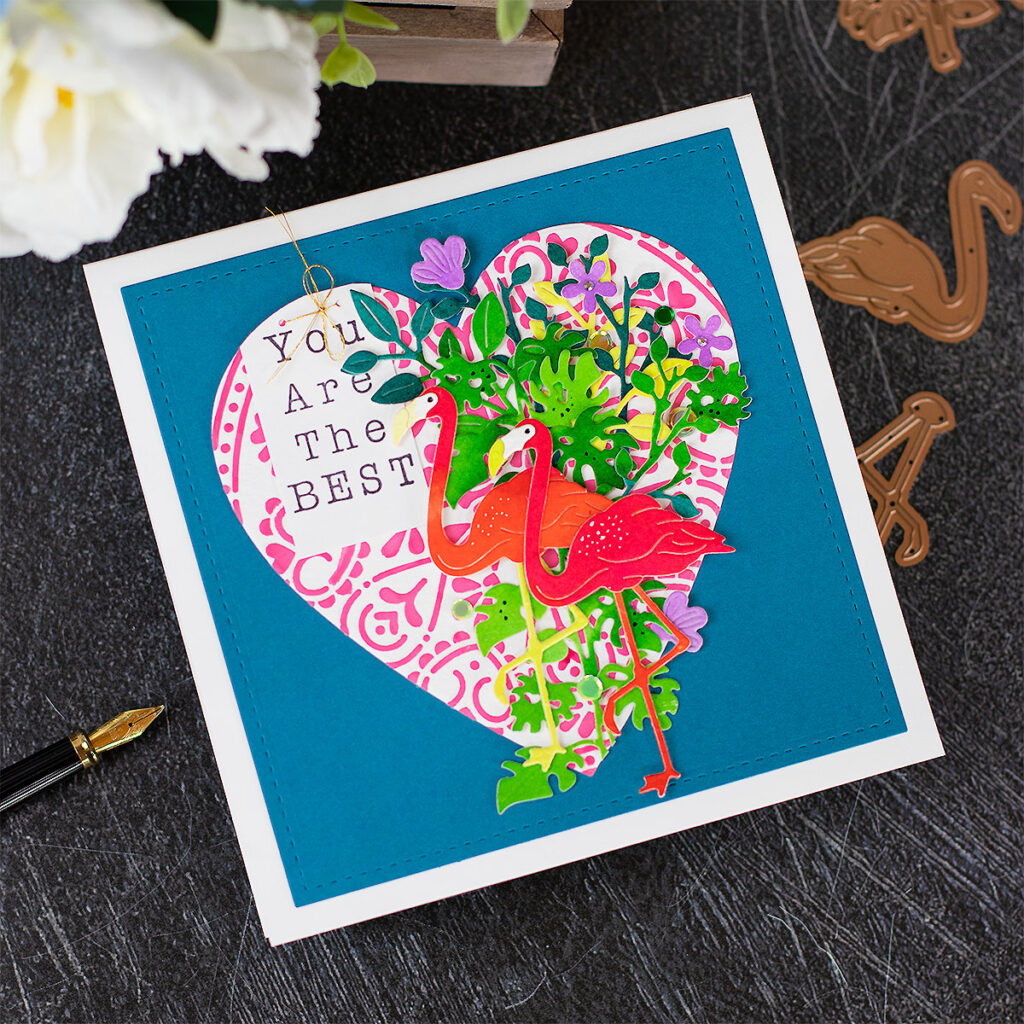 The fonts could be a little bit big for long phases or messages but great for short greetings or single words.
3/16″ Papyrus Alphabet – Size S
These connectable stamps are also sold by Contact USA and they seem to be available only on Amazon USA at the moment of this publication.
I have been told by the supplier that once they are out of stock they aim to re-stock quickly and try to get the products in the hands of the UK and Canada distributors.
Where To Find Pegz Papyrus Alpahabeth Stamp Sets – Size S?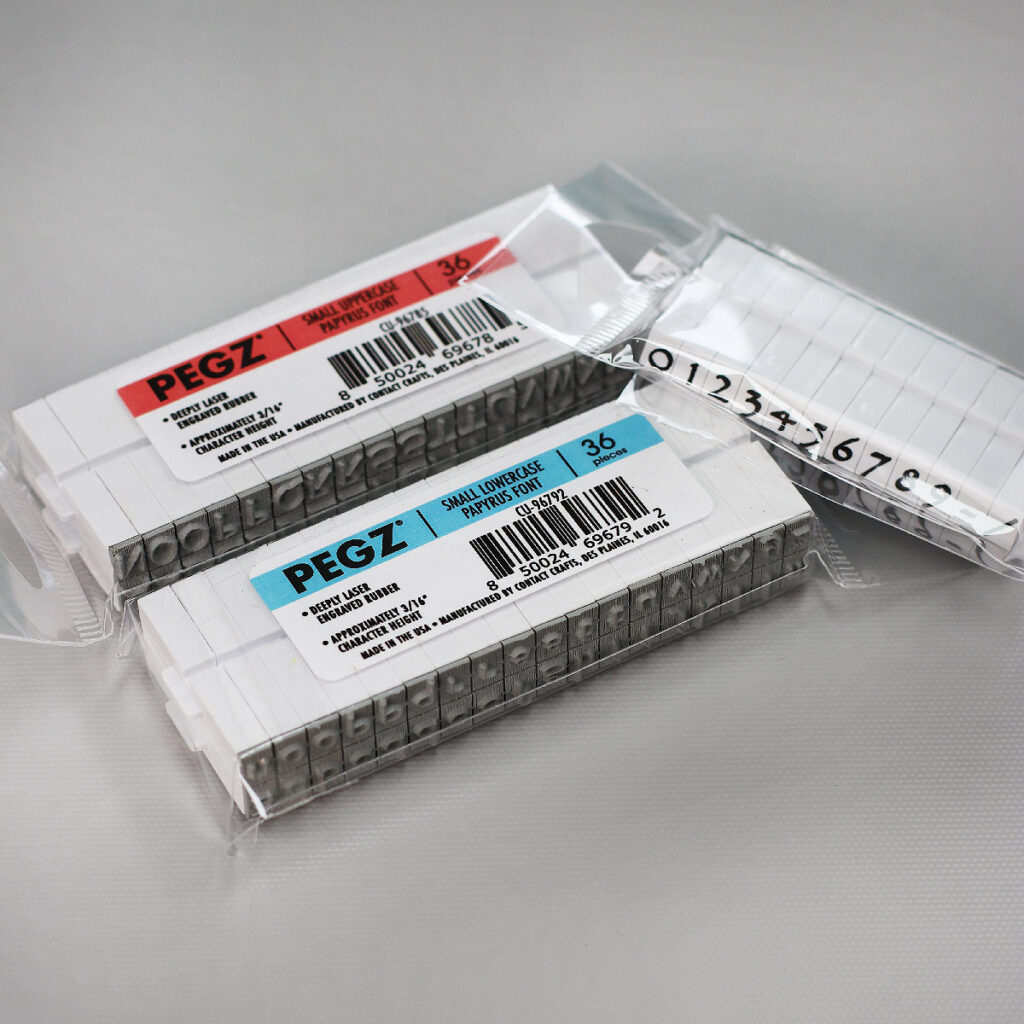 Fonts Size: The uppercase fonts and numbers are 5mm tall and the lowercase fonts are 3.5mm.
I found the small Pegz stamps ideal to stamp long sentiments on cards or tags.
Stamping Tips
To stamp a sharp sentiment or phrase, I would advise trying the stamps first on a piece of printer paper to identify the correct amount of pressure you need to apply.
Using high-quality inks also helps to achieve a nice and professional finishing look.
Here is a brief list of inks I recommend using with Pegz:
It is important to hold the samps well while stamping as I'm showing in the pictures below.
Hold the stamp block between your thumb and index finger keeping it aligned.
I push the stamps to the limit by stamping long sentences and I mixed uppercase and lowercase letters.
However, it is important to bear in mind that the Pegz stamps need to be held tight just like LEGO to avoid the stamp line from breaking or falling apart. This could happen especially when you have a long narrow line of stamps.
I found that the Papyrus fonts are super easy to detach from each other and I like that fact.
The typewriter Pegz stamps ( in blue) have a different system.
They have a stronger connectable system so you might need a pick tool to separate the stamps rows.
That's all for today.
Do not hesitate to ask any questions in the comments section of this post.
Happy Stamping.
X Bibi
Find Read Related Post Below
Supplies list
Affiliate links apply at no extra cost to you. Thanks for your support.