Hi there, I enjoyed a toasty craft room afternoon coloring the gorgeous image from the Friendly Flowers stamp set by Simon Says Stamp.
I used Karin Markers to add colour and I applied a technique called embossing resist using embossing powders.
Friendly Flowers Stamp Set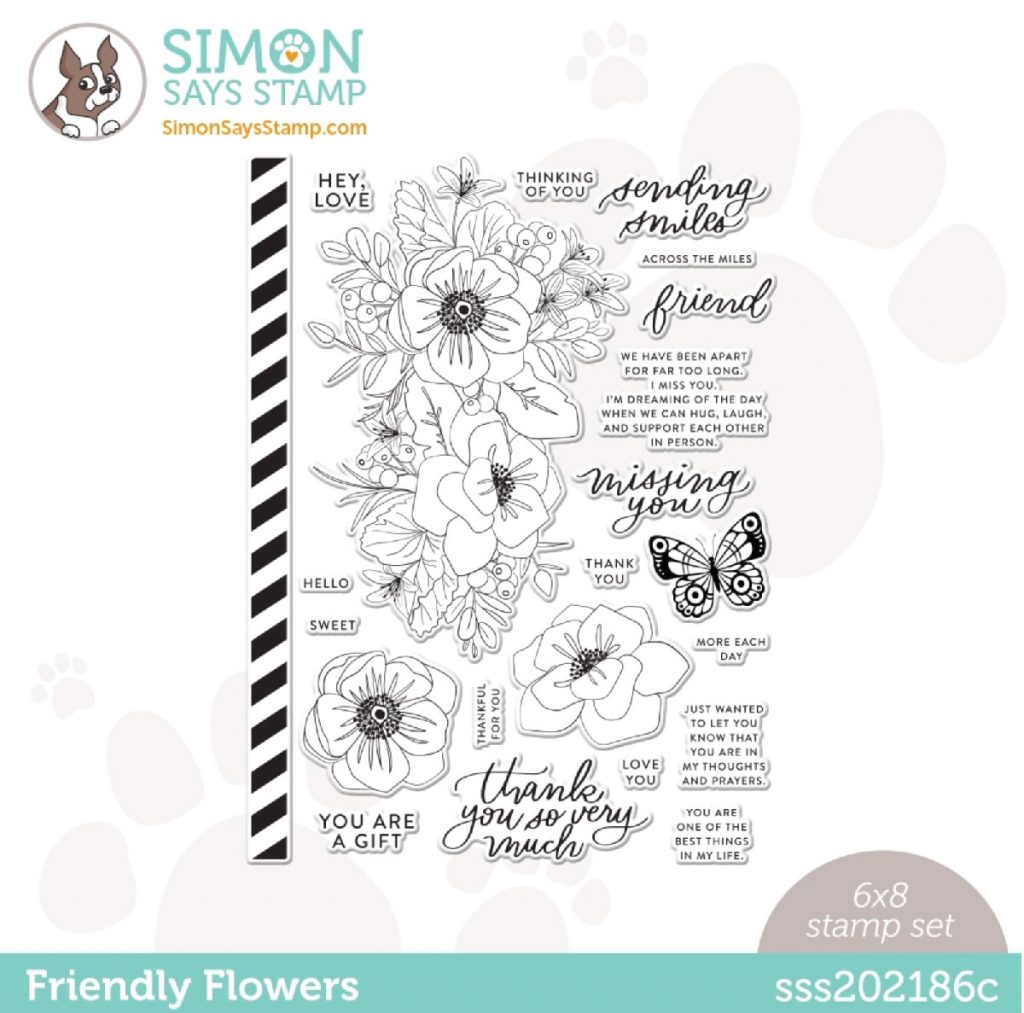 This beautiful 6 x 8 inches stamp set is a great addition to my floral stamp collection. Totally love it!.
It contains 21 individual stamps. 4 images and 17 sentiments.
The larger floral cluster measures : 5-1/2″ x 3-1/2″ inches ( the wider part)
Wow Embossing Powders Used
Friendly Flowers Slimline Card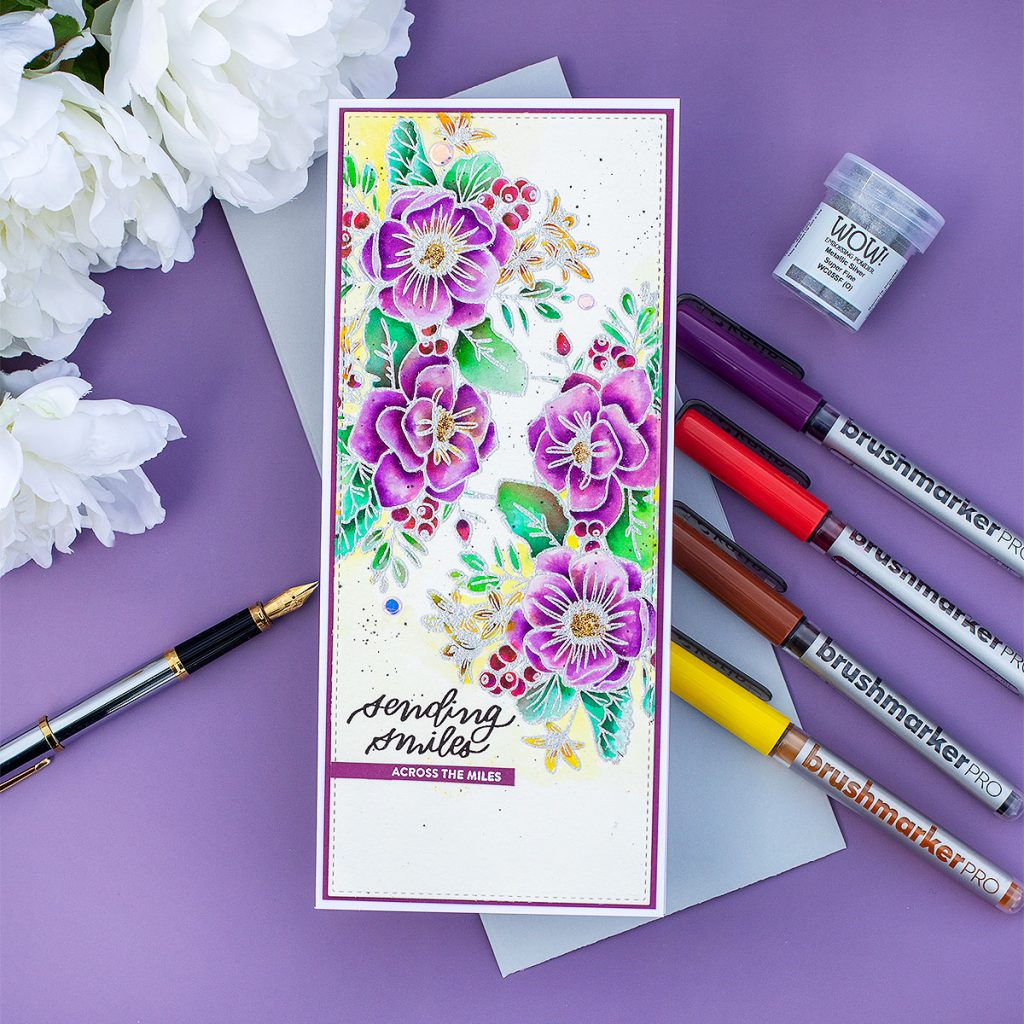 To make this card, I heat embossed the image over Strathmore Watercolour paper using Versamark ink (Clear) and Silver embossing powder.
For the sentiment " Sending Smiles" I used Versafine Black Onyx ink .
" Across the miles" were white heat embossed on violet cardstock
As the metallic silver embossing powder is very neutral, I knew I had to use a regal, bright or dark ink colour to make it pop otherwise the composition could look very dull.
I opted for a mix of purple, red and brown shades.
Karin marker colours used
Flowers: Lilac, Red, Henna, Canary
Leaves: Ocean Teal, Grass, Henna, Canary
Background: Canary and I splattered Black ink mixed with water.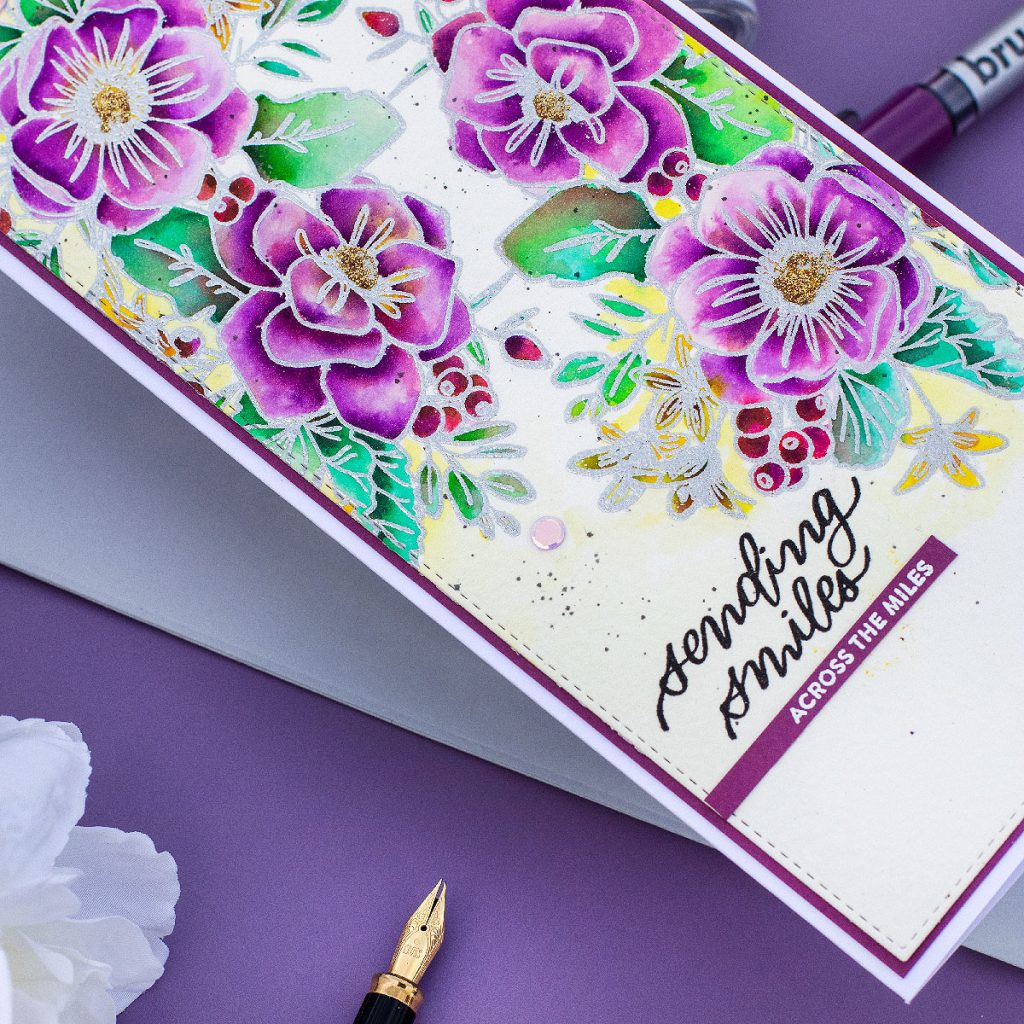 Colouring
This was extremely easy.
The heat embossed image will contain the ink between the lines so you don't need to worry too much about going out the line.
I apply a watercolour technique called "Drop in Wet on Wet"
Using a Water Brush, I applied water over each petal and then I dabbed the tip of the Karin marker at the base of the petal.
The marker will discharge ink and it will disperse through the water already on the image.
Tip: Dab the marker on areas in which you want the colour to be more intense.
The water on the paper will drive the ink over other areas of the image obtaining a simultaneous colour degradation.
You can use a clean water brush to do colour correction or to help spread the link to any other area if you wish.
Bonus Project – Friendly Flowers C6 Card
For this card I used Chocolate Caramel Pearl Wow Embossing Powder.
This time I blended Karin markers colour to create new shades.
Flowers: I mixed Amber and Henna.
Leaves: Grass + Canary
Cherries: Gold and Henna
The Butterflies are heat embossed using Ulla's Cognac Wow embossing powder on vellum.
That's all for today.
Happy Crafting
supplies
Affiliate Links applies at no extra cost to you. Thanks for your support. x