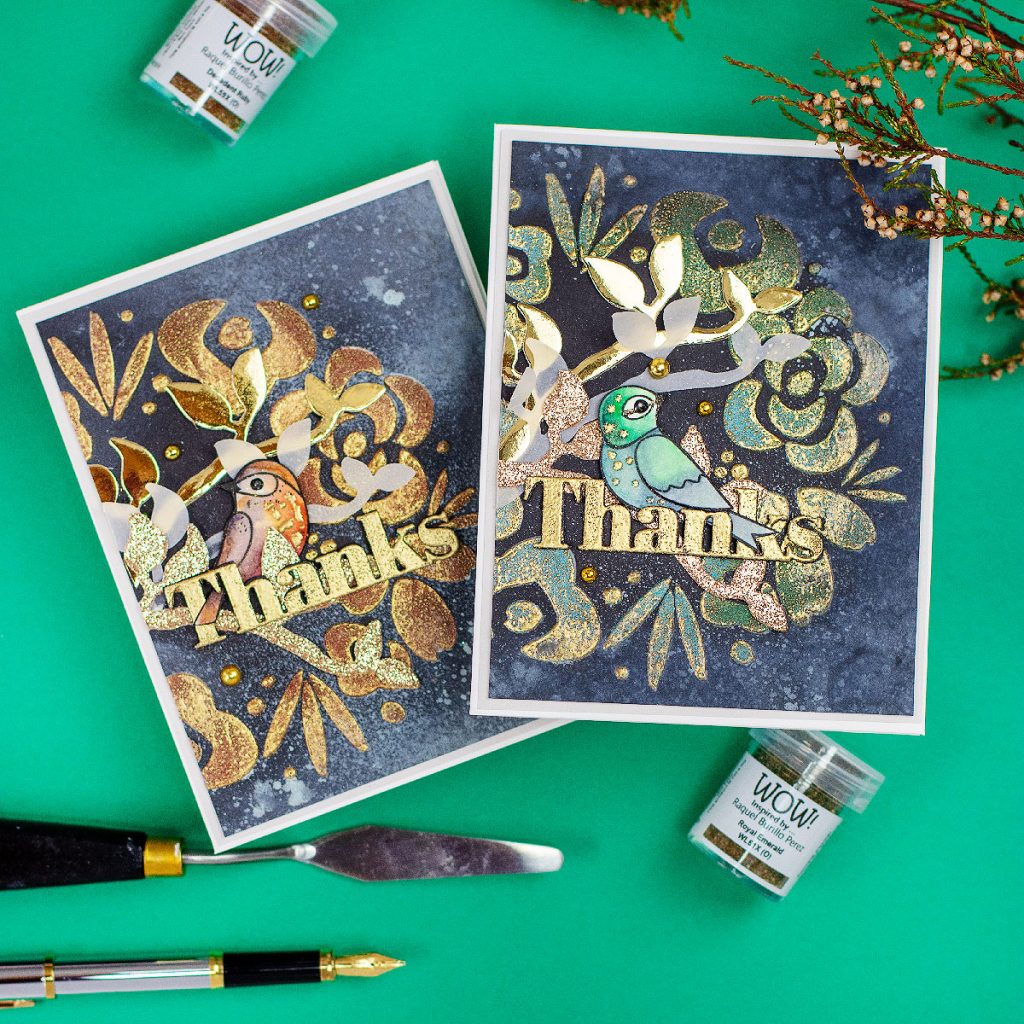 Hi there, today I'm sharing rough and rustic-looking cards using Spring Birds stamp and dies set, Painted Flowers Wreath Stencil, and ancient Jewels WOW embossing trio.
I have to admit that I'm a bit intimidated to share this idea as it took me out of my comfort zone but I decided to go ahead because I'm amazed by the texture, the colour, and the dimension achieved.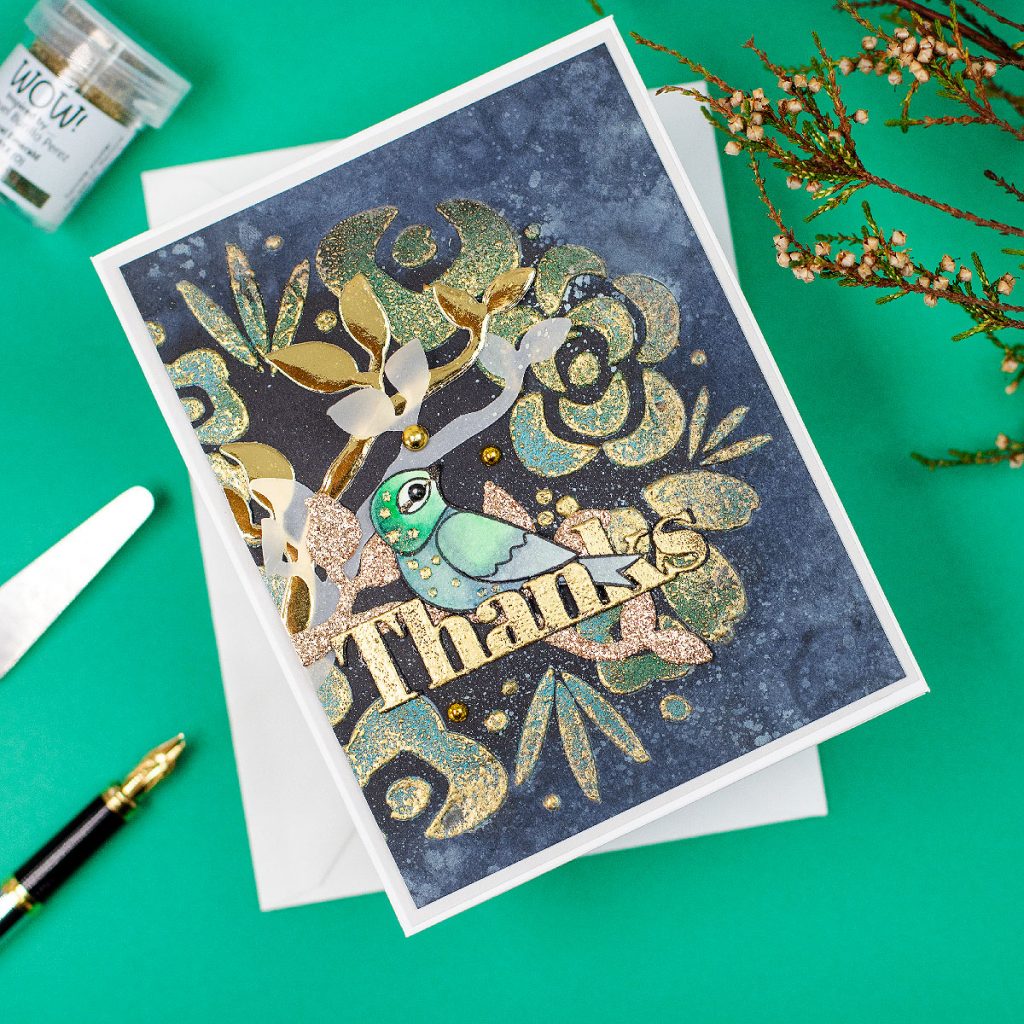 The contrast between mat earthy colors and gold embossing powders is mind-blowing.
Stencils, Texture Paste and Heat Embossing
The new element here is the texture added using the stunning Painted Flowers Wreath Stencil and the new embossing powders by WOW included Ancient Jewels Embossing Powder Trio.
I simply used the stencil to apply texture paste. I sprinkled embossing powder then applied heat. Voila!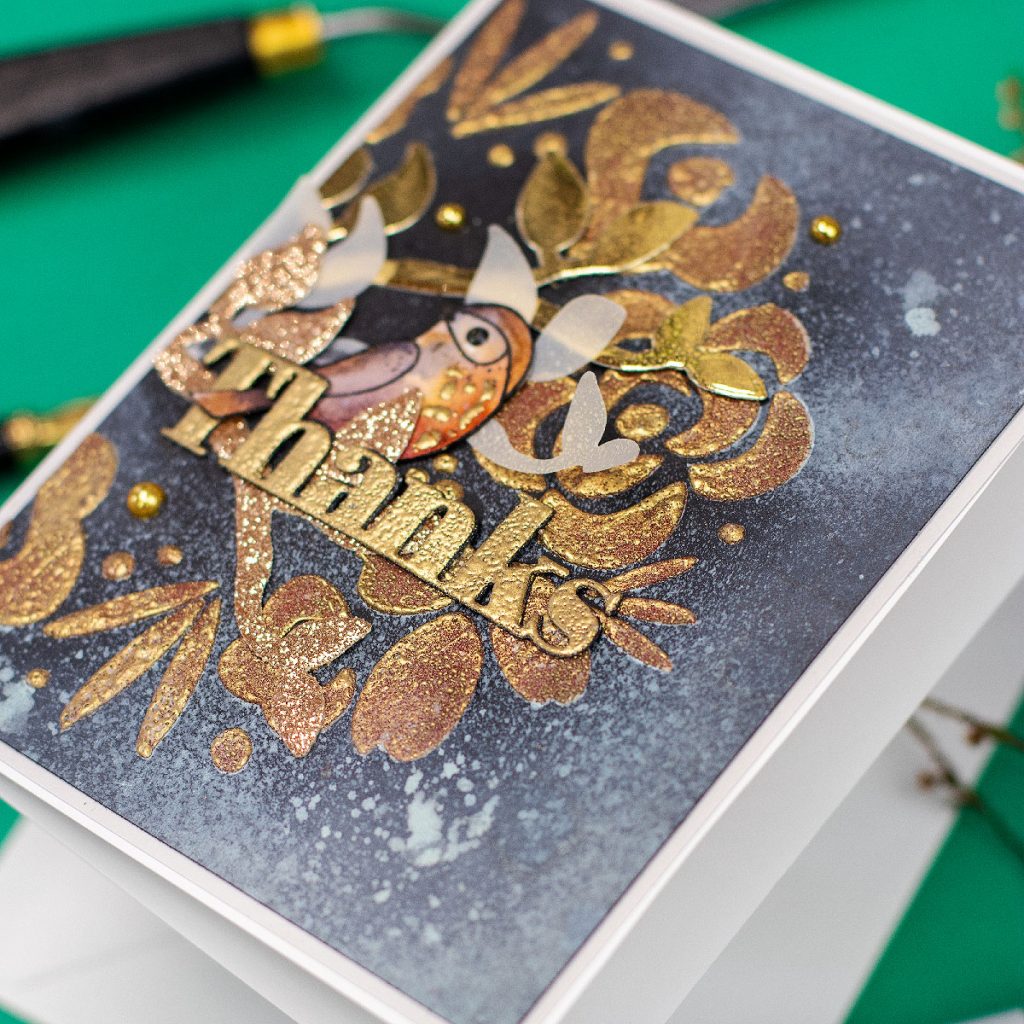 WOW Ancient Jewels Trio
Wow, Ancient Jewels Trio is a beautiful themed collection of 3 Embossing Powders: Decadent Ruby, Egyptian Turquoise, and Royal Emerald
These powders are a blend of a matte/ opaque embossing powder color with gold ultra high embossing powder.
The ultra-high embossing powders contain large or chunky granules of embossing powder that melt in unexpected ways. They are great to add a rough texture or to add interest to your compositions.
They are the opposite of the popular superfine embossing powders that are great to heat emboss details and sentiments.
The Card-making Process
I used Decadent Ruby for the brown card and a mix of Egyptian Turquoise and Royal Emerald for thebluish card.
Then, I glued the images and die cuts from the Spring Birds stamp and dies set over the panel.
To mute the background panel colour, I applied twice Frayed Burlap Distress Oxide Ink and I sprayed water to oxidize the ink. As this was not enough I also applied Old Paper Distress Oxide Spray.
For the sentiment, I adhered a piece of double-sided adhesive to a small black piece of cardstock and I die cut the side with the adhesive on top.
Once I die-cut the piece, I peeled off the lining of the adhesive paper and sprinkle ultra-high gold embossing powder and I dabbed the piece on superfine gold embossing powder.
Then, I heat set.
To finish, I added Gold Fashion Embellishments.
Watch heat embossing Videos
That's all for today
I hope you enjoyed this post.
X
Bibi
Supplies List
Affiliate links applies at no extra cost to you. Thanks for your support.