​Hi crafty friends, Spellbinders invited me to try the newly released Make a Scene Collection by Becca Feeken designed to create Theatre Cards.
So I made some projects to share ideas and inspiration with you and also a video tutorial.
3D Theatre Card tutorial + Die set collection preview
Make A Scene
This is a super versatile collection that will allow you to create 5″x7″ inches collapsable 3D cards, that fold flat for mailing.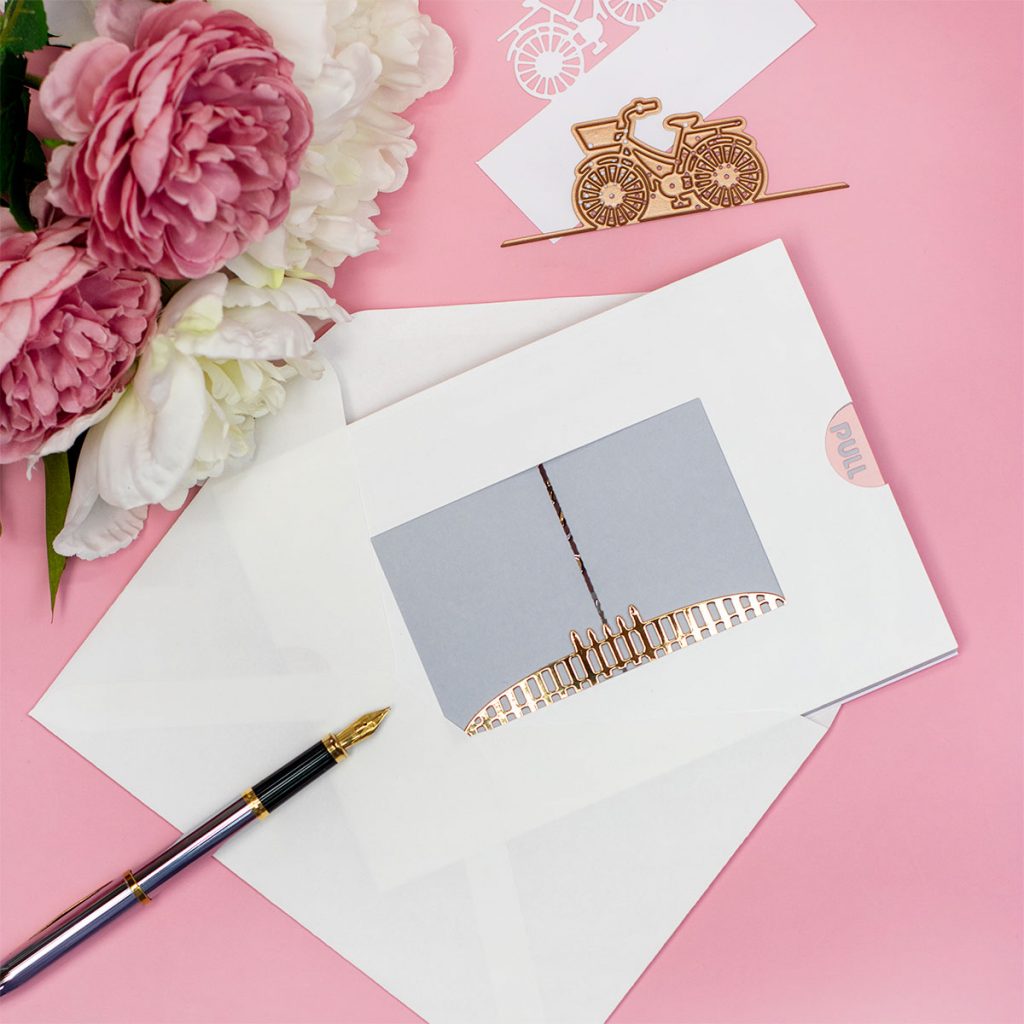 The collection includes:
1 Card Base Die Set ( Designed to create a 5"x7" inches theatre card base).
6 Die Sets to create inserts for different occasions.
4 Decorative Die Sets ( intricate panels, Tags, Banners, and a flower)
Make a Scene stamp set.
Theatre Card
To make this card you will need to create the card base first.
This is easy as Make a Scene Card Base die set does all the work. However, it will require some prepping and up to 40 minutes to assemble the whole project.
To complete the card you will also need the insert panels and to make those you will require additional die sets in this collection.
For this card, I used the fallowing die sets:
I also used 240 grams white and grey smooth cardstock. The pink cardstock is 240 grams textured cardstock.
The card base has 3 slots, you can cut 2 or 1 if you want to. To do this, you just need to remove dies to create the slots while die-cutting.
MAKING THE INSERTS
If you want to create a 3 tier card you will need 3 inserts. To make them you need to cut 3 pieces of paper as follow:
1 tier ( front)- 1-3/4″ x 4-3/4″ inches.
2 tier ( middle)- 2- 3/4″ x 4-3/4″ inches
3 tier ( back) – 3- 1/4″ x 4-3/4″ inches
So all these pieces are the same width but the pieces at the back need to be taller than the ones in front.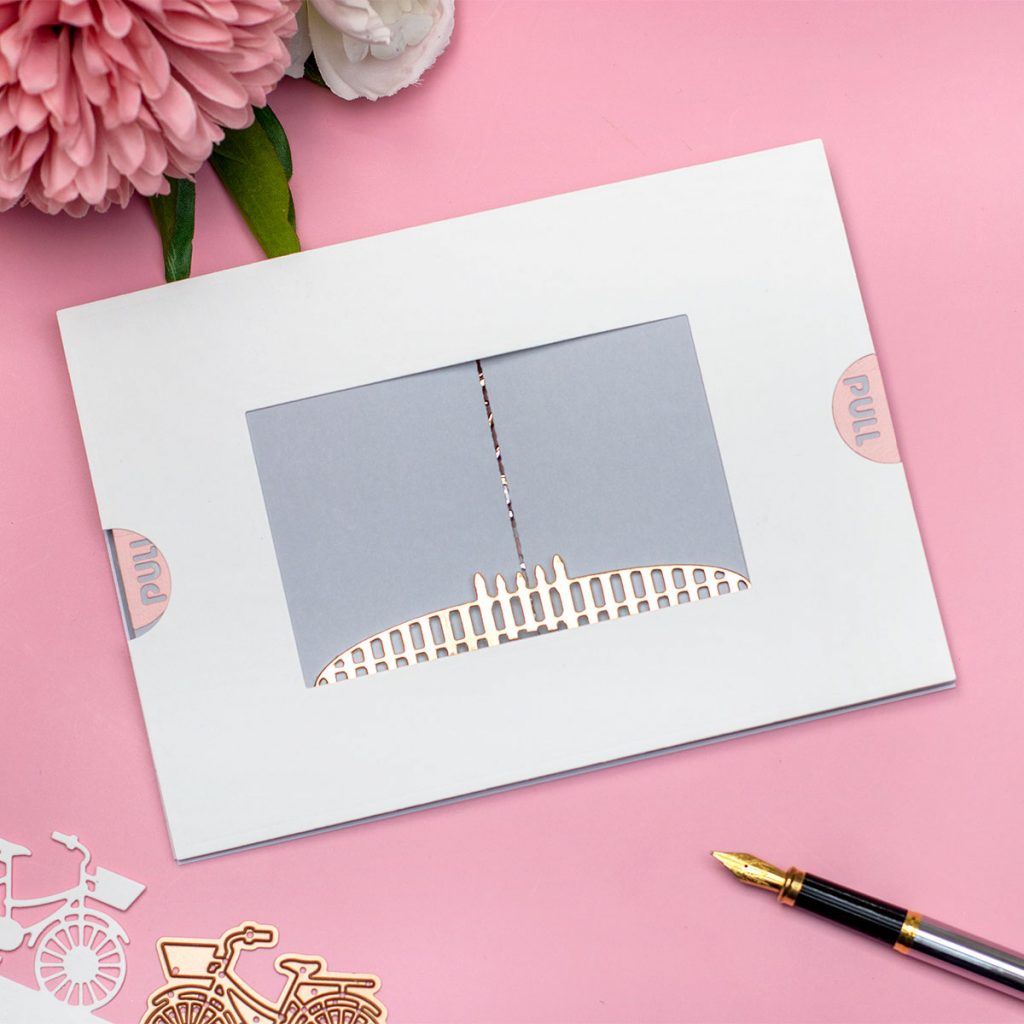 ***Notes :
Creating the inserts will allow you to experiment a little bit.
By any means, the inserts should be taller than the measurements above. If so the card won't close.
Avoid bulkiness so that the card will close better.
I would recommend using 250 grams cardstock for the mechanism, for anything else ( frames and inserts) 300 grams would be great.
I also trimmed down 1/8″ of an inch from the width of the die-cut piece that connects the 2 panels for the mechanism to minimise the gap in the front when the card is closed.
PERSONALISING YOUR DESING
Make a Scene Collection by Becca Feeken for Spellbinders also offers coordinating decorative dies that will cut intricate panels and frames for the card base.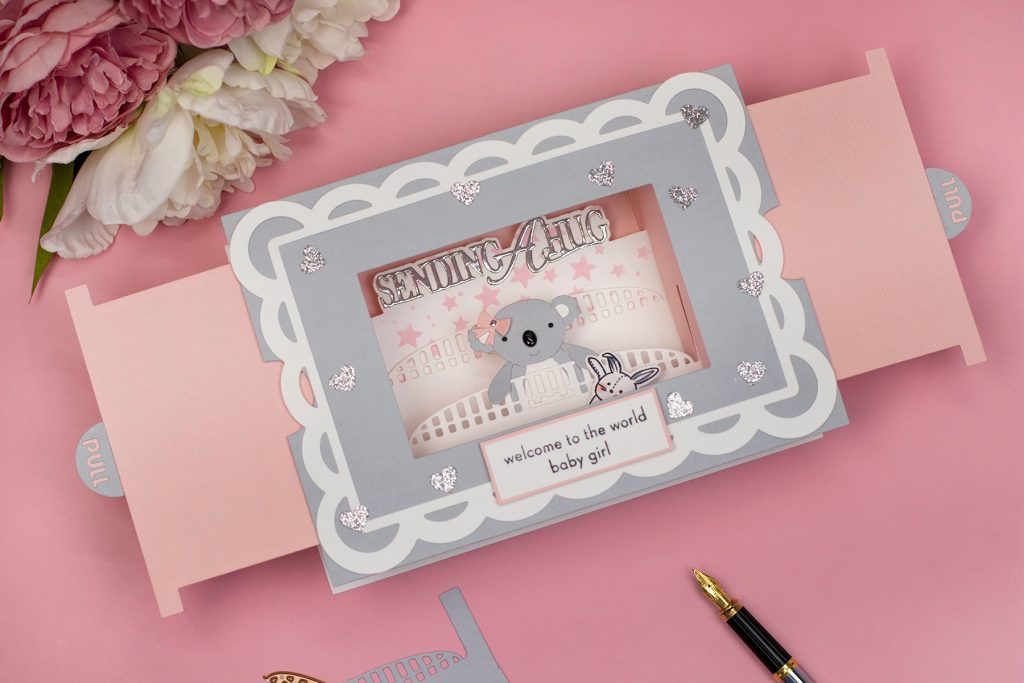 For this card, I used Scallop Facade die set to add a decorative frame on the front of the card.
I also used the fallowing dies:
I punched little hearts to add an extra decorative element.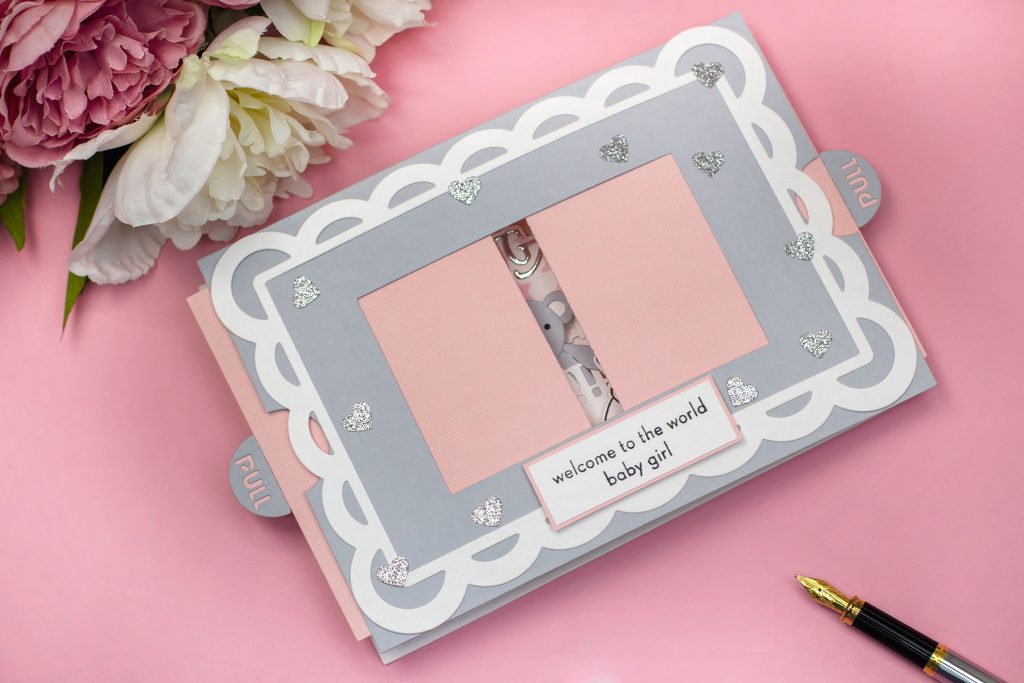 The sky's the limit !
Make a Scene For Tags
Here is a super easy idea to make tags using any of the insert dies in this collection.
For the tag above, I used Rolling Alone die set .
The sentiment is from Thanks and Encouragement Word Mix Stamp Set by Simon Says Stamp
You can add banners, stamped sentiments, or hot foiled sentiments to any project made with any die set in this collection.
Mini House TAG / Treat Box
To make these mini boxes, I used:
The size of the boxes is 1-1/2" x 3" inches ( 1/2" deep). They are really tiny and cute!
As the insert die will partially cut the paper you can use the die-cut to create or decorate boxes by simply scoring and folding flaps at the bottom of the die-cuts.
This kind of project can be as wide as the front of the die-cut shape and can be used also a tag or a jewellery box.
make a scene insert elements
Here is a visual of some die designs in this collection but each die set includes loads of different options and also decorative dies to cut small embellishments for any papercraft project.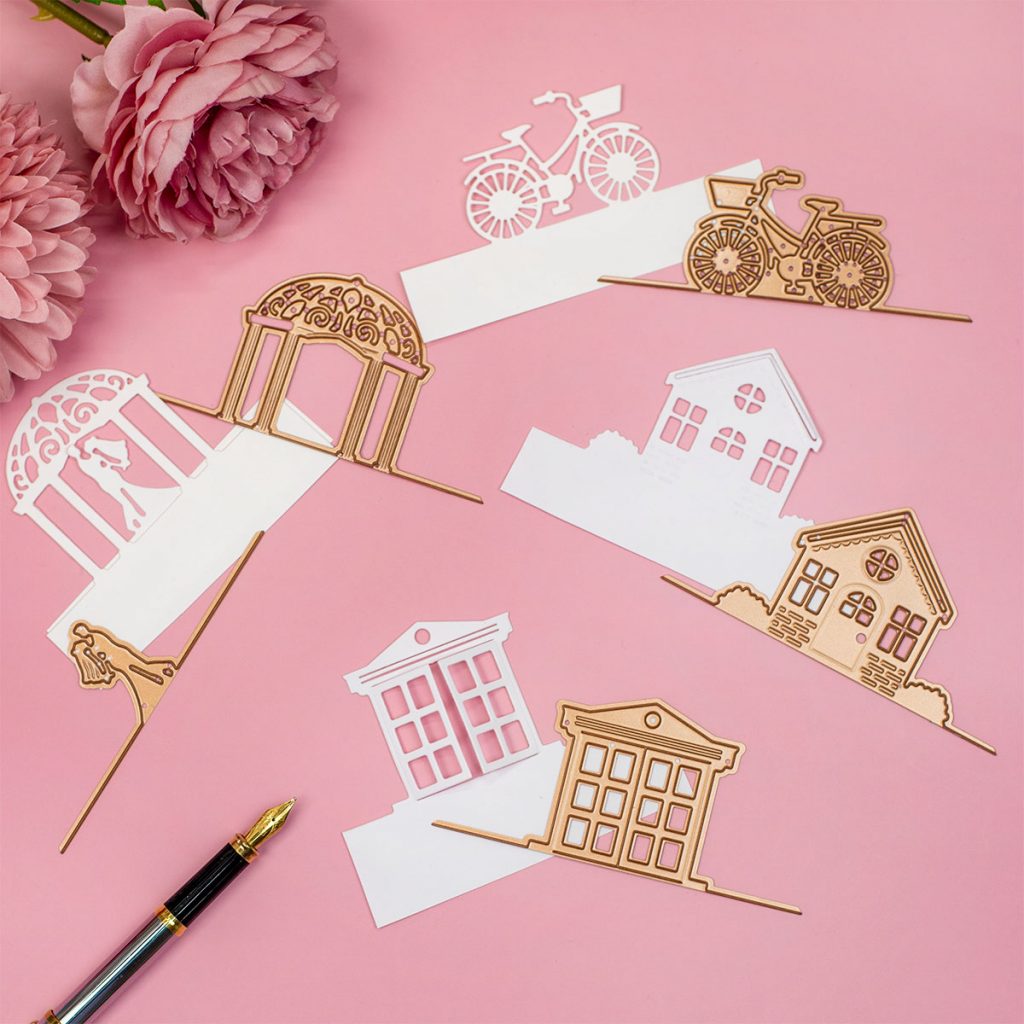 I'm totally on love with the inserts tho. Aren't they cute?
That's is all for today.
I hope you enjoy these projects and to have inspired you to get crafty with the Make a Scene Collection by Becca Feeken for Spellbinders available at the Simon says Stamp Store.
Hugs
Bibi
SUPPLIES
Affiliate links apply at no extra cost to you. Thanks for your support.