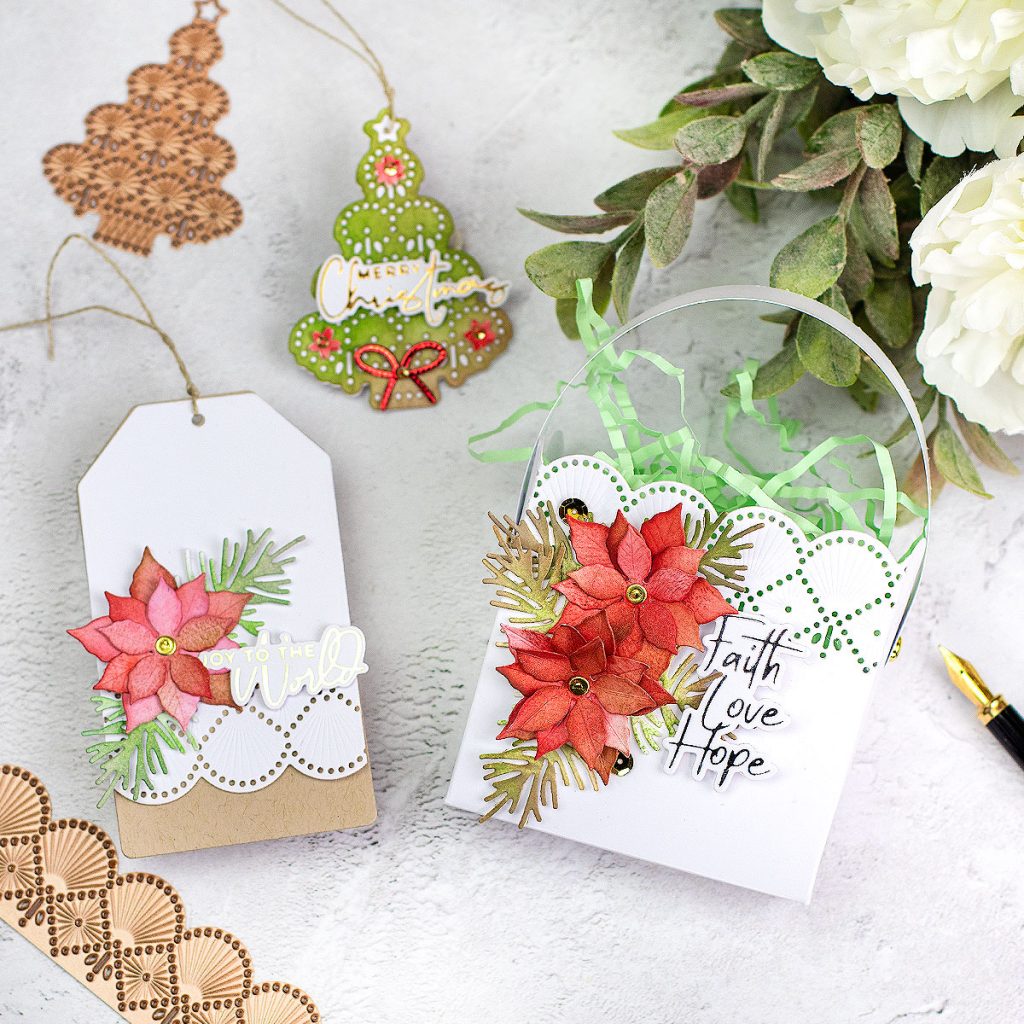 Hi there, I hope you are doing well. Welcome to my blog and to the Spellbinders Clubs Inspirational blog hop – November 2020.
For today I have various projects to share with you using the following Spellbinders Clubs:
I also have a couple of bonus projects using also Spellbinders Hot Foil Kit of the Month and news about promos together with gift ideas for this Xmas!
SOLD OUT ?
At the moment of this hop Merry Stitches die of the month, and Pop Up 3D Vignette Poinsettia Sleigh has been sold out but they are still available via "DIE HERO"
SPELLBINDERS CLUB DIE HERO
This is a value kit that includes 3 kits at the price of 2. Like any other club membership by Spellbinders, it can be canceled at any time.
poinsettia GIFT BASKETS
I thought you would like to see an alternative project using stitching dies. These are very easy to make.
You can see instructions to make the basket in step by step pictures here.
I will also have a short video here to show you how I made the poinsettias on my Instagram account latter today!
mINI POINSETTIA EMBELLISHMENTS
To add coloUr to the flowers I used Distress Inks as shown in my video below
I made the Poinsettias using dies from Pop Up 3D Vignette Poinsettia Sleigh – Paper Grace Die of the month (APG).
You can use this little flowers for any other project you might have.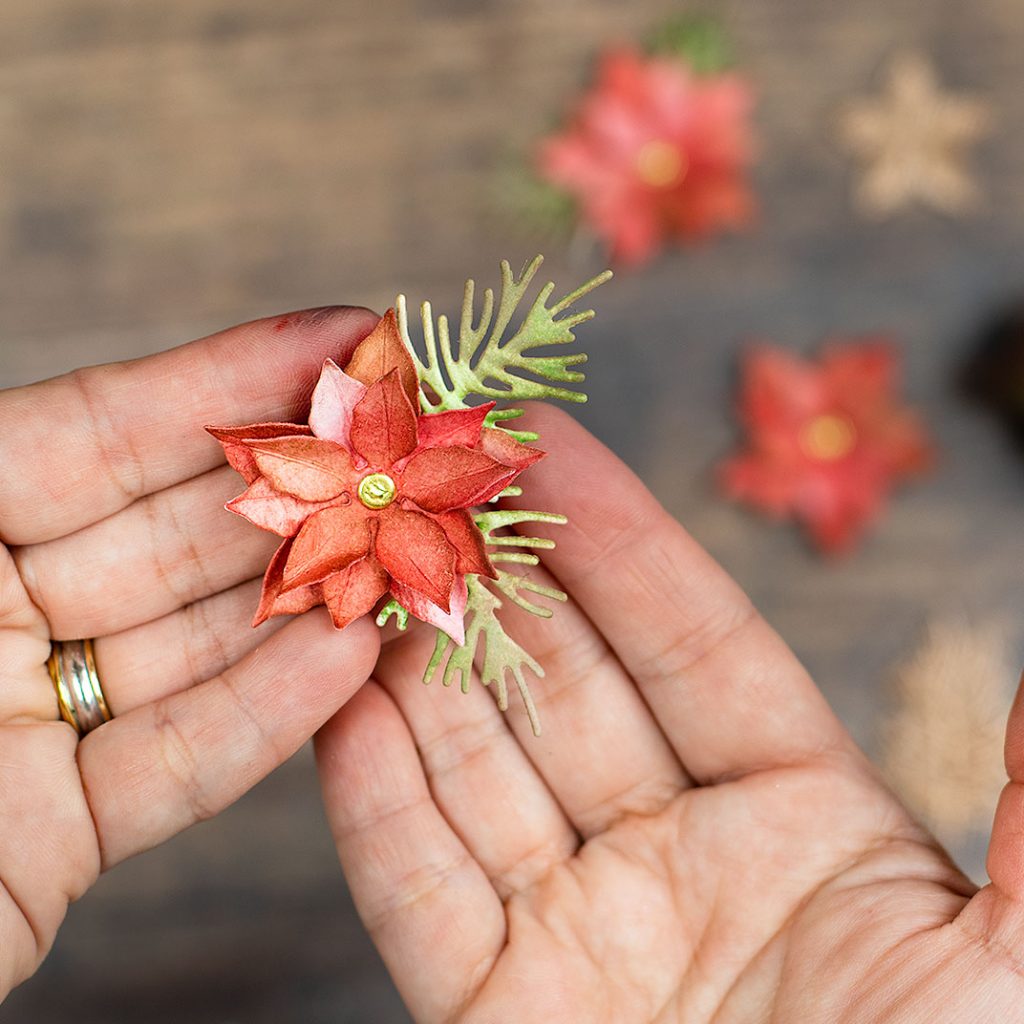 poinsettia xmas tag
You can use the border die in Merry Stitches Large Die of the Month to make any kind, any size, or any occasion project.
As we are near Xmas, I made this little xmas tag to give you extra ideas.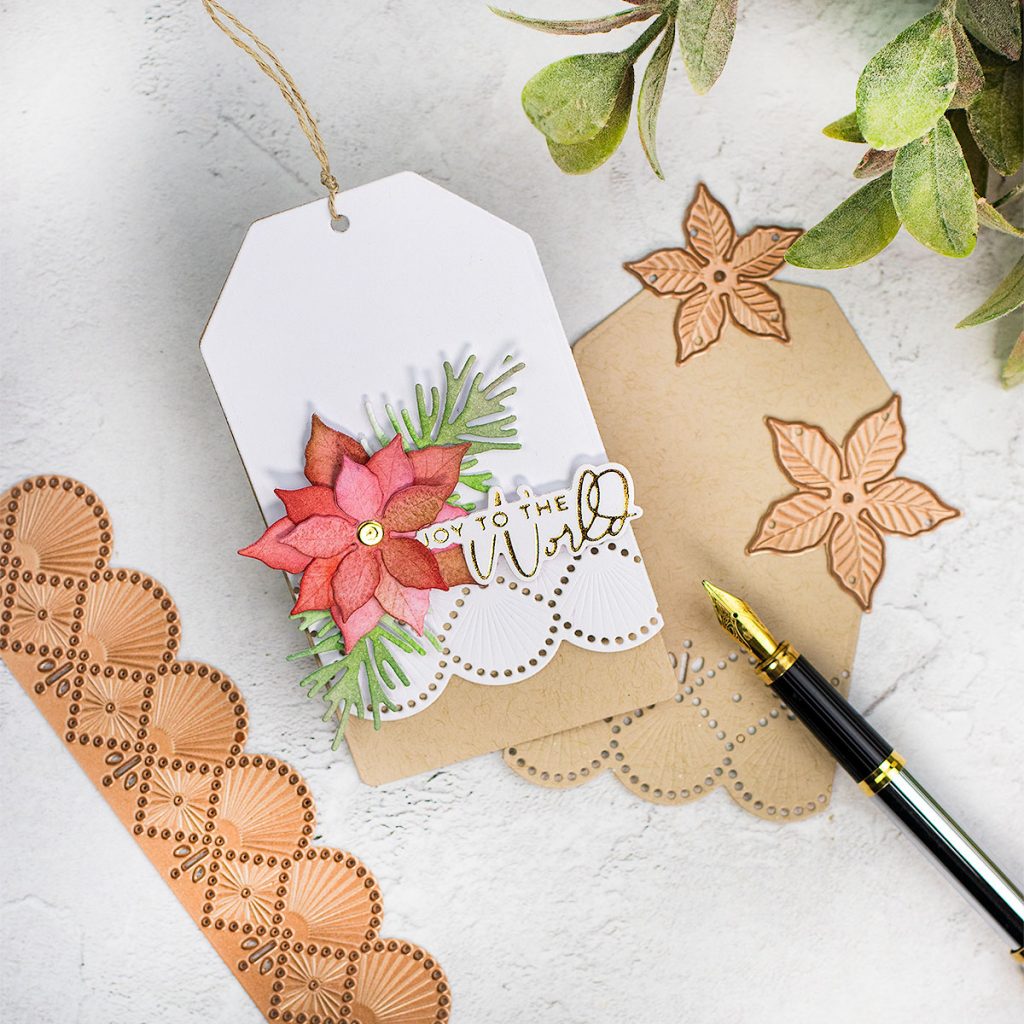 poinsettia SLEIGHT 3D CARD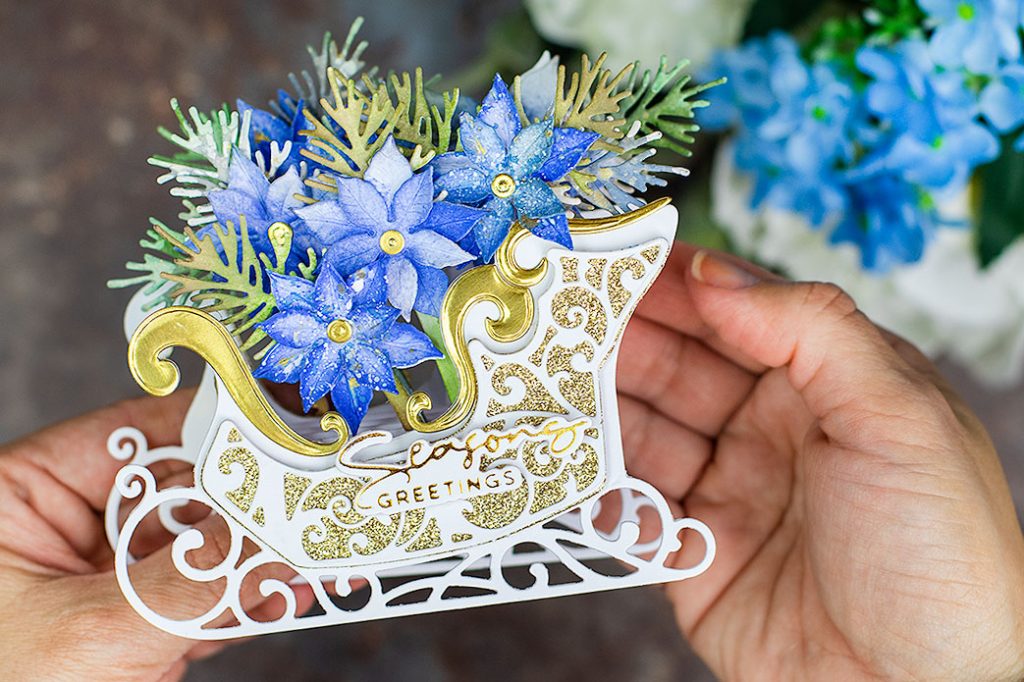 I'm a big fan of Becca Feeken elegant creations and this paper sleight is a little masterpiece.
I used Blueprint Distress ink instead of red ink to add colour to the flowers below.
Once the Poinsettias were assembled I splatter the paper with white acrylic paint and Gold Mica mist.
Check out Becca Feeken's video here to see how to assemble the sleight.
This sleight measures 4-1/2″ x 4-1/2″ inches (11.5cm x11.5 cm) approx.
It folds flat and you can put it inside an envelope.
Folded measures: 6″ x 4-1/2″ approx. (15cm x 11 cm).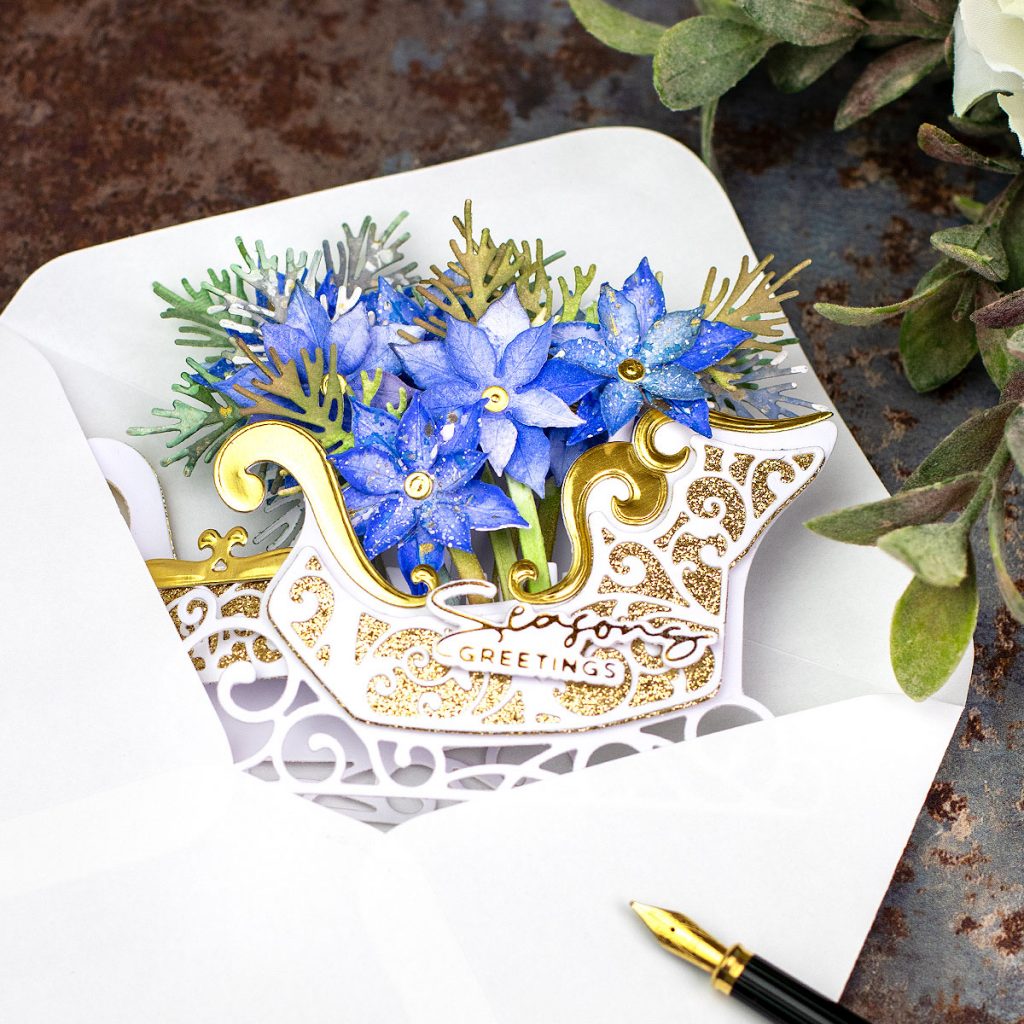 To make sure it will arrive safe during postage I defo will use a box- envelope for this kind of project.
XMAS FOILED CARD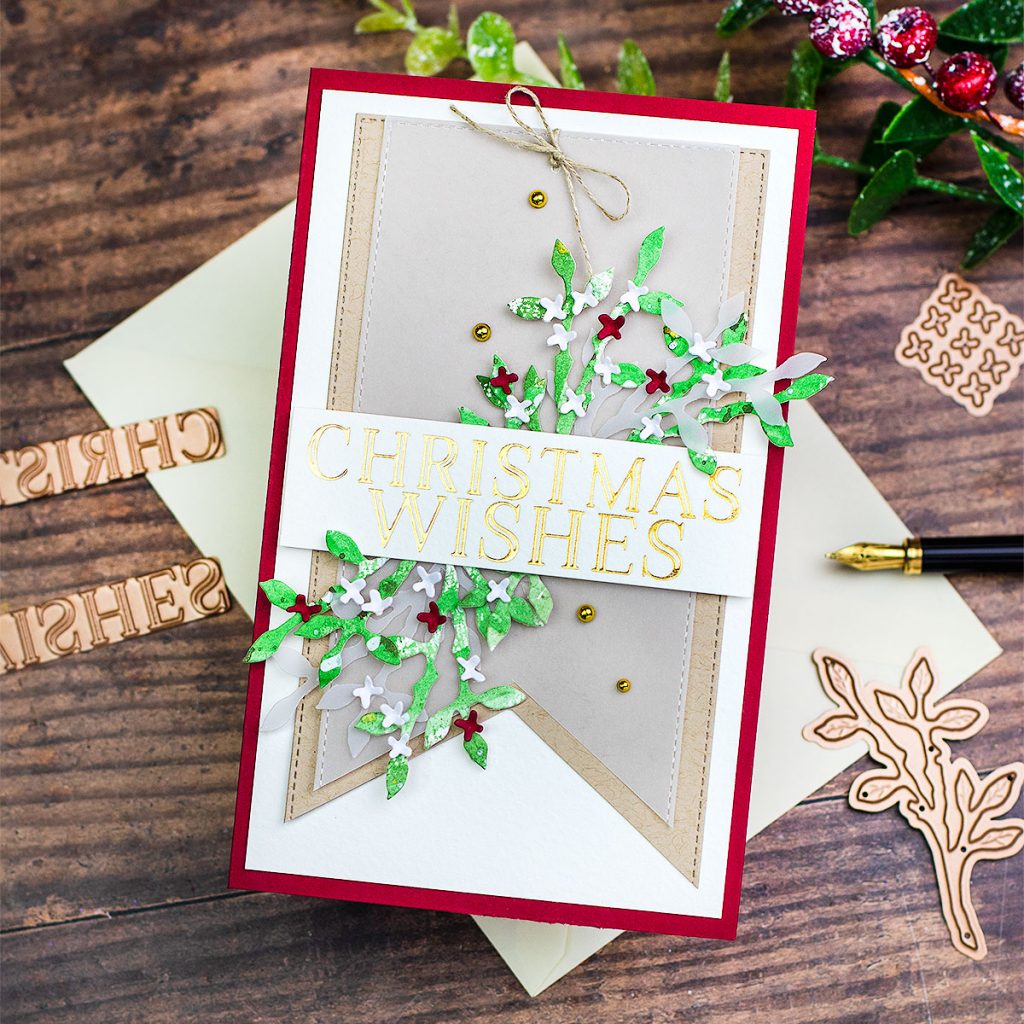 Here is an alternative project using the Hot Foil Kit of the Month.
I paired it with Susan Garden Foliage and Lady Bugs die set to add little something to this card.
The value added to a project when you use glimmer plates is remarkable.
Have you tried hot foiling?
For the branches, I simply applied watercolour paints over watercolour paper. I splatter white acrylics paint and I sprayed gold Mica mist. Then I die cut the branches.
I used rectangle stitched dies here and using scissors I shaped the banners.
BLOG HOP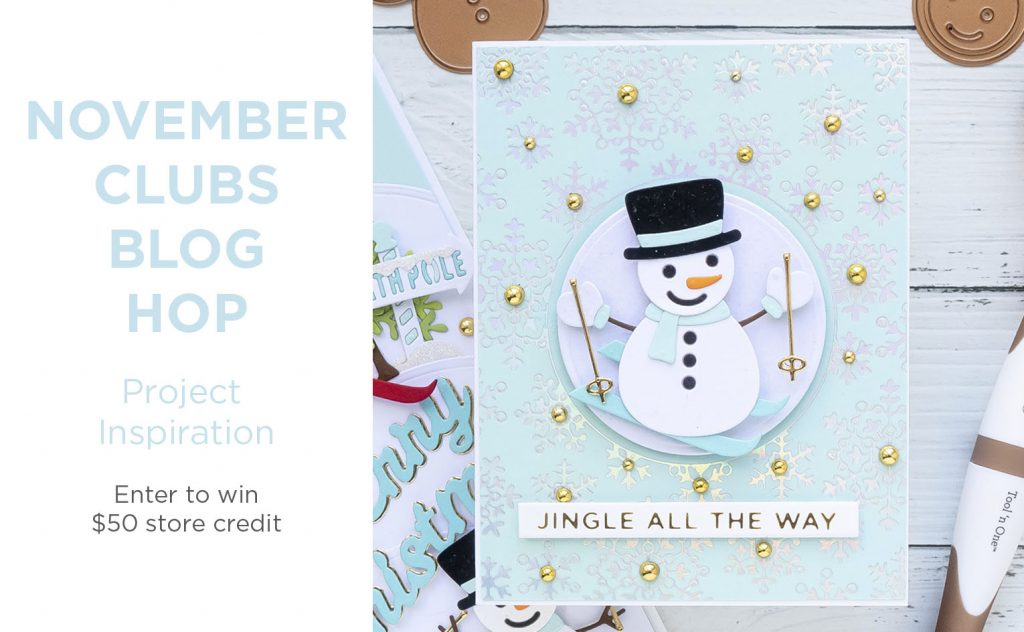 The next in the hop is the amazing Sandy MacIver . Keep hopping to see what everyone is making!
Spellbinders Blog
Tina Smith
Carrie Rhoades
Bibi Cameron >>> YOU ARE HERE
Sandi MacIver
Jill Hilliard
Jennifer Snyder
Kathy Clement
Sandra Nagel
Virginia Lu
Jean Manis
Marie Heiderscheit
Joy Baldwin
Zsoka Marko
Ilina Crouse
Jenny Colacicco
GIVEAWAYS FOR YOU
1. I found these beautiful necklaces in the Spellbinders shop and I thought this will make a perfect little gift for crafty friends. There are 3 designs available Creative, Inspired, Fearless.
I'm' giving away an FSJ Inspired Necklace.
The name of the winner is Cynthia Berquist.
Thank you very much to all those who have participated. i read all your comments and they really give me strength to keep the hard work.
2. checj if you are a winner on the Spellbinders blog post here.
thIRSTY FOR MORE SPELLBINDERS CLUBs IDEAS ?
SUPPLIES
Affiliate links apply at no extra cost to you.