Hi there, I had the chance to try the vibrant and unique "Viviva Colorsheets".
I saw them on Instagram and I was very intrigued. To my surprise, Rohita from Viviva contacted me a few months ago and she asked me if I wanted to give this product a try. I said YES!
The product arrived super quick in a beautiful package.
VIVIVA REVOLUTIONARY
In spite of having similar products in the market such as Peerless Watercolors, I have called Viviva a revolutionary or innovative product because a single portable booklet contains a palette of 16 colors.
Plus you don't need to remove the colour sheets from the booklet as the sheets are separated by wax paper so the dyes don't mix together when wet.
viviva premium handcrafted color sheets
Viviva color sheets are concentrated dyes on a sheet of paper with almost no binder.
Handmade in India by women in the community.
The most portable watercolors in the world.
They come in a booklet that weighs 35 grams and it measures 2-3/4″ inches x 5- 1/2″ ( 7 x 14 cm).
Ultra-light.
Compact.
Fits in your pocket.
100% Eco-friendly.
30.000 happy customers. Check reviews here!
VIVIVA COLORSHEETS KEY FEATURES & PROS
Portable.
Water-soluble.
Translucent.
Fully Blendable.
Vibrant and intense.
Highly Pigmented.
Semi staining.
No dispersion or granulation.
Affordable. The booklet price is under $20 USD.
When I was using Viviva Colorsheets I saw a resemblance to the colours and performance of the Karin markers, hmmm I thought the colours are incredibly similar.
The funny part is that these colouring mediums come in totally different formats!
VIVIVA COLORSHEETS CONS
I'm sure if this is a negative aspect tho but I have to mention it. Yes, you will get inky hands.
It takes a little bit to get used to the format.
There is no info about lightfastness available.
top Tips
Clean the brush before using other colors to avoid contaminating the pigments.
Use a little bit of water when lifting the pigment from the colour sheet. The pigments will remain in the brush and you can dab it in water to then apply a wash of color.
notes
As I was unable to lift the colors when I applied this dye on Arteza Expert watercolor paper, I initially thought Viviva Colorsheets were staining but further tests proof me wrong!!
These are actually semi staining!!!
When I used Viviva on Cotman or Arches watercoloyr paper, the dyes activate with moisture.
So YES!! The dyes will activate upon contact with water/moisture, or when you pass over a shimmer pen. Be careful and avoid accidentally transferring colors to an unwanted area.
In conclusion, Arteza watercolor paper is the most absorbent watercolor paper I have ever use. It will grab any paint quickly and it dries very fast.
viviVa colorsheets for cardmaking
As with any water-based medium or water-soluble pigment, the Viviva Colorsheets will allow you to apply a wide variety of techniques.
In my video above, you can see how easy is to apply color to stamped images or artwork using Viviva Coloursheets.
You can also achieve striking watercolour backgrounds for your cards and go crazy!
For today, I also used the following Polkadoodles stamp sets:
That's all for today.
I hope you enjoy this post.
Happy Crafting.
X
Bibi
supplies list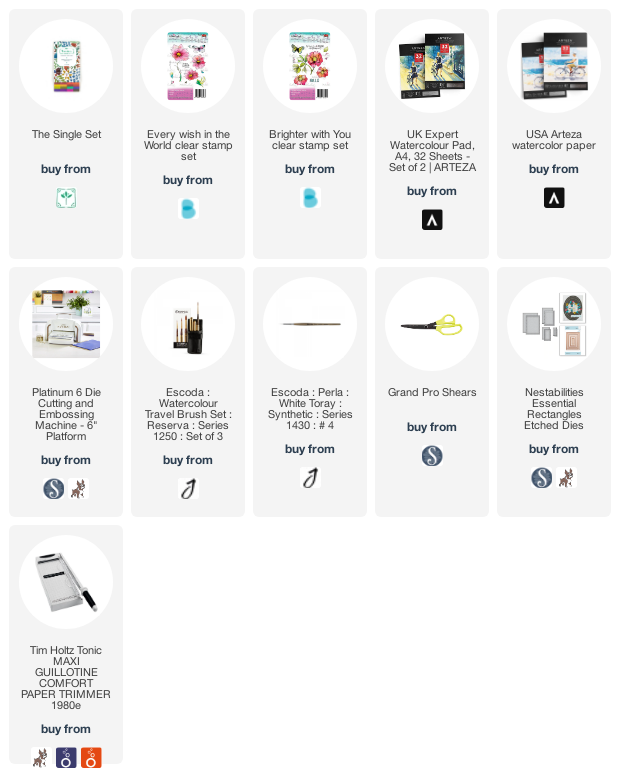 UNMISSABLE PROMOS OF THE WEEK
DISCOVER THE DREAM BOX BY CREATE ROOM
Use the code BIBI100 to get $100 off your bill at Crate Room USA or Create Room UK. Beautiful furniture and the ultimate organization solution for your craft room.