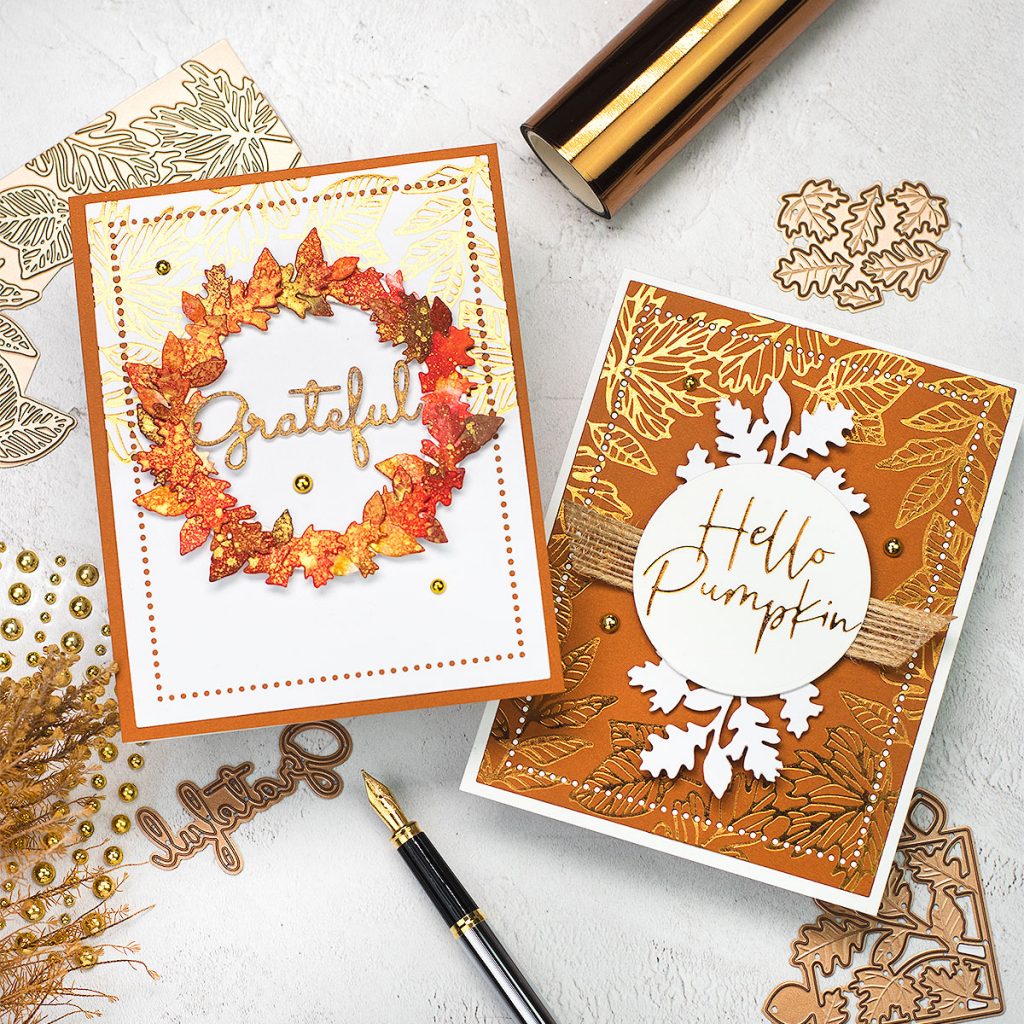 Hello from Scotland, welcome to my blog and to Spellbinders Kits October 2020 Blog Hop.
For today I made a couple of autumnal foiled cards. They were pretty challenging to photograph as there is a lot of reflective and shinny elements so I hope I can give you an idea.
To make them I used: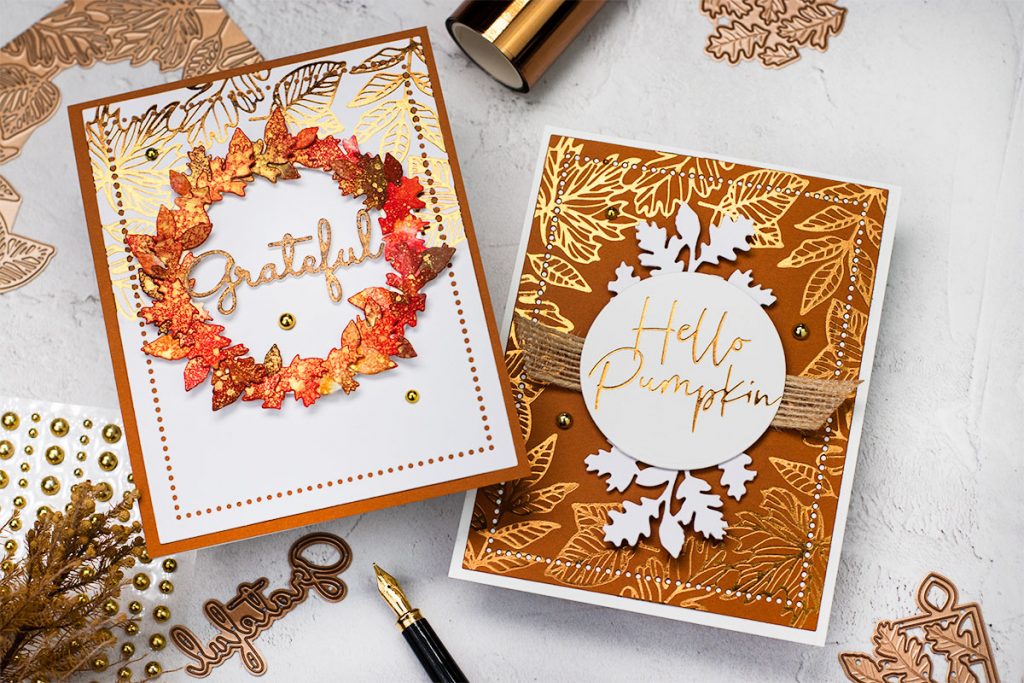 First, I foiled the card backgrounds and toppers using glimmer plates from Spellbinders Glimmer of the Month – October 2020.
Next, I die cut the panels using Essential Rectangles Etched dies as these dies will create a beautiful dotty pattern that will frame nicely any scene.
For the card with the Pumpkin Bread Cardstock foiled background, I also use a corner die from the Small Die of the Month-October 2020 out of whote cadstock.
Then, I cut off the frame to create a couple of white branches that I added behind the circular foiled banner.
I'm totally loving this cardstock colour BTW, It is no only perfect for this season but also to create very organic looking compositions.
distress Autumnal wreath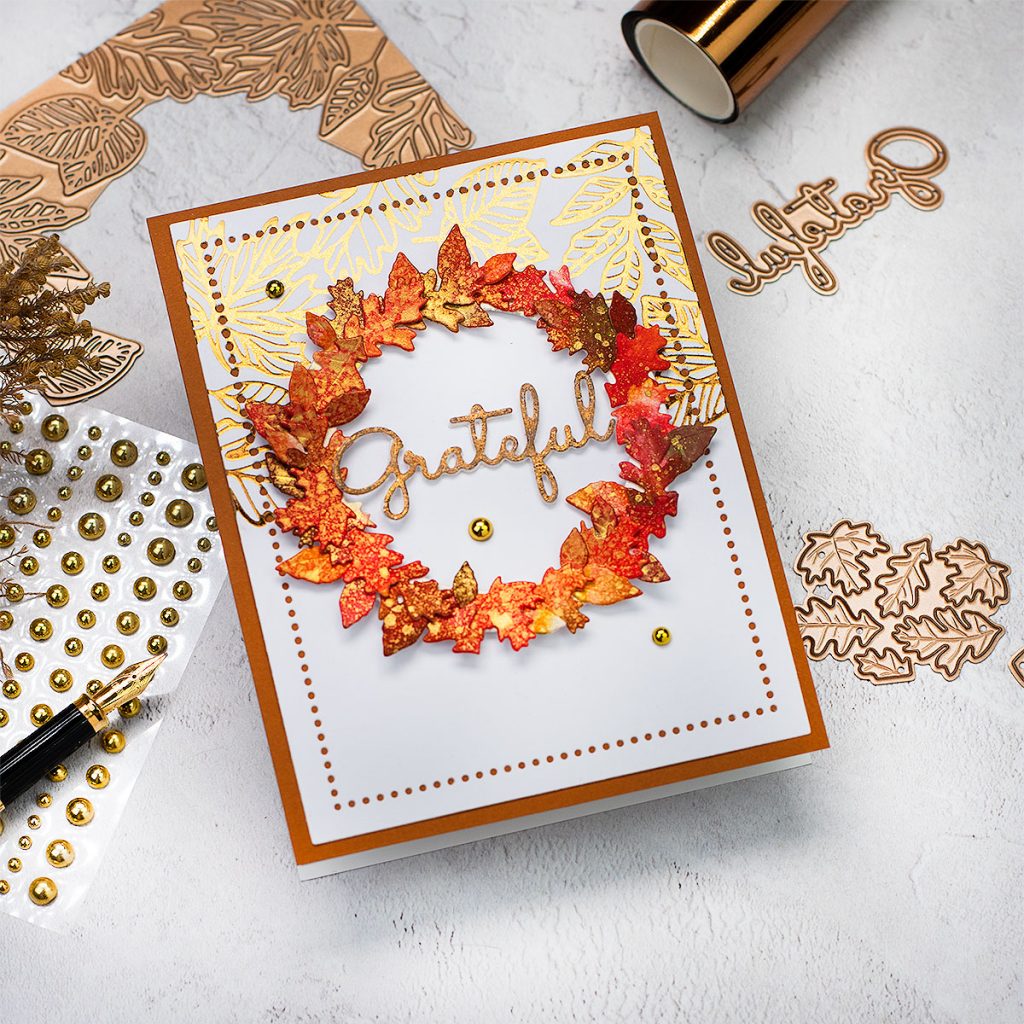 For this card, I applied Candied Apple, Mustard Seed, and Mowed Lawn Distress Ink on white smooth cardstock.
Love the look and feel of these ink colours mixed together.
I first applied the red ink ( Candied Apple) and using a brush I applied green ink over it here and there.
The green ink turned brown when applied to the red-inked panel and the yellow ink turned into a very vibrant orange color.
To add texture and white speckles on the paper, I sprayed the paper with a little bit of water.
Once dry, I die cut all the little leaves using dies from Spellbinders Small Die of the Month-October 2020 and I glued them on a circle frame I die cut using circle dies.
ADDING SHINE AND SPARKLE
When the wreath was fully adhered together, I spray my neglected Antique Gold Mica Mist over.. This looks fab.
For the sentiment " grateful" I added double-sided tape on a piece of cardstock and I die cut it using a word die in the small die of the month.
Then I removed the protective sheet from the double sided tape and I stuck Cooper Hot Foil on the adhesive.
To finish I added, Fashion Gold Embellishments . These are beautiful to decorate any project.
blog Hop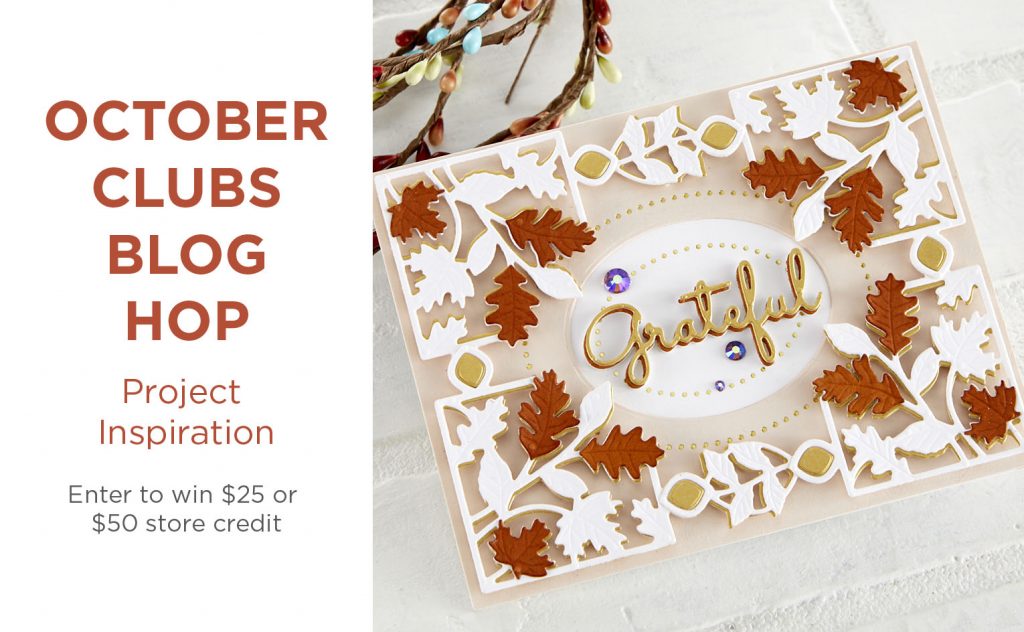 Spellbinders Blog
Yana Smakula
Nichol Spohr
Sandi MacIver
Bibi Cameron You are Here
Jennifer Snyder
Jill Hilliard
Kathy Clement
Sandra Nagel
Virginia Lu
Marie Heiderscheit
Jean Manis
Laurie Willison
Joy Baldwin
Ilina Crouse
Jenny Colacicco
giveaway
"My blog's giveaway winner is … Dorothy A"
Congratulations and thanks to all those who participate.
Supplies list
Affiliate links Apply at no extra cost to you. Thanks for your support.