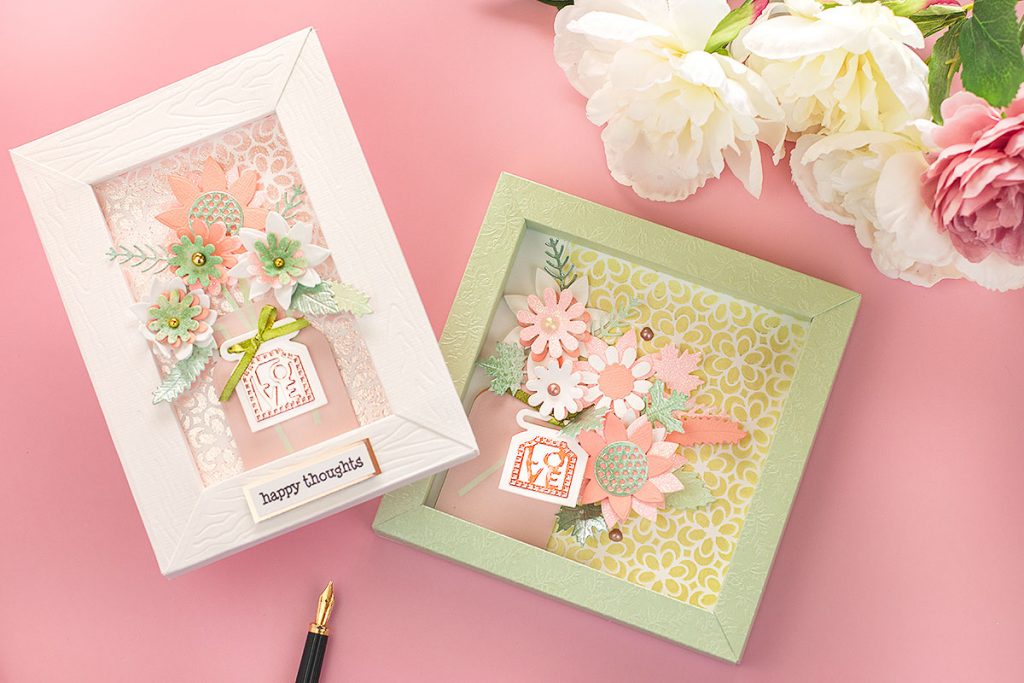 Hi everyone, I used Tailored Frames dies to feature the last Nuvo Trend by Tonic Studios for 2020.
This release includes different products in the Nuvo range in new exciting colours and I made a video to show you some of the products in action.
Rustic rose nuvo trend by tonic studios
This trend includes paper and mediums in different shades of pink, green and cream/ gold .
As always Tonic introduces products that will add the most gorgeous finishing touches to your projects.
I applied Jade Fountain Nuvo Shimmer Powder and Wispy Willow Sparkle Spray over watercolour paper.
Then I die cut it using leaves dies and the metallic die cuts look stunning. This is how you make your own DIY pearlescent/metallic cardstock.
I also love the texture and shine of the different Nuvo Drops.
In the picture below you can see from the top to the bottom the new Enchanted Elixir Dream Drops, Rosebud Pink Stone Drops, Pink Sorbet Jewell Drops, Heritage Rose Crystal Drops.
I applied the new drops colours on white and black cardstock so you can see their opacity and how they look when dry.
Yes, Jewell drops are translucent any other are opaque.
TAILORED FRAMES DIE SETS BY TONIC STUDIOS
Tailored Frames die sets by Tonic Studios will allow to fully customise realistic cardstock frames.
You can make square or rectangular frames up to 10 inches" long.
There are two different die set designs available. Both include a woodgrain plate to emboss the paper for that realistic look.
You can use the die set without the woodgrain plate to create a smooth finish as well.
Shallow Bay die set will cut 1″ inch wide frame (2.5 cm) and the frame is 3/8′ of an inch deep (1cm).
Floating Breeze die set will cut a 1/2″ wide frame (1.5cm) . 3/4″ deep (2cm).
I think this dies are absolutely fantastic to create frames.
The mixed-media artist will love this!!! These are defo on my top favourites die sets by Tonic Studios this year.
You can make these projects in any colour.
Today I used papers and medium included in the new Rustic Rose Nuvo Trend.
Fall Bouquet die set
For the flowers I used Fall Bouquet die set by Honey Bee Stamps.
Basket Bonita carta
I also used papers in Rustic Rose 6×6 inches paper pad to make this little basket using Basket Bonita Carta and a 2″ inches square die to make the bottom of the basket.
The flower was made using textured and embossed card from this release.
That's all for today
I hope you enjoy this post
Happy Diecutting!
Bibi
supplies list
Affiliate links apply at no extra cost to you . Thanks for your support.