Hi there, the Tonic Craft Kit 36 has been released today!! I hope you can grab yours before is gone.
This month the kit is Christmas themed and it includes Nuvo and Craft Perfect products in different shades of gold and red.
Below you will find the unboxing video + Nordic Diamond Bauble box tutorial + 3 extra ideas to get crafty with this kit.
Tonic Craft kit 36 video tutorial
Tonic Craft Kit 36 contents
20 PCS pieces die set – Nordic Diamond Bauble box
17 PCS stamp set – Christmas sentiments.
Nuvo Drops
Mini Glacier Paste
Glitter
Nuvo Shimmer Pen
Washi Tape
2 Glitter bottles
1 glitter accents
Binder
Paper
**** All this products listed at the bottom of this post.
Tonic craft kit 36 die set
One of the main features of the Tonic Craft Kits is the massive die sets included.
This month the kits feature the Nordic Diamond Bauble box die set, designed to create the box in the picture below.
The box assembled measure 6″ x 4″ inches.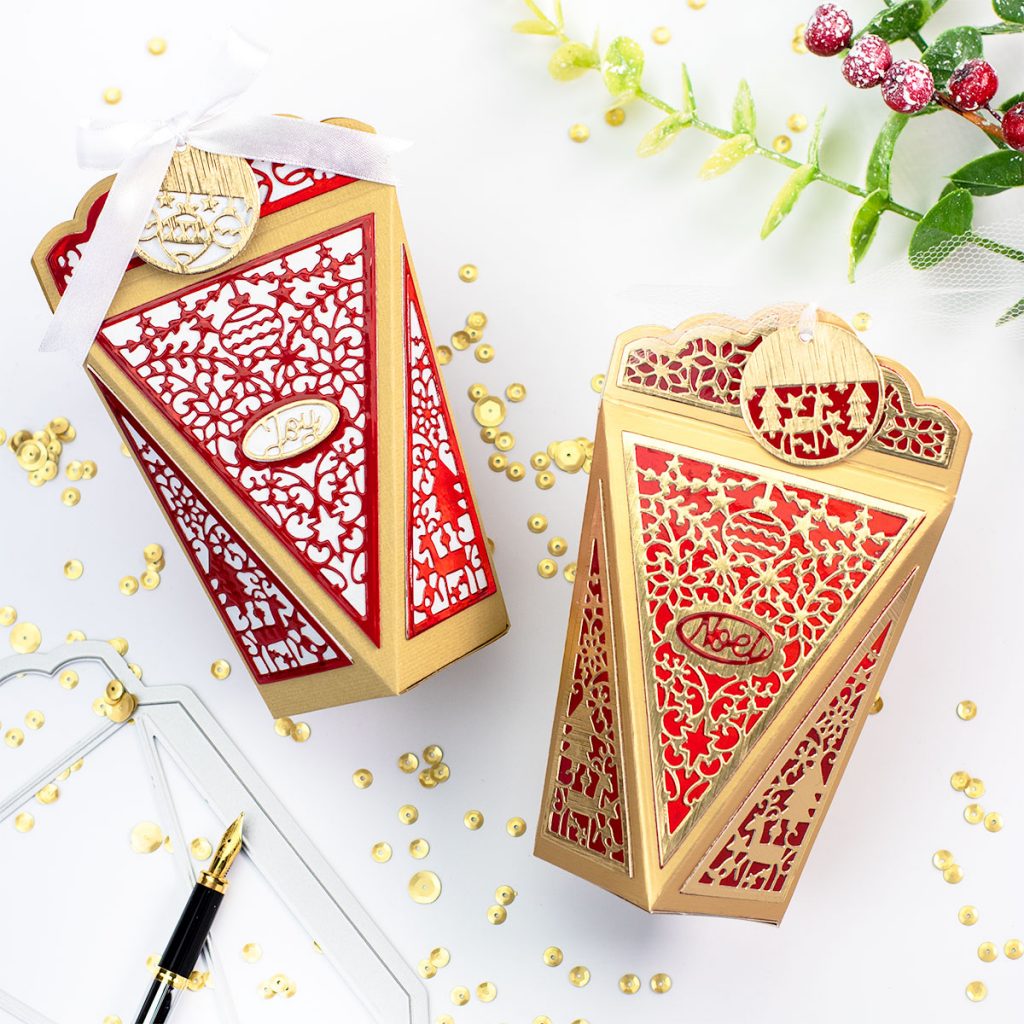 As I mentioned above, Nordic Diamond Bauble box die set includes 20 dies. Just one of them is needed to create the box.
The other 19 dies will create decorative panels, tags, and sentiments. Any of these 19 decorative dies in this die set can be used to create other projects such as cards, other box designs, tags, and much more.
inlaid die cutting
The decorative/ intricate dies in the die set will cut an inlaid pattern on the paper but won't cut the edges around the shapes.
This makes the dies extremely versatile as you can use them to create beautiful die-cut patterns for different projects.
I simply die-cut the main panels of the box below using decorative dies to provide a visual. You can easily die-cut the panels of a card or memory album using these dies.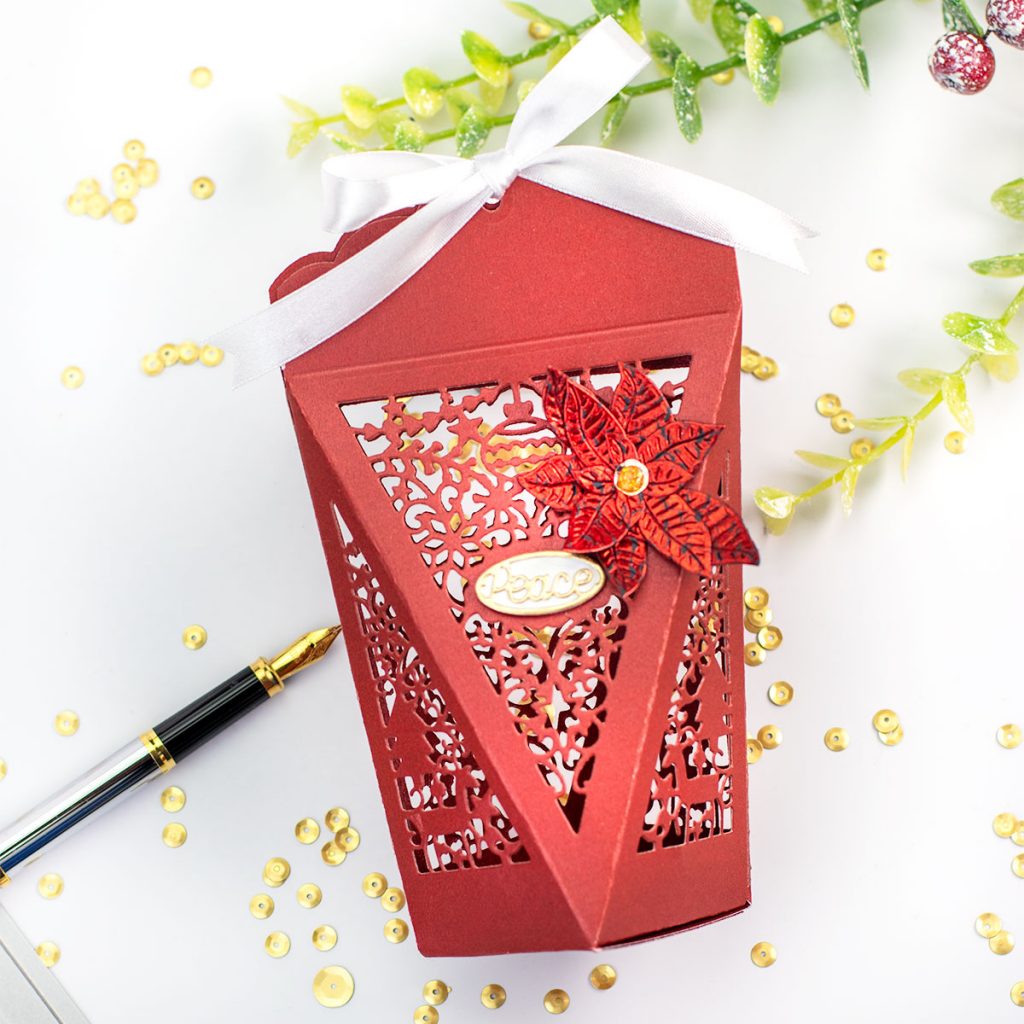 Bonus projects
Using the main die in the die set you can also create different projects as the triangular boxes below.
I also used the washi tape include din the kit to decorate the panels of this triangular box and the little tag.
To stamp the little tags attached to these boxes I also used one of the sentiments from the kit stamp set.
There are another 16 stamps to play with.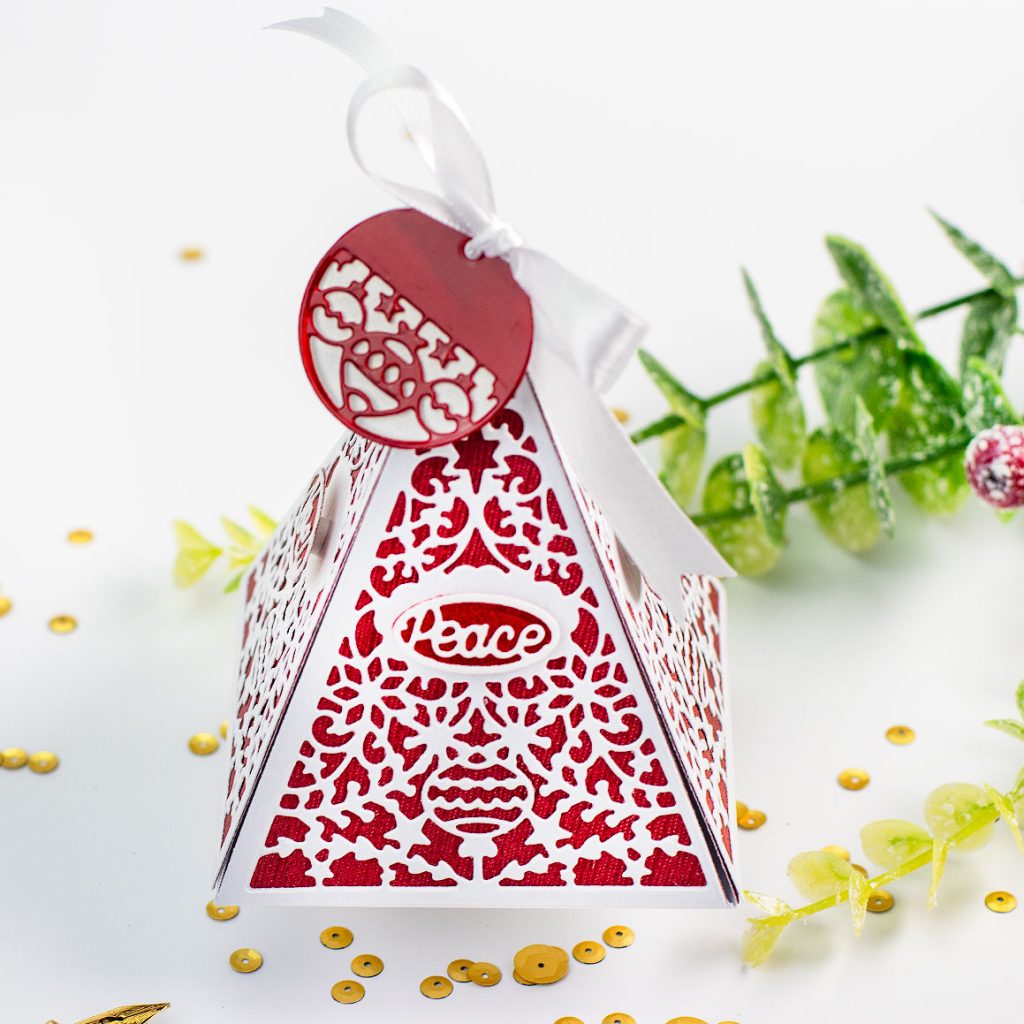 To make this box I used 2 triangular dies from the die set and I made a base using a square piece of cardstock taht emasure 4-1/8″ x4-1/8″ nches.
For more info on how to make this box please watch my video here- minute 13: 14.
That's all for today.
I hope you enjoy this post and the ideas.
Happy Crafting
x Bibi
Supplies
Affiliate links apply at no extra cost to you. Thanks for your support.