Hi there, lovely people from Pink & Main asked me if I would like to try their Ergonomic Blending Brushes and especially their new mini blending brush.
I'm always happy to try new craft supplies and although I have seen similar make-up brushes I decided to give Pink & Main ergonomic brushes a try.
These brushes promise a joyful ink blending experience and in this post, I'm sharing my findings…
Have a look at this short video made to show you the brushes in action.
So this brushes arrived nicely packed and labeled with the Pink & Main logo.
They have a soft mat coating over the handle and they feel nice on the hand.
The bristles are super soft and very compact.
They won't lose the shape and they are all the same length so these brushes are flat.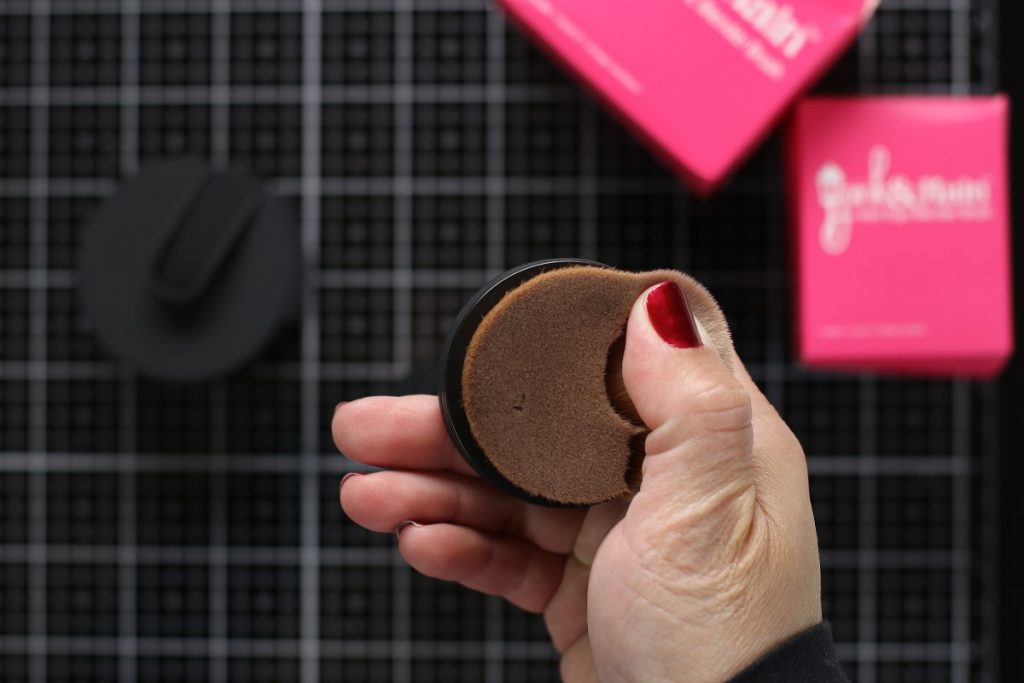 Pink & Main Blending brushes ARE AWESOME
The brushes are soft and they do not leave ink scratches or marks on the paper.
Remarkable smooth and soft ink blending.
The first ink layer looks very soft, It looks as if the paper has been sprayed.
Seamless color blending.
Excellent performance with stencils.
Easy to hold. Although I also like other blending tools or applicators.
The large brush will cover a larger area in time record.
Superior performance when using hybrid inks.
They perform slightly better with Distress Oxide Inks than Classic Distress Inks.
Easy to clean.
The little stand is a big plus.
what make this product special
I defo will say the superior smooth blending you can achieve with these brushes. I haven't been able to achieve such a soft look and feel with other brushes.
The size and shape. It allows you to cover large areas.
The flat bristles of these brushes allow you to cover large areas "evenly". No scratches or ink spots.
I heard some people saying that these brushes are easier or more comfortable to hold. For me, other brushes are also comfortable to hold.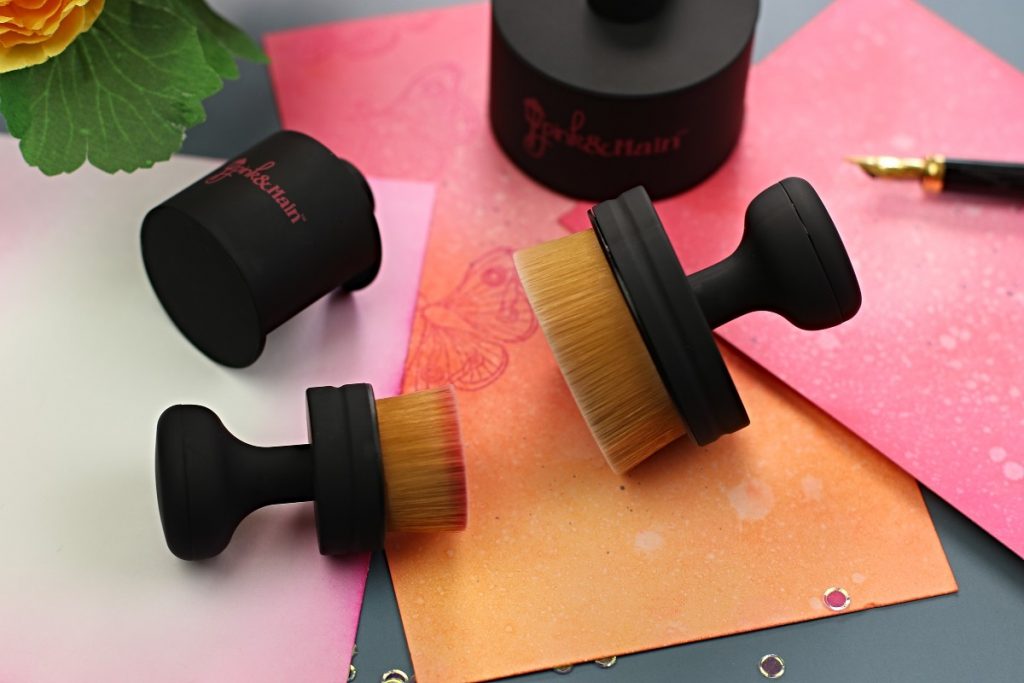 New mini ergonomic brush
Pink & Main released their large brush ( 2'inches) first and yesterday they released the smaller size (1″).
It is not only cute but I found it great. It does the job!
So this is a new crafty product that is worth trying.
The prices of Pink & Main blending brushes are $8.99 USD for the small brush and $11.99 USD for the large brush and these brushes are available at the Simon Says Stamp Shop here!
A while ago I saw similar make-up brushes online when looking for precision blending brushes. There is a wide variety of make-up brushes that we could be used for ink blending.
When I received the Pink & Main brushes I browsed the web again and found a very similar brush at $18USD here. Although I don't know the size and quality, the handle is also coated as the Pink & Main brushes.
The prices might vary tho and they also look slightly different. You could find similar brushes at very low prices if you buy from China and willing to wait to test them out.
However, I would encourage you to support our crafty companies.
would you recommend?
Yes, 100%
top tip
Start blending out of the page to avoid hard circular edges or marks.. just like when you use any other application.
how to clean
It is easy to clean, simply wipe off ink colour on a microfiber cloth, then move on to your next colour. For a deeper clean, wash with gentle dish soap and water, rinse, and let dry thoroughly.
Which paper i should use for ink blending
Although these brushes could be used on ordinary cardstock ( no designed for blending), for jaw-dropping results use smooth cardstock.
I used Strathmore Bristol Smooth paper 270 grams, Neenah 110 lb and Neenah 80lb.For ink blending I think that white Neenah solar crest 110Lb cardstock performs better than the 80Lb.
I love Neenah for stamping and colouring and to use with stencils but I find the blending a easier on Bristol Smooth or other ultra smooth papers as the Tonic Studios smooth cardstock ( sold out and unavailable on the market at the moment).
That's all for today.
I hope you find this info useful.
Happy crafting.
x
Bibi
Supplies list
Affiliate links apply at no extra cost to you. Thanks for your support.