Hello everyone! I'm always in the search of sensory games for my kids and as a parent, I'm eager about any activity that involves messy play, tactile, visual and auditive stimulation.
So today, my 6 years old daughter Emma and I have a very special blog post for you and your kids.
We tested a new product called Slime Creator and we think this is terrific !!
I saw an add on social media 10 days ago and I placed an order straight away.
All in 1 Slime Creator Kit Unboxing
This kit contains:
2 activators
1 glow in the dark base
1 glitter base
1 clear base
1 bottle of glitter
1 bottle of shimmer powder
The good thing about this kit is that you don't need to worry about getting the right products or to find the ideal slime recipes.
This is a safe and tested product
Although Emma said it smells like glitter. It really doesn't smell
Mess-Free. No sticky, easy to clean when slimy.
The kit arrived 3 working days after placing my order and as my order was over £20 the shipping was free.
This was a very happy mail for my little Emma.
She asked me to make a special video together and although this is her first time doing all this, I think she did great.
I edited 2 videos to show you the kit contents, the products in action, and Emma's reactions.
All in 1 Kit Unboxing + Glow in the Dark Slime
Oh!!! I joined their affiliate program so that I could offer an exclusive 10% discount coupon to my blog readers!
Get a 10% Discount on the Slime Creator Shop here!
The Glow in the Dark Slime is our very favorite and it is available in three different colors.
We got Pearl White- Glow Base in our kit. In the light, the color of this slime is very interesting .. it screams touch me! Stretch me!
The texture is super cool but the real magic happens when you turn off the light.
You will see a very intense glow!!
We started crafting in the afternoon but as we were filming we were still working on it until dark!!!
My craft room is a dark hole in my garden, very dark. The Glow in the Dark slime lighted up the room!
Glow in the Dark Slime Formula
Step by Step
Step 1. Add the Glow in the Dark base in a bowl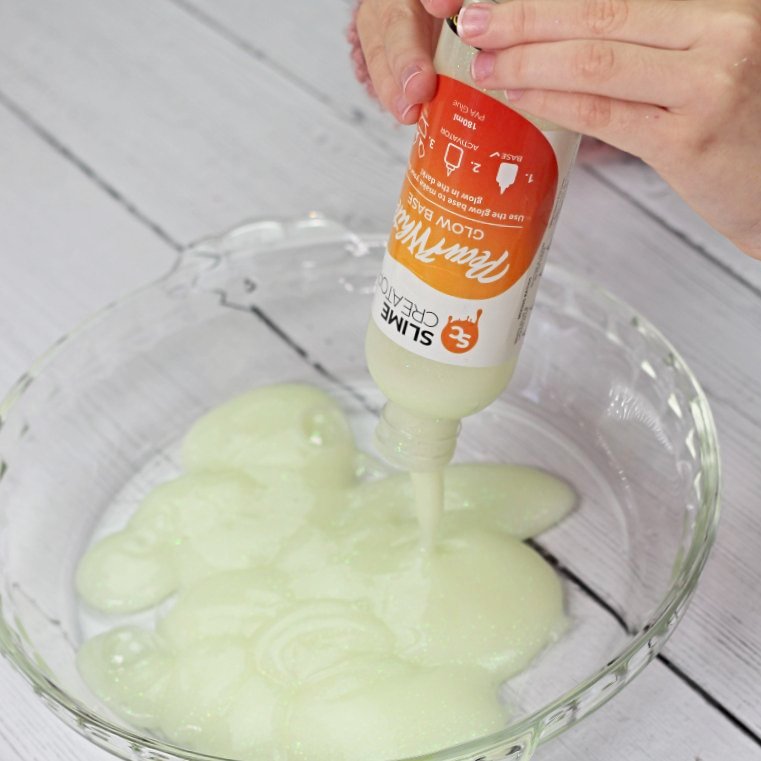 Step 2. Add Activator.
Step 3. Mix until ready
Step 4. Save your slime in a zip lock bag or a container with a lid so it won't dry!
Making Coloured Slime and Emma Reactions
Also super easy to make. You will need 3 ingredients or 4 if you want to add sparkle ( glitter)
Coloured Slime Formula
Magic Activator

( Add 1/4 of the amount of Slime Base used)
Apply amount desired of colorant/glitter.
The kit included a bottle of Nuvo Shimmer Powder .
As I have several colors of Nuvo shimmer powders we used those ( you can use food coloring as well).
I have to add that although this is a fun way to use shimmer powders, these are actually an amazing coloring medium for crafts and arts.
They are highly pigmented water-soluble pigments powders.
You only need to add a wee bit of the products to achieve the most vibrant color.
Check out my videos about Nuvo Shimmer Powders just to give you a general idea of what you cna do with them
Conclusion
To make slime all you need is inside 2 magic bottles:

Slime Base

( Clear, Plane, glitter or glow in the dark)
Magic Activator (1/4 of the amount of slime base used)
According to this, you will only 1 bottle of activator for every four bottles of slime base!
Anything else applied to the mix is to add colour, texture, or sparkle.
Note: You can get 1 bottle of Slime Base and 1 bottle of Magic Activator alone for under £8 but the kit defo gives you more value and you can try different slime formulas.
Why Sliming is Good for Kids?
I understand the importance of sensory play.
Activities that help kids to understand processes, to achieve coordination and balance, and to develop logical thinking.
There are several articles you can read online about sensory play.
Here is one that I found very comprehensive:
That's all for today, I hope you like our post and feel inspired to try the Slime Creator kits.
Disclaimer.
Affiliate links apply. This means that when you click and buy through the links on my blog, I get a small commission at no extra cost to you.
Thanks for your support!