Hello everyone, today I'm sharing two super duper easy card ideas using gorgeous supplies by Papertrey Ink – Ink to Paper:
Watch a 2-minutes video to see how I do this…
Easy .. isn't it? You can use any distress ink colors to do this and to start adding cool little effects to your card backgrounds.
I'm loving this ink color combo: Evergreen Bough and Squeeze Lemonade!
CARDMAKING PROCESS |
I first die cut three beautiful bouquet backdrops.
Then, I applied Evergreen Bough and Squeezed Lemonade distress inks over the die cuts using a mini blending tool.
Evergreen bough on the center of the die cuts and Squeeze Lemonade at the edges.
I used one of the die cuts for the card below and the other two for the other card in this post.
Use a Distressed die-cut as an accent or the focus of your card
Although I used parts of this die-cut to complete the other card in this post, you will never notice.
For this card, I also used Border Bling Chain Die.
This is an absolutely stunning border die .. so original!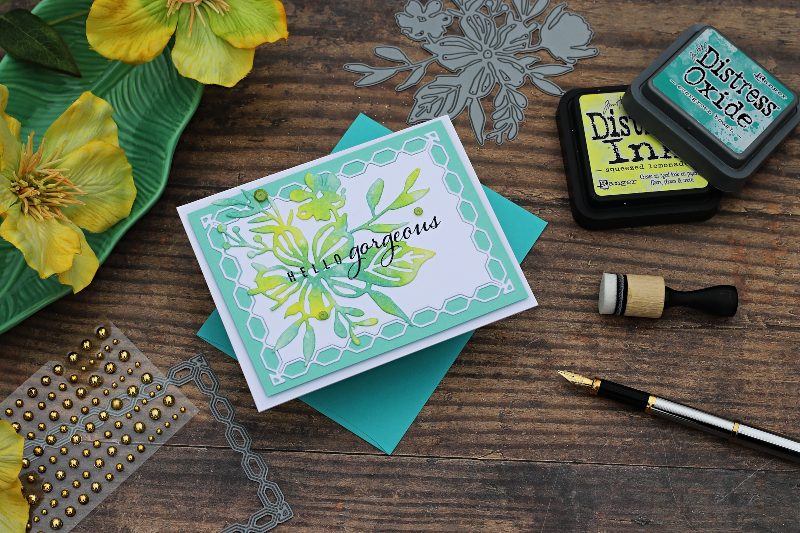 OVERLAPPED STAMPED SENTIMENT |
This is a very cool effect to apply on cards as well.
With the help pf the stamping platform, I stamped the sentiment on the background panel.
I leave the panel on the platform and them I placed the Bouquet Backdrop die-cut over it and I stamped over the die-cut to get the sentiment aligned.
Next, I glued the Buquet Backdrop die-cut in place.
I embellished with sequins.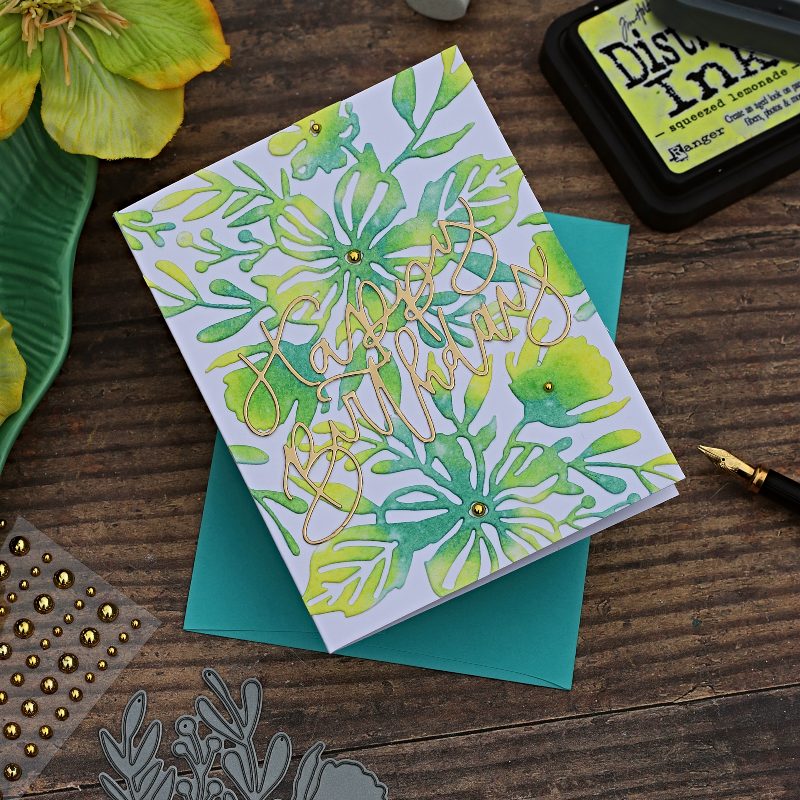 Use Distressed die-cut to cover the whole background
For this card, I simply adhere two bouquet backdrops on a C6 ( American standard card base)
I also used some parts of the die-cut used in the card above to fill in the edges.
I use "To Die For Sentiments Birthday die set" to cut the sentiment out of gold mirror cardstock.
To finish I added fashion gold embellishments.
The envelope is Torquise Sea Gina K designs envelopes. Sadly I couldn't find the envelopes available to add them to the supplies list.
I added envelopes in similar colors.
That's all for today!
I hope you like these projects
Happy crafting
x
Bibi
PIN ME
Supplies
Just a note to let you know that when you buy through the links in my blog I get a small commission at no extra cost to you.
Thanks for your support!