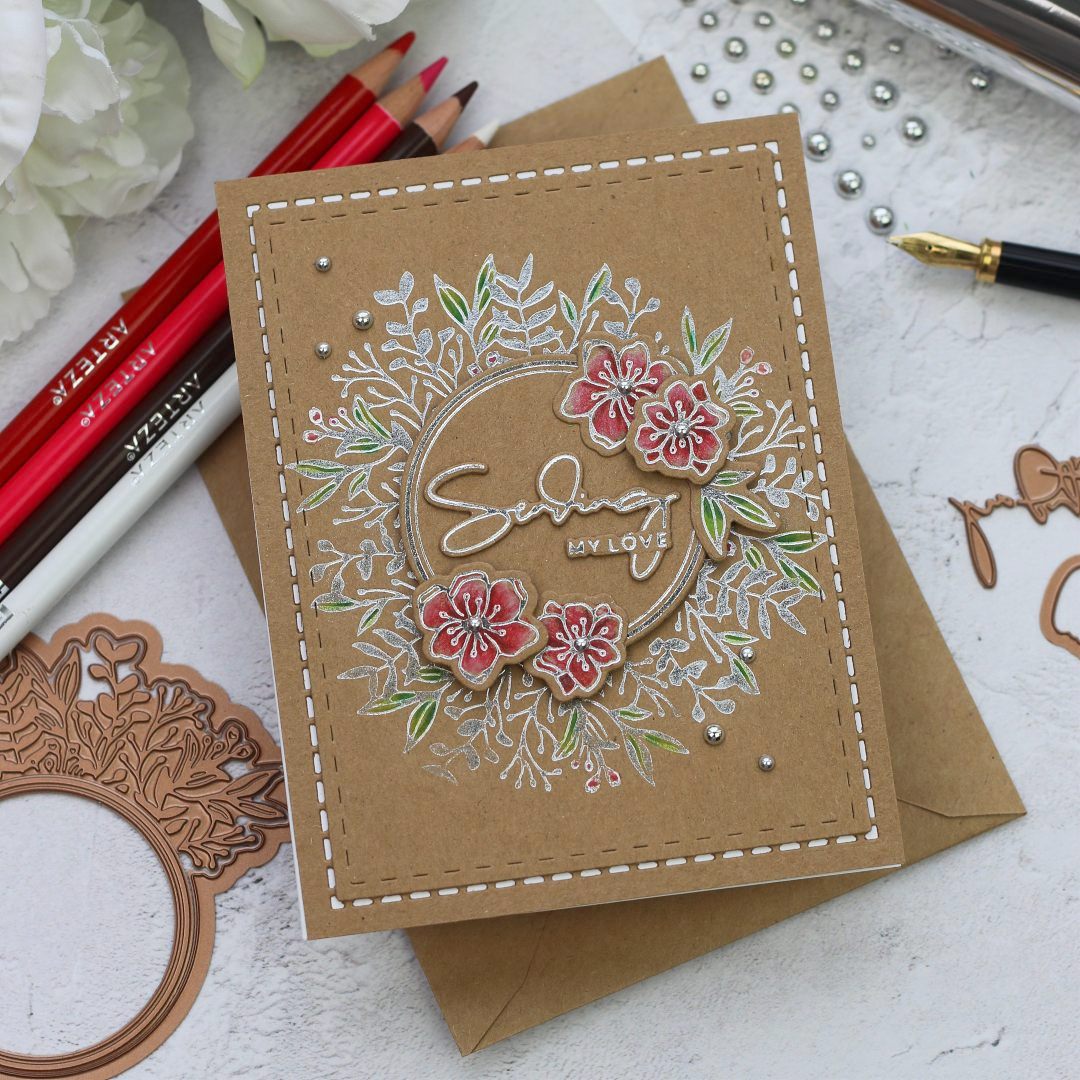 Hello there, I hope you are doing well. I have been invited by Spellbinders to share ideas and inspiration using the new Foiled Basics Collection designed by Yana Samakula.
Yana is not only a very talented and skilled papercraft artist. She is also a sweetheart and I'm thankful for her as she introduced me to the word of glimmer!
This was a whole brand new thing to me and the first time I used the hot foil system I glimmered everything except the cardstock lol. I guess I was impatient and distracted.
Soon I realized that this is way easier than we might with just a bit of practice you will be able to master it.
I especially like hot foiled sentiments, they defo add a wow factor to any project and Yana's Sentiments Glimmer Hot Foil Plate & Die Set are just stunning.
The coordinating dies that come with Yana's Sentiments Glimmer Hot Foil Plate cut them perfectly just around the borders… Beautiful!!
Silver Foil on Kraft Card
As I wanted something a bit different I chose Kraft card for this card and I applied colors using Arteza colored pencils.
Foiled Backgrounds
The good thing about glimmer plates such as the new Polka Dot Strip is that they allow you to foil segments of a panel so that you can use different hot foil colors.
For this C6 card, I used Pewterand Silver hot foils for the background and some of the leaves from Organic Foliage Glimmer Hot Foil Plate & Die Set as well.
I also used and Espresso Bean for the sentiment and the darkest images on the card above that were made using Foliage Border Glimmer Hot Foil Plate & Die Set
To create a piece of coordinating paper to add on the panel border, I simply applied double-sided tape on a piece of cardstock and with the shiny side of the foil, I rubbed over the tape. The foil will stick to the tape.
I did the same for the 5×5 inches card below and I this time I only used Pink hot foil.
Top Tips :
Make sure the shiny side of the paper is always facing the glimmer plate.
When using Yana's Sentiments Glimmer Hot Foil Plates and Polka Dot Strip use washi tape to secure the plates and foil on the cardstock. This will avoid the plates to move during foiling achieving sharp results.
Use Yana's "washi tape hinge technique" to place the plates in a specific area of the card.
when placing the hot foil platform on your machine run it slowly.
That's all for today.
I hope you like these ideas.
hugs
Bibi
Supplies List
Just a note to let you know that when you buy through the links in my blog I get a small commission at no extra cost to you.


Thanks for your support!