Hello everyone, for today I made super simple Love/ Friendship/ San Valentine cards using the Spellbinders Large Die of the month – January 2020 available now!

The Die Set
The die set includes a 16 individual dies to make die-cut paper split heart necklaces with 5 different messages.
This can be used on boxes, tags, or any other project!
The hearts assembled measures 2 -1/4 x 2 -3/8 inches.
I think this set produces substantial die cuts that do not require any additional embellishment to stand out and they can be easily used as the central focus of any project.
They are very easy to put together as well.
Check out 40-seconds video on my Instagram account to see the die cuts in action
Ver esta publicación en Instagram

Una publicación compartida por Bibi Cameron Papercraft (@bibicameron) el
After playing for a while with the set, I decided to use gold and holo cards to make the split heart pendants.
I wanted to make them look like the real thing but you can use any color you like.
I die cut the "jump rings" shapes. These need to adhere at the back of each half heart because they have a slit and they will fall down if they are not stuck in place.
To secure the jump rings you can also glue a background piece behind each heart half using a good quality liquid glue.
Less is More
I was very tempted to only use a plain white card base and stick the golden die cuts over. The cards looked enough good for me in that way. seriously you won't need to do anything else!!
A few months ago I found a huge card shop in London and handmade cards were not as elaborated. They were rather simple and they were very beautiful and appealing… Arg is a shame I don't remember the name of the shop, I just walked in by accident while waiting for a 5 hours flight connection.
The hand made cards on display made me think that I don't always need to spend loads of time and supplies to enjoy crafting!
So I wanted to put this new idea in practice and my latest cards as been ridiculously simple.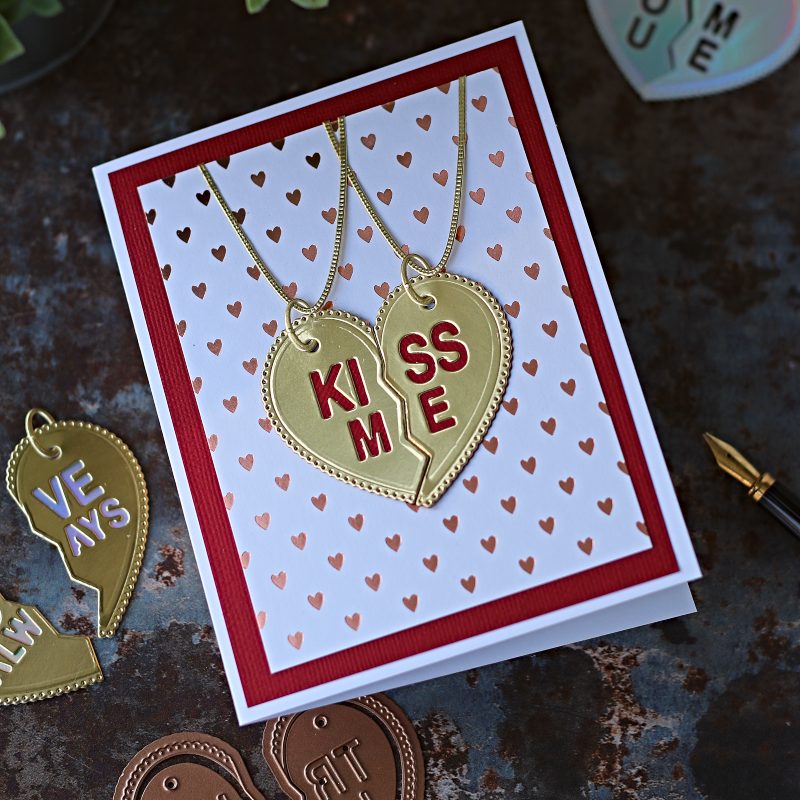 However, as part of me is still attached to "more is more". I decided to add a foiled paper background panel.
Interactive Split Hearts
OK so to add a little extra, I used a piece of washi tape to secure the two heart halves together and also to temporarily adhere them to the background.
Once the pieces were in place, I only adhered the necklace or chain to the background panel using Nuvo deluxe adhesive.
I allowed the adhesive to dry and I removed the washi tape.
Voila!! the pendant moves and splits when moving the cards.
I know this is a very simple and minimalistic idea BUT I think it adds a lot of fun to these very simple cards.
That's all for today.


I hope you like the Spellbinders Large Die of the month – January 2020!!
Supplies List
Just a note to let you know that when you buy through the links in my blog I get a small commission at no extra cost to you.
Thanks for your support!