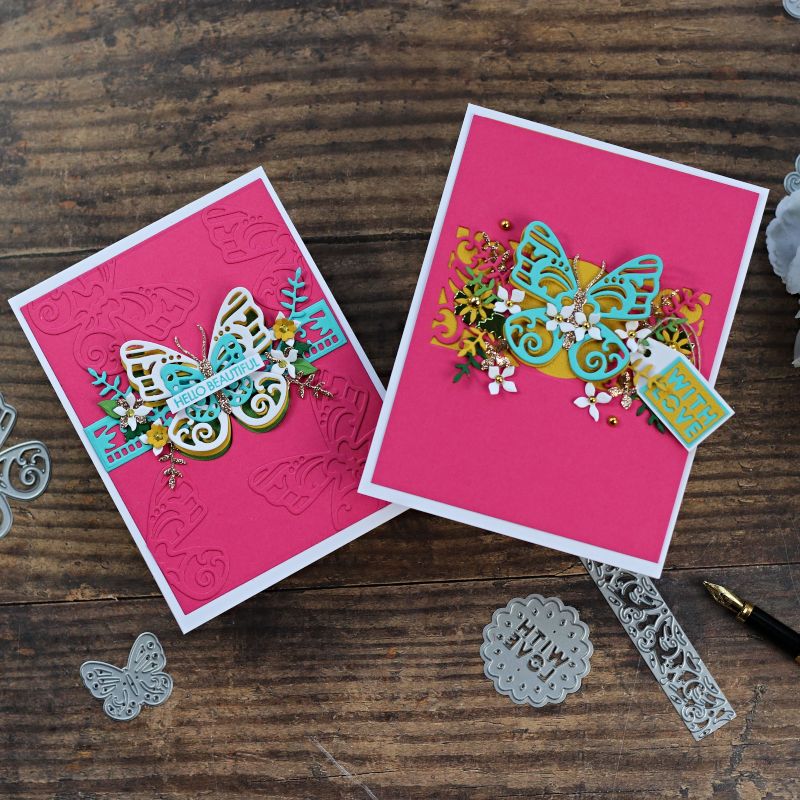 Hi everyone, Tonic Studios November's Designer Choice -Damask Strip Die Set has been released today.
This is a monthly limited edition by Tonic Studios and I have 6 colourful ideas to share creativity with while featuring this die set.
All the cards today gravitate on different ideas although they might look similar due to the colour combo I have chosen.
Watch video
Explore Designer Choice – UK SHOP
Explore Designer Choice USA SHOP
Get £5 / $5 off using the code DIEFIVE .
Colour Combo
The first idea I want to share with you is to start by choosing the colours for your die-cutting projects.
Inspired by Mexican art, I chose a super bright and happy colour palette:
Hot pink, yellow, green and blue.
Chose also a neutral colour for the card base and accents.
I used white and to add sparkle I used gold. Gold accents always add invaluable interest.
Bear in mind that colours give mood to your projects. Beautify or take their credit off!!
If you are not sure about the colour combos you can search online for colour combinations and you will find tones of inspiration.
You can always create a monochromatic composition and use only a neutral colour to make elegant designs.
I think that any of these cards in white with gold accents would look fab.
Partial die cut background and mini tag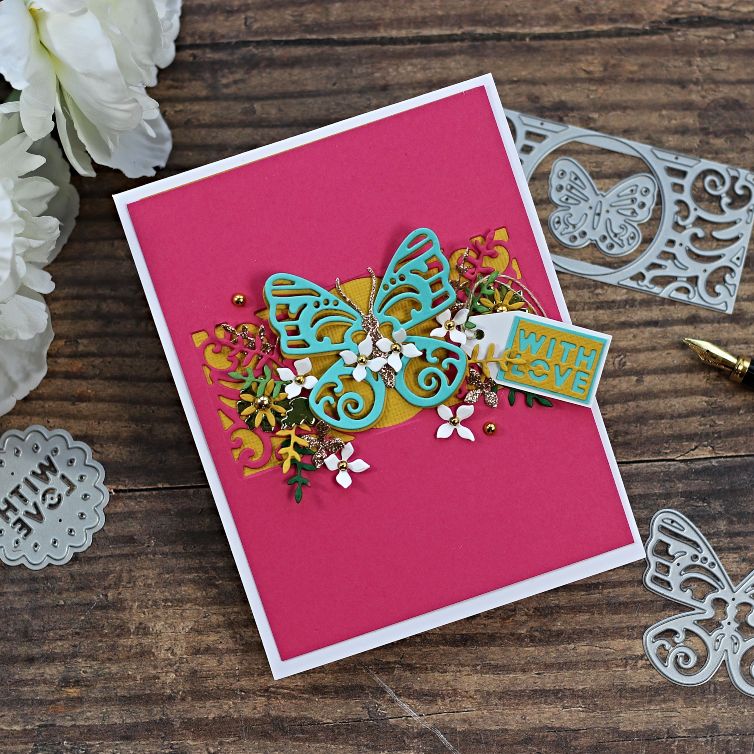 Use any of the for rectangular dies included in Designer Choice to partially die cut the background panel of your cards.
Layer over die cuts in the colour pallet.
Overlap die cuts to achieve dimension and contrast.
The die set this month also includes small circular tags you can cut to customize other little creations such as the mini tag hanging out on this card.
Faux embossed background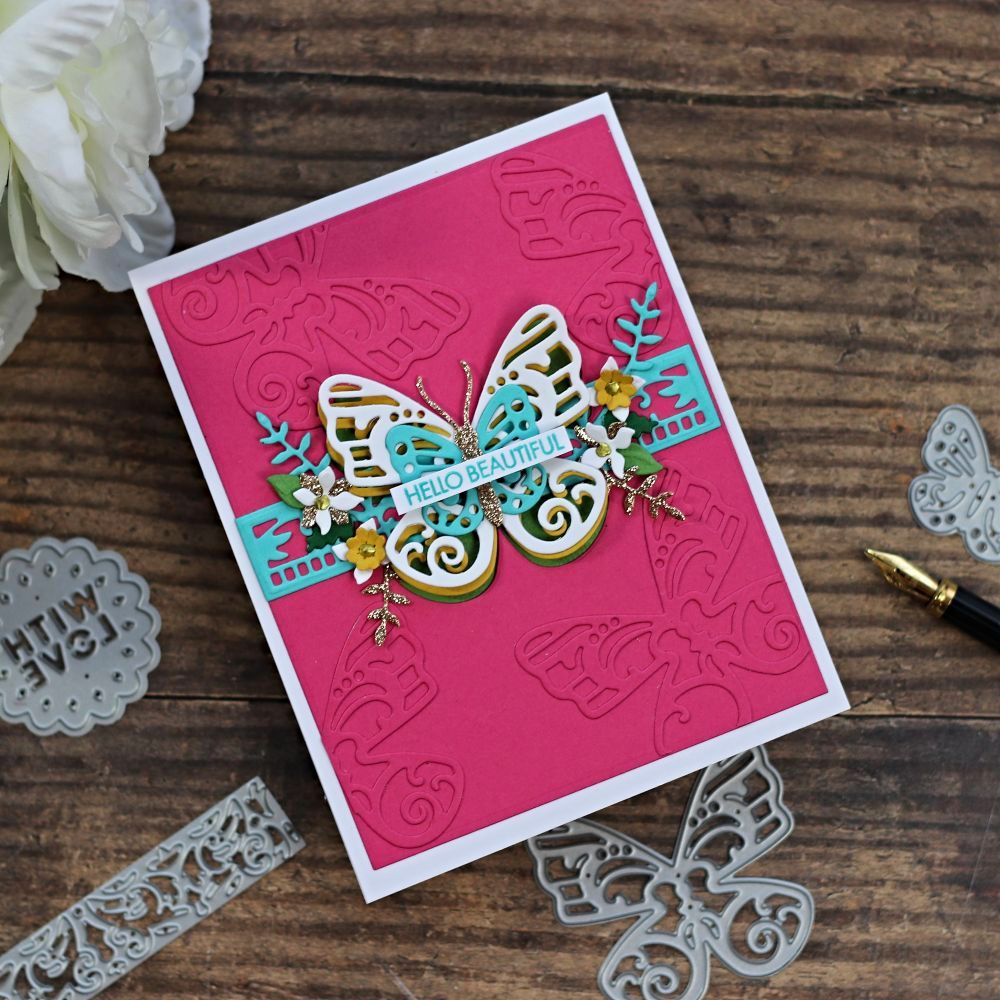 Apply tone on tone dies cuts to create a faux embossed background.
Layer die cuts in different ways to achieve different looks.
Add small banners with sentiments to customize your cards.
Die cut Panel
Die cut the whole background of a card using any die in the set.
Add golden accents to create interest.
Layered Tag
Create endless die cut layouts for different papercraft projects.
Butterfly Windows
This is the simplest card in this post and yet one of my favorites.
I simply die cut the panel using the butterfly dies in the set and I added a contrasting background panel.
Then, I layered butterfly die cuts on the windows to easily add dimension and color.
Go Out of the Box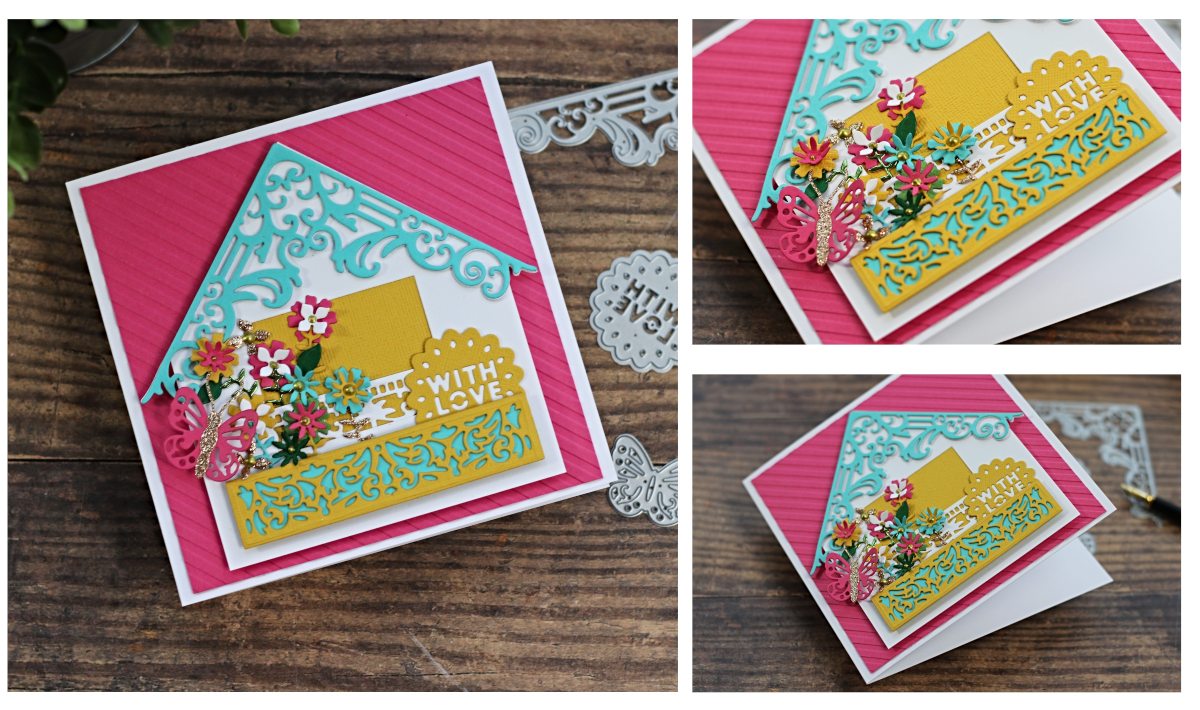 Play with die cuts to create something new!
Exercise your creative muscle every time you can even when the outcome is not what you expect or when you are using the dies for thing than even their own designer never thought you could do.
DISCOUNT
***This exclusive die set will be available until supplies last.
Grab yours with a £5 / $5 off using the code DIEFIVE .
That's all for today. I hope you like these ideas…


Happy crafting!
Hugs
x
Bibi
Supplies List
Just a note to let you know that when you buy through the links in my blog I get a small commission at no extra cost to you.
Thanks for your support.