Hello everyone, I have been thinking of chocolate and little treats and I'm blaming the latest Tonic Studios Craft Kit. Have you seen it?
The kit #20 includes several products for your daily craft projects such as Nuvo Drops, sequins, Mica Mist, paper, twine, shimmer powder and a 14 pieces die set to make a beautiful dragonfly box.
I think the box design screams chocolate truffle!!!! YUM!
Explore or pre-order the kit at
Tonic Studios USA – Shop here!
Tonic Studios UK – European Shop here!
I'm sharing a video to show you the contents of the kit and how to put the Dragonfly box together.
So the kit also includes a coordinating stamp set but I could live just crafting with the die set that also includes a tiny heart-shaped tag, a ladybird and a dragonfly .. they are so super cute!
In the video, you can also see 6 decorative intricate dies included in the die set to create little square layered panels for the box sides.
There are two square die frames to cut the edge of the intricate panels. One is slightly smaller than the other one. The larger measures about 1-1/2″ x 1-1/2″ inches and the smaller one measures 1-1/4″ x 1-1/4″.
The intricate whimsical patterns are a beautiful little something to add to the box panels. Although as I mentioned in the video I love the bare box as well.
You can make these boxes in any colour and using any paper quality. This is and it is a perfect packaging solution for small goodies.
Dragonfly – hexagonal box assembled measures 3- 1/2 " x 4 – 1/2″ inches.
I'm also loving the new Fresh Mint Pearlescent Card (9514e) included in the kit. What a beautiful colour and it is folding-friendly. It didn't crack and it allowed me to shape the box with easy.
In the video, I also quickly show a box made using the handmade paper called Oak Woodgrain included in the kit. This is a flimsy paper but it doesn't tear easily. It is quite sturdy and although it is not great to make sharp folds it provides an awesome look and feels to the finished boxes.
I think you can make the most stunning, luxurious looking dragonfly boxes for chocolate truffles, macaroons or handmade sweeties using Tonic Studios speciality paper – hand made paper! LOVE
So after making a few boxes, you might find that any paper is easy to fold to create this ultra shaped box.
The paper pad included in the kit can also be used with the die set too. It is 160 grams paper so is not so flimsy and you can see in the picture below how sharp those curve foldings looks! Nice!
This double box is a draft project. I was experimenting extra ways to use the dragonfly box die set and other goodies in the kit.
As a result, I got a box that looks like a huge candy or huge chocolate!!! SEE who can stop thinking about sweet things when using this kit?
I think this would make a fantastic goodie box for children's parties or for Easter! it will fit two (2) kindereggs inside!
You could die cut the panels using other dies in the kit so you could see the interior!
I can imagine some cookies picking through an acetate window! YUM
That's all for today … I hope you like these ideas!
Thanks for stopping by and for your kind comments. I'm always happy to read and to answer any questions.
If you wish to receive my blog post or videos directly in your inbox please Subscribe to my blog here! or my Youtube Channel here!
Many hugs and happy crafting
x
Bibi
Supplies List

in the USA and the UK Shops!
Just a note to let you know that when you buy through the links below I get a small commission at no extra cost to you.
Thanks for your support.
Shop Tonic Studios USA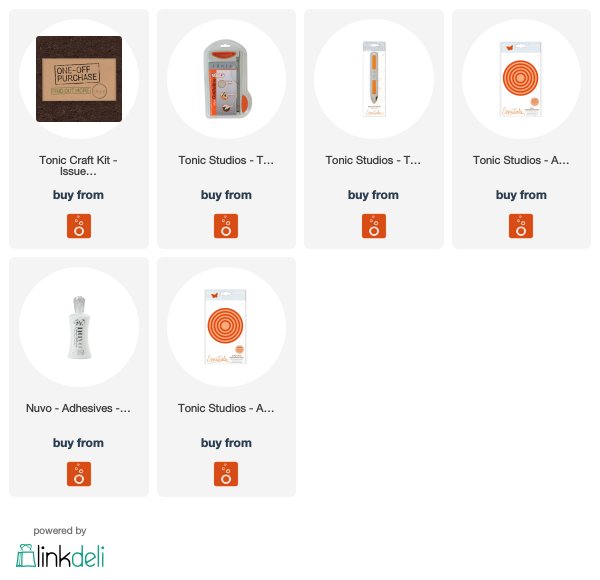 Shop Tonic Studios UK – Europe