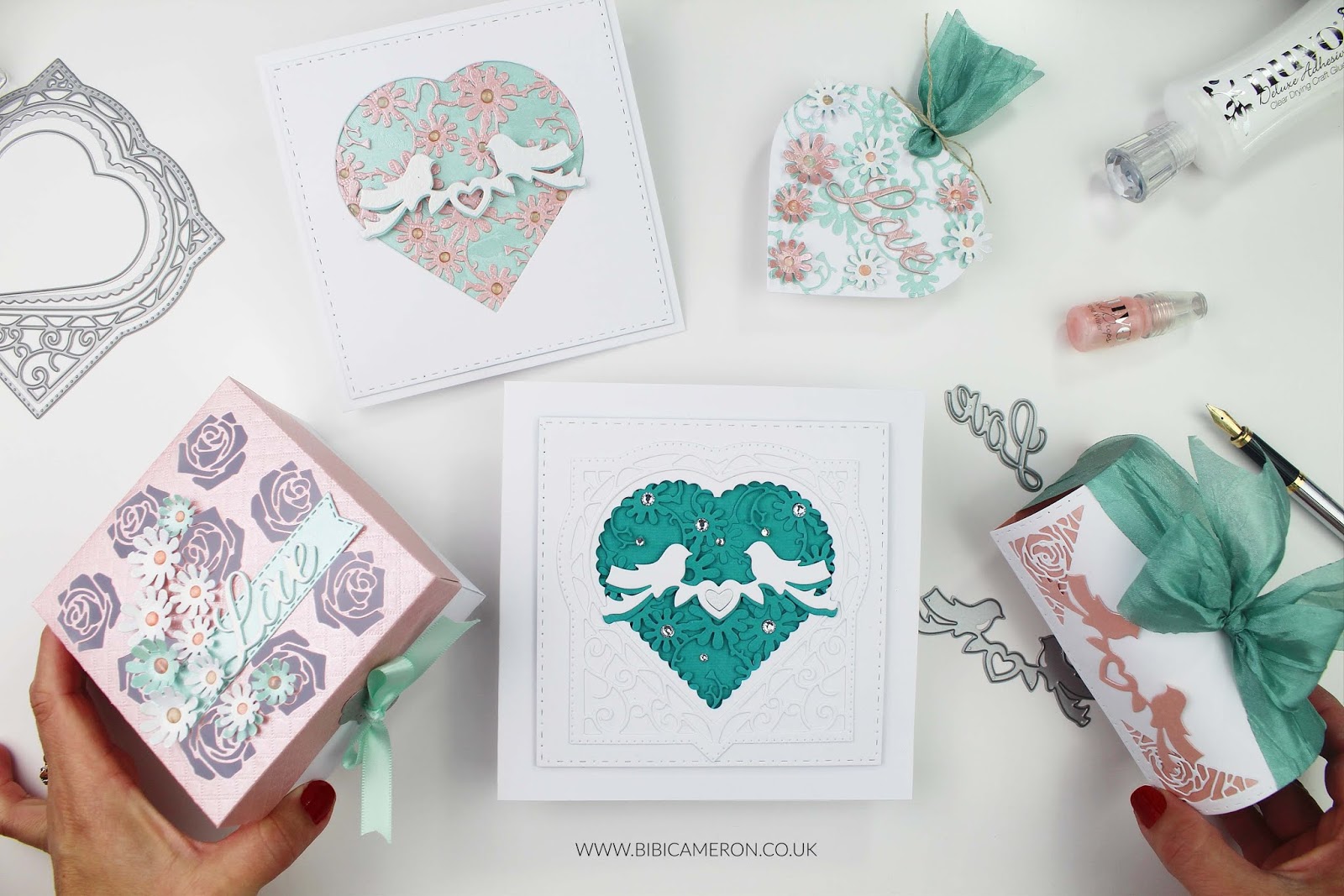 Hi there, I hope you are doing well! I had a lot of fun using products in the Tonic Craft kit #16 to share five easy and quick papercraft ideas with you today.
The valentines – love-themed craft kit is available hereand until supplies last! Make sure to grab yours before is too late.
Here is the videoto show you the products in flesh…
The first project in the video is this 4″x 4″ x 2″ inches depth box.
The idea is to give a fresh look to any solid panel using any of the intricate dies in the kit and use other die cuts to create easy and beautiful embellishments as the tiny little flowers on the box lid.
I also added dimension to the sentiment by stacking 3 die cuts on top of each other and I also gave shape to the flowers with a stylus.
The Nuvo Drops in the kit are pink and when dry they look transparent.. so so beautiful!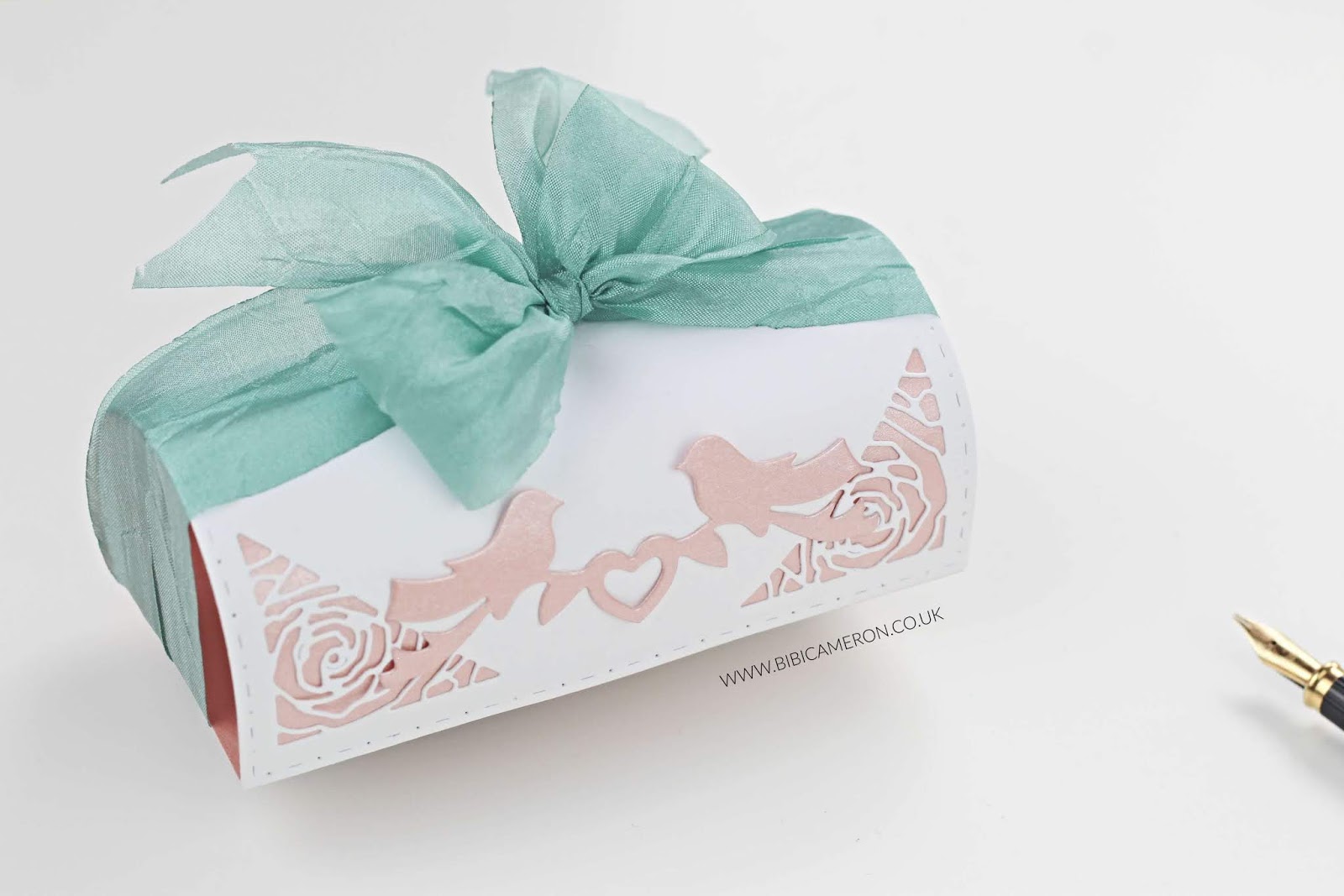 Here is another super simple idea to use the intricate die cuts and paper in the kit.
I also used one square die from "The Square Stitches dies by Tonic Studios"and I'm giving away one of this beautiful die sets, together with other three dies set to a happy winner on Instagramagram here.
I made this super easy semi-rounded box in less than 3 minutes. In the video, you will see how I made it.
I also made the two cards below and for those, I used an additional die not included in the kit from Square Stitched Die Set by Tonic, just released a couple of days here in the UK and only available at Hochanda Tv here at the moment. ( more info of this Giveaway below)
The Tonic Craft Kit 16 also includes embossed speciality card in rose, mint, grey and white colours and it also includes a sheet of the beautiful textured card in ocean blue colour. I love that colour and I couldn't resist making another card with this paper together with white smooth 300 grams cardstock.
It is the card below and although it wasn't made under the same colour scheme I also couldnt resist to share ot with you.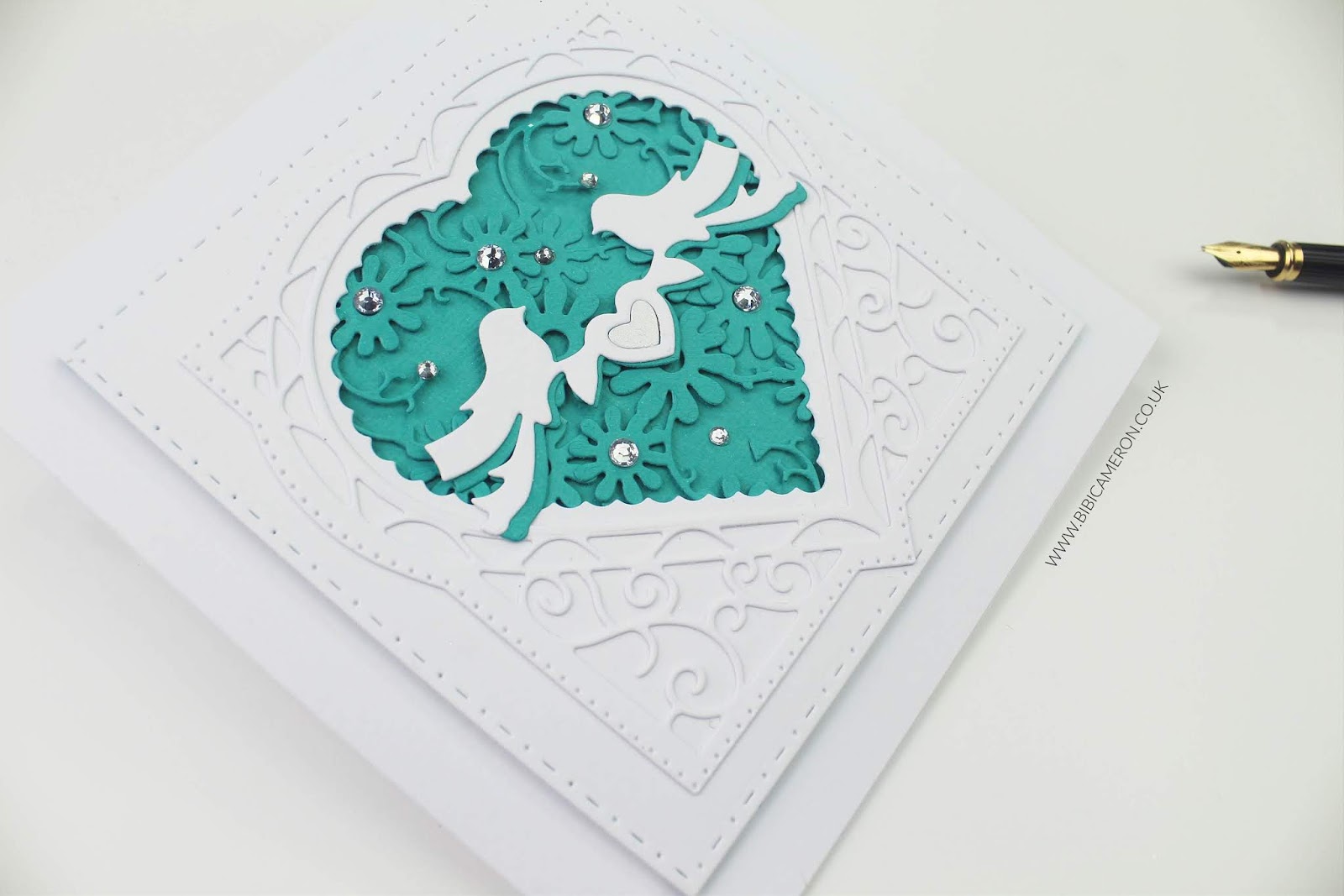 this is a 6×6″ inches card and I added dimension using double-sided foam tape behind the front panel. I embellished this card with rhinestones.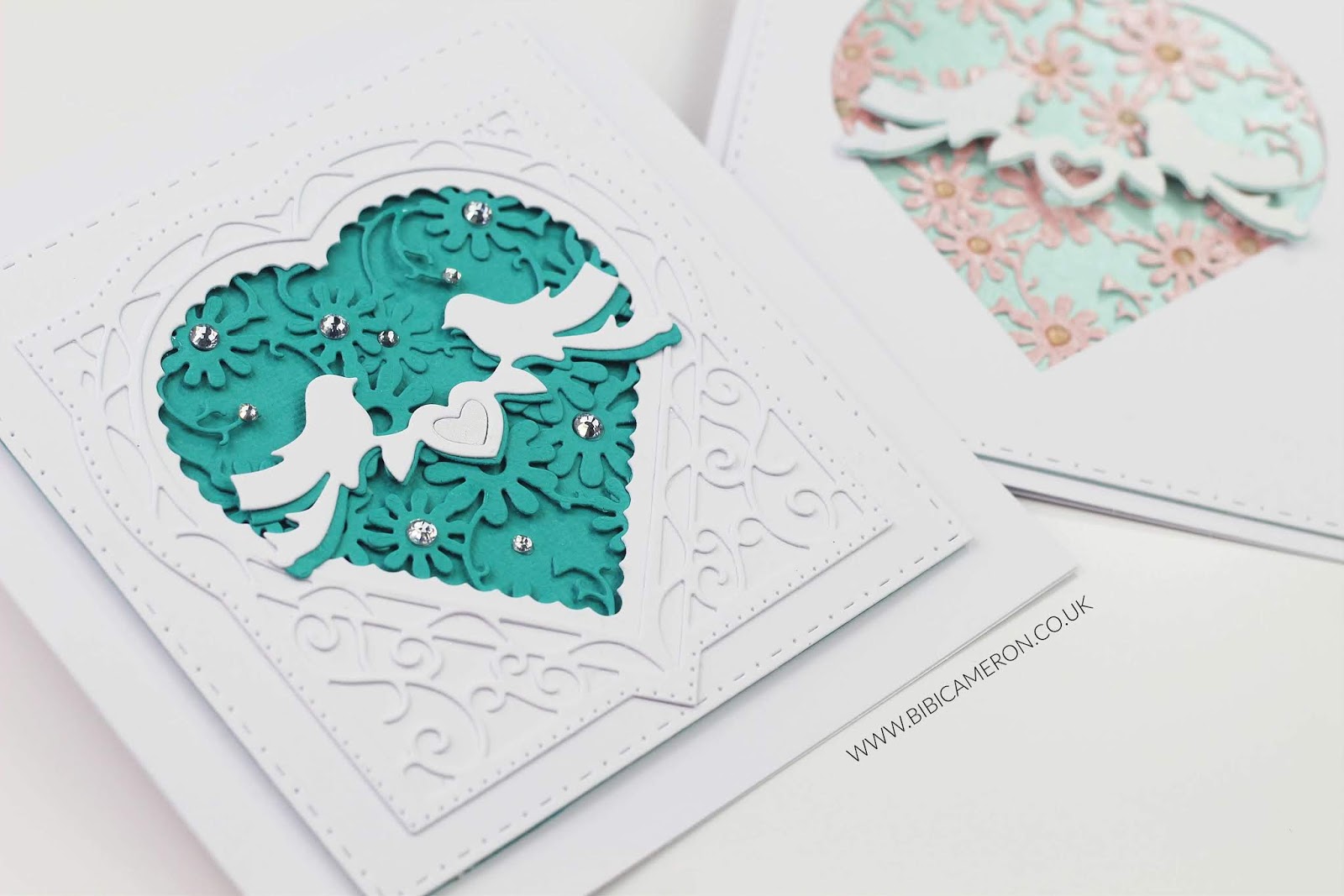 So although the cards above are very similar, I glued the elements in different ways to achieve different looks as you can see in the video.
For this card, I also added one of the hearts intricate die cuts over the front panel. You can choose not to use it for a more simple and clean look but I kind of like the intricacy.
You can make this cards in gold, silver or red mirror cardstock which are super trendy for Christmas or in any colour for different occasions.
I also used the flower cluster die to add a nice decorative element behind a heart shaped window. Of course, you can make the window in any other shape if you like.
I also had the idea to cover a complete front panel with the floral die cuts but for some reason, I decided to cut out the panel and I made this super simple tag as well.
GIVEAWAY
I'm giving away the whole collection of layering Stitched Dies just released by Tonic Studios on Instagram here.
The winner will receive 4 die sets. Over 30 dies to enjoy paper crafting. Squares, ovals, circles and rectangles and the larger dies will enable to make cards up to 5″ x7″ inches or larger if you want it to.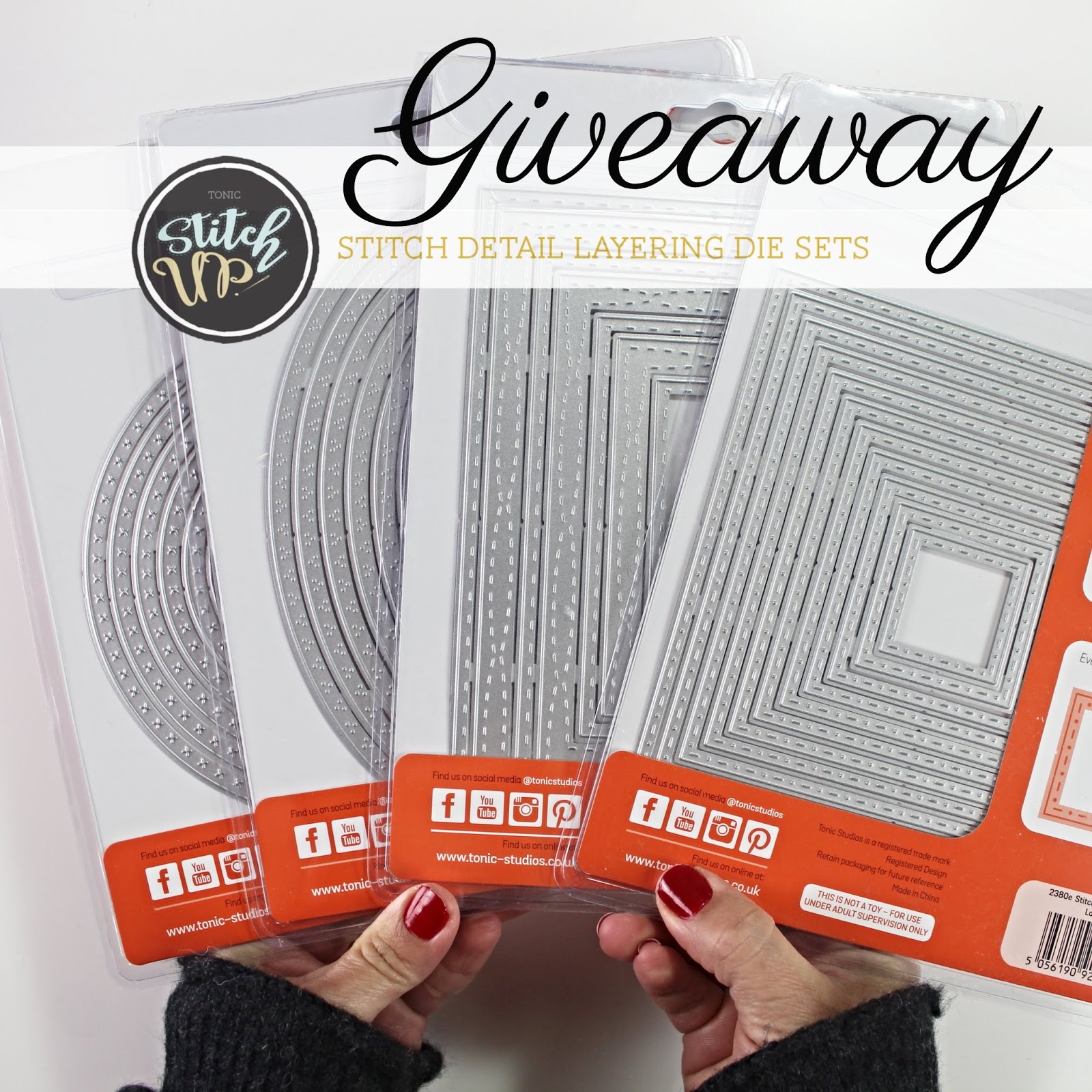 Make sure to join the Instagram Giveaway for more info and enter the giveaway. Giveaway closes on Wednesday, November 28 – 2018 at Midnight UK time. The winner will be announced on the same Instagram post on November 30 – 2018.
The giveawayopen to the USA, Canada, Europe, Australia, the UK. Falks from Asia and South America can join the giveaway too but due to postage issues in some countries in those parts of the world, the winner would need to cover postage with their favourite postal company to make sure their prize will arrive safely.
I have posted prizes to South and Central America Latinoamerica and all of them have gone lost in transit, except Chile were products arrived safely 🙁
Oh! and here you will find a video demonstration using this die collection by Tonic on Hochanda TV, so you can have a better look at the products in the giveaway.
That's all for today.
Thanks for stopping by and for your kind comments, I always read them all and I'm happy to answer any questions.
Subscribe to my blog here! or my Youtube Channel here! To receive notification when a new post or videos go live.
Happy Crafting and many hugs
x
Bibi
Supplies
Just a note to let you know that when you buy through the links below I get a small commission at no extra cost to you. Thanks for your support.