Hi there, for today I made a super duper easy card and it is soooo pretty in the flesh… I used New Beginnings ( tree stencil) and Mini Flowers and Leaves wafer die by Simon Says Stamp!
Look at this quick video on my Youtube channel to see how I made the background, also using Nuvo Shimmer paste.
So I made this background a couple of months ago using a beautiful tree stencil by Simon Says Stamps called New Beginnings … I allowed the paste to dry overnight and I loved the look and feel. However, I didn't know what else I could do with this panel so I put it inside a bag filled with my unfinished projects.
The truth is that I'm not good at using pastes or mix media products but I was determined to do something with it so I grabbed the tiny mini flowers and leaves waferdies and Pink and Plum Metallic Mirror cardstock and I cut a bunch of tiny flowers and leaves.
I shaped the die cuts using embossing tools ( stylus) and I layered them up to create tiny flower clusters and I pasted them over the tree branches and voila! I nailed it.
I kind of love it !! BUT there was another element missing and that was the sentiment!
I grabbed many stamp sets trying to find a good sentiment to fit in the blank space next to the tree trunk. I knew that the sentiment had to have delicate fonts and at least three lines of text. It might be about love, strength, encouragement….Hmmm I needed more than good luck to find a stamp set like that in my stash.
The card sat on my desk for a few days more… Then the doorbell rang and it was the postie with a happy mail from Simon Says Stamp! I got all excited (as always) and guess what?… I got new September products and with them, my papercraft prayers were answered. I got in that parcel a stamp set with the perfect sentiments for this card…call it fate!!
The stamp set will be released tomorrow with the beginning of Stamptember celebrations so please take this as a very brief sneak peek.
During September is not only my birthday but Simon Says Stamps birthday and Tonic Studios birthday too!! So Simon Says Stamp is throwing a party with a new stamp and dies release, promotions and giveaways. they call this celebration #STAMPTEMBER.
Stay tuned because your jaw will drop with the incredibly stunning products for papercraft and the inspiration that come across the globe from the home of more than 200 designers in the Simon's Says Stamp Family.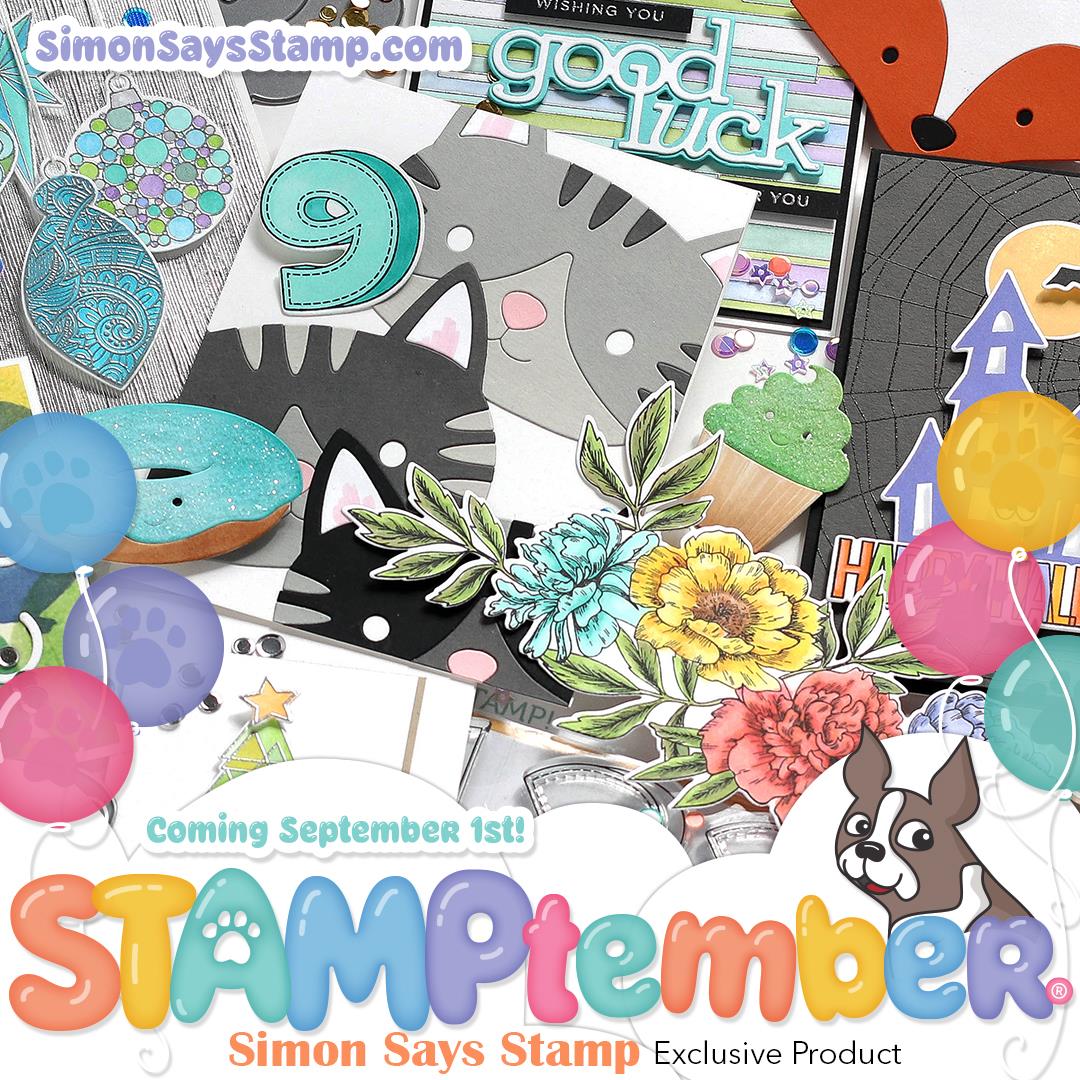 That's all for today … Thanks for stopping by and let me know if you have any questions. I always read your comments and I'm happy to answer if needed.
If you wish to receive my blog post or videos directly on your email please Subscribe to my blog here! or my Youtube Channel here!
Many hugs and happy crafting
x
Bibi
Supplies
Just a note to let you know that when you buy through the links below I get a small commission at no extra cost to you. Thanks for your support.