Hello everyone, welcome to my blog! I have the honour to be a new member of the team who makes samples for Pollkadoodles' tv shows at Hochanda TV – UK and today I'm sharing a couple of samples I made for the latest release.
If you are Polkadoodles lover you might have seen the cards in this post before but I still wanted to make a proper blog post to keep a memory of this new stamping adventure and I also want to provide a little bit of extra information about these cards, current promos and supply list.
So when my first parcel arrived with " Polkadoodles Just Smile Release", I was wowed! that release is pure cuteness, with beautiful images perfect to enjoy stamping and colouring and they also include die sets and clever paper solutions.
You will find bears, bunnies, cats, dogs, giraffes, and foxes in this collection.
This has been such a nice discovery and I'm very glad to have this opportunity to get in touch with the team, with new stampers and also with Nikki Hall [Polkadoodles owner] because she is not only a businesswoman but an extraordinary colourist and her talent to colour hair and skin blow my mind away… honestly, she is on fire!
You can discover her work at Polkadoodles web site. I understand Nikki is the designer of the stunning images you will find over there… She also offers amazing printable images to download straightforward and some are free for you to try.
Ok so for this first sample. I used Meow you doing? Stamp Setand some paper sheets from the Great Outdoor designer's paper pack
This stamp set made me feel as if cats were my favourite thing!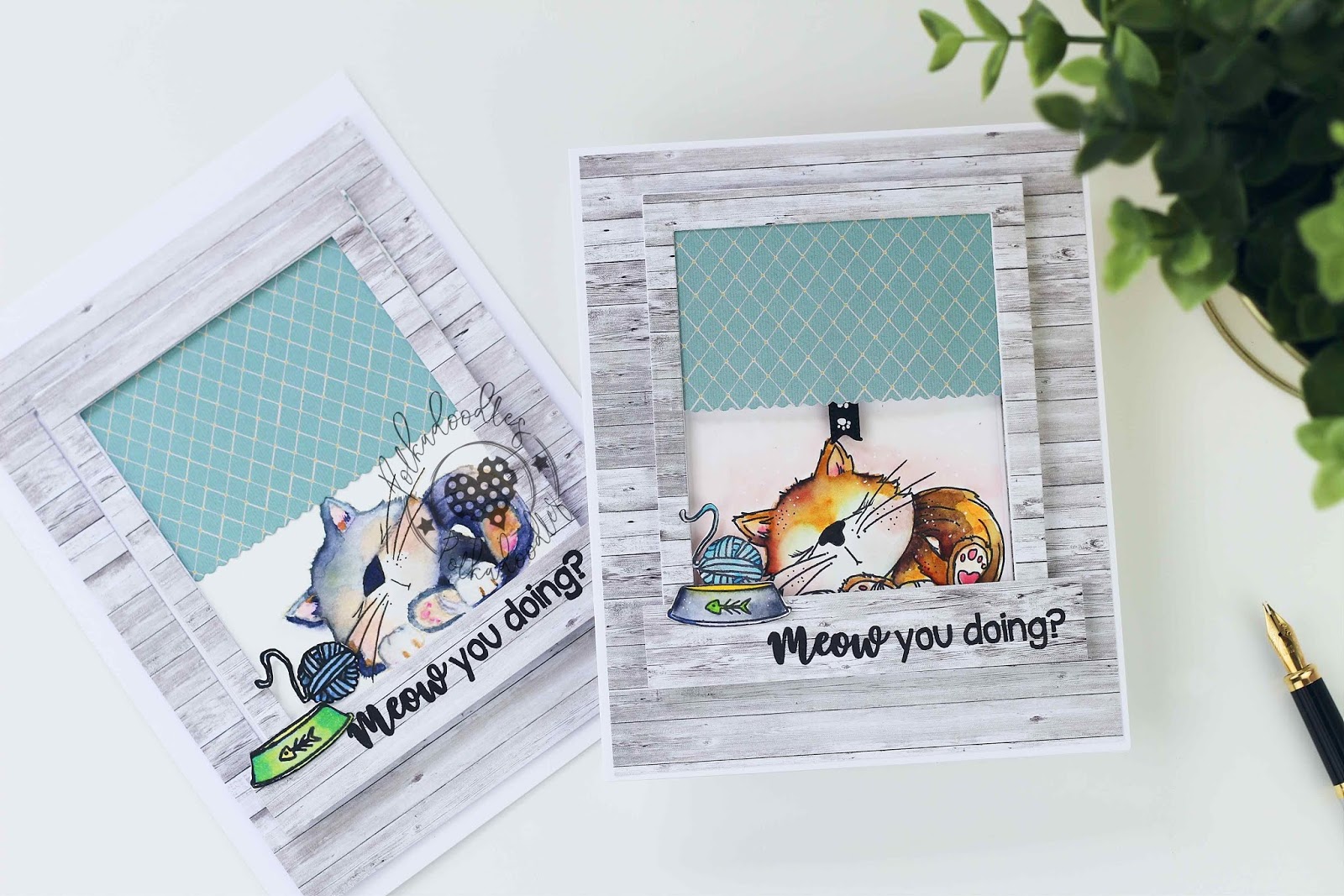 I stamped the images with Black Simon Says Stamps Ink which is a tick, super yummy and super intense black ink. Incredible to use with water-based markers.
An alternative ink is Versafine Black Onix Ink. As a stamper, I couldn't live without any of these inks, I strongly recommend them.
The paper used is called Bristol Smooth paper by Strathmore. If you ever buy this paper you won't be disappointed as it will allow you to achieve beautiful results when using water-based markers easily and effortless. It also easies the stamping as the paper do not have texture like watercolour paper. You might still need to use a stamping platform to get sharper and crisp stamped images.
The paper holds nicely light watercolour washes and it allows you to blend colours easily. It is amazing to use with distress inks and Gouache paint, Acrylics as well or any water-based product. I repeat this in many many blog post.
If you are using copics or alcohol markers this paper will also perform amazingly but I know there are many other smooth paper alternatives to use with alcohol markers. Actually, I think alcohol markers perform ok on cheap and ordinary cardstock.
I'm very picky about the paper and although Bristol paper is not pure white-colour and it tends to be a bit ivory, it is still beautiful. It provides a luxury finishing touch as well.. so in other words, the cards look good when using Bristol.
Ok so if you love Dogs as much as I do check out the images below. I used Woof You stamp set and papers from the Great Outdoor designer's paper pack.
I coloured all the images using Zigs and I mixed with Arteza watercolour markers. These are my 2 fav colouring solutions and you can get the packs of 36 or 48 water-based markers for just over £30 on Amazon UK. That's incredible value for money.
I hope you like the projects!


That's all for today … Thanks for stopping by and let me know if you have any questions. I'm always happy to read and answer your comments.


If you wish to receive my blog post or videos directly on your email please Subscribe to my blog here! or my Youtube Channel here!
Many hugs and happy crafting
x
Bibi
Supplies
Just a note to let you know that when you buy through the links below I get a small commission at no extra cost to you. Thanks for your support.