Hello everyone, we had the sunniest day today in the North of Scotland and also the hottest in about 8 months. Unbelievable 22 degrees! it was lovely.
At the end of the day, I could sit for a while to enjoy papercraft and watercolor to finish the card in this post.
I used Spring Blooms Stamp Set by Honey Bee Stamps. The sentiment is from Mr & Mrs Stamp Set also from Honey Bee Stamps.
I added colours with Arteza water-based markers on Bristol smooth paper.
I stamped with Versafine Onix Black ink which is amazing to work with watercolours.
oh ! And can you see the rhinestones? Those are fabulous and in the pack, you find 3 different sizes. Love those!
Arteza Real Brush Pens (set of 48) includes a wide variety of colours you can mix and blend them to create new shades. These markers are water-based and they will allow you to easily add colour to your projects.
You can use a water brush to dilute their ink for soft and subtle compositions or you can also achieve dramatic and eye-catching results with very little effort. Their price is great. They are amazing value for money and after being working with them, testing them and loving them every day more, Now I can say I highly recommend them.
I have been playing with different colour pallets. Today I used different shades of green, watermelon and violet.
You can see other cards made using same stamp set and colour combo here.
For the records, I wanted to add a white card base but when I opened the last package of this cardstock I noticed that it was 180 grams!! Nooo, that's like paper so I had to use 300 grams black cardstock instead for the card base.
I think the card base colour really affects the final look and feel of the card and I'm not sure if I like it or not.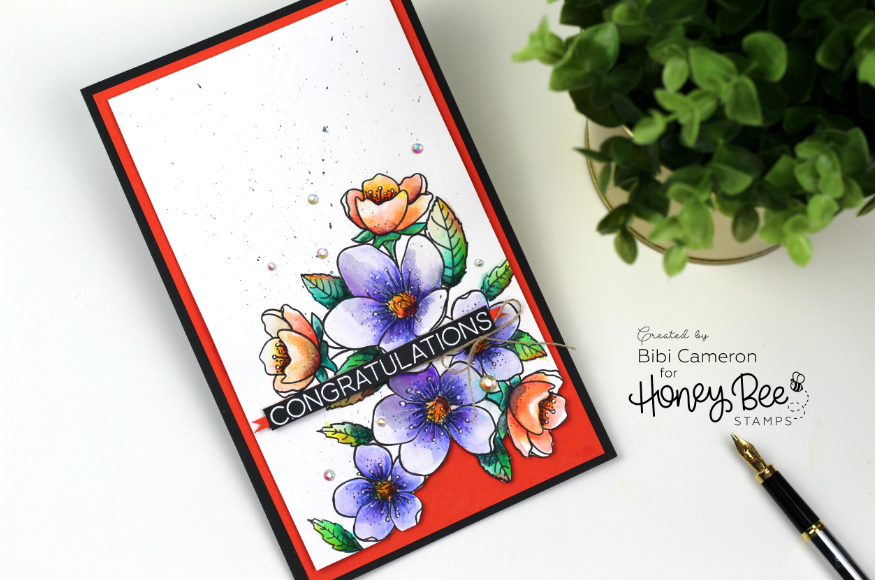 I loved how easily I stamped the floral arrangement using a masking technique
oh!! and this card is Huge is 5.5 " x 8″ inches.
Today my daughter Emma turned 5. We will have a birthday party on June 3rd but I decided to please her today and as she wanted to go for a walk I took my 2 little children with their trikes and we went for a walk! if you are mum you know what this means… this means sweating and running like a demon after them…
Then we arrived home and I was red as a tomato. It was soooo hot here, I couldn't believe it as even summer used to seem cold for my latin bones. I think I'm evolving into something else and today I was melting.
I then cooked lunch.. what a yummy pasta I made! seriously it was so good and we had lunch in the garden. My children love it but if you are a housewife – mum you might know what implies
having lunch with your children in the garden… it is about 1 hour doing everything to make them focus on the food, carrying plates, drinks and then cleaning it all.
With lunch finished we got a dessert. My children didn't need help with that one as they love crepes with banana and sugar-free syrup.
Next … I grabbed my toolbox which is huge and heavy and I also put a tent for them to play "a la casita ", this is a cute name in Spanish to play inside the tent pretending that was their home.
I also bought a very cool sand table and holly caw it was hard to put together. I wrongly thought that
if they could play peacefully then I could be able to craft in my garden office while watching them from there but this wasn't possible at all. 🙁
There was so much going on the garden with these two little children. Harris ( my youngest son – 2 years old) was eating sand and grabbing the gravel around my craft room and blocking the drainage with it …Noooo!!! he is a baby but he is capable of mass destruction. He put my iPhone in the toilet and broke my iPad screen the same day. He looks like a real smiley angel.
So if I don't keep an eye on him he will end up damaging something or on the emergency room for drinking detergent as he did a while ago 🙁 He managed to grab the floor cleaning bottle and he drunk a wee bit while I was cleaning a mess he did with markers !!! Noooo. I saw him in action and I almost had a heart attack!!!
Emma ( my little daughter) was screaming "my brother got poisoned" as that's what I was saying that when I called the hospital. Emma is such a gracious little girl.
But NO worries he is 100% fine and full of energy. At the hospital, they checked the components of the detergent and they said he will absolutely fine because I diluted the detergent with a lot of water in the bottle. I was exhausted that day and trust me, here in my house, there is not a day without action.
Anyway, when I was about to be free today (if I can call that freedom ) I received a phone call from my hubby. He needed my help as his card auto-lock system went crazy and he couldn't turn it on. It was too late to call a local garage or anyone for help … Arggg!!
I had to put my children in the car and I went to the rescue and I won't have the car tomorrow or until he gets his car fixed… arg!! I think the battery in the car key is over but then we couldn't find the battery in any shop here!
My life has been pretty much like that the last 5 years. I also was in the process of applying for a Visa to stay in the UK … This is a long process, it is expensive, mentally and emotionally demanding. Seriously! My hubby asked me what was worse if the visa process or the house hunting process… both crazy and challenging. I'm so glad the hardest part of both processes is over and Im also working night shift some days during the week.
I never mention anything about my life but there you got an idea about behind the scenes. 🙂
So I'm posting my card very late UK time as I also had tea and children showers before taking pictures, editing them and writing this post etc . It is ( 1:35 am here ) I should be called the midnight stamper as I'm always blogging and working late at night and I want my post to go live now.
That's all for today! Thanks for stopping by.
If you wish to receive my blog post or videos directly on your email please Subscribe to my blog here! or my Youtube Channel here!
Many hugs for you and happy crafting
x
Bibi
Supplies
Just a note to let you know that when you buy through the links below I get a small commission at no extra cost to you. Thanks for your support.