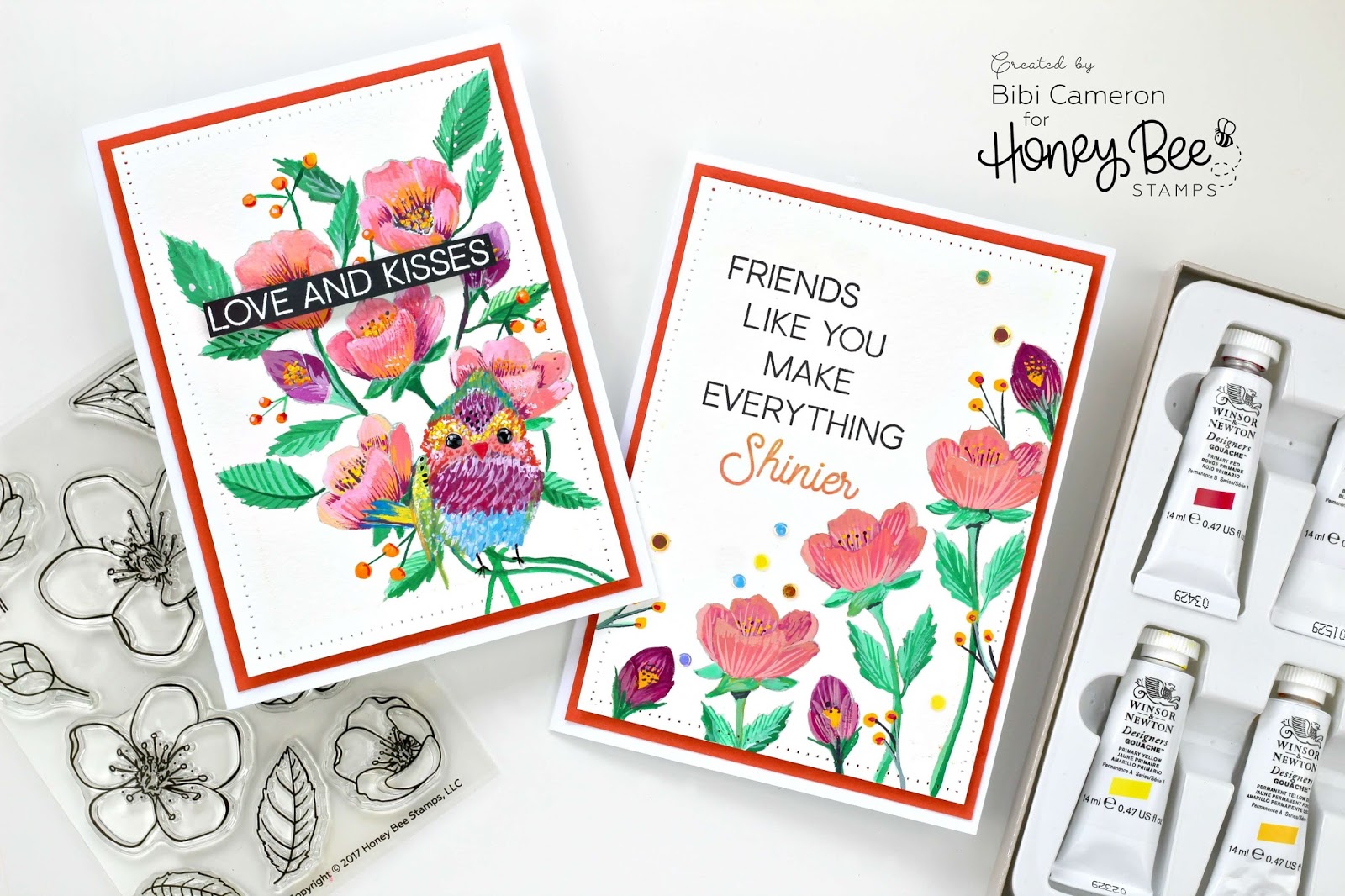 Hello everyone, we are celebrating a new Honey Bee Stamps Release with a blog hop – giveaway filled with ideas and inspiration to use the new goodies.
Click here to complete release!!
For today, I used the beautiful floral stamps from the new Spring Blossom Stamp Set and sentiments from "Friends Like You" and "Mr and Mrs" stamp sets and I also used a bird from Snow Birds Stamp set.
I also got a new obsession for Gouache which is a mix of watercolour and acrylic paint and it is a very… very opaque.
Just to make a comparison so you could understand a bit more about Gouache characteristic: Gouache is to watercolour paints what Distress oxides are to traditional Distress inks… can you imagine how cool is that? PLOP
It is very creamy and you can dilute it with water to be used as watercolours. You can mix and blend shades to create new intense and stunning colours. You can use it on cardmaking even with stencils. Oh I love the possibilities new colouring tools brings to my craft room.
To create the peach colour I mix red, yellow and white. The purple was created by mixing red and blue with a hint of white. You can get different green shades by mixing different amounts of blue, yellow, black and white.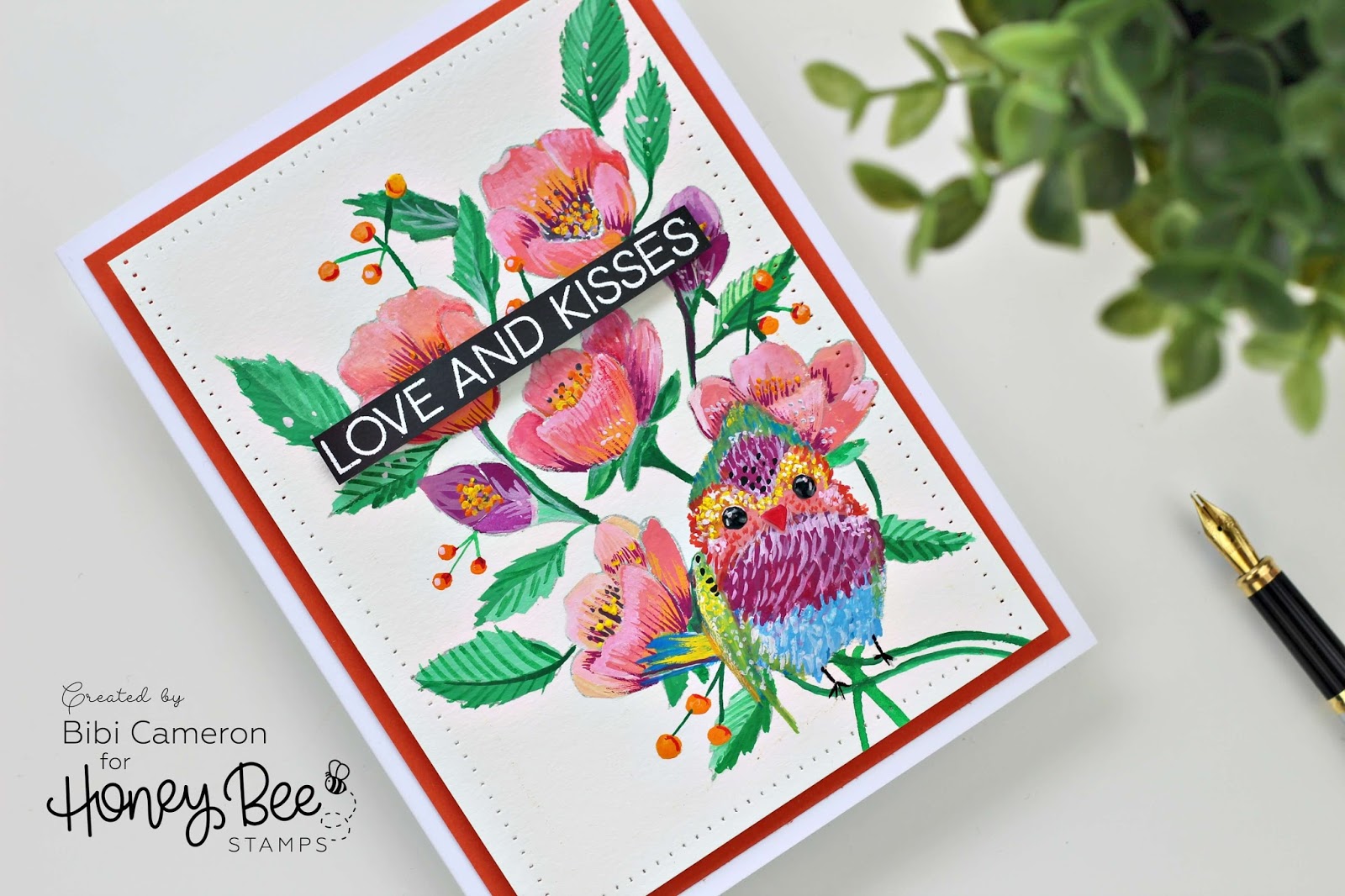 Ok, these 2 cards were my first attempts to use Gouache paint ever.
In spite of trying my best to follow the amazing Deanna Maree free online course here I totally lose concentration and did my own thing. I'm not sure when I could colour birds like she does, perhaps never, but I'll give it a try, she is an awesome inspiration and I do know my first bird coloured with Gouache is looking a bit weird! Nooo, but at least my hubby said it looks like a robbin lol … I'll get there.
I'm still learning which brushes works better, the amount of water, the paper etc … I used supplies I already had in my craft room as Canson watercolour paper and watercolour brushes but I feel my brushes were too soft to work with these paints so I'll have a trip to the craft room to get new brushes.
According to Deana, it seems that the ideal way to work with Gouache it is from the darkest colour to the lightest but I have seen videos doing it differently. I know for sure that there are many ways to achieve results as people to achieve results so if you ever want to try new colouring tools remember that you will find the way to make them work and that will be 100% fine as well.
I really think that even if you are not an expert painter or watercolourist you can still use supplies like this to create very unique cards… just like I did today 🙂 I'll keep experimenting with the paints and see where they lead me.
oh! and as Gouache is opaque works amazingly on coloured cardstock, dark cardstock.
Giveaway
Honey Bee is given away two $50 USD gift certificates and they will be chosen extra 4 winners for the Bee Organized Prize Pack. Leave a comment on each blog for your chance to win.
Winners will be announced over theHoney Bee Stamps Blog hereon May 5th.
Blog Hop Day 2
Bibiana Cameron You are here!
That's all for today! Thanks for stopping by.

If you wish to receive my blog post or videos directly on your email please Subscribe to my blog here! or my Youtube Channel here!


Many hugs for you and happy crafting
x
Bibi
Supplies
Just a note to let you know that when you buy through the links below I get a small commission at no extra cost to you. Thanks for your support.