Hello everyone, I'm taking part in a Blog Hop to celebrate a new Simon Says Stamp Release.Yay!! And I made a couple of super-duper easy and quick cards to share with you today.

These cards measure about 5″x6″ inches and I'm featuring 3 awesome new tools: Mom Flowers Stamp Set, Whoa You are Amazing!! wafer die and the very new Nuvo Shimmer Powders which are a wonder too.

Have a look at the whole Release here! It is stunning!!
I love floral stamps so I chose Mom Flowers Stamp Set to create modern compositions but more importantly, to show you its versatility.
The stamp set is genius! and it can be used the whole year round despite it being a Mother's Day themed suit.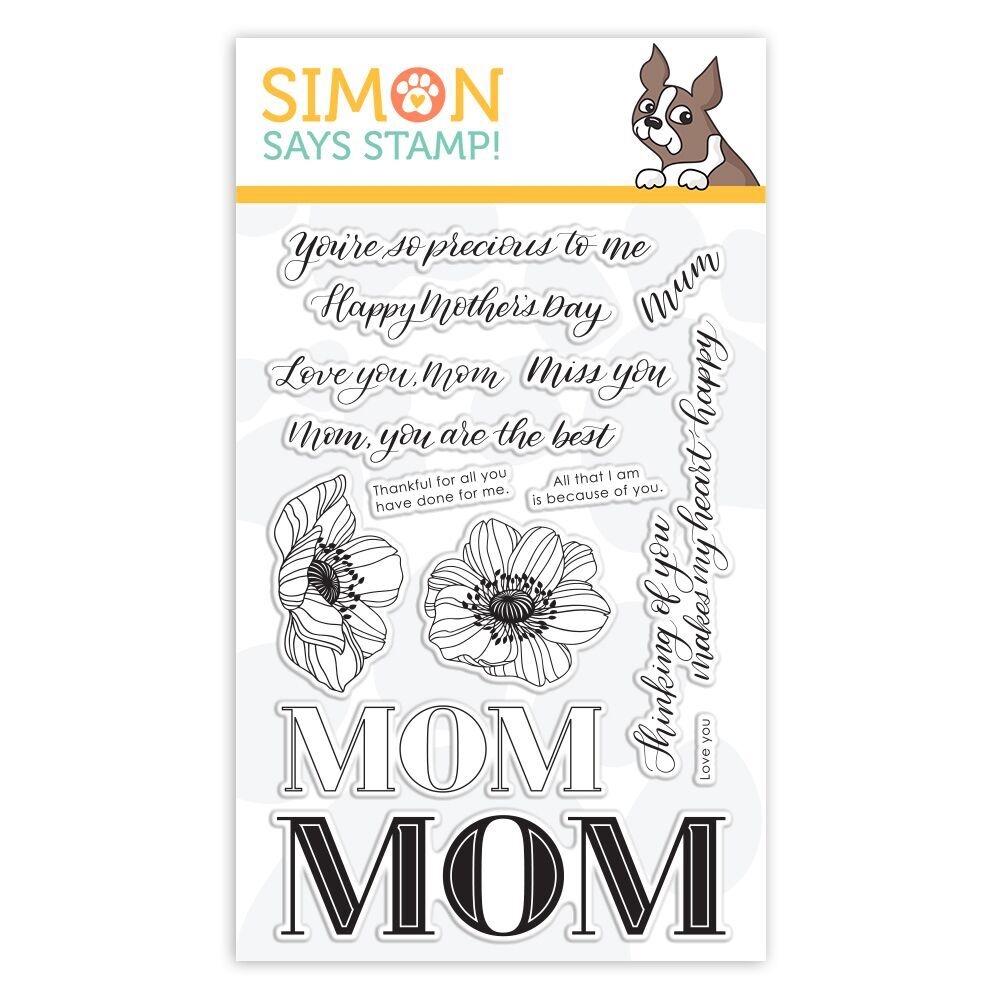 Mom Flowers Stamp Set
includes 14 individual stamps: 2 florals (in a great size:1″x1-1/2″ inches) and 12 sentiments to create Mothers' day cards and you can mix and match any of these images to create messages for different occasions and recipients.
Then I mixed it with Whoa You are Amazing!! die to die cut a piece of black cardstock.. isn't it cool?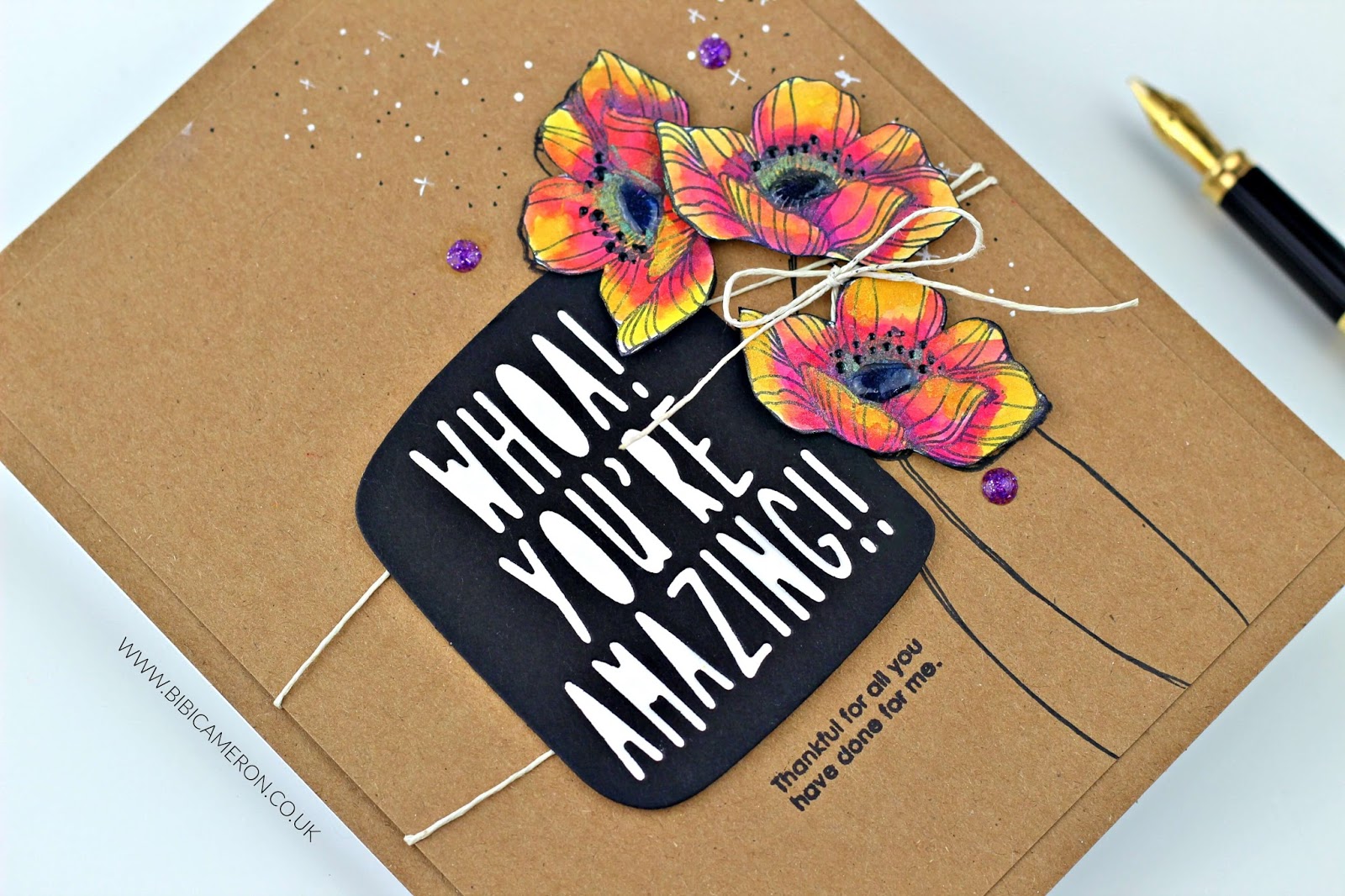 The banner measure 2-1/4 x 2-1/2″ inches so it is very easy to accommodate in a front panel together with critters or over a colourful or a die cut background.

You can also use the negative die cuts or the letters too. I'm sharing a 1-minute video on Youtube to share the idea with you.
For this card, I just placed a piece of white cardstock behind the banner to make the sentiment pop up a bit more and I was done.
I seriously think that white, black and kraft cardstock is an explosive combination, and although I first thought that florals and the Whoa You are Amazing!! die cut wasn't a good match I now think they are 🙂
BTW here in the UK we celebrate Mother day in March and in America ( I mean the whole continent, south, central and North) it is celebrated in May so this one goes to my beautiful mum and all those mums across the ocean 🙂
For this card, I stamped the flowers on Bristol Smooth Paper and I fully added colour using the New Nuvo Shimmer Powders ( Mica Powders).
These high pigmented powders behave like Brusho Crystal Watercolours but they add loads of shimmer and they do not burst as much as Brusho but the results are beautiful with very little effort!
Once my flowers were ready, I trimmed them and I glue them on the main panel of the cards with dimensionals. I hand drew the stems using a Fabel Castell ultra fine tip pen and to add a bit extra I also stamped the flowers before glueing them on.
I also used Craftperfect kraft cardstockand to my surprise, this paper is awesome for stamping. I'm very picky about paper and I really like it. I also like the colour of this paper as is not a dull Kraft paper colour and it absorbs very well a light watercolour wash.
Tonic Studios recently launched this yummy collection of Nuvo Shimmer Powders and all are available at your Simon Says Stamp Shop here!
There are 8 colours in this collection but trust me their blendability is outstanding and you can create even skin tones with them.
I'll be posting tomorrow a card that shows skin colours created with this powders so please come back and have look make sure to subscribe to my YouTube channel here as I'm preparing a video to show you the glory of using these powders together with more products from Simon Says Stamp Fluttering By Release.
Nuvo Shimmer Powders in 3 steps
1. Put a little bit of the powders on a pallet
2. Mix them with water
3. You are ready to go!
As they are water – based you can make your own Mica sprays and use them with stencils, you can also splatter them, mic them with white embossing paste and they will also add shimmer…
Oh! I almost forgot to embellish this card I used Nuvo Drops and Nuvo Crystal Glaze.
Now I would like to invite you to hop with us and look at what everyone is making …
Blog Hop
Giveaway
Simon Says Stamps! is giving away a $25 coupon to every stop on the hop . For your chance to win all you have to do is to leave a comment.
The winners will be chosen over the weekend and post on the Simon Says Stamp store blog next Wednesday.
That's all for today! Thanks for stopping by.
Do not forget to Subscribe to my blog here! or my Youtube Channel here to get my latest blog post or video directly in your inbox.
Hugs
x
Bibi
Supplies
Affiliate links apply, this means that I get a small commission when you buy from any of the links in my blog of Youtube Channel.