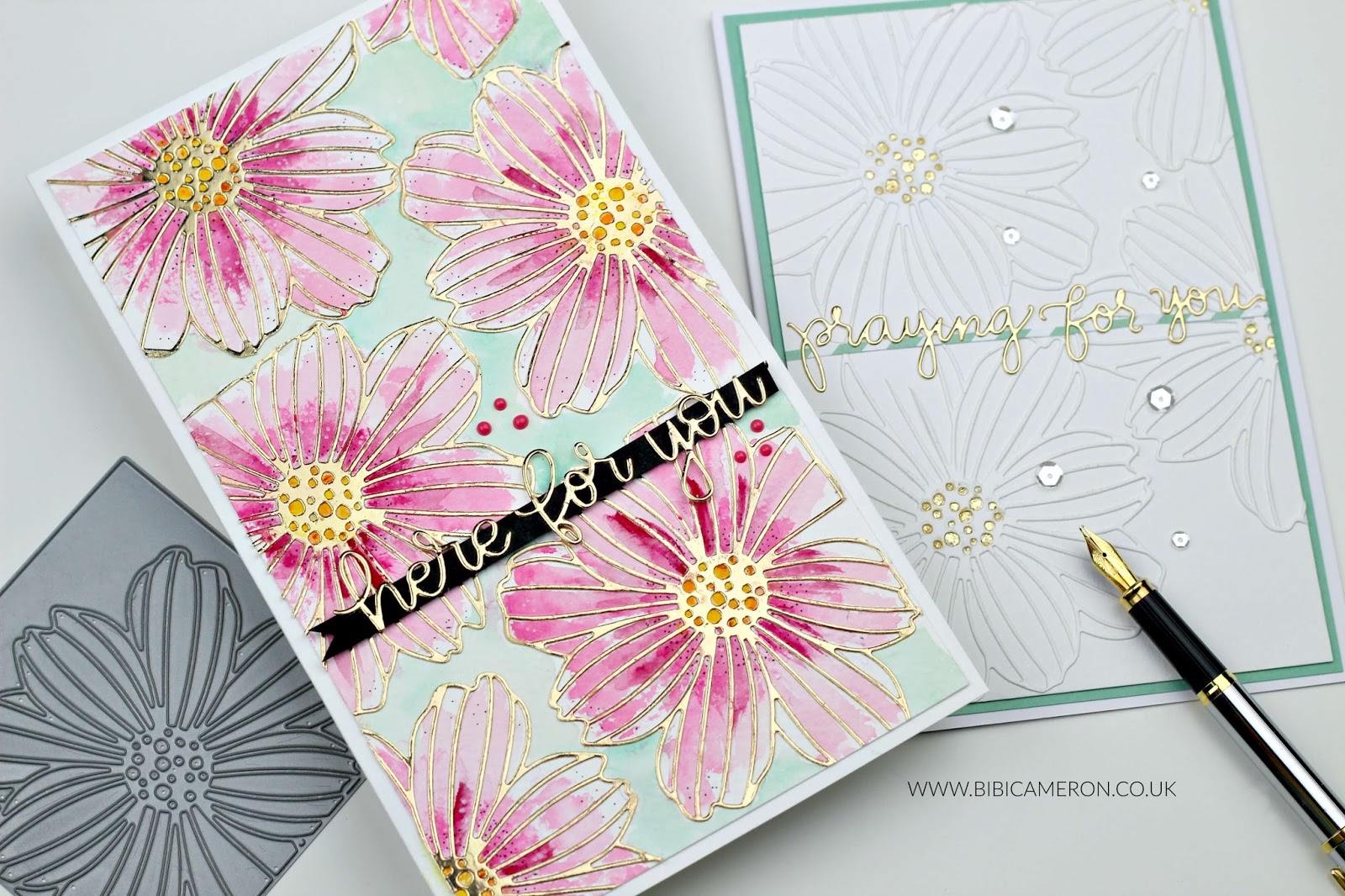 Hello everyone, did I said that last week there was a cosmo-mania in my craft room? I was experimenting and trying different things using Cosmos Background Stamp and Cosmo Flower Frame Wafer Die by Simon Says Stamp to share ideas with you.
So here I have 2 super easy card ideas using the die.
Have you seen the die? perhaps you can see the die in some of my pictures today or below. It is designed to die cut an intricate flower inside a square frame.
Today I took the flower out of the frame to do something different!
For both cards, I die cut the paper using the die and I simply cut the flowers using scissors also trying to give shape to the petals linked to the frame.
My first thought was heat embossing the die cuts with gold or silver embossing powder but then I thought I could make something easier and quicker and I die cut gold mirror cardstock so that I could fake a heat embossed or a foiled background?
Hmmm.. it doesn't really look like heat emboss but maybe looks a bit like foil? I should foil the paper and then die cut it or apply foil to the die cuts too. That's another option but faux things always look fake anyway.lol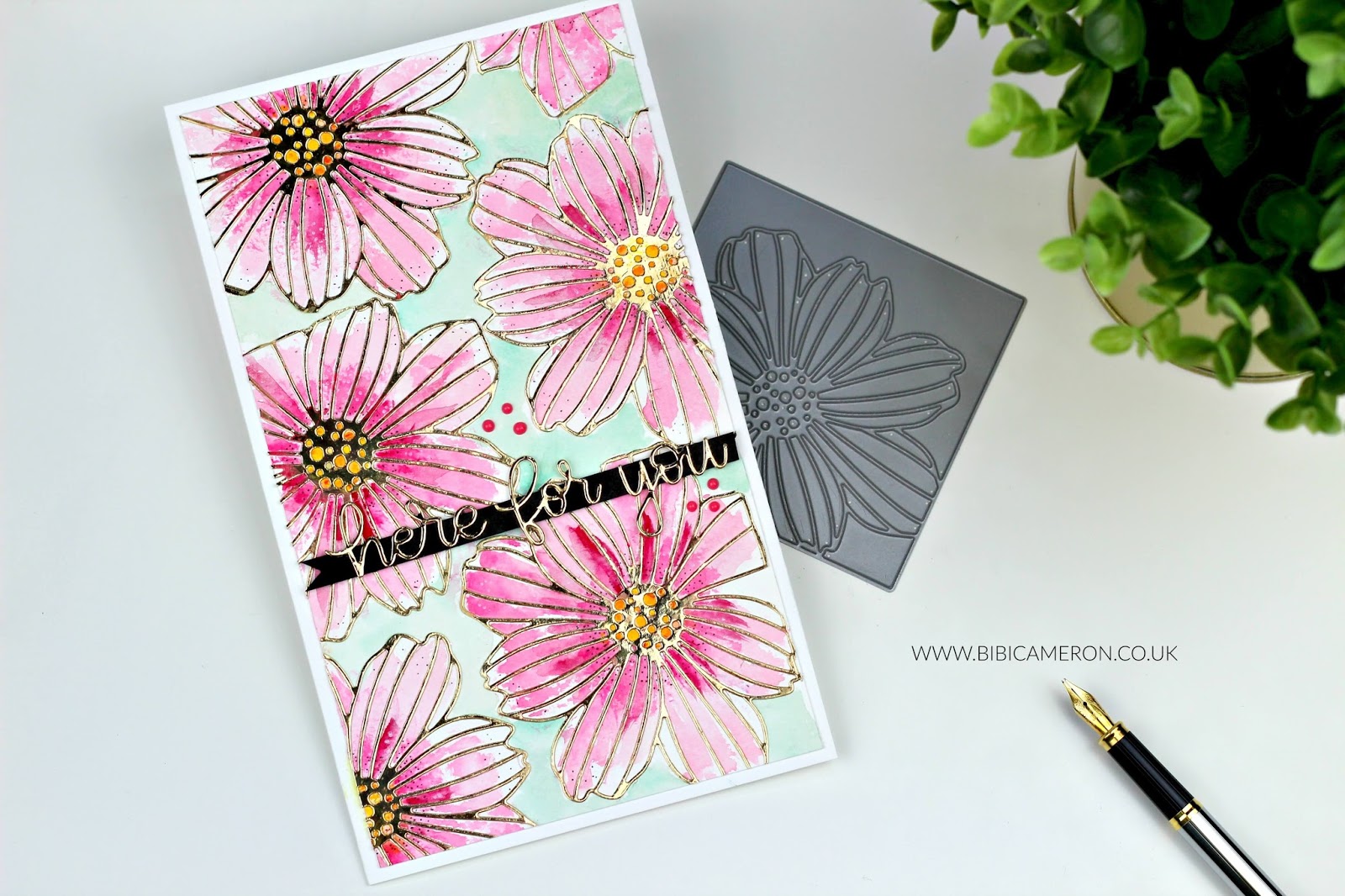 This card is large and narrow. It measures 5″ x 8-1/8″ inches.
I used Harvest Gold Mirror cardstock by Tonic and I die cut 5 flowers. This paper is awesome for die cutting. Then I glued the flowers on a piece of watercolour paper. I used a spray adhesive and I randomly applied washes of colours on top.
I used Crinaquidone Rose and Duochrome Oceanic watercolour paints from Daniel Smith. You can find this beautiful shades on Daniel Smith Yana's Set watercolour Palette.
Applying colour was very easy as the mirror / glossy cardstock resist the water. I just tried to be careful and not applying a lot of water so the paper will keep its shape.
I also used Here For You Wafer Die by Simon Says Stamps and Harvest Gold Mirror Cardstock again ( shhh don't tell anyone that I love mirror cardstock to die cut words… isn't it trendy?
I embellished with Carnation Nuvo Drops and I added black tiny dots with a fine tip pen.
Then I went for a minimalistic version of the previous card also a little bit smaller. This card measures 4-1/2″ x 6- 1/2″ inches and I really love how it looks in flesh.
I used 300 grams white cardstock and I die cut only 3 flowers.
This card made a perfect faux embossed background and you could make it in any colour! YAY!
To finish I usedPraying for you wafer dies by Simon Says Stamps to die cut the sentiment out of Tonic Harvest Gold Mirror cardstock and I embellished it with Neat and Tangled Sequins.
Love word dies by Simon, they add perfect finishing touch to my cards and the price is great.
That's all for today I hope you like the cards and the idea.
Click here to Subscribe to my blog here! or my Youtube Channel here to get my latest blog post or video directly in your inbox.
Happy crafting
x
Bibi
Supplies