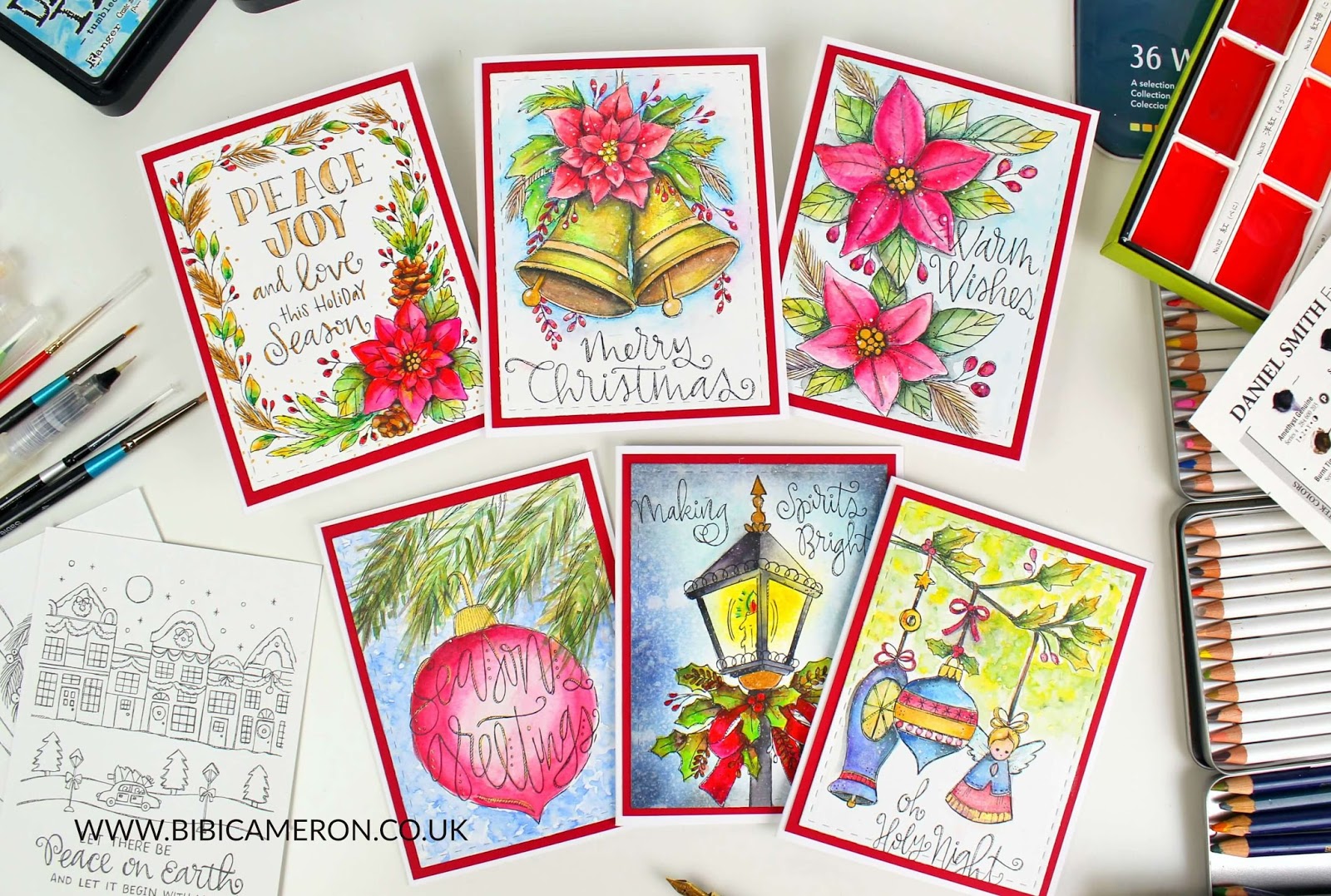 Hello everyone, I hope you are having a great weekend! It was snowing here in Scotland when I had the chance to try the BRAND NEW Christmas watercolor Prints by Suzy Plantamuraand I'm in love! They not only made my latin bones forget about the cold but they also offered me a very pleasant crafty experience.
Each Pack contains 12 adorable designs printed on Tim Holtz watercolor paper and with images already printed all you need to do is enjoying coloring!
They're priced perfectly so they could also be a wonderful gift for your crafty friends during this season.
I made very simple cards today and all are A6 size.
I used several water-based products from my stash to add colors to the prints. My favorite ones to use with the prints were the Zigs ( water-based markers ) and the watercolor pencils. I feel they offered me a bit more of color vibrancy and major control when applying color using a water brush.
Below pictures of each card and some details.
Zigs + Kuretake Starry Colors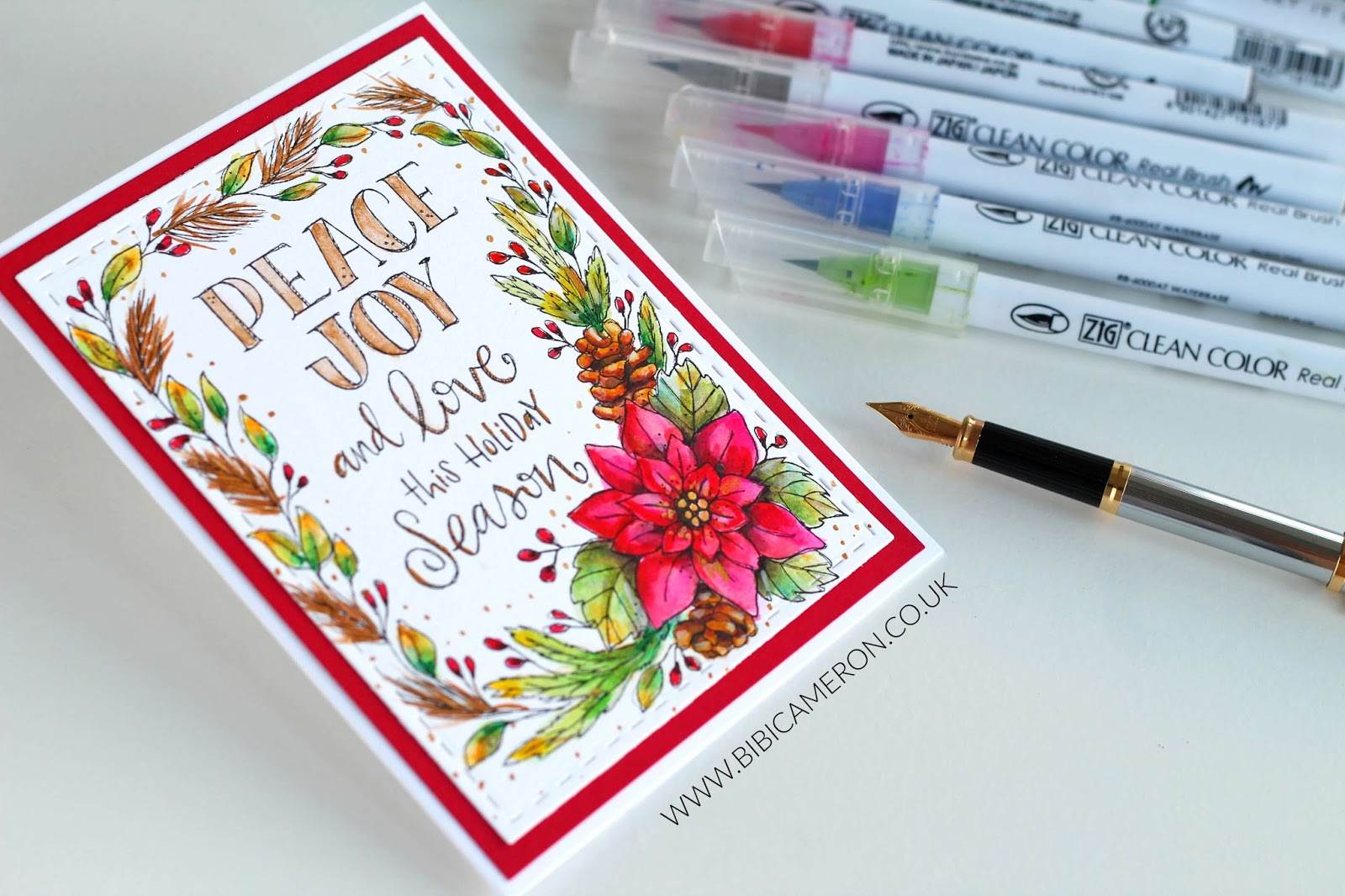 With the Zigs you will be able to apply colors really easy and quick. These markers offer vibrant shades and beautiful color blending.
I applied the color with the marker on the paper and blend them using an Aqua Brush.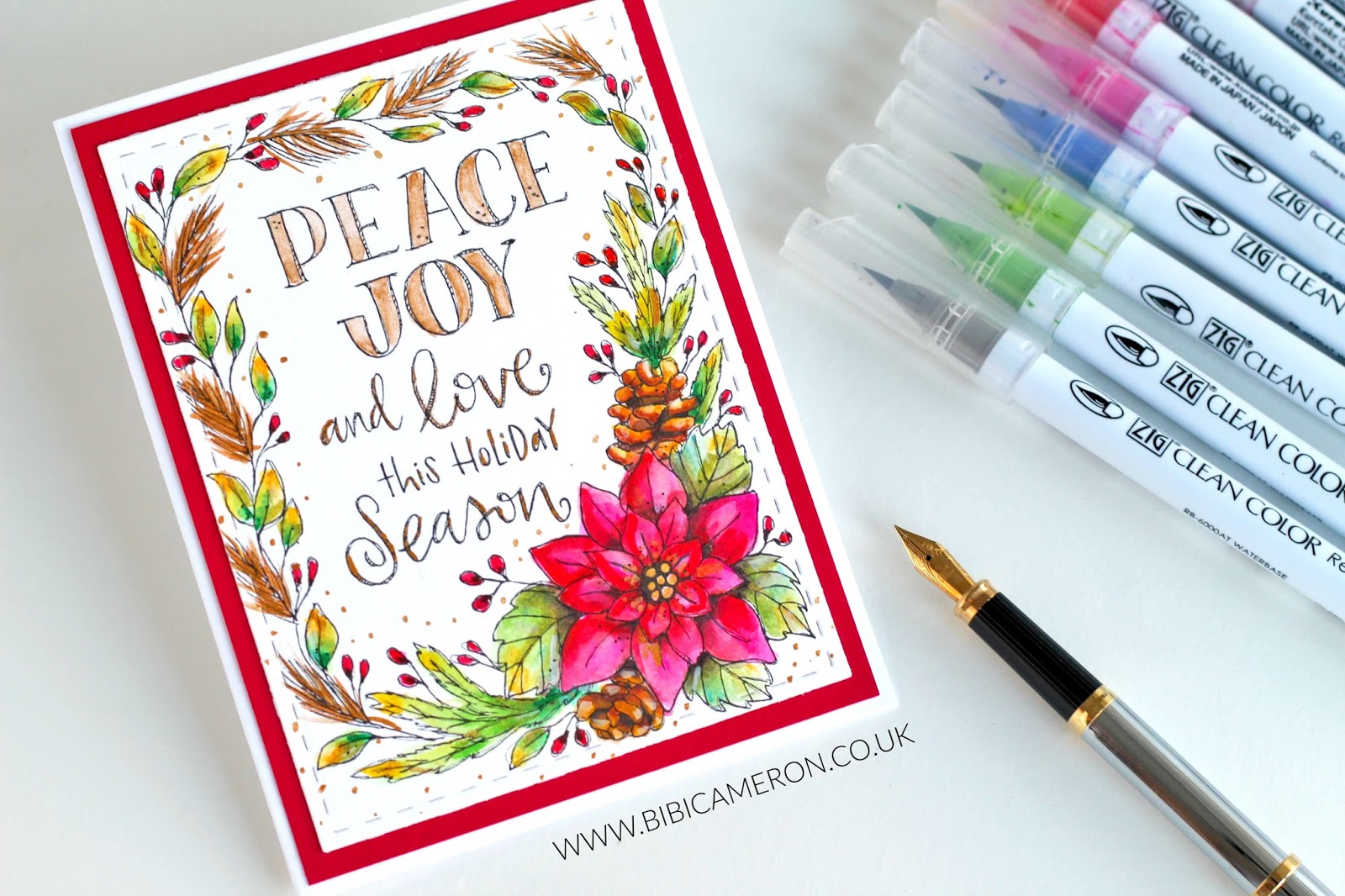 I apply Gold Watercolor on the fonts, on the foliage and at the center of the flower using Kuretake Starry watercolors and I tried my best to take a picture of the beautiful reflective/ metallic watercolor. It is very very pretty.
Derwent Inktense watercolor pencils+ Faber Castell Polychromos
I took my time to apply color to this image. I applied several layers of watercolor pencils, blending always using a water brush and I used an opaque white paint to splatter the image once I finish applying colors.
I also used gold metallic watercolor on the bells and I added shadowing with colored pencils (Faber Castell Polychromos')
Daniel Smith watercolors + Kuretake Starry Colours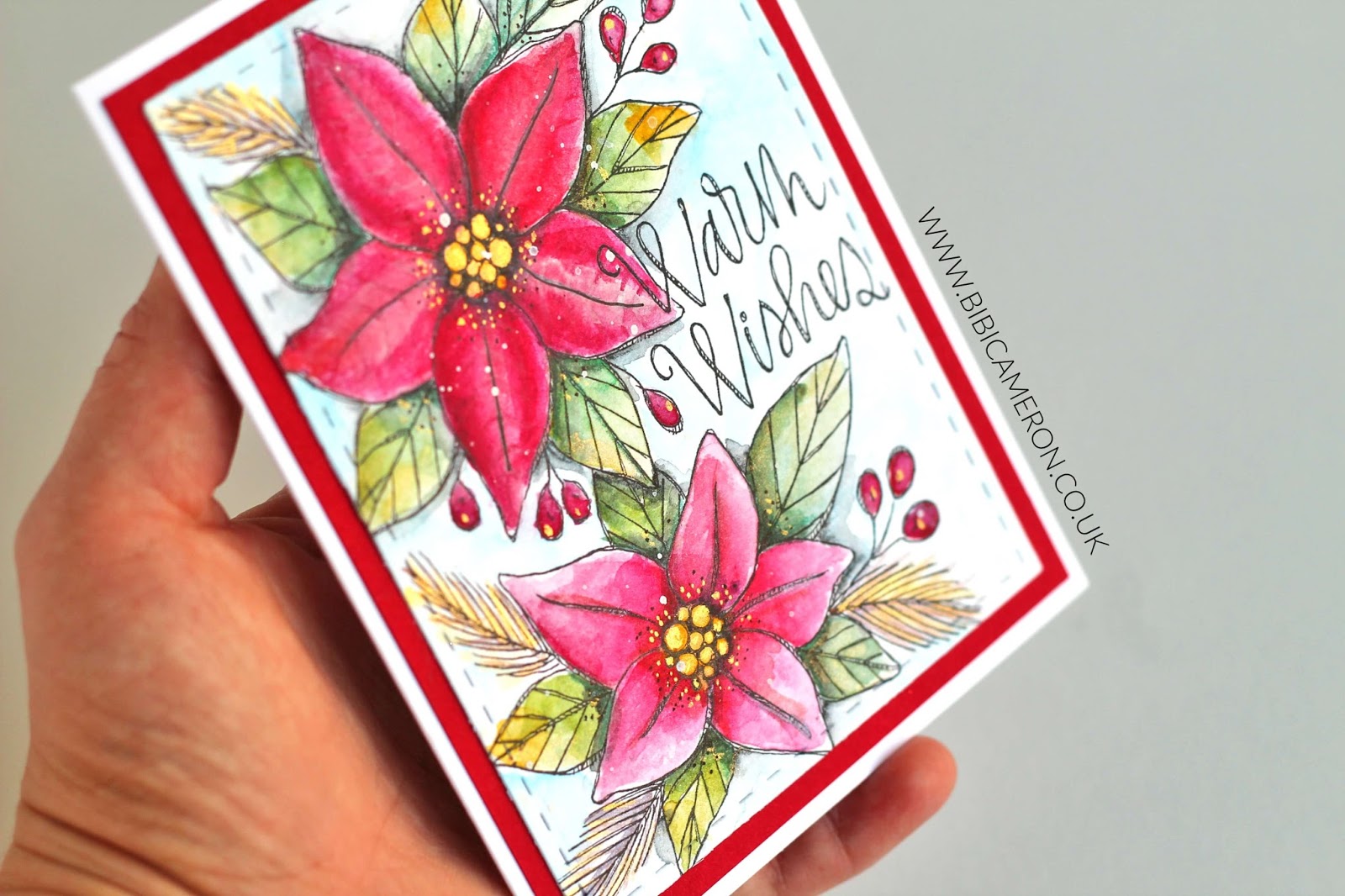 I finally got a large sheet with Daniel Smith watercolor dots and I was trying these watercolors for the very first time. They are simply stunning!
I applied the color using a Silver Velvet Brush #2. It was extremely easy to get a nice and vibrant watercolor wash.
You can get sheets with the favorite watercolors samples selected by wonderful papercraft designers such as Debbie Hughes, Yana Samakula, Sharry Carrol at the Simon Says Shop at only£2.99 the sheet.
I also added gold watercolor accents using Kuretake Starry Colours.
Derwent watercolor pencils + Zigs + Kuretake Starry Colors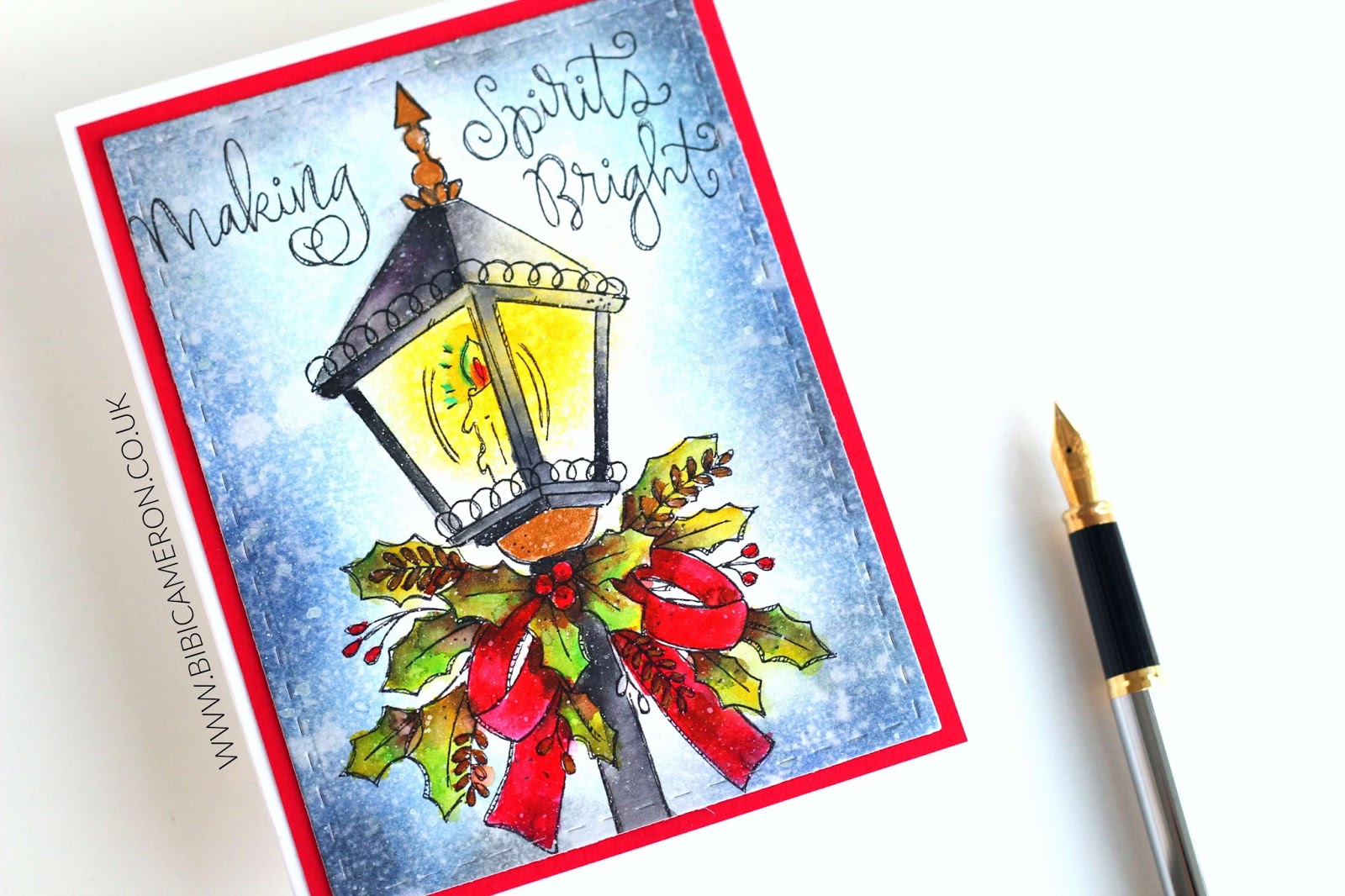 I applied distress inks ( Tumbled Glass, Chipped Saphire, Black Soot Ink colors) around the images and spray the paper with water. Idriedit off with a heat tool and I apply watercolor pencils. Then as the color was a bit opaque I applied Zigs on top of the first layer of color to get a bit more color vibrancy.
Daniel Smith watercolors + Kuretake Starry Colours+ Kuretake Gansai watercolours
With the paper dry and using a water brush I drew several dots of the blue cornflower color from Kuretake Gansai Watercolours ( pan watercolors) I allowed the watercolor to settle for a little while ( 1o secs) and then I apply clear dots of water on top to blend and distress the watercolor dots so that the background looks that way.
I applied gold watercolor on the founts and the Xmas bubble.I used red shades of Daniel Smith watercolor paints at the edges of the bubble, blending with clear water towards the center of the image using a Silver Velvet Brus #2.
Derwent watercolor pencils

+ Kuretake Starry Colours+ Daniel Smith watercolors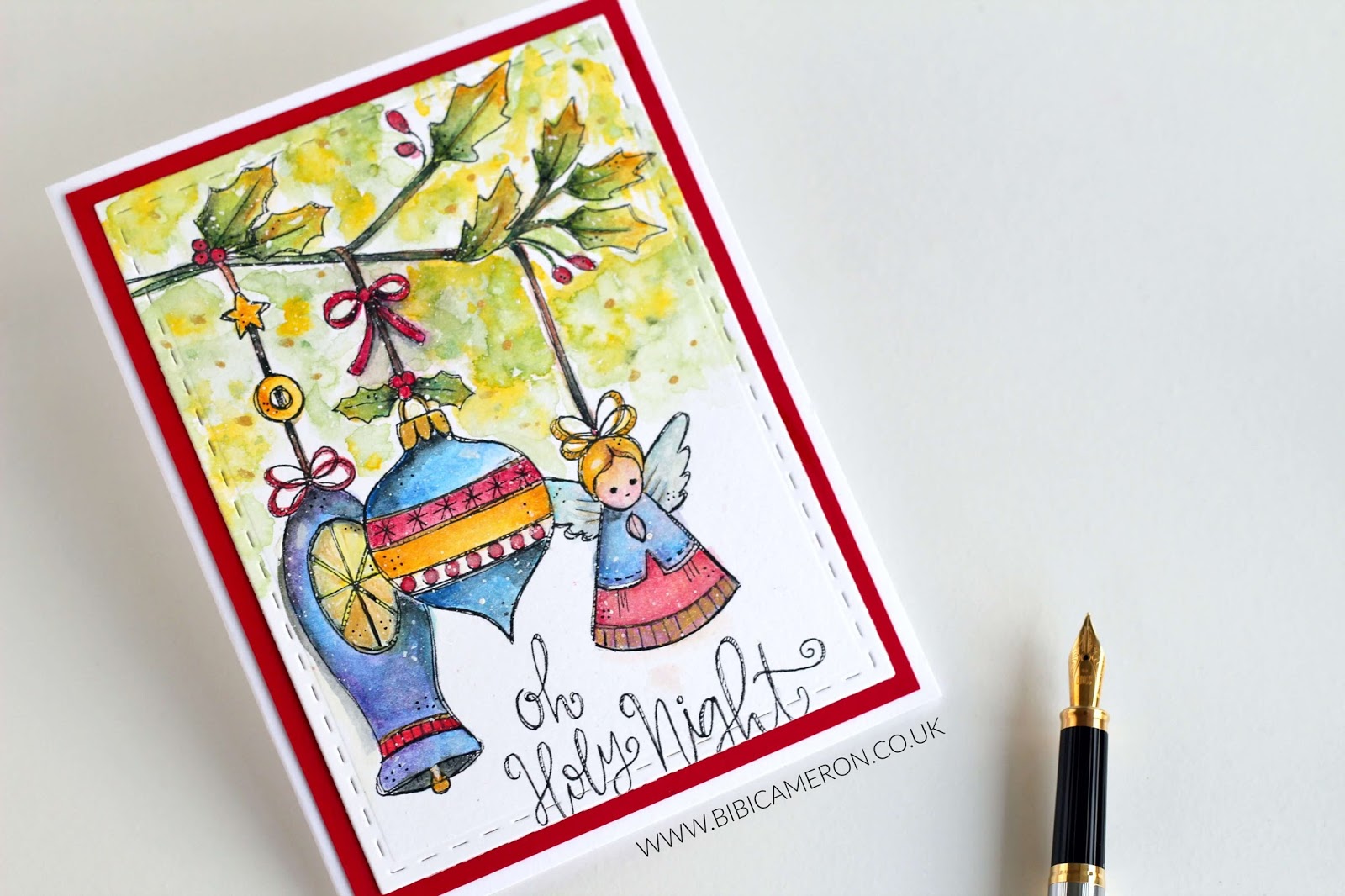 This card as a lot of golden reflective elements but sadly the picture fails to show that. I simply mixed media to color the image. watercolor pencils, markers, and paints. When I die cut it I almost die cut the sentiment! Noooo!!!
My top tips to use this product:
Use very little water.
Tape the prints to a flat surface or place them on your stamping platform and use the magnets to keep the paper flat.
Use heat tool if necessary ( apply heat evenly on the front and the back of the paper to keep it flat)
Use any water- base products available or why not coloured pencils?
If you are using watercolor pencils or Zigs use a water brush to blend the ink.
Add pretty accents with Kuretake Starry Watercolors ( I mainly used metallic gold)
As for finishing touches, I always apply white and black dots with micro fine tip pens.
That's all for today. I hope you like the projects and products today … thanks for stopping by.
Do not forget to Subscribe to my blog here! or to my Youtube Channel Here to get my latest blog post directly in your inbox.
Happy crafting!!
X
Bibi