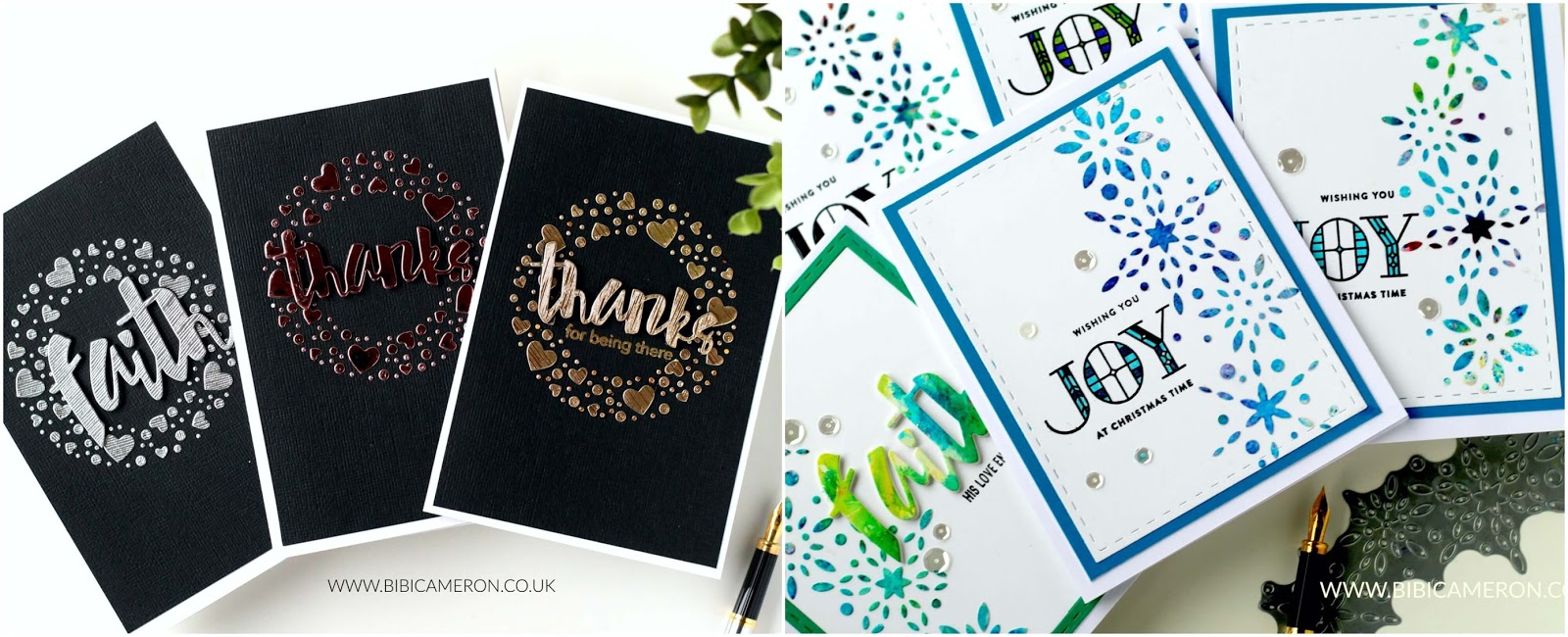 Last month I spent some time experimenting with tiny little die cuts and I used some of the wonderful Wafer Dies by Simon Says Stamp!: Heart Sprinkle Wreath, Snowburst Collage, Floral Burst Collage,and the word dies: Thanks and Faith.
My aim was getting a complete negative die cut image on the front of a card, regardless the intricacy or the detail and how tiny could be some of its parts.
I have seen videos of "Layered Die Cuts", and "Inlaid die cutting" explaining techniques to get similar results. However, I wanted to get the whole image with the small details and I wanted the process to be easy, mess-free and quick.
And after a few tries, it worked!!!YAY
I promise the process is fun, and is so easy peasy it is not time-consuming and after a few tries you will be ready for mass production.
Watch video tutorial with loads of card samples
Below pictures of cards in the video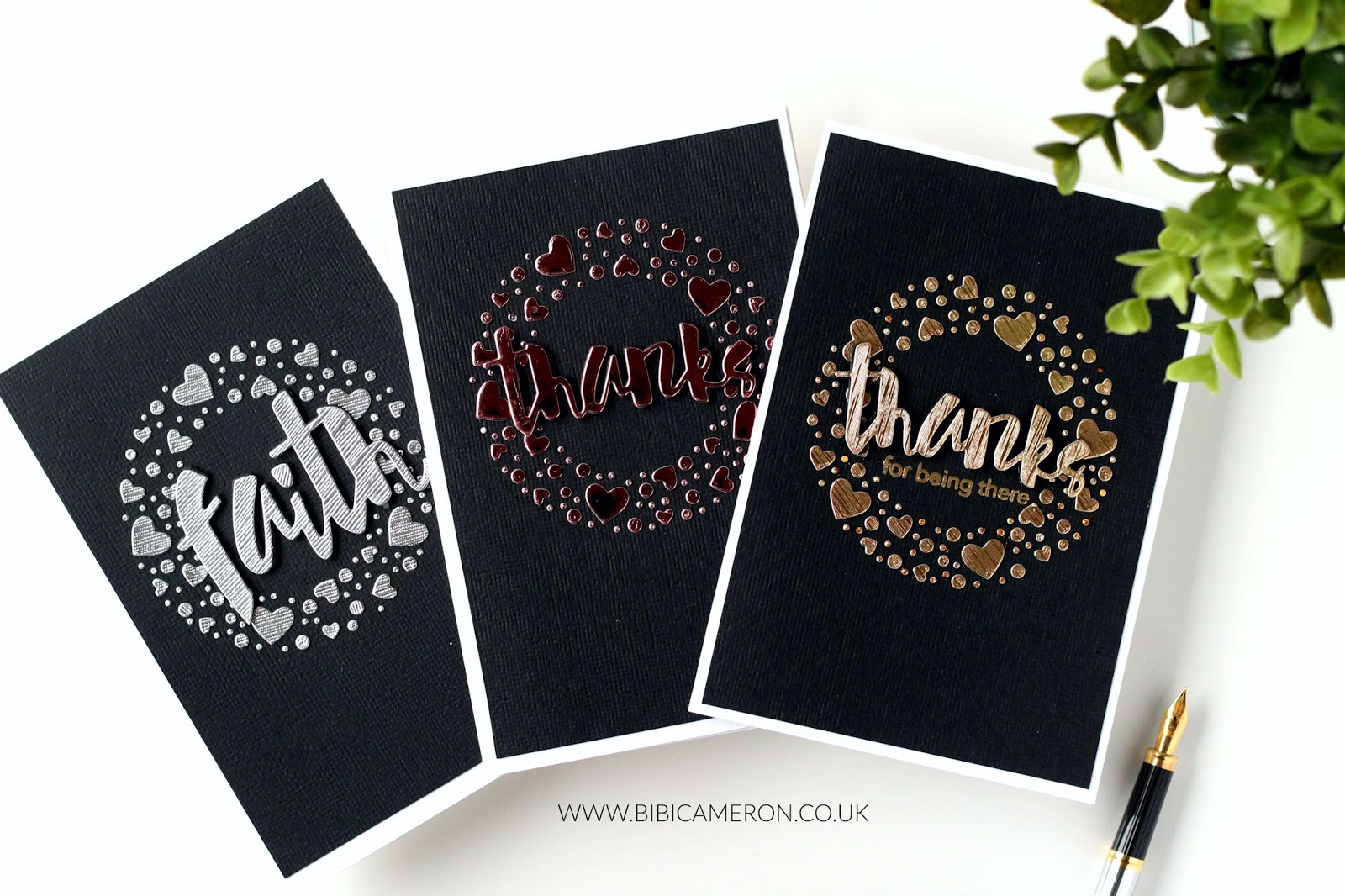 The Heart Sprinkled Wreath is one of my favorite dies to applythis technique and it will be parfect to make cards for Valentines day !!!!
I used a black textured cardstock by Tonic Studios as I thought the colour will allow me to display better the results but you can use any cardstock color to make strinking cards.
For the die cuts I used Speciality Craft Perfect Cardstock by Tonic Studios in gold, silver and cooper ( golden stain, Silver Silk, and mirror rose cardstock). Tonic has the most spectacular mirror cardstock specially designed for die cutting. love it!
I also die cut the words out of craft foam in matching color so it really adds dimension to the sentiment and you barely notice it.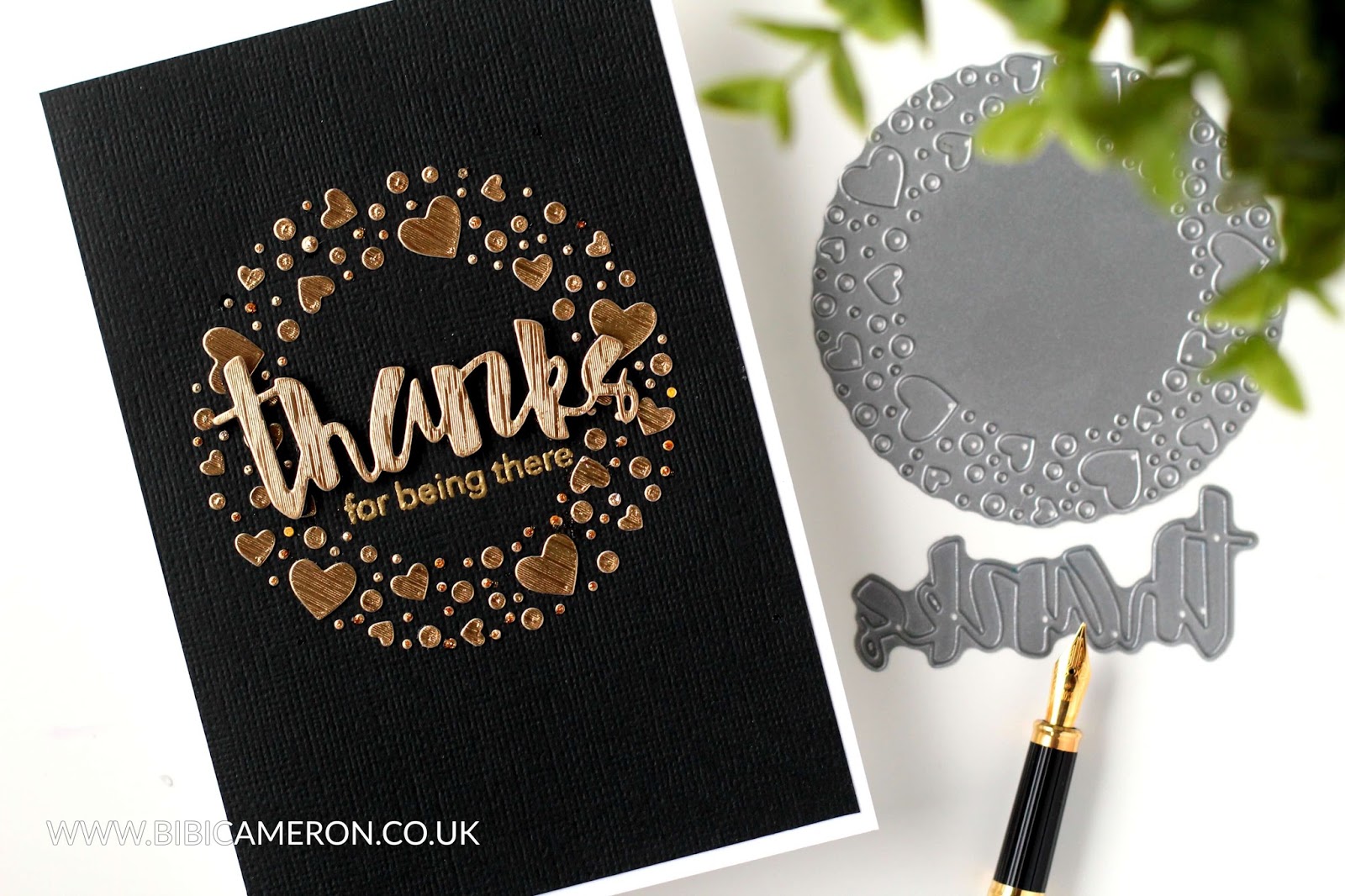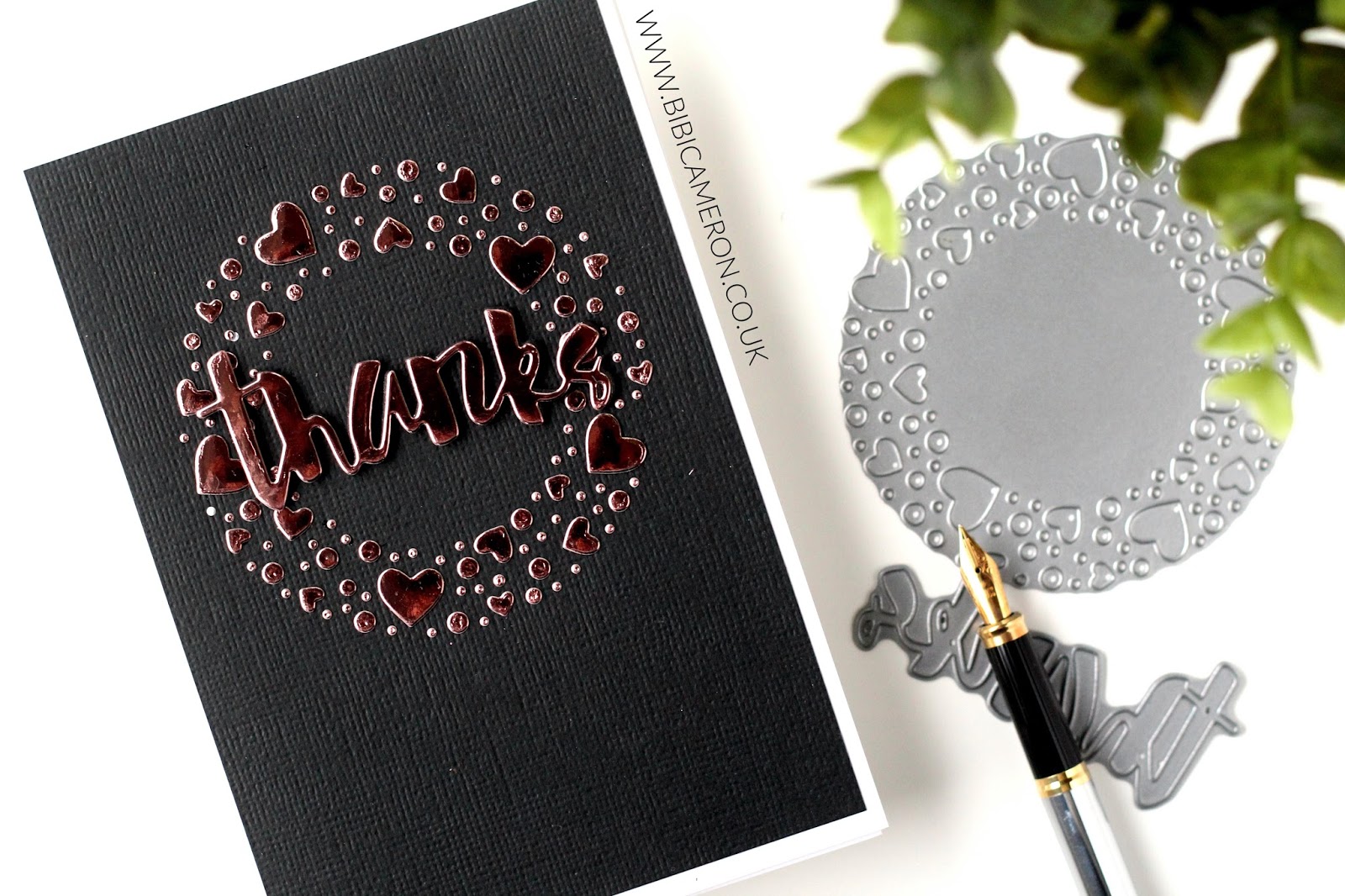 For the card below I used watercolor paper and I sprinkled Brusho Crystal watercolours on the wet paper so I got an interesting texture and you can make this in different colours as well.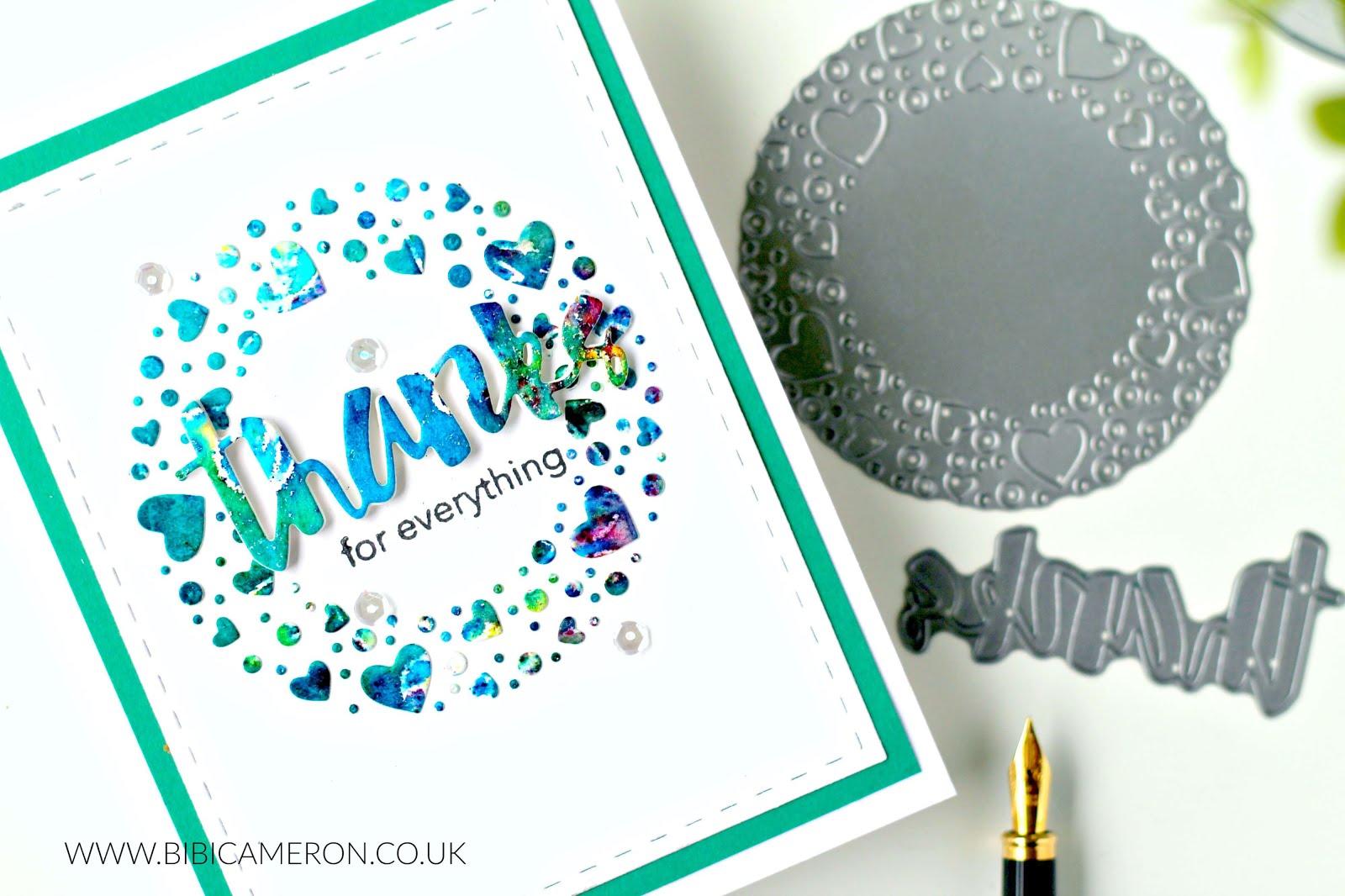 For the card below I used Floral Burst Collage die and paper splattered witch Brusho Crystal powders too.
I also die cut the word " Thanks" from Craft Perfect Black Mirror Cardstock . I love that cardstock to die cut words.
To try this technique I also grabbed Snow burst Collage die, this die has really narrow and tiny parts … but the technique worked as a charm and if any piece of paper stays on the die or fell off you can glue later. No problem at all.
So my cards today are very simple as theyare also the result of an experiment but I relaly think is well worthy to share the techqnique.
That's all for today. I hope you enjoy the video and the projetcs.. and thanks for stopping by.
Do not forget to Subscribe to my blog here! or my Youtube Channel here to get my latest blog post or video directly in your inbox.
Happy crafting!!
Supplies