Simon Says Stamp goodies landed at my door a couple of days ago and and I got busy. They are part of the new release called Back to School, Encouraging Words filled with beautiful school themed stamps and dies
Check out the full release here!
With the stamps and dies in my hands I started thinking about the things I could create with them. Hmmm.. Yesterday was my 5th Anniversary and we had plans with the family. I couldn't escape to my craft room and make something quickly… I'm never quick at crafting !
Then miraculously I saw a video on instagram with a colourful rainbow background and a rocket !! YAY that's was the perfect source of inspiration.
Below are screenshots of the video.
So I made super quick and easy rainbow cards using:Space JourneyandTrickle Breeze.
The sentiment is fromSeeing Stars Stamp Setwhich is just perfect to be used with these dies and believe me I tried to colour the die cuts in many different ways.
I even made planets with fun effects using Brusho Pigments but things were not really working as I expected, so I decided to leave all the die cuts in white.
I used Nuvo Creative Pens to apply colours to the backgrounds as shown in the video below and I also give some extra ideas there so feel free to have a look and let me know what you think.
I'm loving the versatility of the Nuvo Creative Pens and Simon Says Stamp tools… Look at that little rocket!!
If you like these kind of backgrounds have a look at another simple card background made using markers here!
If you want to share your projects using products from this release on social media please use the hashtags #sssencouragingwords #simonsaysstamp and if you want to share projects with me please tag me @bibicameron
PIN ME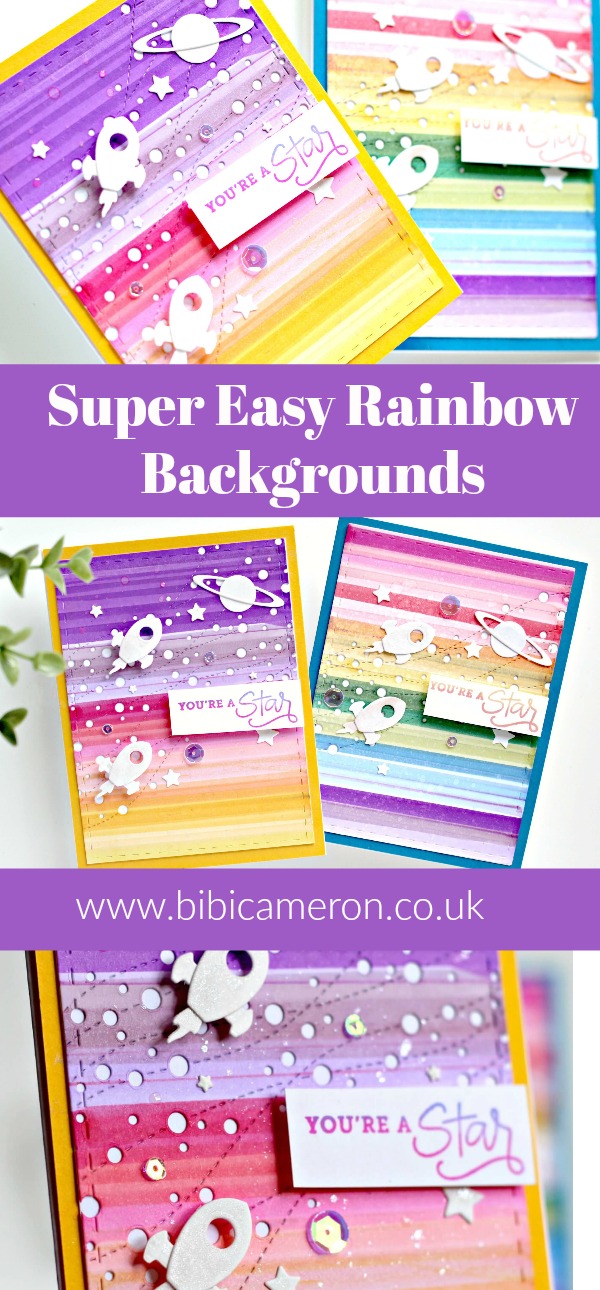 That's all for today… I really hope you enjoyed the project today and video.
Please do not hesitate in ask any question or leave a comment I would love to hear from you.
If you would like to place an order for any of the products used or any other craft supply simply click on any of the images below to go direct to online shops 24/7. Affiliate links apply. I get a small commission when you buy through these links at no extra cost to you.
Thanks for your support.
x
Bibi