This is very simple composition but I love the delicate vibrancy of the stamped images after applying an easy watercolour technique. I find the colouring process very enjoyable and it also give the benefit of creating a very unique and personalised pice of art work.
The card today features Delicate Details Stamp Set by Tonic Studios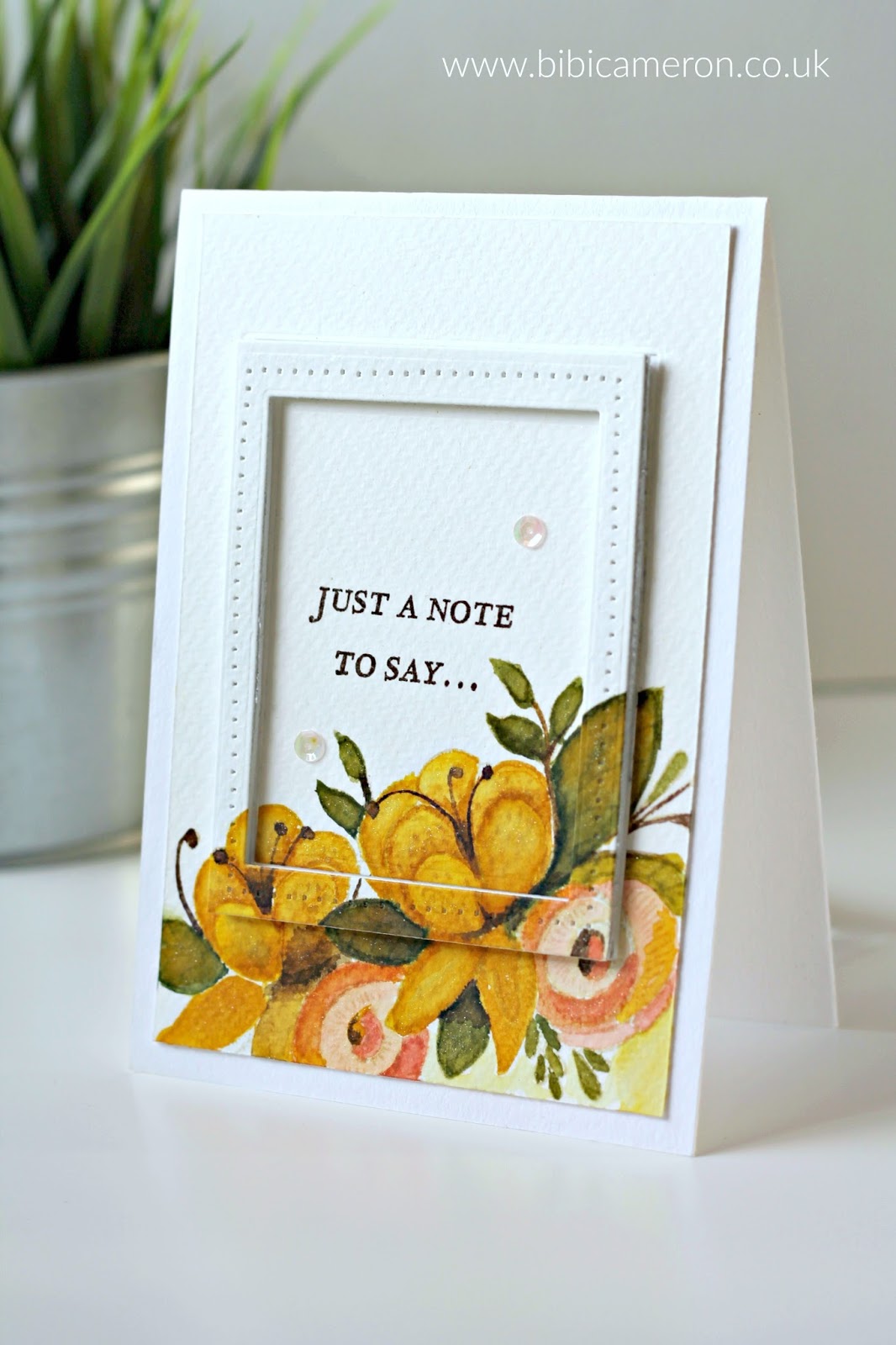 I used Antique Linen Destress ink to stamp the images on watercolour paper (300 grams , cold pressed) and I made a masks using Post It notes to be able to overlay the same florals images "twice" and create a bouquet.
Next I applied colour a usingwater brushesand various water based inks such as: Distress inks by Ranger, Stampin' Up! inks .
When I finish colouring I die cut the panel using 2rectangular dies by Tonic Studios to create the dimensional frame at the front and I used my sewing machine to pierce holes on the frame.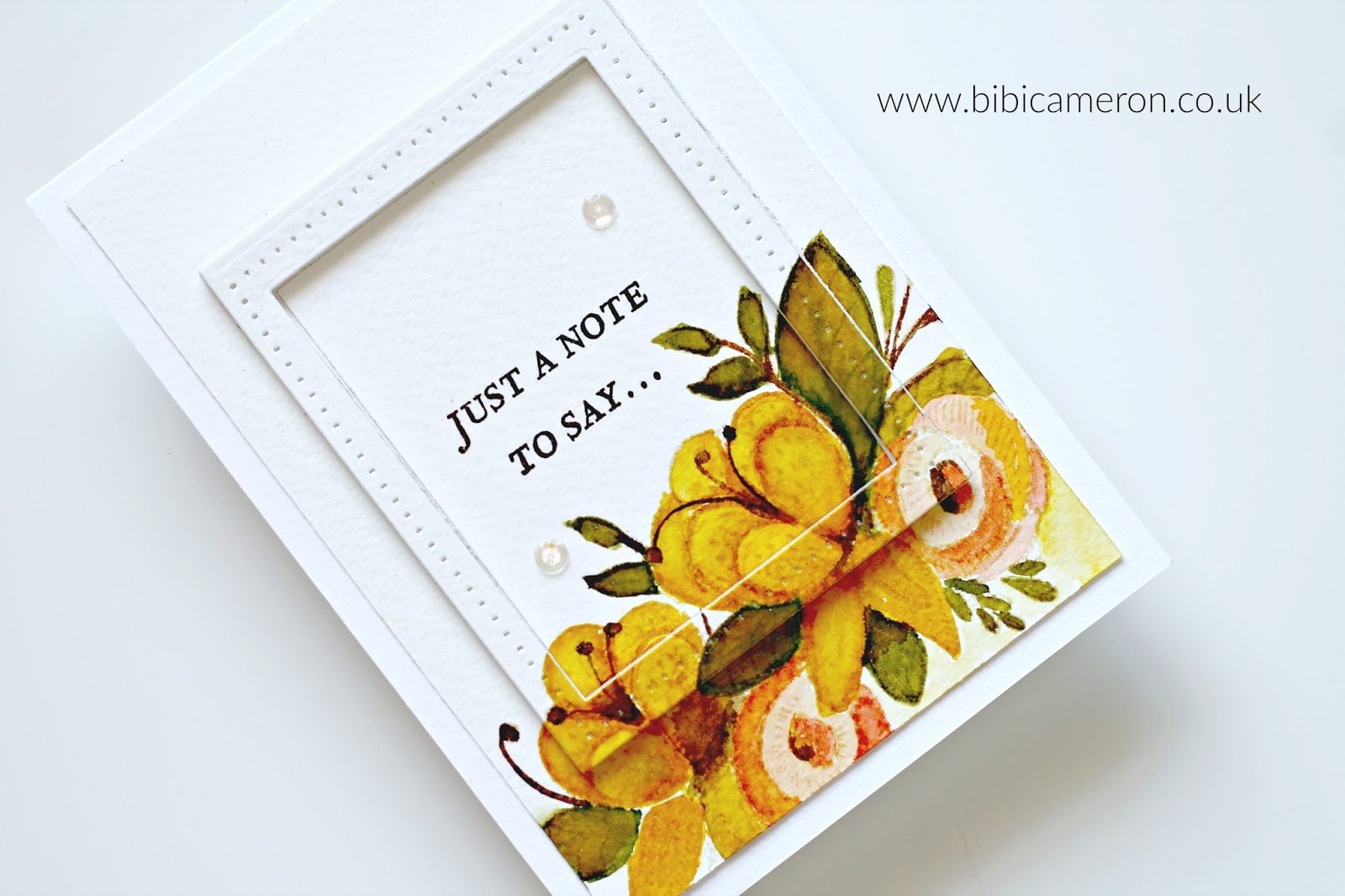 I glued down the back of the panel on a C6 ( a6) cardstock base, then I glue down the frame using double sided adhesive foam and making sure it was aligned.
To finish I stamped with Jet Black Stazon ink the sentiment("Just a Note to Say"from Simple Sentiments Stamp Set) in the smaller central piece and I glue it down just in the center of the frame. (Stamping on waterfolour paper can be tricky so I used a stamping platform to make sure I could stamp over and over and get a crisp stamped sentiment)
And thats all! I hope you like this card.
Click here to see a similar card idea
Click here to see video technique
Click here to see more Delicate Details inspiration
A note for my readers:
This card was made last December to be displayed at CHA ( Creativation – trade show Jan 19 – 2017) . I have many many projects ideas and videos in hold and I know I'm due to share them all with you!! Nooooooo.
Life seems to be busier than never this British summer as with the sun shinning on the sky days seems to be shorter to do all we want but I'm still enjoying life and crafts everyday! We don't get a lot sun here so hot days are to go out 🙂 With my 2 toddlers around the house, getting my new home and my new craft space organised all seems to be a bit slower… I'll get there, I'll be video blogging again soon. Now I'm going to the play zone… cheers
x
Bibi
LET'S KEEP IN TOUCH!
Join my Facebook group | contact me at bibicameron@gmail.com| Subscribe to my YouTube Channel | Follow me on Google+ | Follow me on Pinterest and Instagram | Follow my publications | Subscribe to Newsletter|
Supplies
Find supplies in American most popular online shops Simon Says Stamp Shop ( deliver to USA – Wordwide) Scrapbook.com and Amazon Uk links below.

For complete Tonic Studios products range in the UK visit : www.hochanda.com

</