I'm saying goodbye to TGIF challenges!! Nooooo but this is also part of my process of leaving my Demonstratorship with Stampin' Up! I joined TGIF team in April 8 -2016 – challenge #50 , it has been only 10 but intense months of hard work to spread the love for papercraft together with creative genius.
So I want to thank my amazing TGIF team for sharing with me #49 beautiful challenges. It was an honour to serve to the art world with you! I'll miss you!!!
The card today is dedicated to you. I really wanted to make something a bit more personalized but the last couple of weeks has been emotionally epic. No only because I'm resigning to something I love but also because my dad had a heart attack. He ended up having an open heart surgery and thanks God all is fine. He is recovering now.
So I was thinking of you yesterday and I decided to use one of the most gorgeous stamps ever: Butterfly Basics by Stampin 'Up!
The sentiment was just perfect for my card today and it is from "Flourishing Phrases Stamp Set by Stampin' Up!
So lets celebrate challenge #94 HERE! We are making cards with the sketch in the picture below …
I hope you like my interpretation of the sketch and that my card can provide some ideas about how flexible the challenge is.
To make this card today I applied a technique called " Layering colour" some people call this technique " no -line watercolour" because you can't see the outlines of the stamped images.
You might notice that I'm using this technique a lot recently . It is just a no brainer for me. Perfect to make last minute cards as it is soooo easy, quick, convenient, I like the results and it also relax me.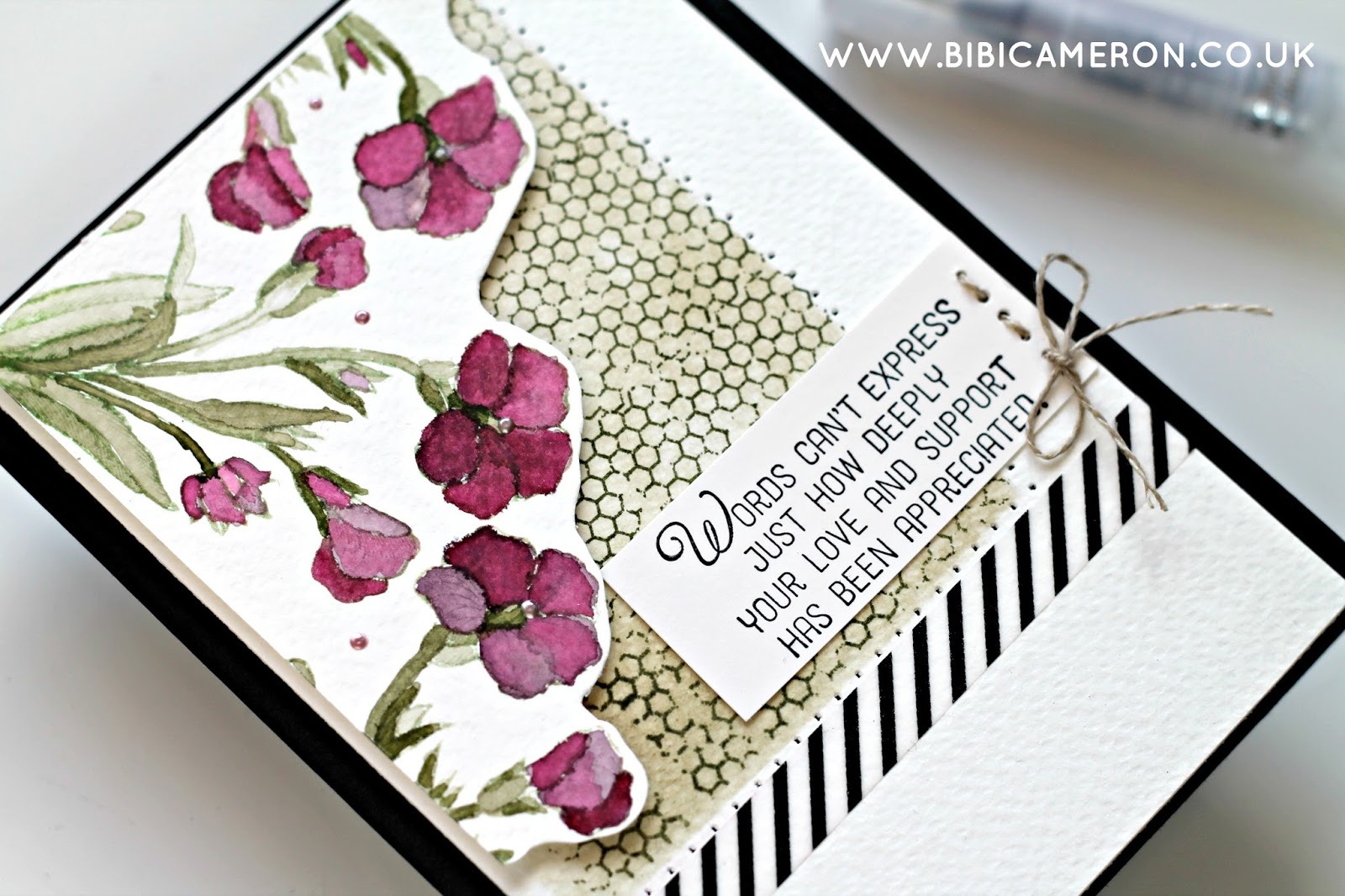 How I do it?
I stamped the flowers with Pear Pizzazz ink by Stampin' Up! as I wanted to keep the outlines of the leaves in that colour and I could easily cover this light green ink with the purple inks I used on the petals.
Using a Nuvo Fine Tip Aqua Flow Brush I applied a layer of Stampin' Up! Perfect Plum ink reduced with water. I applied the ink petal by petal and never on 2 petals in a row to avoid blending them together. (You need to leave the ink to dry on a petal then apply colour in the petal next to it. You can work in different parts of the card while the ink dries)
Once the first layer of ink was dried. I applied a second layer of Rich Razzleberry ink this colour added saturation. Love it!
To add colours to the leaves I added a layer of clear water so I kept the Pear Pizzazz colour on the leaves, and I added in some leaves a layer of Always Artichoke ink and Mossy Meadow Ink here and there to add some shadows and contrast.
I use too little water to apply this technique and too little ink.
I'm not sure if you can see that delicate accent in the flower center. I embellish with Nuvo Crystal Drops Raspberry Pink.. just beautiful! love that product.
I made a video to show you the technique.. In the video I'm testing some aqua brushes but you can use any water base ink or traditional watercolours.
To say thank you to all our readers and the talented people who have played along with us I'll be having my Stampin' Up! farewell next Sunday ( Feb 12 – 8pm UK time) with a giveaway and everybody can participate! the Giveaways will be open from February 12 to March 5th and the winners will be announced in my blog on March 6th – 2017
That's all! I hope you enjoy this project and do not hesitate to ask any question or leave a comment. I would love to heard from you.
Happy Crafting.
x
Bibi
LET'S KEEP IN TOUCH!
Join my Facebook group | contact me at bibicameron@gmail.com| Subscribe to my YouTube Channel | Follow me on Google+ | Follow me on Pinterest and Instagram | Follow my publications | Subscribe to Newsletter|
Buy Stampin Up Supplies from my friend Gosia Mackinnnon below. She is an amazing seller with orders over £25 she will send you a free thank you gift .