Hello everyone! I made 3 romantic, vintage, easy cards for a beautiful Colour Challenge on Global Design Project this week.
We are making projects with Real Red, Crumb Cake, Early Expresso colours by Stampin' Up
If you have a minute please let me know which card in this post you like the most 1, 2 or 3 ? Remeber you can join the challenge no matter in which country you are from… anyone can participate.
I made all the cards in this post using Timeless Love Stamp Set, Gorgeous Grunge Stamp Set and Suite Sentiments Stamp (this last stamp set will available to my lovely customers from January 4-2017 as we will have a new catalog!)
I also used Stitched Shapes Framelits Dies currently unavailable (so sorry) as this stunning product was sold out in less than 2 weeks after ther promo was launched ( SEE HERE). But not worries Stampin' Up! is working hard to bring the dies back ASAP so seat tight and get the credit card ready. lol.
We can't deny that when Stampin' Up! launch a promo is like if we were running a maraton. WE HAVE TO RUN AND BUY as 10 minutes after many products are gone forever!! Noooo… Last week there were dies at £13 and I missed them. I'm still moaning about it!
Click here to enter the challenge or to
have a look at what everybody is doing!
Ok so my fisrt thought about this colour combo was that it will be perfect to make a Christmas project but then I thought I could make a little bit more romantic looking card.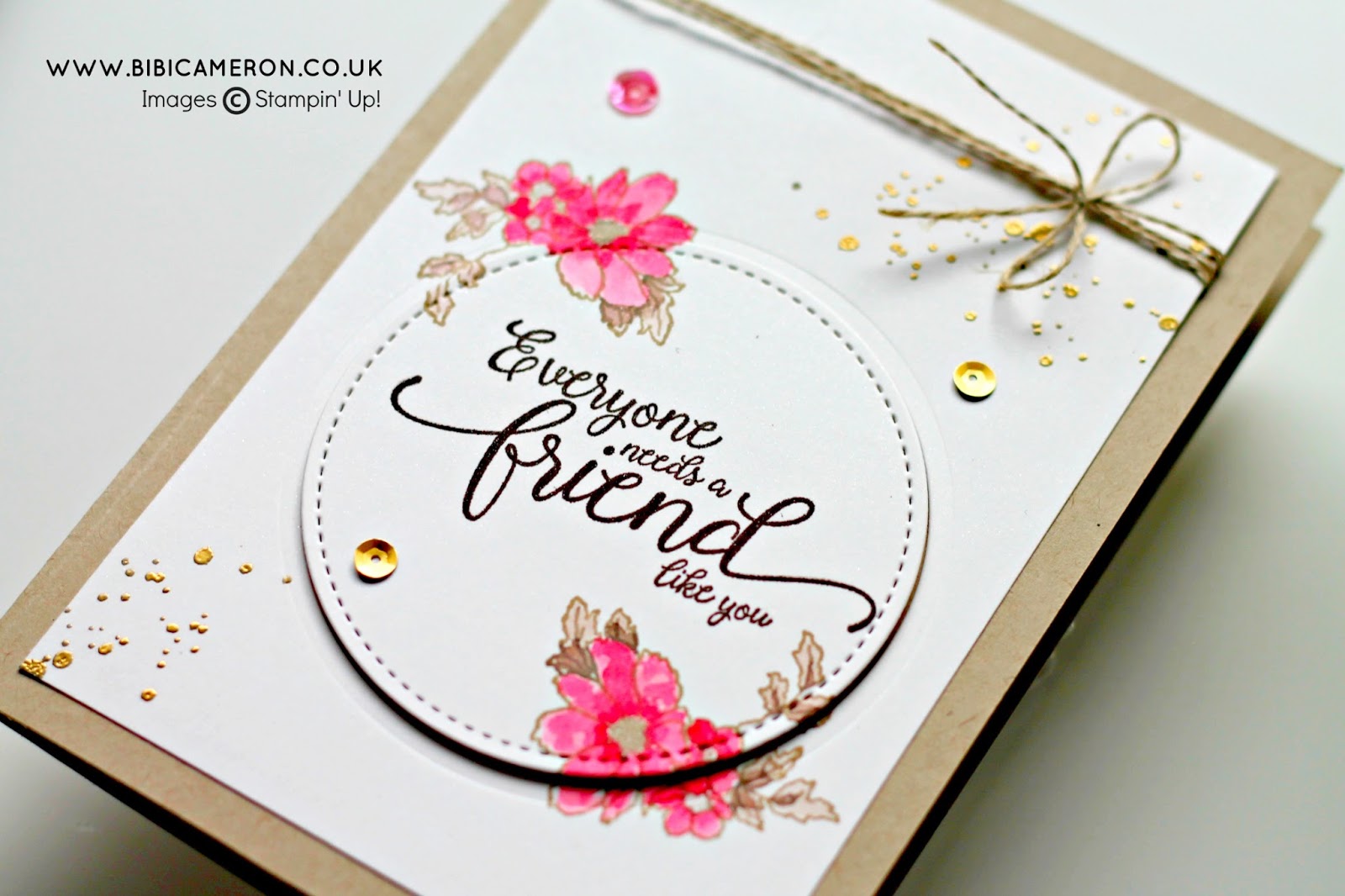 I grabbed a piece of Shimmery White Paper (9.5x14cm) and I stamp the sentiment " Everybody need a friend like you" with Early Expresso Ink. I love this fonts, and the sentiment is sooo pretty!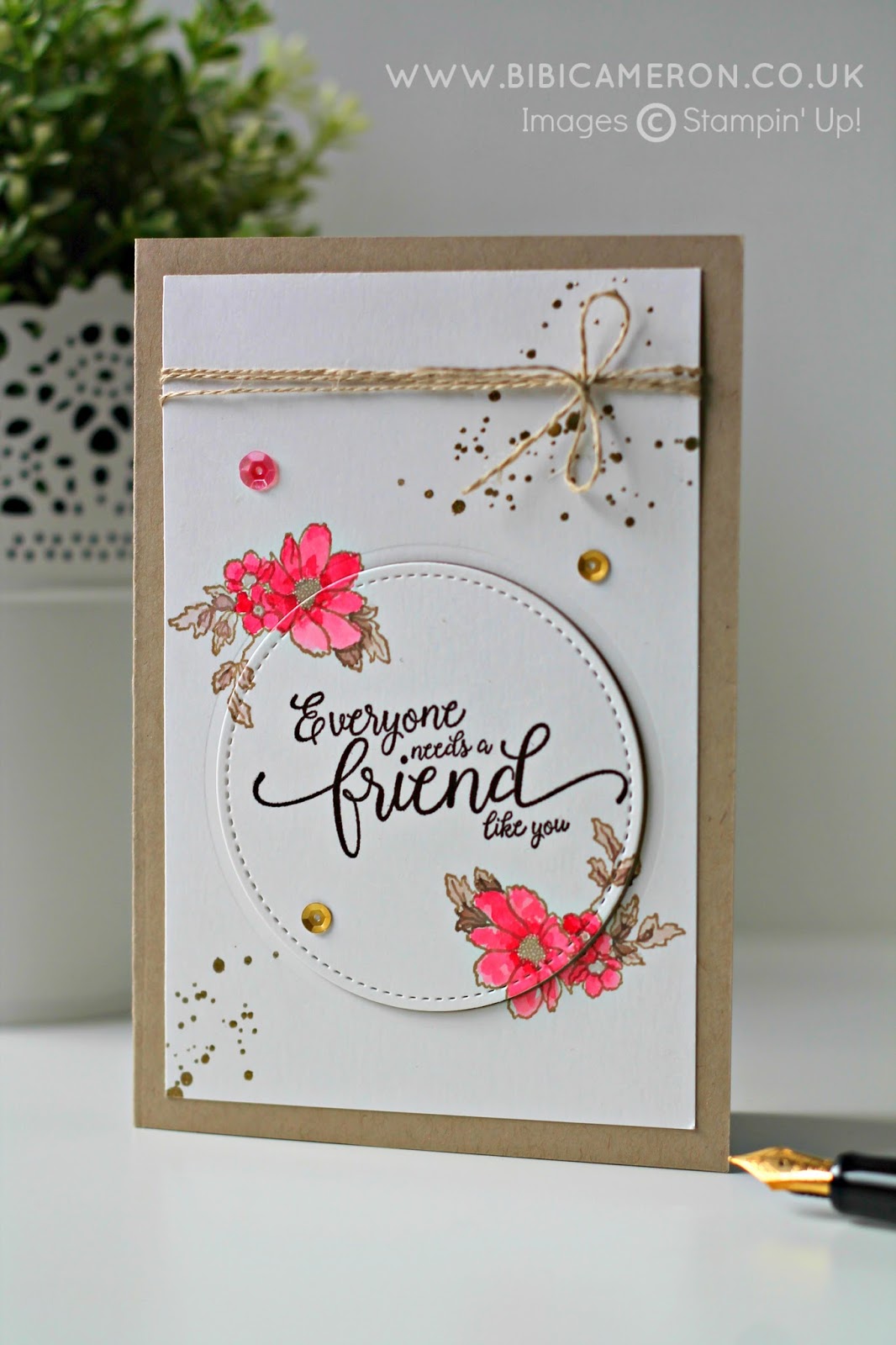 Then I stamped the flowers using Crumb Cake ink and I used one of the stamps in Gorgeous Grunge Stamp Set to stamp the ink splatteres with clear Versamark ink and Gold Embossing Powder.
And I finally applied colour using an aquapainter. I applied Real Red ink to the flowers and Crumb Cake and Early Expresso ink to the leaves.
Once I finished the previos project I made a second one…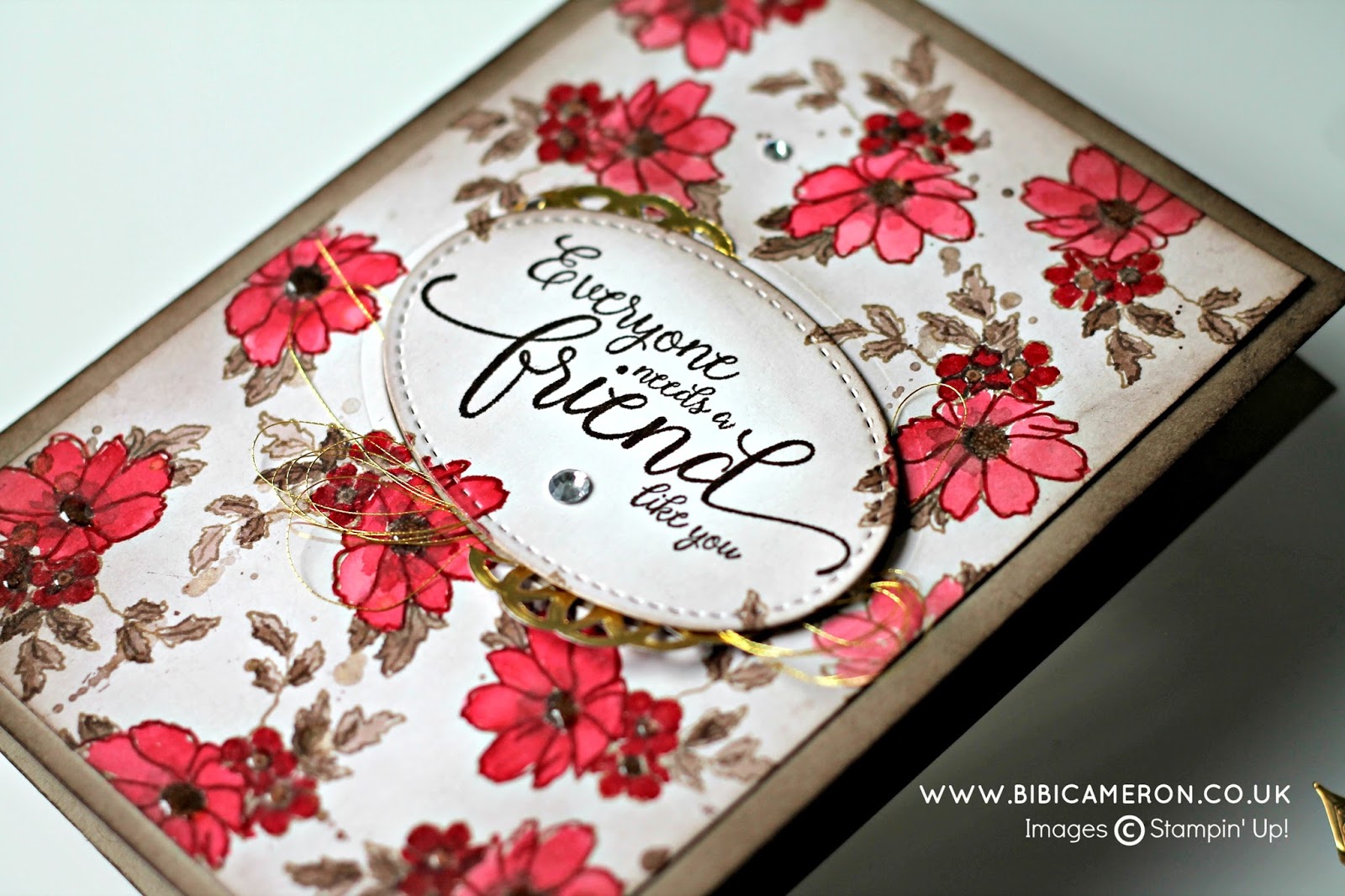 I stamped the images with Crumb Cake ink but after adding colours with Aquapainters I felt something was missing so I used the fine tip of a real red Stampin' white marker to outline the flower petals .
I used a gold shimmery ink and splatter the background with it. Then I die cut the panel and simply pasted on a crumb cake card base with Stampin' Dimensionals but then something was still missing, so I sponged the edges of the card with Early Expresso ink and still felt that something was missing so I added gold metallic thread and a Metallic Foil Doily.
I also added Glossy accents to the flowers center and Rhinestones! Phew. At some point I felt I had to stop throwing things to this card.
Ok, after the messy playing with the previous card I though I needed to so something more clean, easier, less fussy.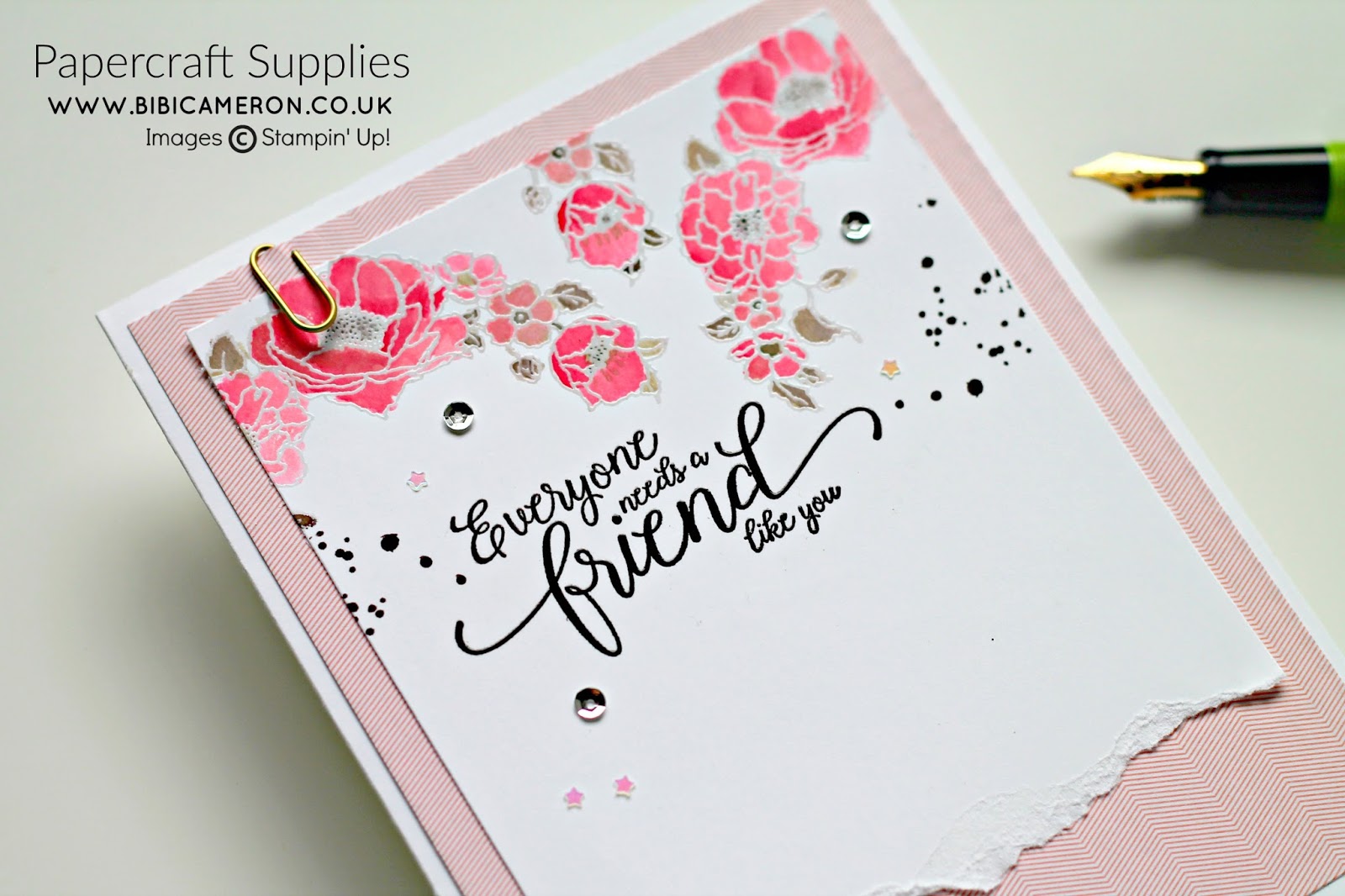 It is just incredible how an idea becomes another, then another, and then another… at the end is something completely different … Don't you think so?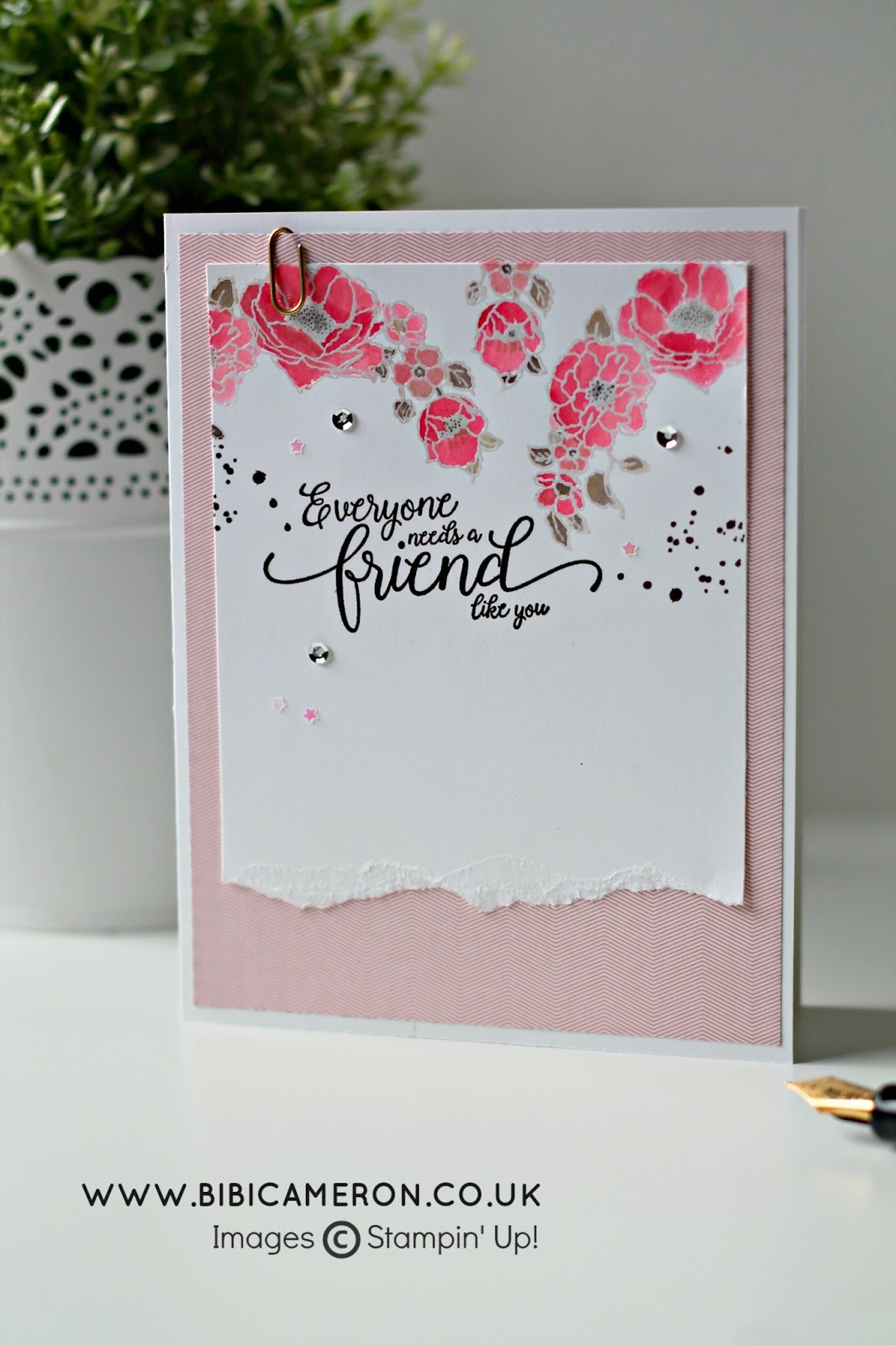 For this card I used Whisper White Cardstock insted White Shimmery paper. I simply applied an embossing resist technique ( clear Versamark ink + Clear embossing powder) and I used an Stampin' Up! aquapainter to apply colour to the images. I allowed the ink dry well before applying more in the same area.
Until this day I wrongly though I couldn't use Whisper White Cardstock to apply washes of colour with aquapainters but I was very careful of not saturating the paper with the inky water and everything was all right.
You can have a look at the colouring technique I used for the cards today in one of my previous videos.
Suite Sentiments Stamp Set will be released in January 4/2017 you can have a look at the set in the picture below. Everything else used to make this cards can be purchased 24/7 in my Stampin' Up! shop Here!
That's all!!
Thank you for visiting my blog today I hope you have enjoyed these projects ! and do not forget that every order £25+ from my Independent Stampin' Up! Shop will also receive a free thank you gift from me Click here to find the code and customer perks! The free gift should reach my customers around 15th each month.

Do not hesitate to leave a comment or contact me if you have any question at bibicameron@gmail.com
I would love to hear form you!

Please find supplies I used to make this card listed below…