Hi there, I'm a paper craft addict but I have had many hobbies in my life. One of them was making flower decorations and as today I'm celebrating my wedding Anniversary I had this idea of sharing my DIY projects with you…
The most important is you can make any of these projects with minimum or zero knowledge about floristry, sewing or paper craft.


I'll start for my wedding bouquet….
Made with beautiful and fresh white Hydrangeas and Gypsophilas (Baby Breath) and silver diamante branches this breath taking bride's flower bouquet was incredible inexpensive and I made it very quick the morning before my wedding as I wanted the flowers to be really fresh.
We got about 10 big hydrangeas plants in white and lilac colours to make the floral arrangements for the whole wedding.
I cut off the most filled and pretty branches from some of the white plants to make the bouquet and I just placed one of the branches at the centre and place around others until I got a round bouquet in the size desired. I added the silver diamante branches between the flowers to embellish. Then holding the bouquet with my left hand I started to wrap around the steams green florist tape. I did this just to keep this part of the bouquet in place.
Then I placed around my main flower bouquet some "baby breath" branches and I wrapped the flowers steams with florist tape again.
I did cut the flower steams to desired length and to finish I covered the steams with a beautiful pear embroidery piece of fabric applying some stitches to keep everything nice and tight. The fabric sleeve was then really easy to make and comfortable to the touch.
I made pretty similar but even more simple bouquets for my bridesmaids. I only used lilac Hydrangeas plants and I wrapped a the steams with white silk fabric. I added a bow made with lilac organza.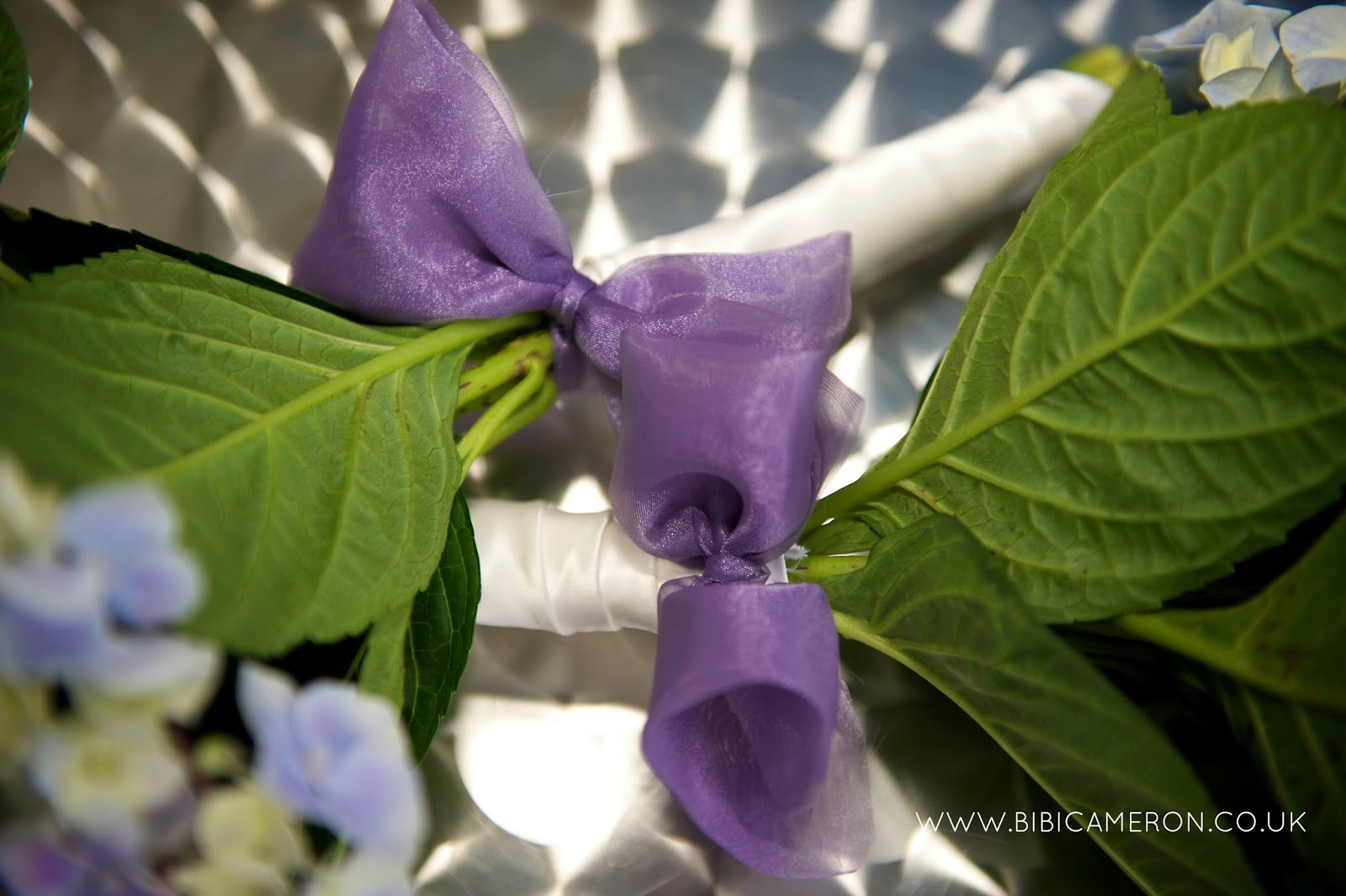 I used a bunch of glass jars and ceramic accessories to make simple table decorations… Below a picture of the project.
I placed the jars with flowers on mirrors and I added candles and I served small heart shaped mints on glasses.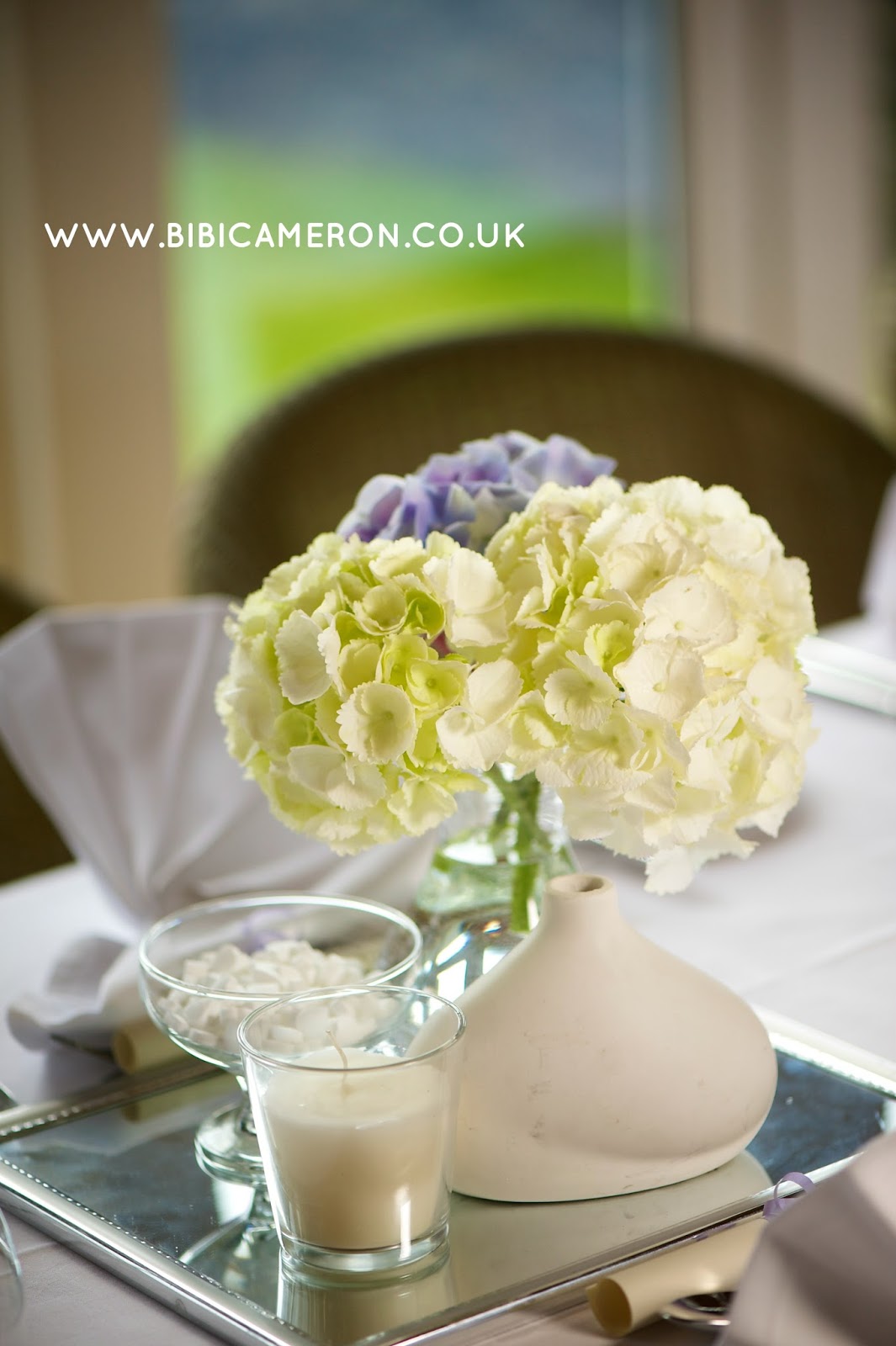 My wedding cake was not only beautiful but absolutely delicious. This 3 layers cake with icing was embellished with a bundle of hydrangeas on the top and gysophilas wreaths as shown in the picture below.
That's my hubby and I with our celebrant Judith at our wedding venue: the magic Eilean Donan Castle in the Scottish Highlands.
Can you see some hydrangeas plants in the background? I literary put them on some stands available at the venue .
A clear box filled with silver almonds and a little tag was my wedding favour.
You can make boxes like this with curvy keepsake box die.
Watch video to learn how to use the die
I really hope you enjoyed my projects, If you are looking for paper craft materials for your wedding simply click HERE or in the pictures below to go direct to my online shop 24/7 and explore affordable solutions for wedding favours such as bags, boxes, ribbons and Designer series paper. You will also find stunning stamps and dies to make wedding invitations and thank you cards.
Click to view over 100 wedding stationery ideas in my Pinterest board Here!
Do not hesitate to contact me if you need further assistance whit your purchase.. I'm here to help write me at bibicameron@gmail.com