I have the honor to be invited as guest of honour to Stampin Friends Blog Hop this month. And we are sharing Sympathy/Thinking of You/Get Well themed cards and 3D projects.
Currently you are visiting Bibi Cameron Independent Stampin' Up! Demonstrator in Scotland -UK. If you're
following along the hop, you've arrived from Maria Willis's blog and to keep hopping with us simple click in the "Next" button at the bottom of this post.
So let's jump right in. I have used Rose Wonder Stamp set and Heartfelt Stamp set from Stampin Up' to make my projects for today
To make this card I used Rose Wonder Stamp set. I applied Embossing Resist Technique (with Versamark clear ink and Clear Stampin' Emboss powder) and a extremely easy watercolor technique using Stampin Up Aqua Painters. Inks used: Tip Top Taupe ink ( Rose), Wild Wasabi ink, Peekaboo peach and Mossy Meadow (leaves). I made the same card design in all the colours in the new in colour collection 2016 -2017 wow I love them … and I'll be sharing pictures tomorrow Here and video tutorial available soon on my Youtube channel HERE! make sure to subscribe to be amounts the first to watch it 🙂
Click HERE to see this card design in all the shades from the new Stamp;in Up in color collection inks 2016-2017.
To make this box I used a 12″x12″ sheet of DSP : Tip Top Taupe from the in colour collection 2015 -2016 and using my envelope punch board I score at 3″ inches all over the corners . I created a window with a square die and added window sheets behind.
I also made a tag using Ornate Tag Topper Punch and watercolor paper.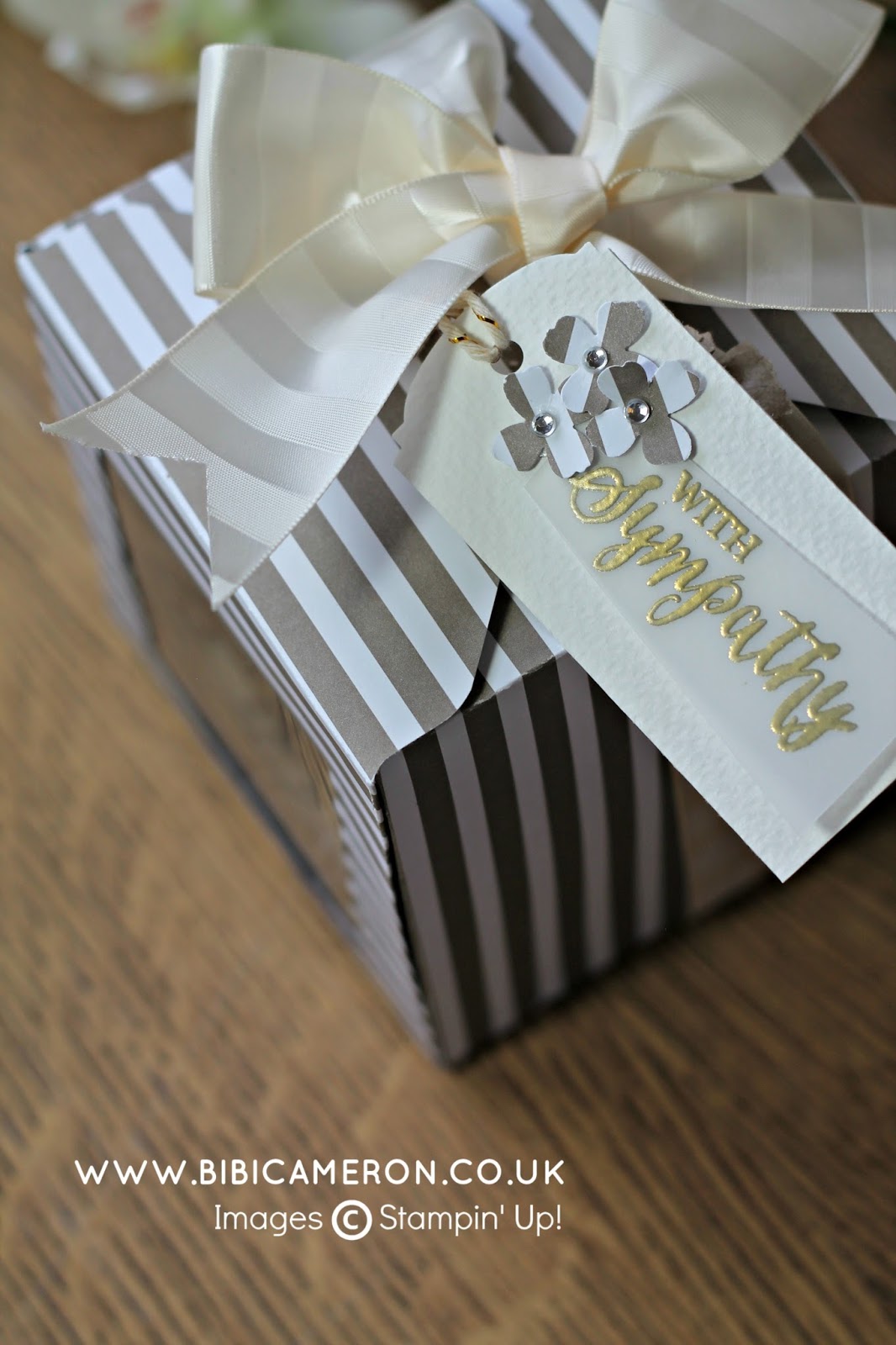 I removed the candle from the glass to be able to work with it. I used 2 stamps in in Heartfelt Sympathy Stamp set with Chocolate Chip ink on toilet paper… Yes!! I used toilet paper as I wanted to give it a try and it work nicely . I placed the stamped toilet paper around the candle and I used my Stampin Up heat tool to melt the wax so the paper got impregnated and covered by the wax . I used the embossing gun in 1-one – low heat to avoid over heat the wax and damage the shape of the candle.
really hope you enjoyed my project, If you would like to place an order for any of the products used in this post or any other Stampin' Up! supplies, simply click HERE to go direct to my online shop 24/7. And don't forget to use the hostess code (if your order is £20+ and less than £150) to receive a free thank you gift from me.
List of participants
Bibi CameronYOU ARE HERE!
Stampin' Friends Blog Hop is having a Mystery Giveaway and you have multiple chances to win. all you have to do is leave a comment and a number before May 22nd at midnight for a chance to win this awesome giveaway!
Thanks for stopping by and do not hesitate in leave a comment. I would love to hear form you!