I'm completely in love with Blessed by God Set of 8 Cling Stamps. It is absolutely adorable to make religious themed cards or just to say in a very special way how important that person is in our life.
To make this card I have only used 1 of the sentiments in the set: You are a blessing in my life. Aww I love it! I can't wait to make and share more projects using this set that also includes Baptism , Marriage, friendship, sentiments and beautiful images of the holy cross.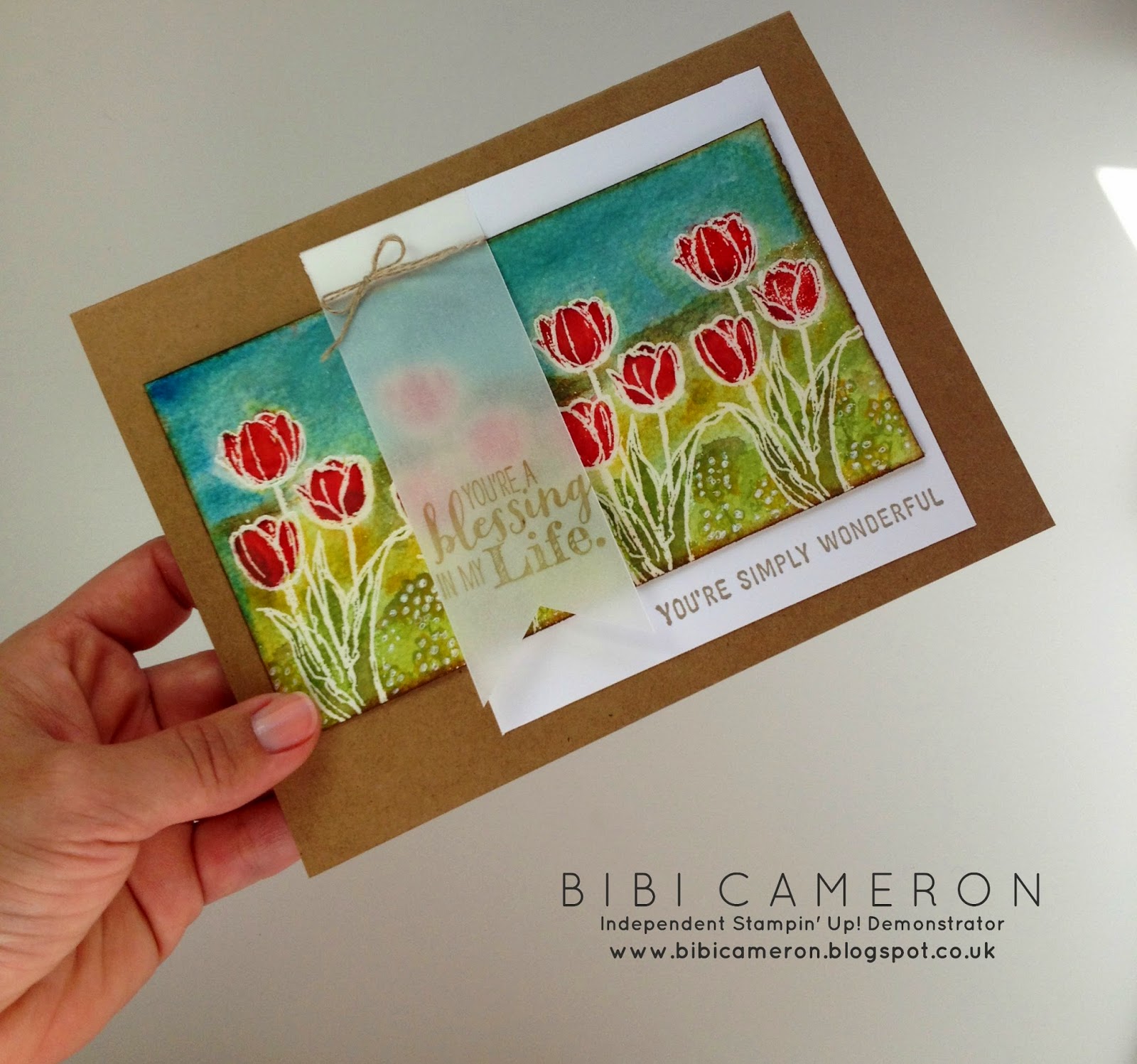 I used the tulips of Blessed Easter Single Stamp (retired-2015) to stamp on watercolor paper and I applied Resist Embossing technique: I applied Versamark clear embossing ink + clear embossing powder and I heated the embossing powder with an embossing heat gun. I added colour on top of the image with Stampin' Write markers blending its inks with a bit of water and VOILA! I got the watercolor paper colour though the edges of the image.
Resist Embossing is a wonderful technique that allows you to add colour on top of stamped images without covering them but highlighting their edges or shapes. The technique is very easy. All you have to do is apply ink + embossing powder and heat it up. Once you heat the embossing powder it melts creating a waterproof coat on the cardstock – Vellum – Metallic sheets- window sheets so the inks won't penetrate where the embossing powder is applied.
You can add colour on top of the embossed images with markers, sponges, brushes and the images will pop up. You can also use card stock in different colours depending on the kind of effect you want to create and bearing in mind the ink colours or paints you want to add to your project. I like to use whisper white card stock or watercolor paper with this technique but it will work with any paper colour. It also works nice on black with metallic wax.
Embossing resist tips
Tip 1: With clear ink ( Versamark – recommended) you can use any emboss powder colour. The image will get the embossing powder colour.
Tip 2: If you are using any ink colour suitable to use with embossing powders you can use clear embossing powder and your images will get the colour of the ink. Note: Yes, Stampin' Up! inks are suitable to use with embossing powders.
Tip 3: The ink colour can stay on white embossing powder if it's not cleaned immediately after applying the inks. If you want to apply colours in different parts of stamped images or words it might be a good idea to apply white embossing powder and add colour on top with markers. Please see the black San Valentine day cards here I have stamped the sentiment "You made my day" with clear ink, added white embossing powder and then I applied colour on top of the letters with markers.
Click here to see another card made with embossing resist technique.
Click here to see a card made with a similar technique.
Oh!!! something else I wanted to say is that we are very close to the launch of the 2015 – 2016 Stampin Up Catalogue. Only 2 months to go and then Stampin' Up! retires many of the sets which are available now to give space to brand new fancy stamps and accessories and we don't know if this stunning set will be available in the new brochure – so If you haven't gotten these already this may be a good time to buy them!
Check out the list of materials I have used to make this project and click on the images below to buy 24/7!
Built for Free Using: My Stampin Blog