Hello crafty friends, I'm super excited to share with you the new Spellbinders Bibi's Snowflakes Collection!
Grab a cuppa because this post is super long!!!! I have loads of samples for you today.
So this is my 3rd and latest release for Spellbinders ( August 2023) after:
As with any other release, this is the result of many months of many people's hard work.
My collections gravitate towards the same concepts: sizing, versatility, and usability.
Here is the video preview in which you can see the die sets and basic ideas to get your creative juices flowing…
Bibi's Snowflakes Video Preview
I understand that handling larger pieces of paper is not only easier for any age crafter. It is also rewarding.
So bearing in mind the needs of people who do papercraft as a hobby or as a source of income, I always want to deliver tools to create easy projects of any size. Especially BIG!!
Everyone can imprint their own ideas, use endless colour combinations, and apply their favourite techniques to achieve many different looks.
For the samples today, I only used Bibi's Snowflakes.

Can you imagine all the possibilities when you combine these with other dies in your stash?

The Collection
This versatile snowflake-themed collection includes 7 new products for papercraft:
BIBIS'S SNOWFLAKES Key Features
A comprehensive collection that features Snowflakes in different sizes.
Designed to be used all year round, 4 of 7 sets include floral snowflakes. You can use the snowflake branches and flowers to create complete projects for any occasion.
Snowflake wishes contain generic sentiments for different occasions ( Birthday, retirement, anniversary, Xmas, encouragement and more)
This collection includes oversized dies that are easy to handle. Also included tiny scene-building dies for those who enjoy playing with small die cuts.
You can add the level of detail to the snowflakes as your heart desires.
I hope you like it!

*** This release is available on well know local and online crafty shops in the USA, Canada, Europe and Australia, with some availability in Latin America. Spellbinders' original dies are gold rose colour.

Snowflake Card Creator
Snowflake Card Creator Etched Dies is a set of 12 cutting dies.
It creates a 6 x 6 inches floral snowflake, a backing plate and a shaped window.
It also includes decorative floral dies and leaves.
The card samples below were also created also using the Snowflake Card Creator.
Bibi's Snowflakes is not only a Xmas themed collection. We have designed floral snowflake dies, that can be turned into flowers and leaves to create projects for many different occasions.
Delicate Snowflakes & Snowflake Wishes
Delicate Snowflakes Etched Dies is a set of 17 cutting dies
It contains 4 different snowflake designs that you can layer up in different ways.
Each snowflake design also has a backing plate that can be used to create windows and masks.
Plus you get small dies to cut flowers and leaves that will allow you to add insane details to the snowflakes.
Snowflake Wishes
The card samples and boxes below were also created using the Delicate Snowflakes and Snowflake Wishes Clear Stamp & Die Set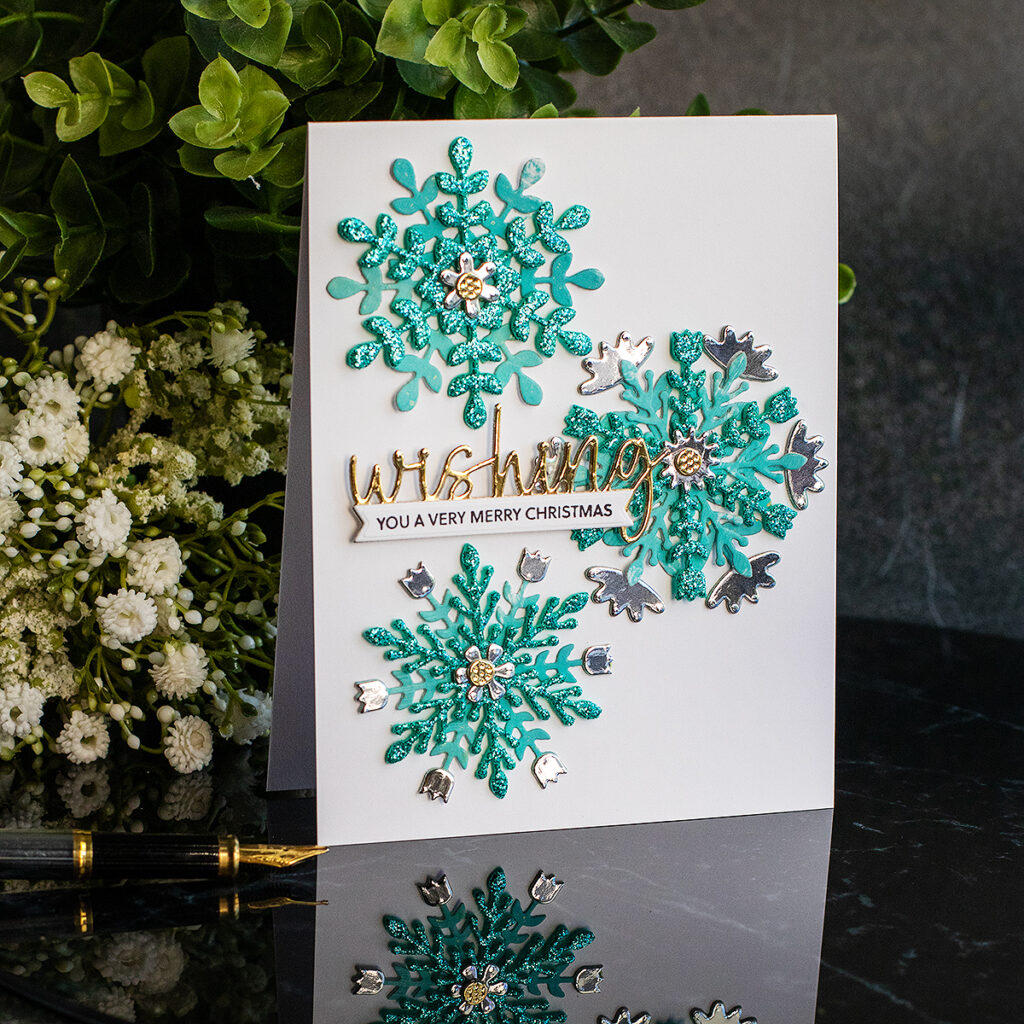 Pop-Up Snowflake Etched Dies and Pierce Mini Labels
The Pop-Up Snowflake Etched Dies is a set of 8 cutting dies.
It will allow you to create a pop-up that will fit in a C6 Card base (4-1/4 "x 5-1/2") but you can make larger format cards.
All the dies in the set can be used to create alternative projects.
Pierced Mini Labels
Pierced Mini Labels Etched Dies is a set of 2 cutting dies.
Designed to cover the slits created by the pop-up snowflake these dies will allow you to use the large snowflakes to do 2D projects…
Here are some samples…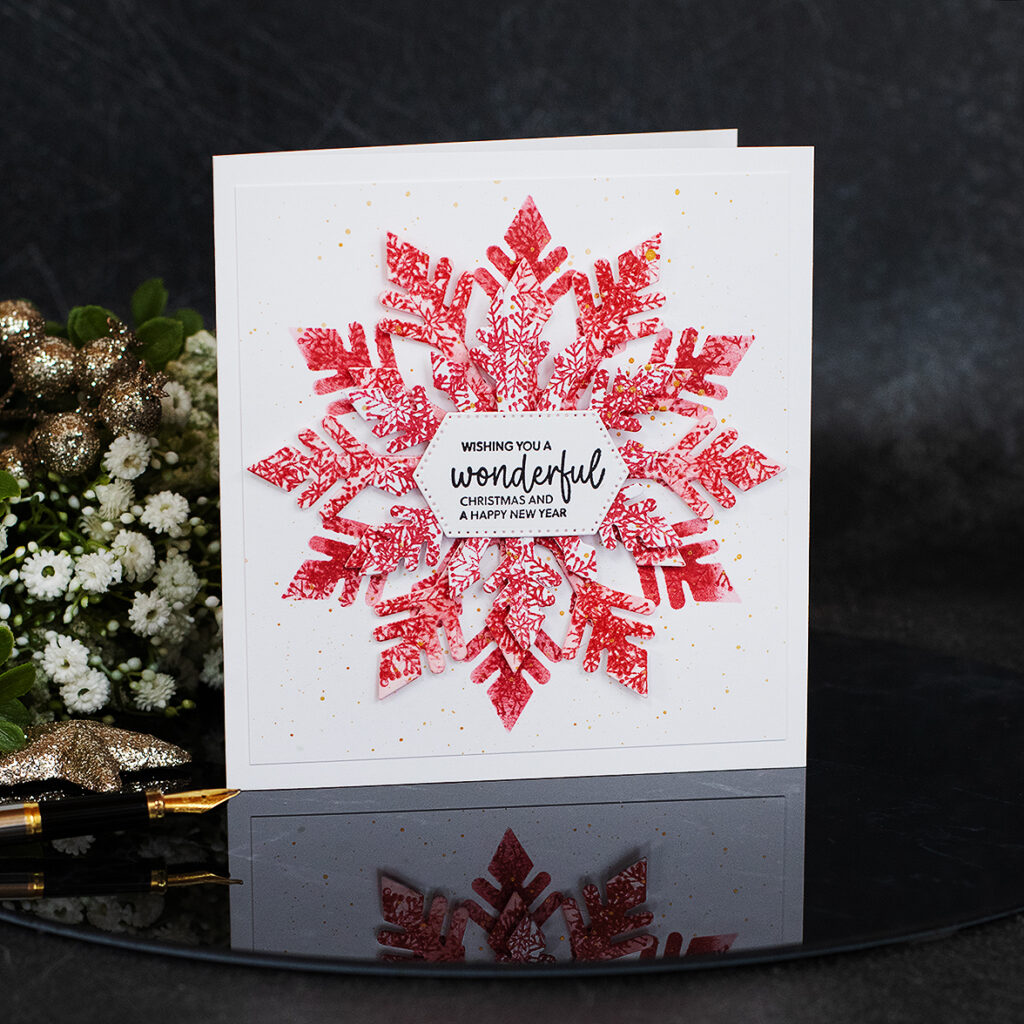 Glimmering Snowflakes
Glimmering Snowflakes Hot Foil Plate & Die Set is a set of 2 glimmer plates and 2 dies.
One of the dies will cut 13 hot foiled snowflakes in one go and the other one will cut a banner.
These are ideal for card backgrounds or to create hot foiled embellishments for different projects.

Snowflake Ornaments
The Snowflake Ornaments Stencil is a set of 2 large layered stencils and 2 circle mask
Designed to create Christmas bubbles in 2 different sizes with different acessories.

Find More Inspiration…

During the next weeks, I'll be sharing individual videos or reels showcasing the collection. Stay Tune!
Thanks for stopping by!
Happy Crafting

Supplies List