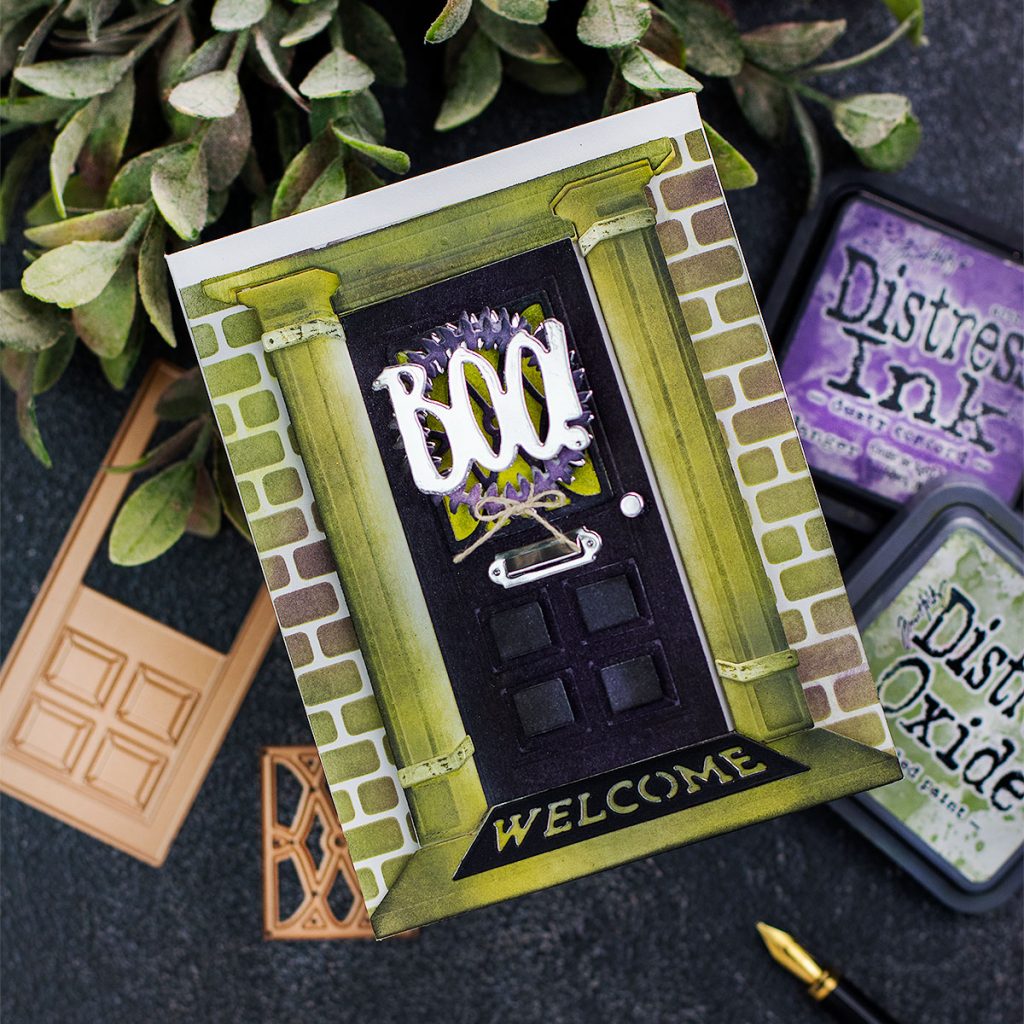 Hi there, my dear friend Yana Smakula inspired me to use this month's "Always Welcome" Spellbinders Large Die Set of the month. We have been chatting about how fabulous this die set is to make any style and any occasion cards.
It will die-cut a super cool "door" that can be customized using different accessories in the set and different cardstock colors.
To share ideas with you, I made a couple of Halloween cards and a card in Autumnal colours.
I hope you like them!
DISTRESS INK HALLOWEEN CARD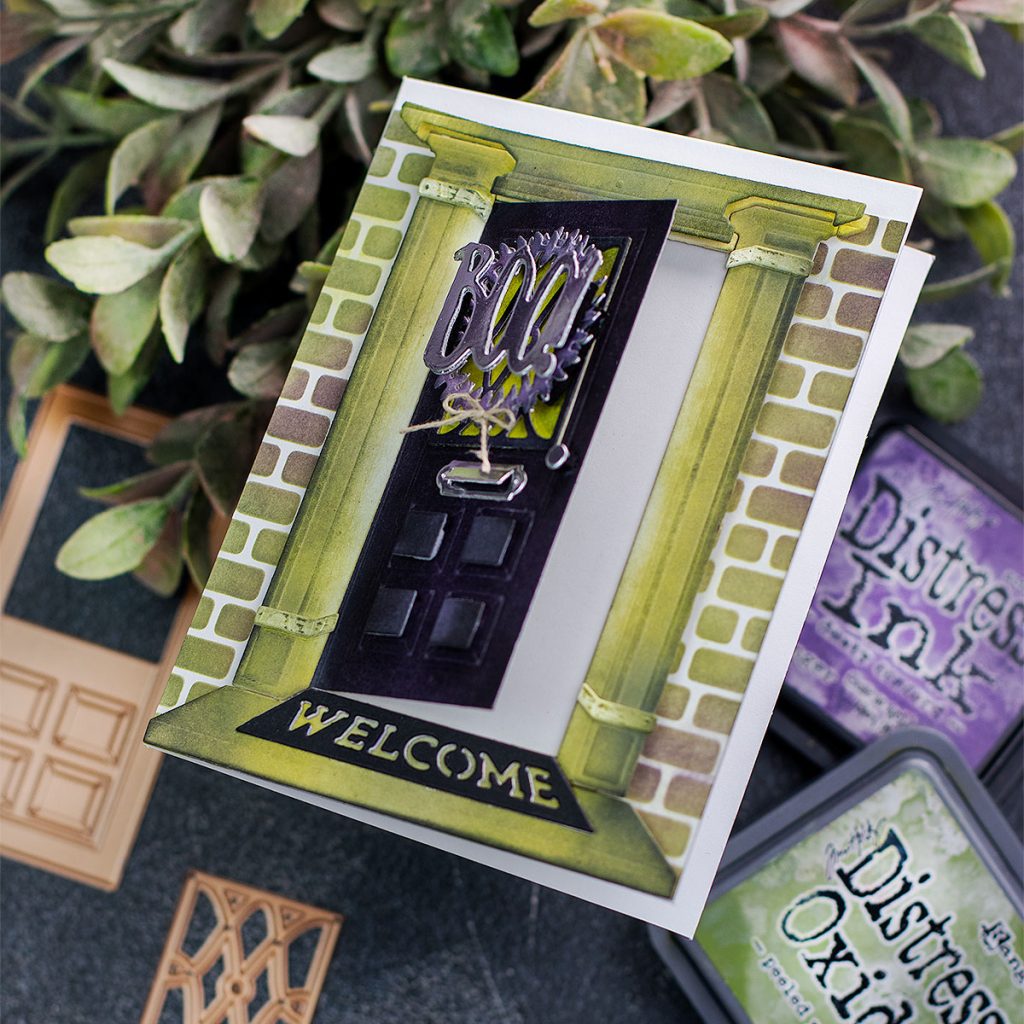 This card was rather easy and quick!
I only used 3 different colours of Distress inks: Black Sooth, Peeled Paint, Dusty Concord.
First, I die cut all the pieces for this card out of white smooth cardstock.
Then I cover the door piece using Black Sooth and Dusty Concord Distress Inks.
I applied Peeled Paint Distress Oxide over the door columns, the roof, the door window, and the doorstep.
To add contrast to the green pieces, I added Balck Sooth and Dusty Concord Inks over the edges.
the Wreath was inked with Dusty Concord and Black Sooth.
I die cut the letterbox, the door handles out of silver mirror cardstock.
For the background, I used "Buil It stencil" and I applied peeled paint Distress oxide Ink and dusty Concord Distress Ink.
Are you wondering how this die set works?
Here is a video by Spellbinders with assembling instructions and also with beautiful ideas by Yana Samakula !!!
SPELLBINDERS LARGE DIE OCTUBER 2020
The Spellbinders Large Die of this month includes 15 dies to customize your door.
There are two sentiments available: "Best Wishes" and "Welcome" but you can use any word die or stamp you might have to personalize your project.
You will be able to identify each part of the door with ease.
The "door die" will partially cut the front panel of your project .
You can add behind the door a secret message, a gift card, or a small gift.
CREEPY HALLOWING CARD
First, let me explain… I was CRAZY to make a really creepy and scary card but instead, I found that I stink at mixed media. lol
Although I have to accept that in spite the card below is unusual (ugly) it made me smile. It taught me new things and I had a blast experimenting!!!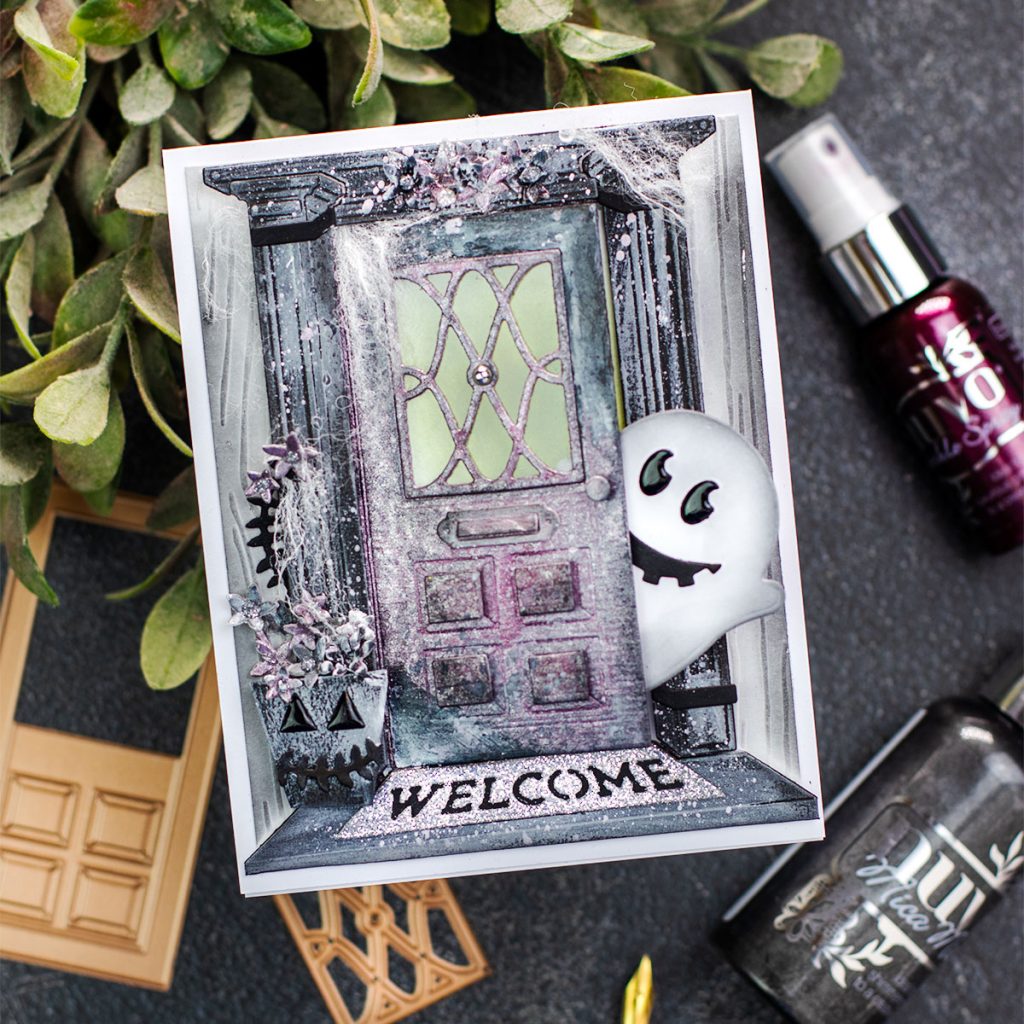 I envisioned this card to be creepy and grungy but I don't have any scary die or stamp e.g skeletons, monsters, or scary ghosts.
So I had to add a friendly ghost from The Name's Jake die set. He totally destroyed my intentions of making anything scar.. he is so cute so I forgive him.
After die cutting the door, I painted it using Amethyst Nuvo Sparkle and Silver Mica sprays.
Then, I darken the colours using Distress Black Sooth Ink.
For the door columns and roof I used black cardstock, and I applied over them Grey Nuvo Expanding Mousse with my fingertips.
Using scissors, I hand cut the flower pot.
Next, I shopped a portion of the wreath die-cut and I use it to make the smile on the pot. I also used the same die-cut to make some creepy thorny steam too.
I splattered the paper using white acrylic paint diluted with water.
DIY COBWEBS?
Believe it or not, I grabbed an old pillow and took the filling out to make cobwebs for this card!!!
Hell that was creepy!!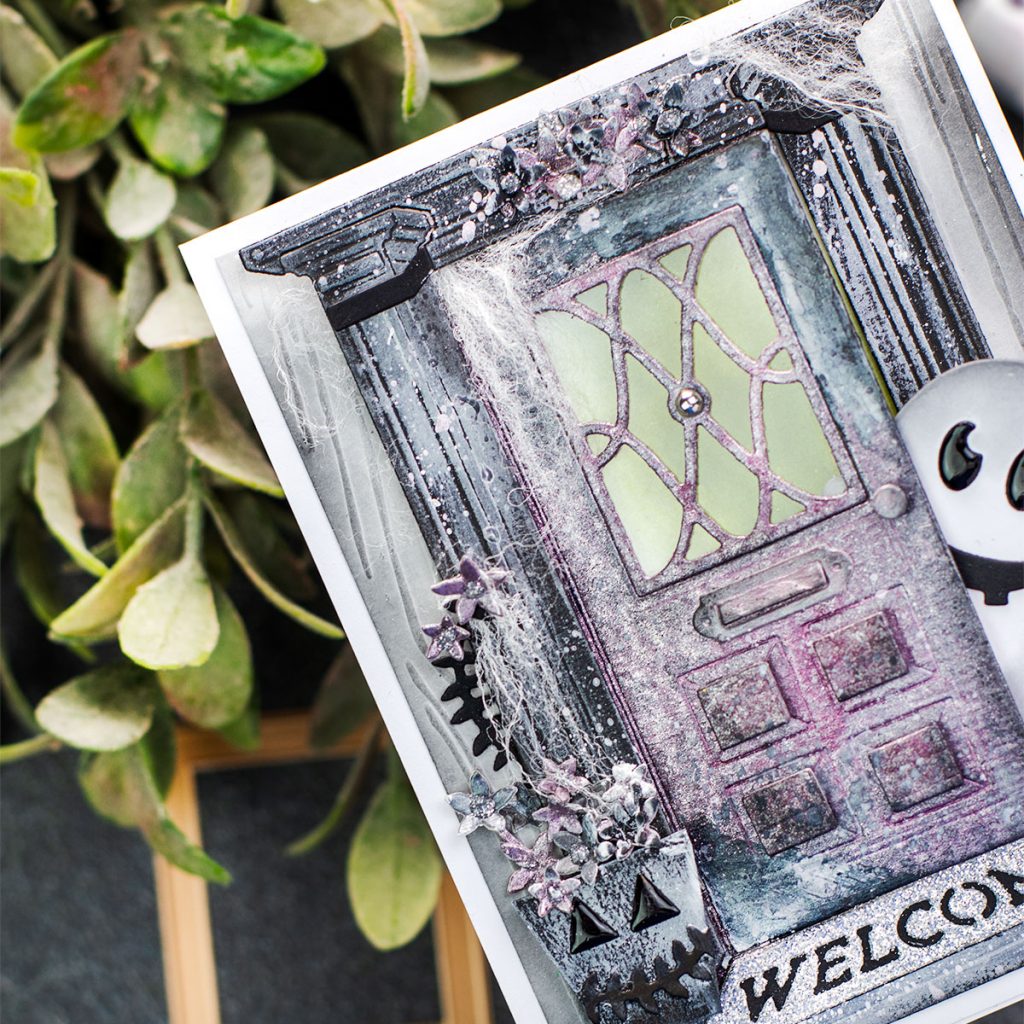 I painted the pillow filling using white acrylic paint and when it was dry, I added this onto my card.
So this card is not as I dreamed it but I want to remind you that although things are not was we expect them to be we can still enjoy learning, experimenting and creating.
On the good side. I totally love the effect of the sparkle sprays mixed with the Distress Inks.
Now let me share a scary good sale at the Spellbinders shop!!
SPELLBINDERS LARGE DIE AUTUMNAL CARD
Last but not least , I also made this card using Autumnal colours.
I started by die cutting all the pieces out of 300 grams smooth white cardstock.
Then, I used three different Distress Ink colours :
Speckled Egg Oxide.
Vintage Photo.
Tea Dye.
To make the floral wreath, I die cut a piece of watercolour paper I previously covered with Yellow, Orange and green Arteza Watercolour paints.
For the door handle and letterbox. I used Gold Mirror Card.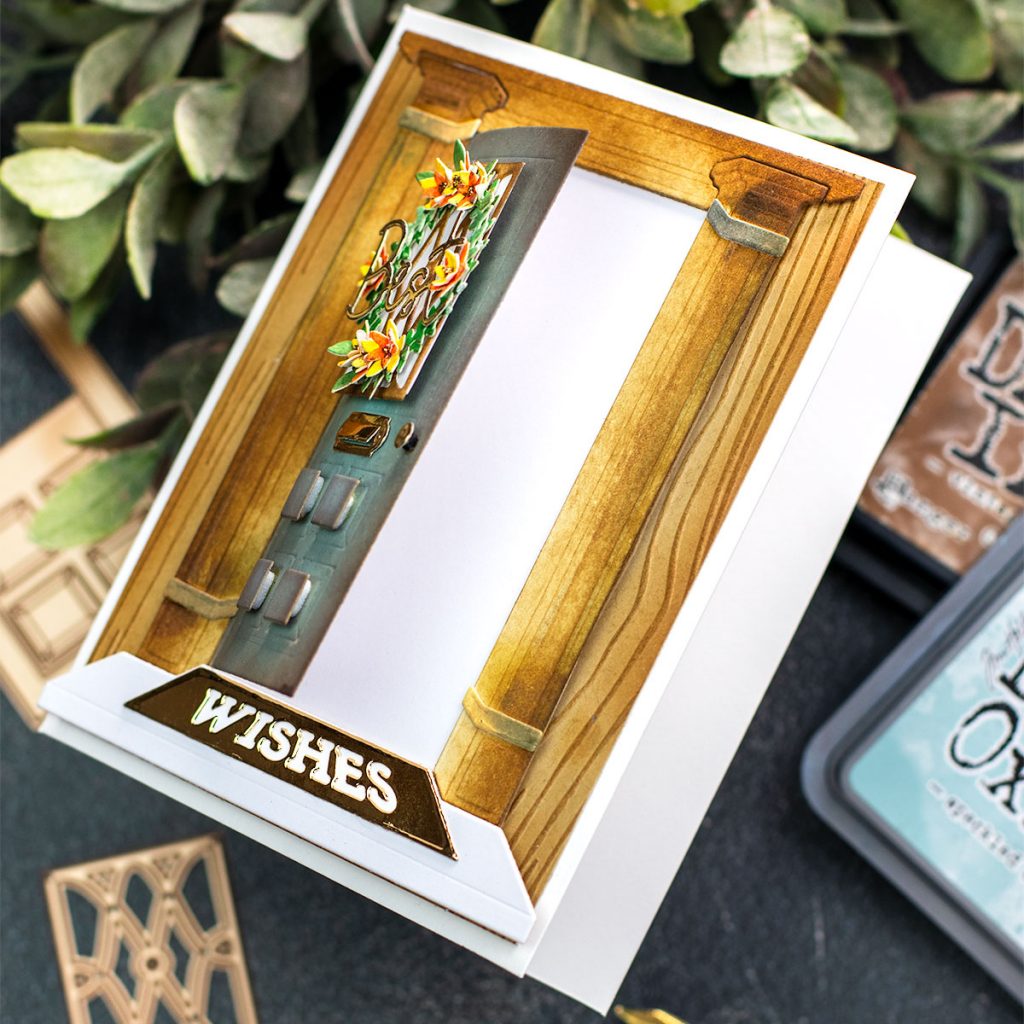 This will make an awesome "new home gift" card too!!
THIRSTY FOR MORE SPELLBINDERS IDEAS?
That's all for today.
I hope you enjoy this post.
Happy die-cutting
X Bibi
SUPPLIES
Affiliate links applies at no extra cost to you. Thanks for your support.