Hi everyone, Welcome to Tonic Studios Wonderful Wishes Online Party! we are celebrating a new Christmas stamping release exclusive to the Tonic Studios online shops.
Make sure to visit the Tonic Blog Post hereto see more ideas and inspiration. 30 bloggers from all over the world are sharing projects using products from this release.
For today, I'm featuring ALL the stamp sets in the release. what about that? I also used products from the Nuvo Range to add color, texture, shimmer and wow factor to my cards.
10% Discount Links
Explore the Tonic Studios shops with a 10% discount coupon automatically applied at the checkout.
1O%OFF TONIC UK SHOP 10% OFF -TONIC USA SHOP
Watch the video with some of the products in action
I have 11 projects to share with you and a video to feature beautiful images from this release !! WooHoo!
I used Tonic products to create today except for the paper. I usedBristol Smooth Paper here to work with alcohol or waterbased products.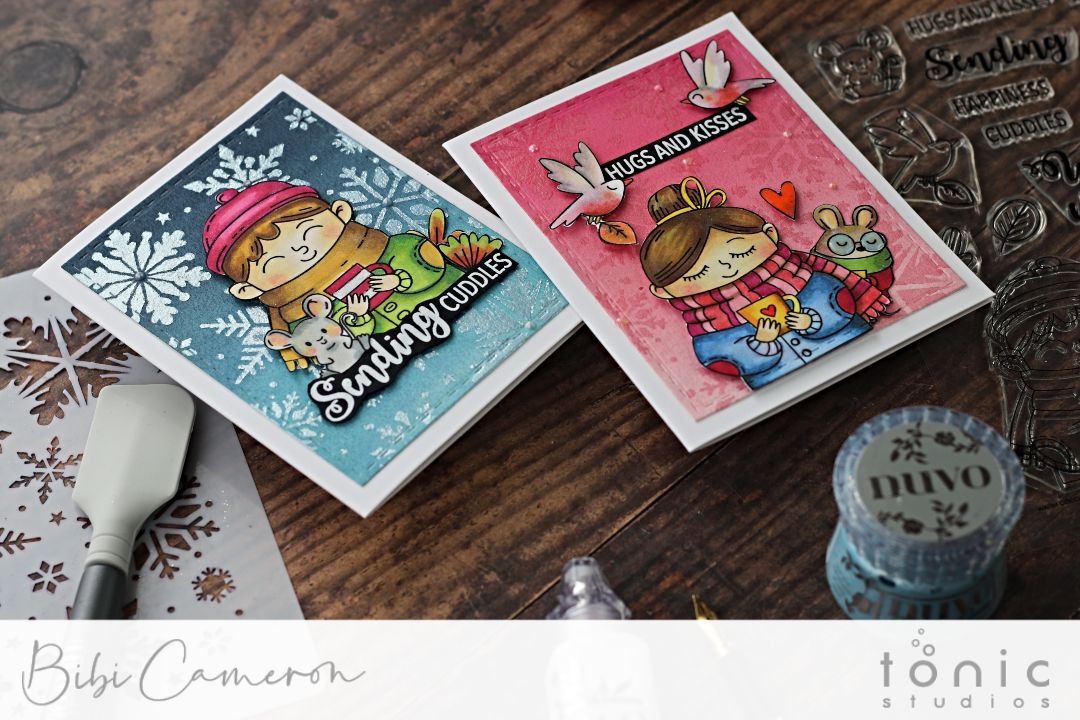 Let's start by some Nuvo Alcohol Markers coloring. I love how easy was the coloring process and the results.
The images from Warm Coca Wishes stamp set are very easy to colour and they are gorgeous!
Check out thisspeed video to show you the pens in action!
I used Warm Cocoa Wishes Stamp set to create this card, fully colored using Nuvo Shimmer Powders..Watch speed video here to see how I do it!
Santa's Little Village stamp set is one of my favorites.
I enjoyed applying Nuvo Aqua Flow Pens to the card above. My new Favourites are Tomato Juice, Grenadine Red, Azure Blue, Backed Cherry and Caramel Pecan will do a nice skin tone.
Those are the main colors applied to this little scene and I have been inspired by Tonia Tkachcolor scheme. Tonia is the designer of this stamp collection.
All the projects in the picture above were colored using Nuvo Shimmer Powders too and I think the snowmen from Snoman Snuggles stamp set are super cute!! LOVE!!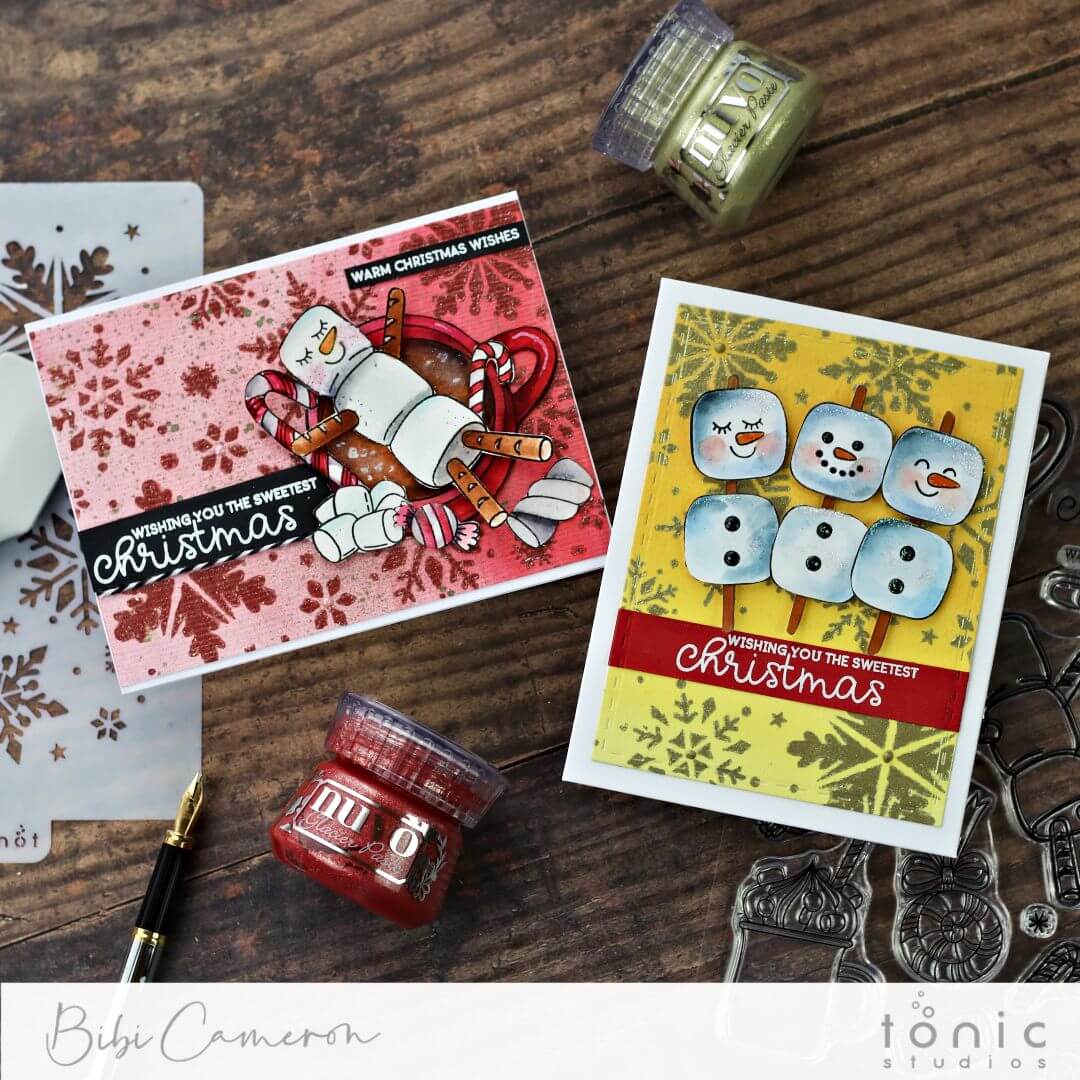 I think you have noticed the striking backgrounds' colors. Those were made using Nuvo Aqua Flow Pens and I applied Glacier Paste or Mica Mist using a beautiful snowflake stencil by Tonic Studios (listed below).
In the video here(minute 12:00) I show you how I made these super easy backgrounds.
I also made a couple of projects using images from Christmas Snow Globe stamp set.
A shaker card and a small Tag.


Online Party


Find Party Guest List on the Tonic Blog here.
Over 30 papercraft artists from all over the world are joining wonderful Wishes Online Party today make sure to have a look at what everyone is making!
Giveaways
I have 5 little giveaways to share with you today! For your chance to win please leave a comment letting me know what would you like to win !!
Prize 1
Tonic Studios – Dimensiones – Keepsake Book Maker Base Creator – 2278e (Sold out and highly wanted.
Tonic Studios – Dimensions – Simple Spines – 2279E UK – USA
Prize 2
Sentiment Stripes ( Celebrate 2354e , For You 2356e, With Love 2352e)
Hooray Banner & Stamp Set 1879e
Prize 3
Will's Hand Sentiments ( Peace 1892e, Inspire 1890e, And & 1893e, Cherish 1885e, Dream 1886e)
Prize 4
Sparkling Dust – Fine Glitter ( 10 colors)
Prize 5
5 small die sets – Tonic Magazine Dies
Perfect Pillow Box 2630e
Winter Star 2364e
Rose and Daffodil Stained Glass Window Die Set 2555e
Nordic Christmas Trio Panel 2194e
Winter Spruce 2415e
Prizes will be sent randomly.
Winners will be announced on Saturday, October 19th – 2019 so make sure to check Wonderful Wishes Winners Blog Post that day!
The winner only has to cover shipping
Giveaway open to the USA, CANADA, EUROPE, AUSTRALIA, JAPAN, INDIA.
That's all for today…
Muchas Gracias for stopping by!!
Happy Crating
Hugs
x
Bibi


Supplies List
Just a note to let you know that when you buy through the links in my blog I get a small commission at no extra cost to you.
Thanks for your support.