The Tonic Studios Craft Kit 25 has been one of my favourites ever! It includes a preview of the Tonic Studios Blue Blossoms Colour Trend to be released in September. This is a range of Craft Perfect paper and Nuvo products in gorgeous subtle pinks and blue colours.
Love it!
In the 16 minutes- video below, I stacked various days of crafting to show you the products in action, ideas and tips. I hope you like it!
The kit main feature is a massive 23 pieces die set designed to create 3D paper lanterns in 3 different shapes:
Pentagonal Box — Size: 4-1/2 "width x 4-1/4″ tall – Including the handle 5 -1/2" tall.
Square Box — Size: 2-3/4″ width x 4-3/4 "tall – Including the handle 5 -3/4" tall.
Triangular Box — Size: 2-3/4″ width x 4-3/4″ tall – Including the handle 6″ tall.
The side panels of the boxes measure 2-1/4″ inches width x 3-1/4″ tall. However, the box assembled is a bit wider as the top part of the box add extra width.
Pentagonal Lantern Box
Here is a visual of a standard pentagonal lantern box assembled.
There are several dies in the kit that can be used to decorate this project.
However, I made a filigree bow using one of the decorative dies in the kit supposed to die-cut decorative panels. Love it!!
I also used the mini tag die, a die-cut sentiment and I embellish using the tiny floral dies included in the kit.
Triangular Lantern Box
Here is a visual of the triangular box assembled.
You can die cut the panels of the box using decorative dies in the kit to step your box design a little bit more.
The sky's the limit when thinking about how to embellish the boxes using paper and dies included in the kit.
I made a girly looking box and I couldn't resist adding a couple of images from "Celebrate Life stamp set" by Tonic Studios. They are so cute!!!
Bonus Projects
I also want to share a couple of cards as bonus projects using dies and supplies from the Blue Blossom Trend collection included in the kit.
Birdhouse Shaped Mini Card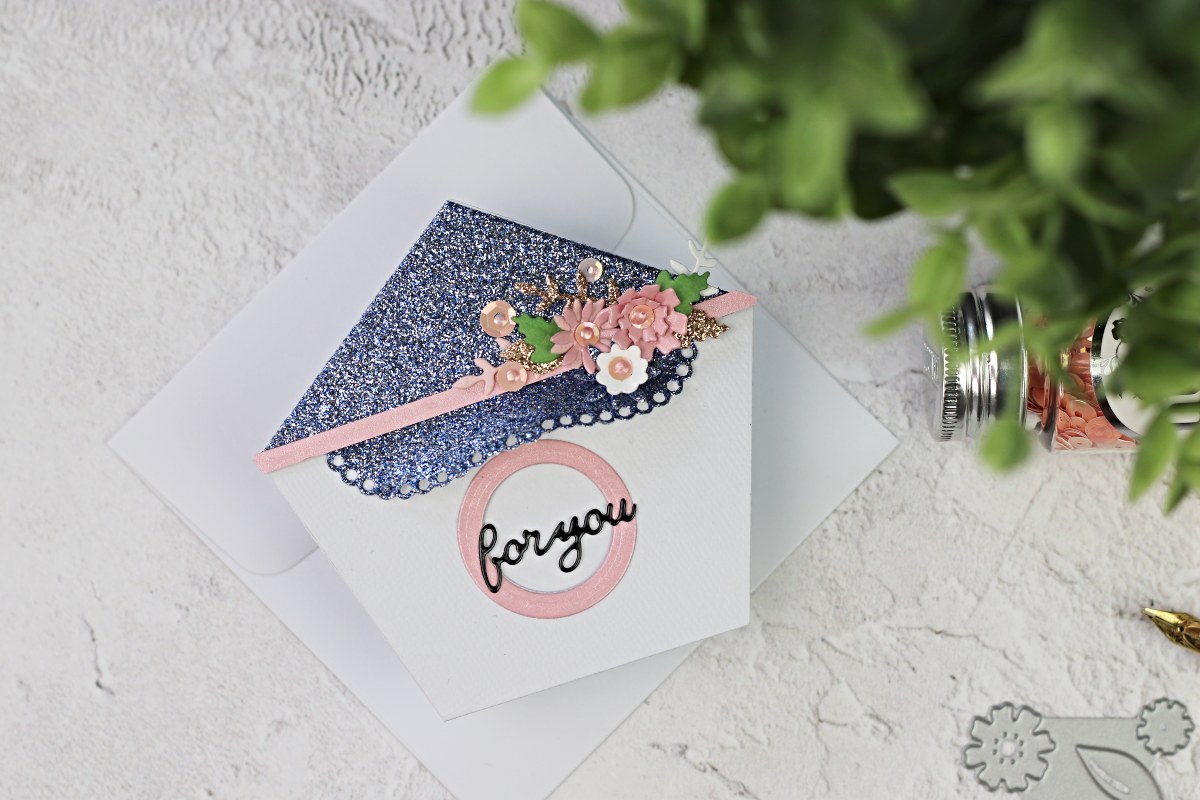 I used the pentagon die included in the kit to create this card. Although this die is to make the bottom of the pentagonal lantern box it can be used alone to create different projects.
I also use paper included in the kit and a decorative die to create the roof of the house.
To embellish I used sequins and the super cute mini flowers created using the dies in the kit.
Love Card
For this card I used the small floral dies, sequins, confetti, Nuvo drops and a sentiment die included in the kit.
I also used a Tonic Studios media die called "Live Laugh Love".. B E A U T I F U L. To cut the paper using this media die . I used the die as any other die I didn't require a metal shim but I understand this kind of dies will cut even thin chipboard, leather, fabric and thick materials when using them with the shim.
I also die cut the back panel of this card using square stitches dies by Tonic as well.
All supplies are listed below.
Square Lantern Box – Bonus Project
Here is a completely different looking project using supplies included in the kit such as the die set and the window blisters.
What is different about this project is the paper. I used glossy black, Gold and Black glitter cardstock by Tonic Studios + some Xmas decorations I bought in my local craft shop ( not included in the kit )
More info about this project and video available here!
Treat Holder Bonus Idea!
Why not using the lantern handle die to create cuddling arms?
I totally love creating projects for children and I couldn't resist sharing this idea with you.
This is the kind of ideas that make me smile!
Plus this will make a super fun treat holder. If you love punch art as I do, you can create different animals or other objects such as "flip flops", for that you will only need one arm and you can use a mini flower to embellish and cover the latch-on part.
My toddler Emma said, "Mum, I love when you do silly projects" …
We were giggling when I was adding voice over to the YouTube video related to this post as behind scenes I was doing funny voices to say that " I'll be doing some "Paper Magic" and I'll be transforming a dull, lifeless piece of cardstock into awesome.. incredible.. inimaginable papercraft projects!!
You will never imagine my funny voices… but I can't do that for my videos. You will think I'm crazy.
So all that comes from making jokes about it but to be honest paper magic is what we do every day when crafting.
Have a wonderful day. Happy Crafting!
Hugs x
Bibi
Supplies List
Just a note to let you know that when you buy through the links in my blog I get a small commission at no extra cost to you.
Thanks for your support.
Enjoy August 15% DISCOUNT COUPON
****Discount applies automatically at the checkout ( Valid till august 31st – 2019. do not apply on kits but on everything else)