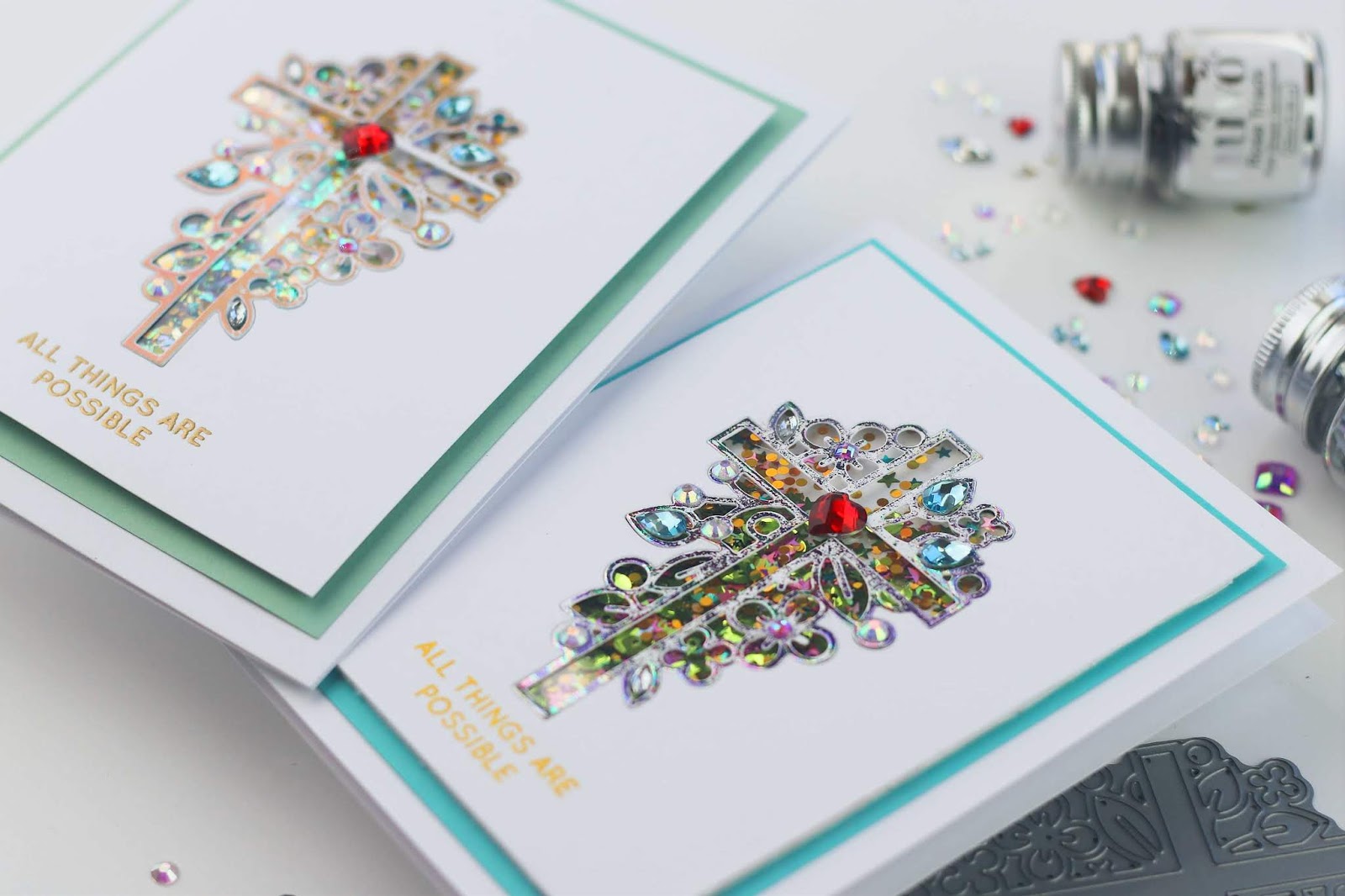 Hello everyone, I hope you had a wonderful Mother's Day. Although here in the UK was celebrated today in my country is celebrated in May and even when I see the shops filled with Mother's day cards and flowers, I still do not get it! In my stubborn Latin brain Mother's day is in May.
Apologies to my British friends as I didn't manage to make a card to celebrate this day with all of you.
So my British Mother's day gift was a crafty morning with Emma -my 5 years old daughter, she is so cute and she offered herself to make a video in my behalf so she can help with my work.
I had an idea of what I wanted to make and share with you today but as we were enjoying creativity we end up making foiled shaker beaded cards !! How cool is that?
We used Outline Floral Cross die by Simon Says Stamp, different kind of Nuvo Confetti and super beautiful new Nuvo Gemstones… these will be available soon on the Simon Says Stamp Shop Here!
We also use the Spellbinders Glimmer Hot Foil System. I'll be sharing more hot foil ideas with you this month as well.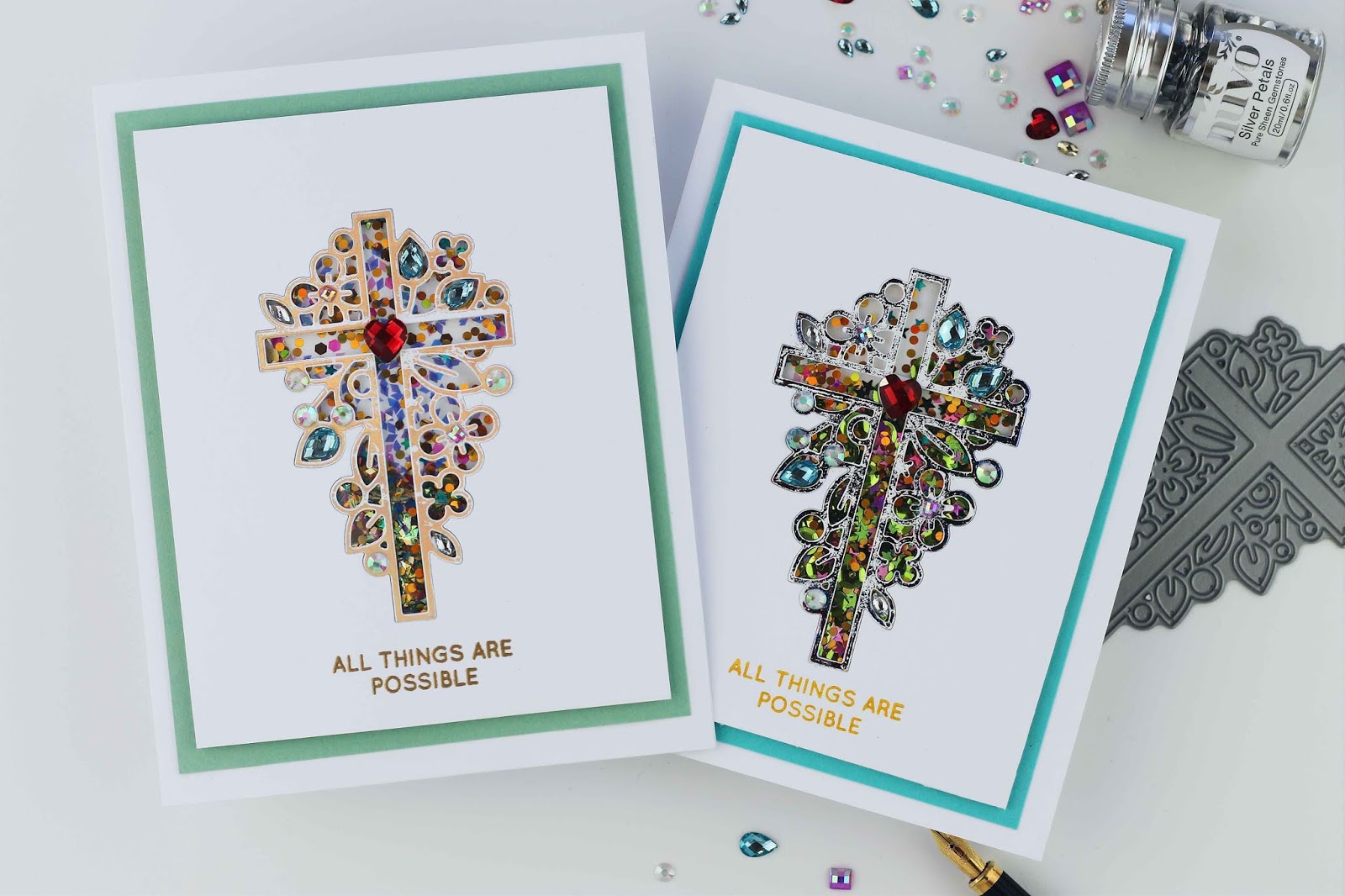 I think the Nuvo Gemstones add a wow factor to these cards. They are truly beautiful and they work perfectly with this beautiful cross die.
So we put 2 hours of crafting in a 10-minutes video . I have edited key parts of the process to show how we made these cards.
There is a lot going on in these projects but I guess crafting with children makes you want to do more and more things.
Emma's card below turned out beautiful. She chose the colours, the confetti and she decided that Audrey Blue cardstock by Simon Says Stamp would be a beuatiful contrasting background panel.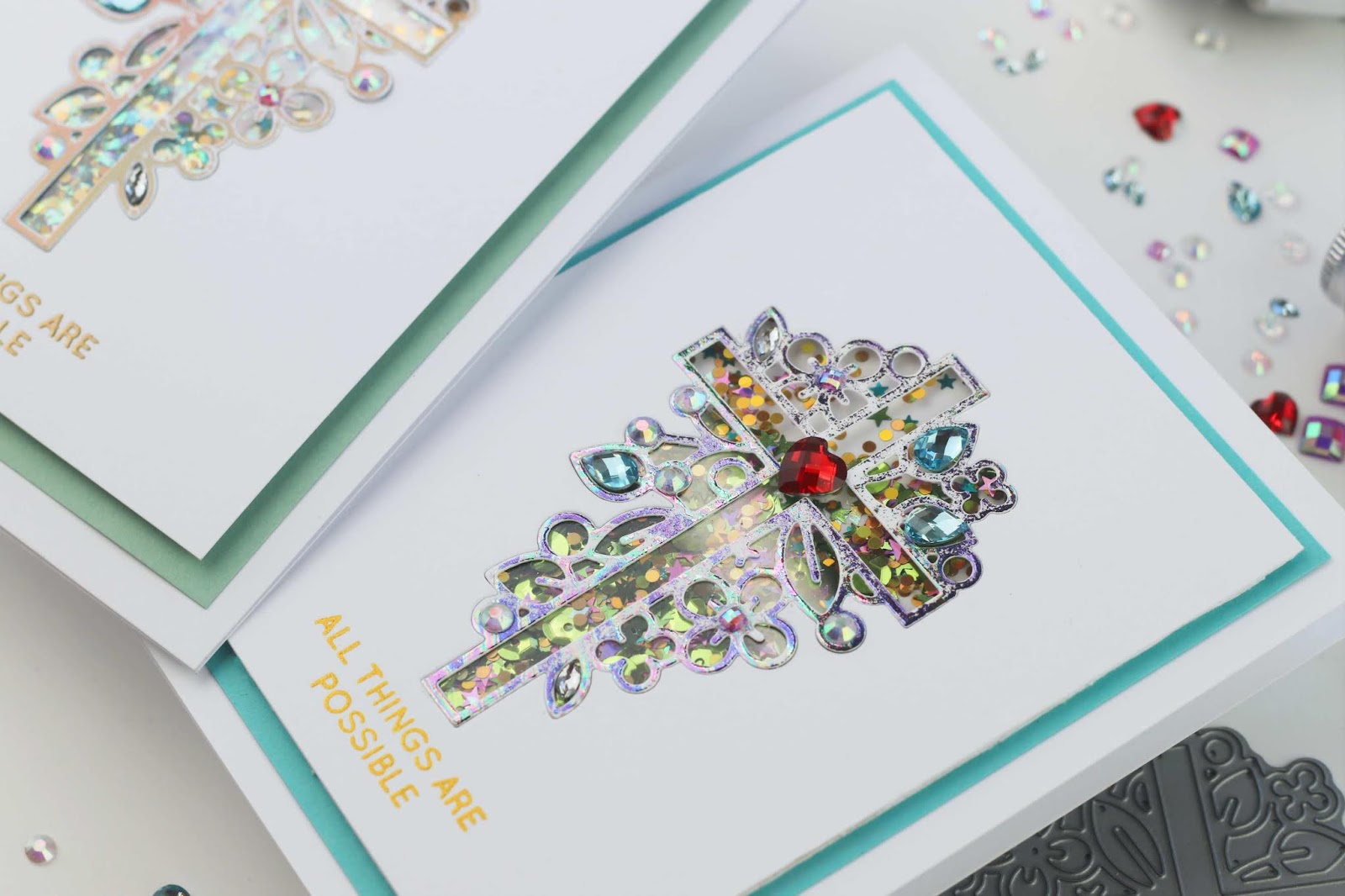 I helped her with little things she might not be able to get 100% right due to her age.
I handle the die and the hot foil system elements myself and although I was grabbing the die with my bare hands after being heated by the machine, I didn't feel it could really burn my hands. However, the truth is that the hot foil system "gets hot" and we were very aware of this fact. This shouldn't be used by children without the supervision and help of an adult.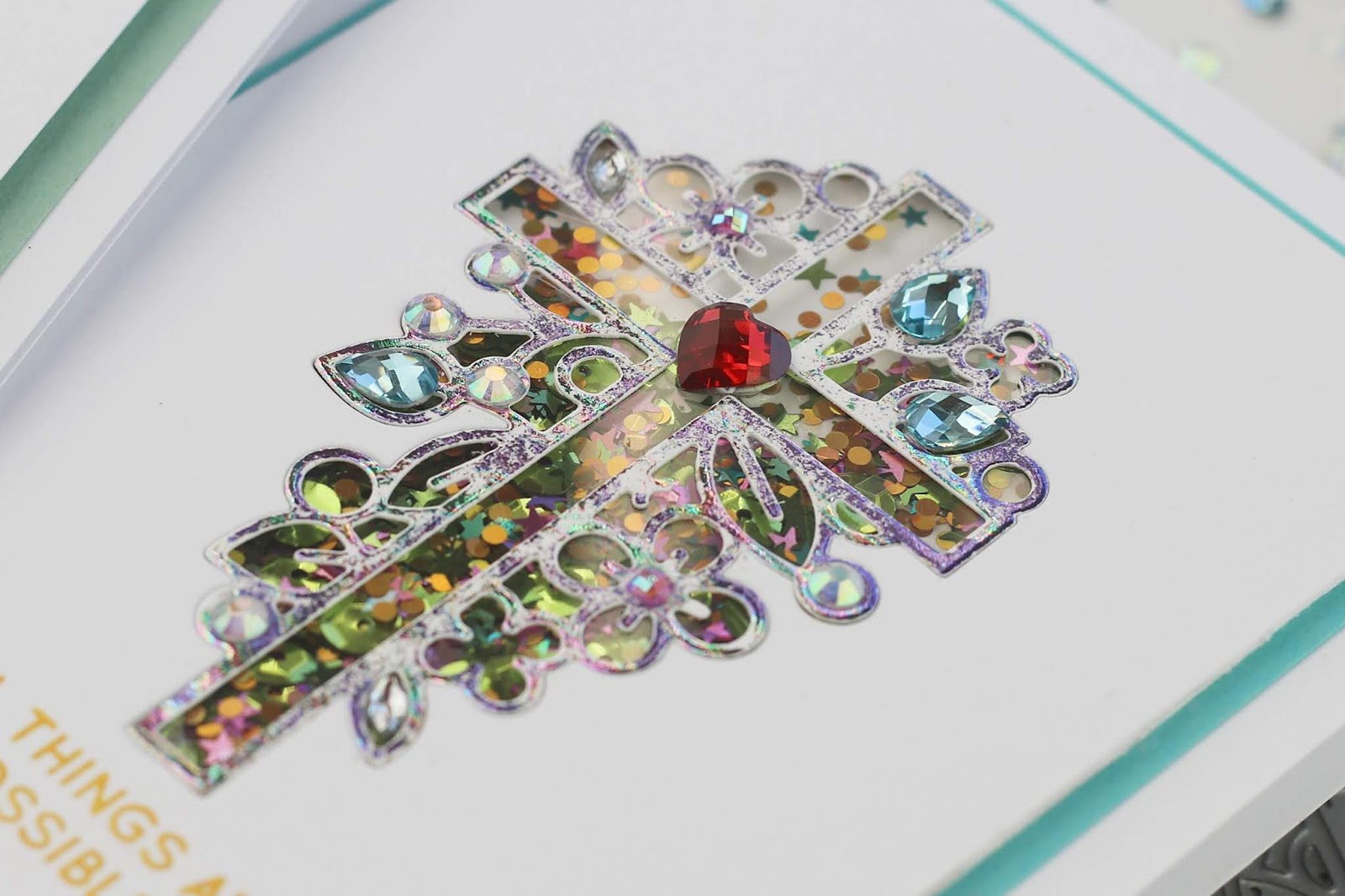 I really love Emma's dark hot foiled cross… It looks like real metal!
The card I made is in the picture below…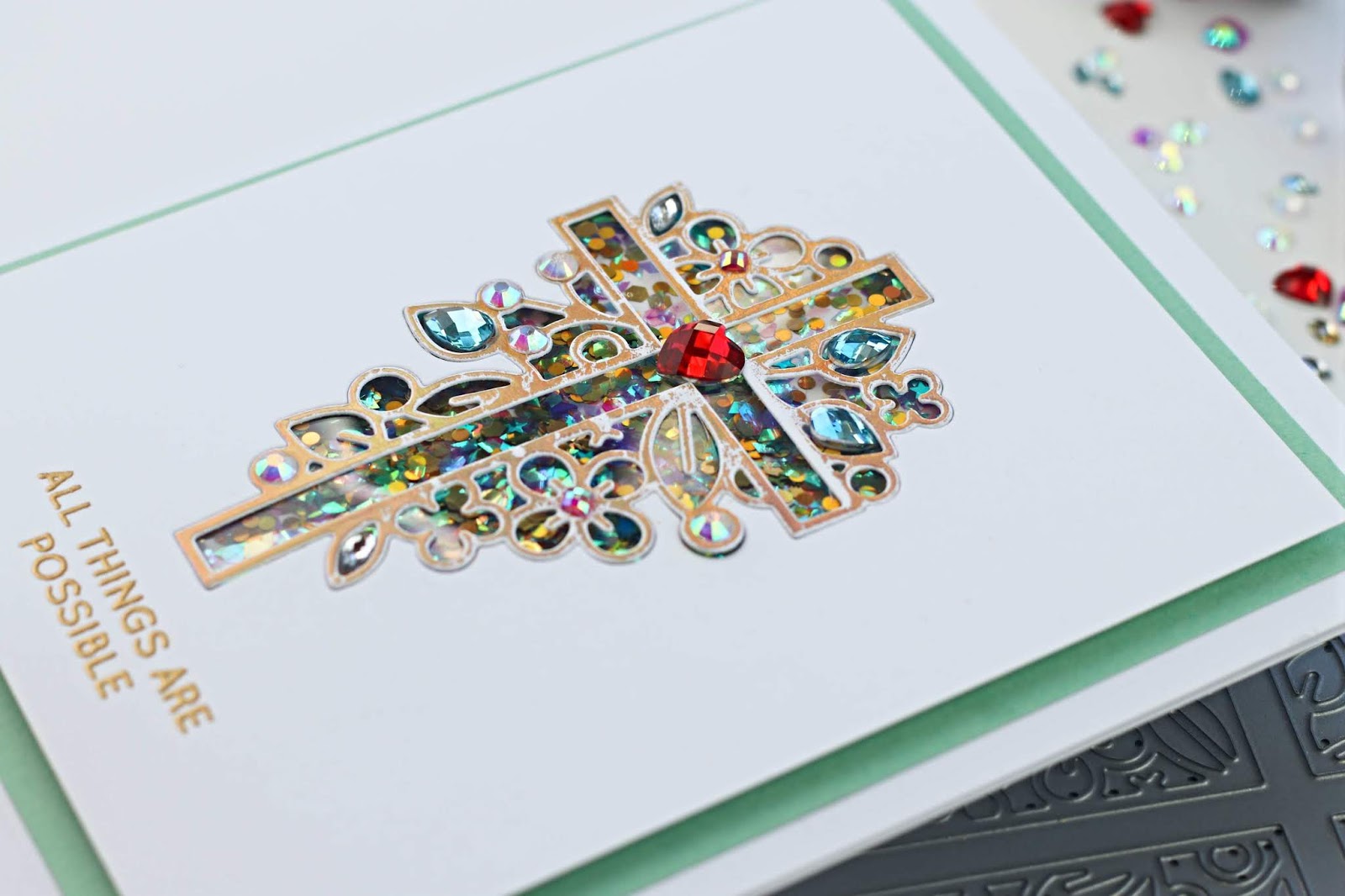 How we did it?
In our video, you will have more details. But I hope you can see part of the process in the pictures above.
( 1 -2 picture ) So first we used Outline Floral Cross die by Simon Says Stamp on the Spellbinders hot foil system to create the foiled impression of the cross on white cardstock.
Note: when you turn on the machine a light red will turn on. The machine will start getting hot. Once the second light turned green, the platform is ready and it will be hot. When you press the "timer button" the platform will get hotter.
(3 – 4 picture) Then we used the negative of the foil (or the waste) to foil a die cut cross.
(Picture 5) We use Outline Floral Cross to die cut the front panel of a C6 card and we made a shaker card.
(picture 6 ) we glued the die cut cross over the acetate in the front panel of the card. We stamped the sentiments from Believe in the Season Stamp set by Simon Says Stampand then we embellished using the new Nuvo Gemstones.
We loved the results, we enjoy the process of adding bids but Emma defo liked to make her first shaker car. We went a bit crazy with Nuvo Confetti!!!
Her card turned out beautiful so it is the protagonist today! She was very proud of her creation in spite she got crazy Sunday's hair she wanted a picture to remember this special mother's day! Yay
That's all for today!
Thanks for stopping by and for your kind comments. I'm always happy to read and to answer any questions.
If you wish to receive my blog post or videos directly in your inbox please Subscribe to my blog here! or my Youtube Channel here!
Many hugs and happy crafting
x
Bibi


Supplies List
Just a note to let you know that when you buy through the links below I get a small commission at no extra cost to you. Thanks for your support.