Hello everyone, the Tonic Craft kit #17 is available now and also myvideo to show you what is inside the box and to share ideas and inspiration with you! YAY
I made 9 projects for today and this time I was determined to use as many supplies in the kit as possible and very little extras.
So I made a bundle of easy and simple cards applying a couple of fun card making techniques and this blog post is to share pictures, supplies list and a few details I might not included in the video.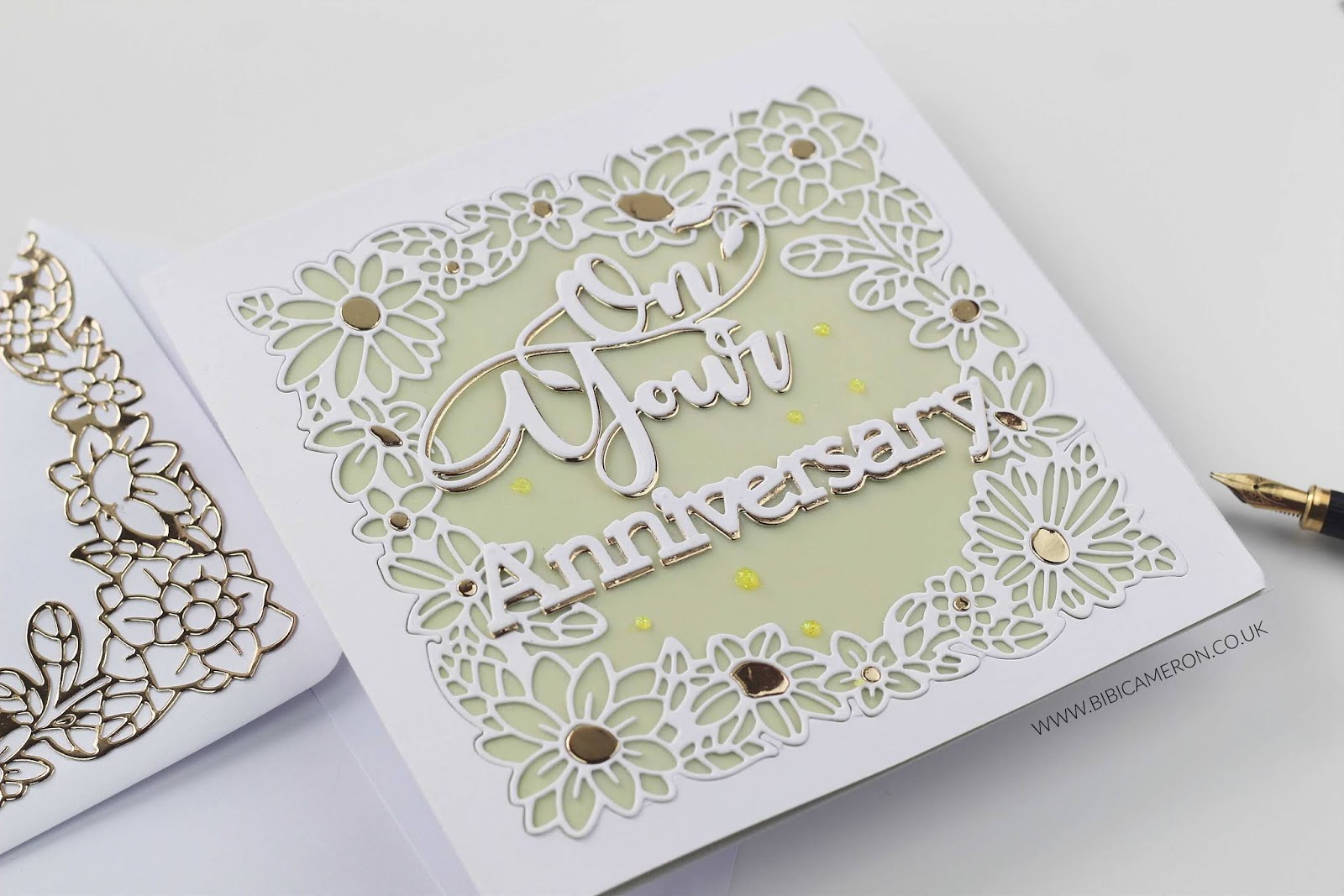 This was the first card I made. I wanted to make an immaculate white card, simple, minimalistic but after trying different things (as shown in the video) this was the result.
I found that adding a golden die cut behind a white die cut sentiment will add extra value. I really liked that solution.
This card measure 6×6 inches and I added vellum and apiece of the pearlescent green cardstock included in the kit at the back of the front panel.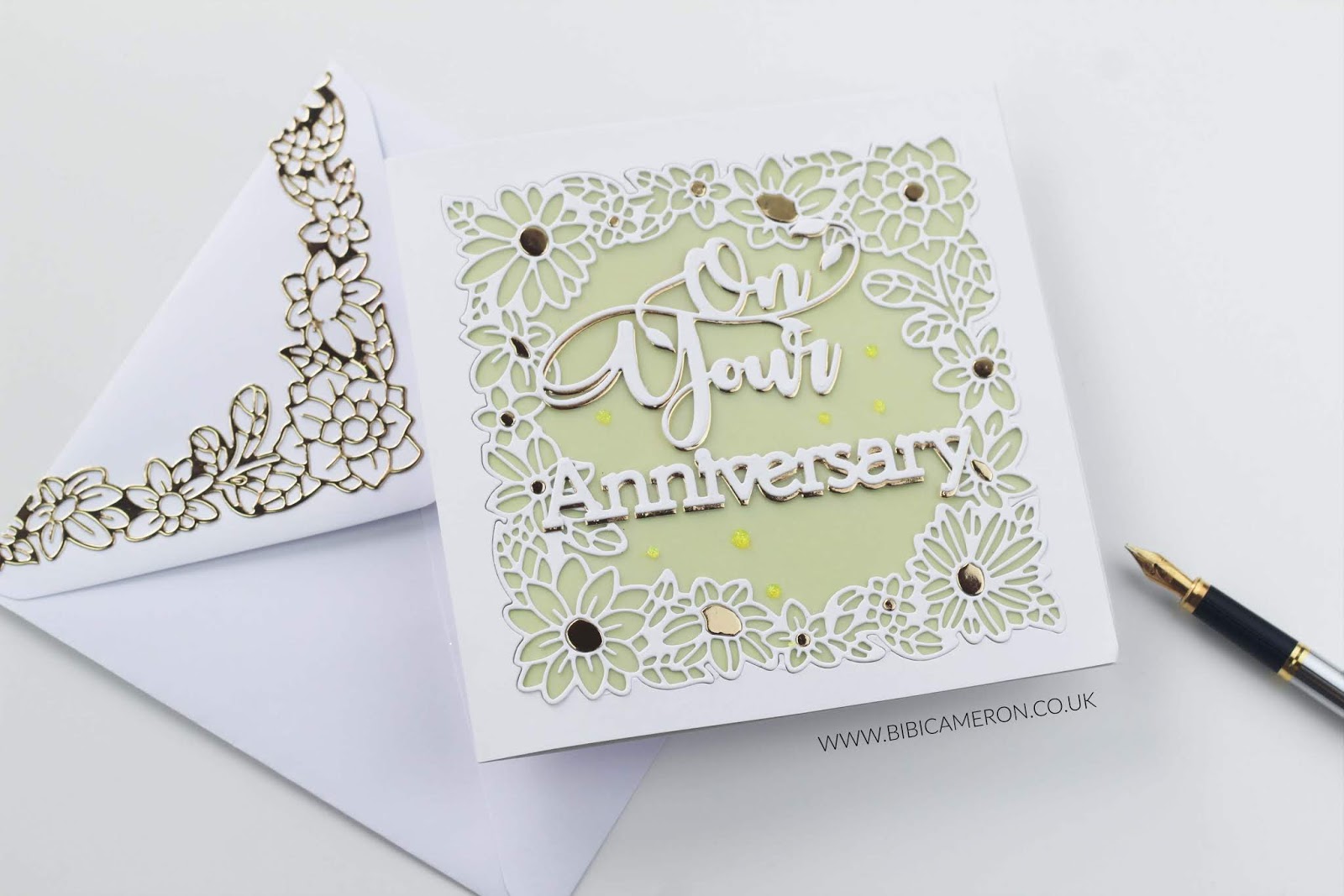 I also applied to this card a very easy paper piecing technique using gold mirror cardstock to inlaid the negative die cuts in the centre of the die cut flowers on the front panel. In the video, I'm also sharing about my DIY sticky fabric shim to easily do this.
The idea to add thedie cut to an envelope came after and I'm not so sure if this is the best way to do it but it is a start.
Next, I made these 6×6 inches monochromatic cards … they are super easy to make and I used the coloured cardstock included in the kit together with essential 300 grams smooth white cardstock.
I embellished these cards with rhinestones.
I also used the larger outline frame die in the kit to create a super easy shaped card base, and I used the green pearlescent cardstock in the kit to die cut the floral frame and the sentiments.
This card measure 5 x 5 inches.
I embellished with the Nuvo drops in the kit.
It was so very tempting to put together this 6×6 inches shaker card!
I use the Nuvo Hybrid Inks and blending tools included in the kit to add colours to the floral frame and I stamped a couple of bees from the kit stamp set and I die cut the bees with coordinating dies also included in the kit.
I added grey cardstock at the background and also a grey die cut sentiments behind white elements to make them pop a little bit more.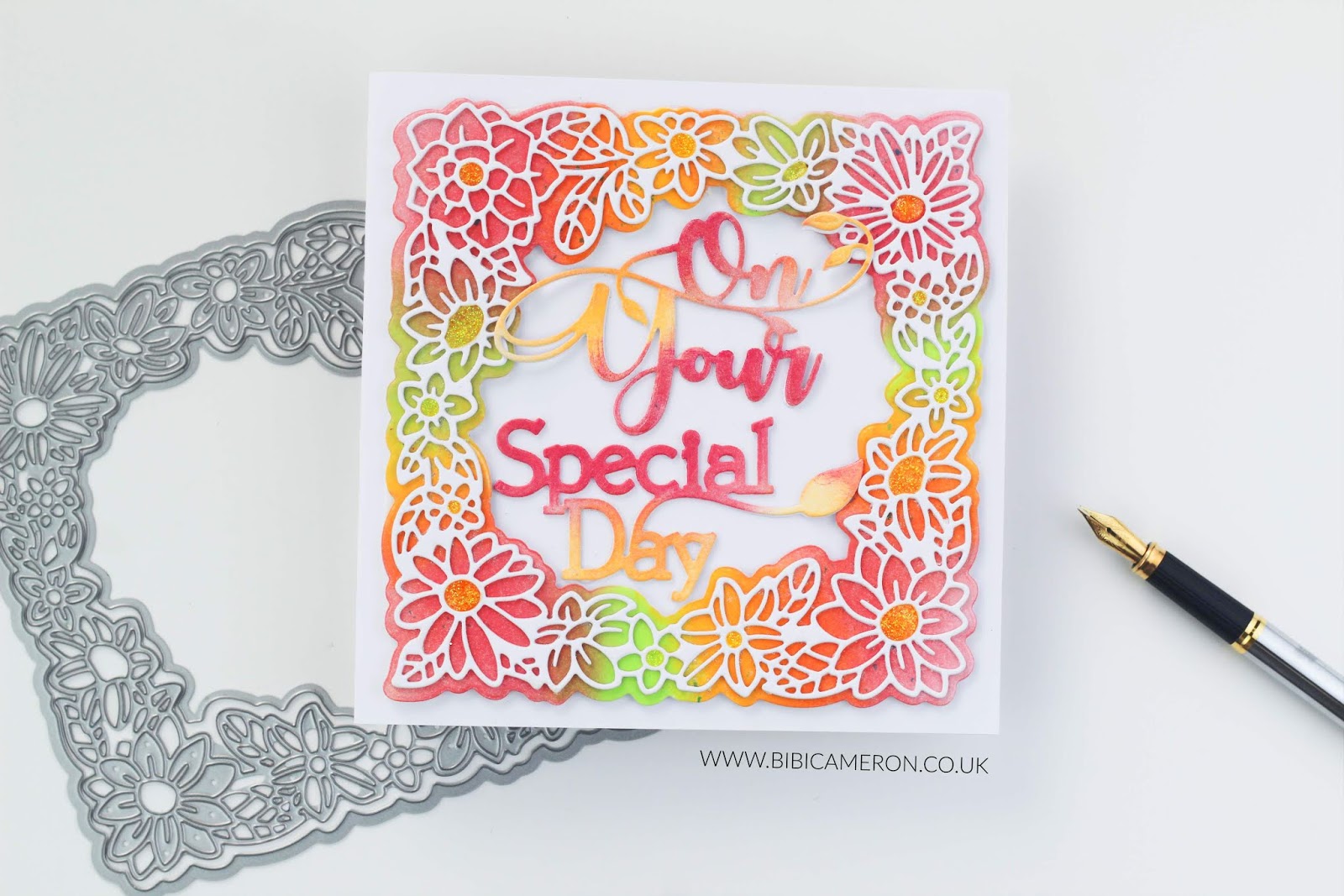 This is another 6×6 inches card and here, instead of adding ink to the floral frame die cut I added colours to the solid background die cut.
To add dimension, I glued two white intricate floral frames die cuts together and then I glued them over the coloured frame.
I also added colours to the die cut words ( sentiments ) using the inks and blending tools included in the kit as shown in the video.
For this 6×6 inches card, I use a die cut as mask or stencil to apply ink behind the flowers.
I used the Nuvo Aqua Flow pen and the inks included in the kit, and I also used a glitter marker. As these colouring tools are water-based ( except the Nuvo hybrid inks) I easily blended them using a Nuvo Shimmer Pen.
The shimmer pen also helped me to soften the colours.
Ok so I also have the idea to use the frame dies in the kit to make a box topper and here is a sample.
You can make this box in any colour, in a larger size and add as many decorative elements as necessary.
The box size is : 5″x5″x1-1/2″ inches.
I used 270 grams red smooth cardstock and it will fit small cupcakes, biscuits, chocolates, small clothing items, candles or any other thing you can fit in it.
To make this box I used two 8×8 inches pieces of cardstock.
For the Base:
Trim 1/16″ off the landscape side and then the portrait side
Score all four sides at 1-1/2″
For the lid:
No trimming required
Score all four sides at 1/2″
****You can make a larger and deeper bix. Simply used a larger piece of cardstock and adjust the measurements following also the same process I'm showing in the video.
I also wanted to share an extra idea with you to apply a partial die cutting technique using the floral frame die in the kit so that I made the tag in the picture above.
That's all for today.
Thanks for stopping by and for your kind comments, I always read them all and I'm happy to answer any questions.
Subscribe to my blog here! or my Youtube Channel here! To receive notification when a new post or videos go live.
Happy Crafting and many hugs
x
Bibi
Supplies
Just a note to let you know that when you buy through the links below I get a small commission at no extra cost to you. Thanks for your support.
You can check a complete list of supplies included in the kit here! ( it is quite long tho!)