Hello from the north of Scotland, today I'm sharing an idea to make last-minute handmade Christmas presents! Yay.. Christmas is next week !!
So what about making personalized decorative frames with miniature plant pots or flower arrangments?
Yes, you can make cards with the same idea as well.
I used Bunch of Bouquet Honey Cuts a die set with 30 individual dies that you can match and mix to make completely different plants and flower designs.
Those dies and also "Stick With Me stamp set" and die set by Honey Bee Stamps are perfect for this kind of project.
So I was looking for inspiration to make miniature paper plants and I found two remarkable artists: Tania Lisova and Sara Barnes. They lead me to another papercraft artist and I was just wowed with their work. Simply Stunning!
As many other artists, Tania has an Etsy shop and Sara wrote a very interesting article about How a Personal Project of Paper Plants Blossomed into a Thriving Career.
I thought I should share about them too in case you want to have a look at what others are doing as part of the paper craft industry.
The truth is that you can make and sell this kind of projects or you can make them as presents and save a fortune considering that the price on the market for an item like this one can go from £30 to £120 or even more.
If you are not a skilled artist you can use dies, just like I did. 🙂
As I'm not good a fussy cutting or using a craft knife so that working with dies is a great, easy and quick solution for me.
You can also change the appearance of the die cuts with ink, cutting part of them or using a stylus to give them shape.
I also have added a board on my Pinterest here with pictures of paper so you can have extra inspiration to make similar projects.
The little plant pot measures 1-1/2″ x 1-1/4″ inches and the whole floral arrangement measures 3×3 inches ( 7.5 x7.5 cm).
The wooden frame from Ikea measures: 6″x8″ inches ( 15 x 20cm)
You can make this in a smaller or larger size, using cardstock or paper in your favourite colours.
You can add as many flowers and leaves as you want or make very simple compositions with one of just a few flowers.
I just was tasting the waters and I chose very masculine cardstock colours for this draft project that ended up being part of a finished project.
Here is another picture so you can see the size of the frame a little bit better. It is a small frame.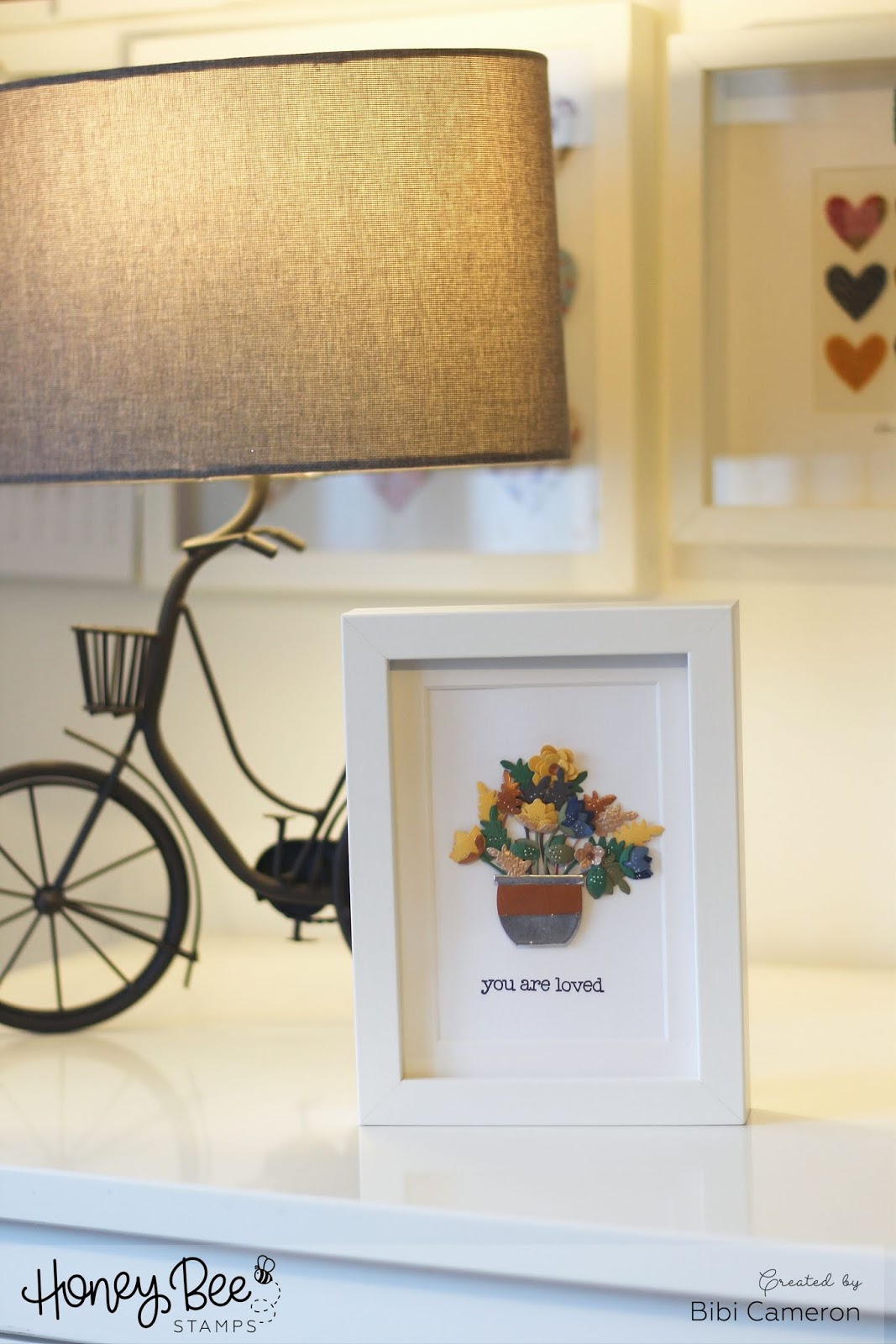 I also partially heat embossed the plant pot using silver embossing powder. I was experimenting trying to create a terracotta plant pot with metallic accents.
I found the little frame adorable and you can stamp any sentiment or motivational quotes to make it even more special.

That's all for today.


Thanks for stopping by and for your kind comments, I always read them all and I'm happy to answer any questions.
Subscribe to my blog here! or my Youtube Channel here! To receive notification when a new post or videos go live.
Happy Crafting and many hugs
x
Bibi
Supplies
Just a note to let you know that when you buy through the links below I get a small commission at no extra cost to you. Thanks for your support.