Hello from  Scotland!  We are celebrating a new exciting release with over 40 new die designs and in this post, I'm featuring the new  Picture Book Santa Pup wafer die. 
Welcome to Simon Says Stamp  Diecember Blog Hop Extravaganza – Day 1.
ADD TEXTURE TO PICTURE BOOK SANTA PUP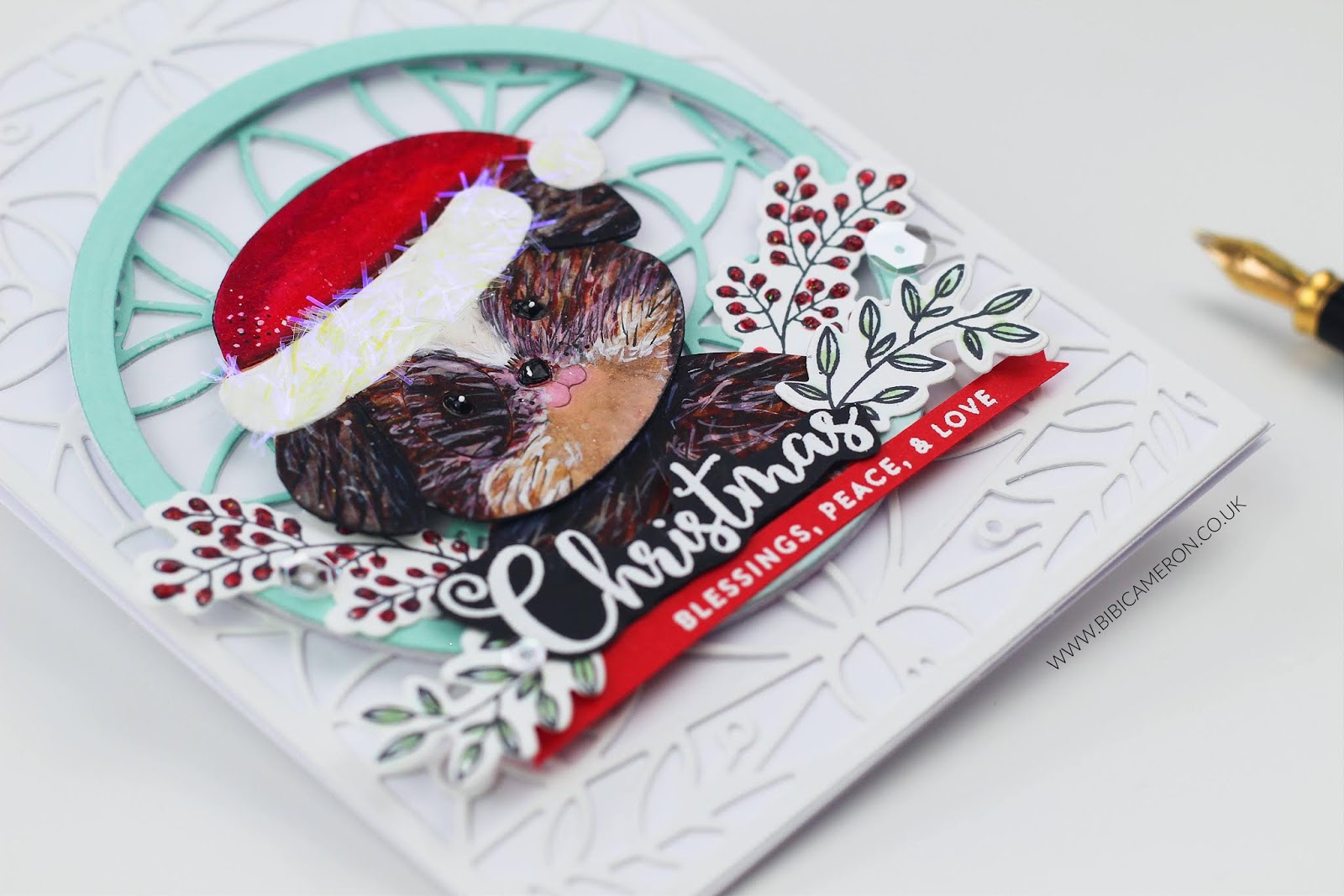 I love to give life to the images produced by the picture book dies and for today I wanted to add extra fur to the puppy so  I applied colours using Zigs. 
Picture book dies are very versatile and you can make super simple die-cutting projects using different cardstock colours or make something different by applying easy colouring techniques as I did for today.
I used Bristol Paper for these projects because it provides a smooth finishing and more importantly because this paper takes longer to absorb water so that it is very easy to blend washes of colours when using it.
To add colour,  I  first started by applying a light yellow – Brown wash of colour over all the die cuts and I allowed it to dry.
Then I simply applied strokes of different ink colours over the puppy face.  I allowed each ink colour to dry between applications.
To finish, I added white and black hairs using fine tip markers.
Here you can find a video showing how I add colour to die cuts.
 PICTURE BOOK Die Cutting Tip
A while ago, I was looking for a way to keep die cuts together and to be able to release them easily from the dies. I also need something to hold die cuts while colouring. Especially small die cuts.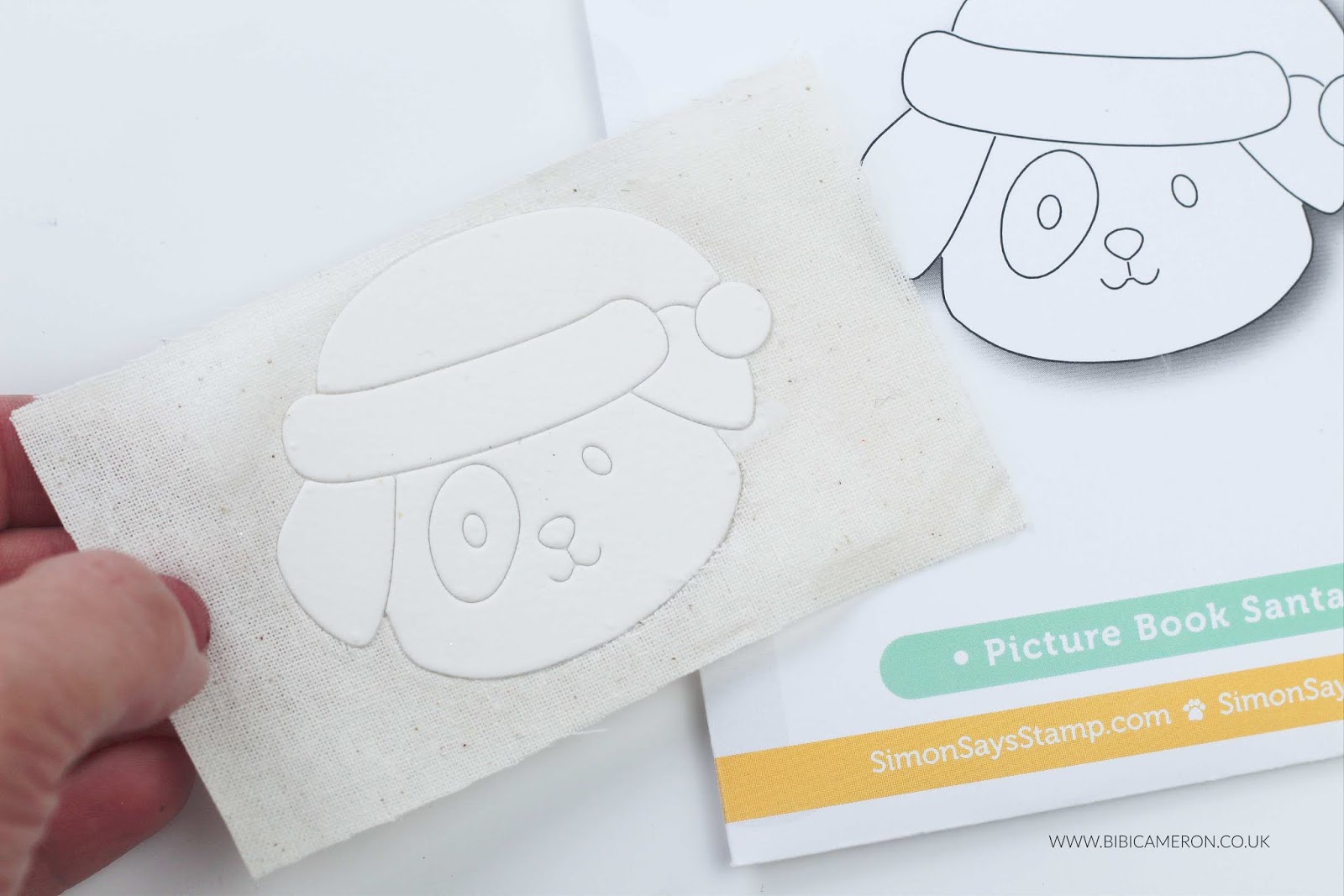 We all know that some intricate die cuts are very stubborn and take quite a while to get them out the dies. 

Some dies have too many parts and some others have tiny parts that can get easily lost. e.g eyes or the nose of some critters.

So I invented my own  DIY sticky fabric shim to keep die cuts together. The fabric shim is also great to apply a wide variety of die-cutting techniques. 
Someone was talking about Press'n and Seal paper when I posted a video on my channel talking about this invention.
I bought Press'n and Seal as well and I use it for other die cutting applications. However, the sticky fabric shim will allow you to get your die cuts in place since die cutting.
The fabric offers a completely different solution but it can also be used in the same way you use Press'n Seal. Although it is not transparent tho.
I shared various videos using the fabric shim in my Youtube Channel here in case you want to have a look.
USING FABRIC IN DIE-CUTTING
 First, I  simply spray a very thin piece of cotton fabric ( with no texture).with a temporary/ repositionable spray adhesive.
Then, I place the paper on top and it will temporarily adhere to the fabric.  
Next, I run the paper with the backing fabric through the die cutting machine and Voila.  The fabric holds all the pieces in place.  
I stored die cuts in this way to keep them read together for the next project.
Note : wafer dies won't cut fabric without a metal shim so no worries your dies, your machine, your paper … everything will be ok. I haven't found any other material I can run through the machine together with the paper but if I do I'll let you know lol.
For this card, I also used Marilyn Full Card ( cover plate die) to add texture and dimension to the background
The sentiments are from Tiny Words Christmas and Advent Sentiments Stamp set. Sadly I realized today that the set is no longer available at the Simon Says Stamps shop! Noooo
The leaves and the tiny foliage are from Wreath Greetings Stamp set and coordinating die.
When I finished the card I decided to put together a quick tag and I used Snowflake Tags and Critter Swaters stamp set to add a pattern to the paper using SSS Surf Blue Ink.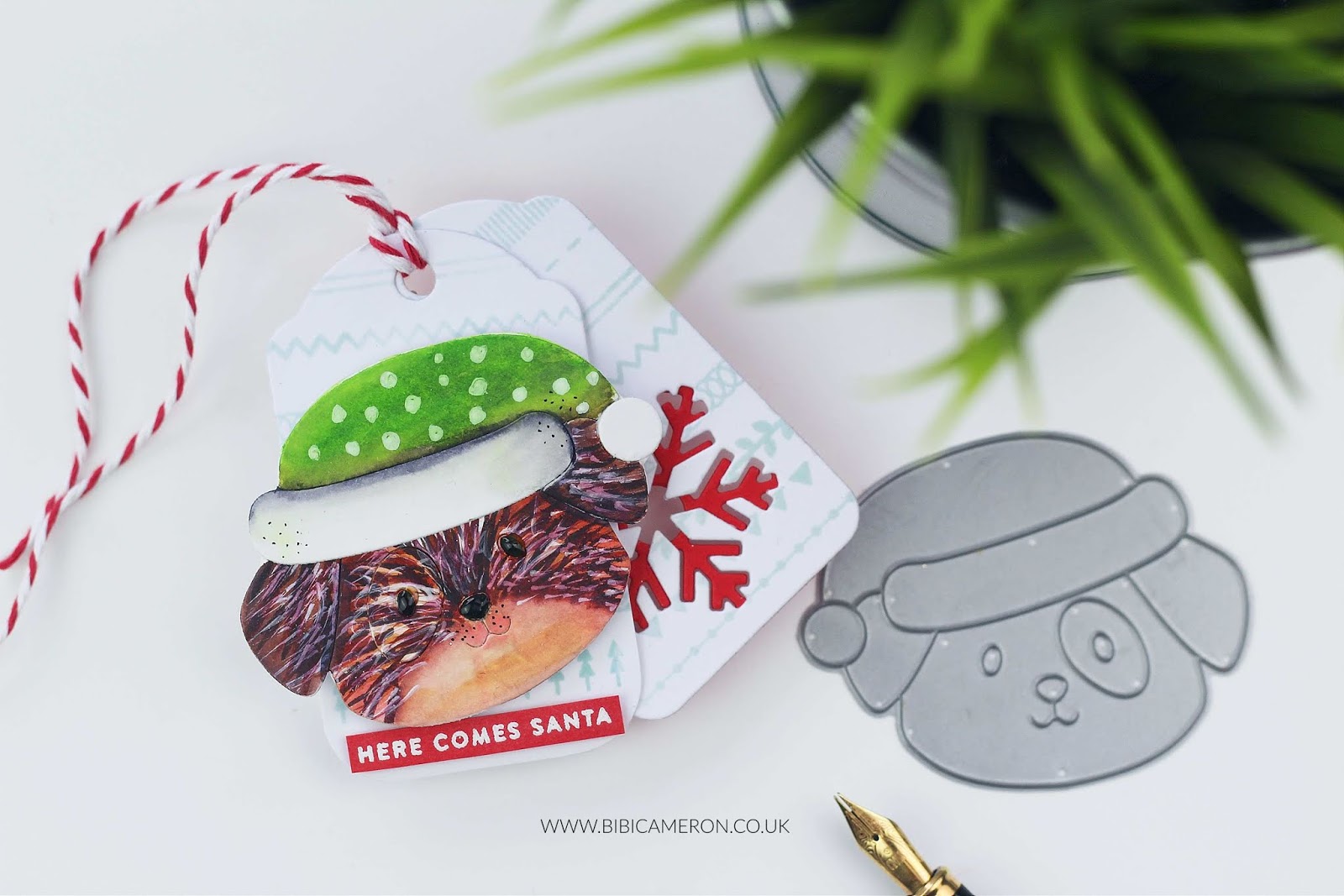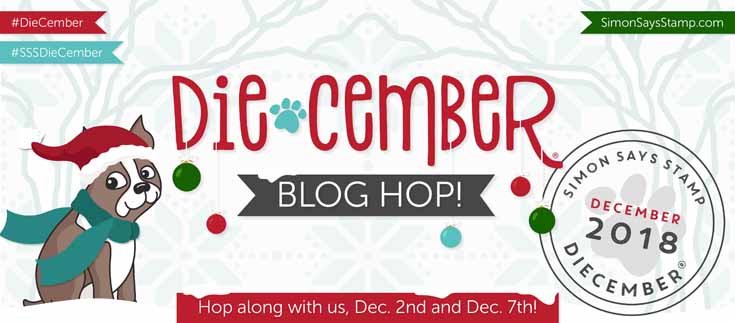 HOP ORDER:
Giveaway
Simon Says Stamp is giving away a $25 coupon to every stop on the hop from your blog comment section. The winner will be announced on the Simon Says Stamp store blog on Wednesday, the 12th of December.
For more inspiration make sure to join the day 2 of this hop next Friday, December 7/ 2018. I'll also be sharing more projects with new products during the next week.
Share your makes and have a look at what else everybody is making at DieCember® Pictures Gallery
That's all for today. Thanks for stopping by!
Happy Crafting and many hugs
x
Bibi
SUPPLIES
Just a note to let you know that when you buy through the links below I get a small commission at no extra cost to you. Thanks for your support.