Hi there, today I'm sharing my monthly video post about the Tonic Craft Kit #15. Among other products, this kit includes a 15 pieces die set designed to create memory books or memory albums but I decided to make something else.
I used the larger die in the set (the one to create the memory book cover) and I die cut a piece of cardstock. I then applied a little bit of origami to create bookmarks that can be also used as treat holders. Voila! two solutions in one go. For me, that is a winner!
This is also very easy and quick little project. You can play a little bit to create different animals using different cardstock colour and different eye sizes.
So I hope to inspire you to think beyond the die cuts and standard shapes and explore new ways to use your supplies.
What about adding antlers to the fox to make a reindeer treat holders for this Christmas?

Oh!! and I used Craft Perfect cardstock as it is not so thick and it folds nicely. Scrapbook paper is also good for this project.
Follow me on Instagram and check out a 1-minute speed video there.. for speedy readers!
Here is a little bird bookmark that easily can be turned into an owl. If you add smaller eyes this can easily be transformed into a chimpanzee or a bear.
Here I made a Manta Ray Bookmark. Using Craft Perfect ivory cardstock included in the kit. I sponged grey Nuvo Hybrid Ink and splattered white acrylic paint diluted with a little bit of water.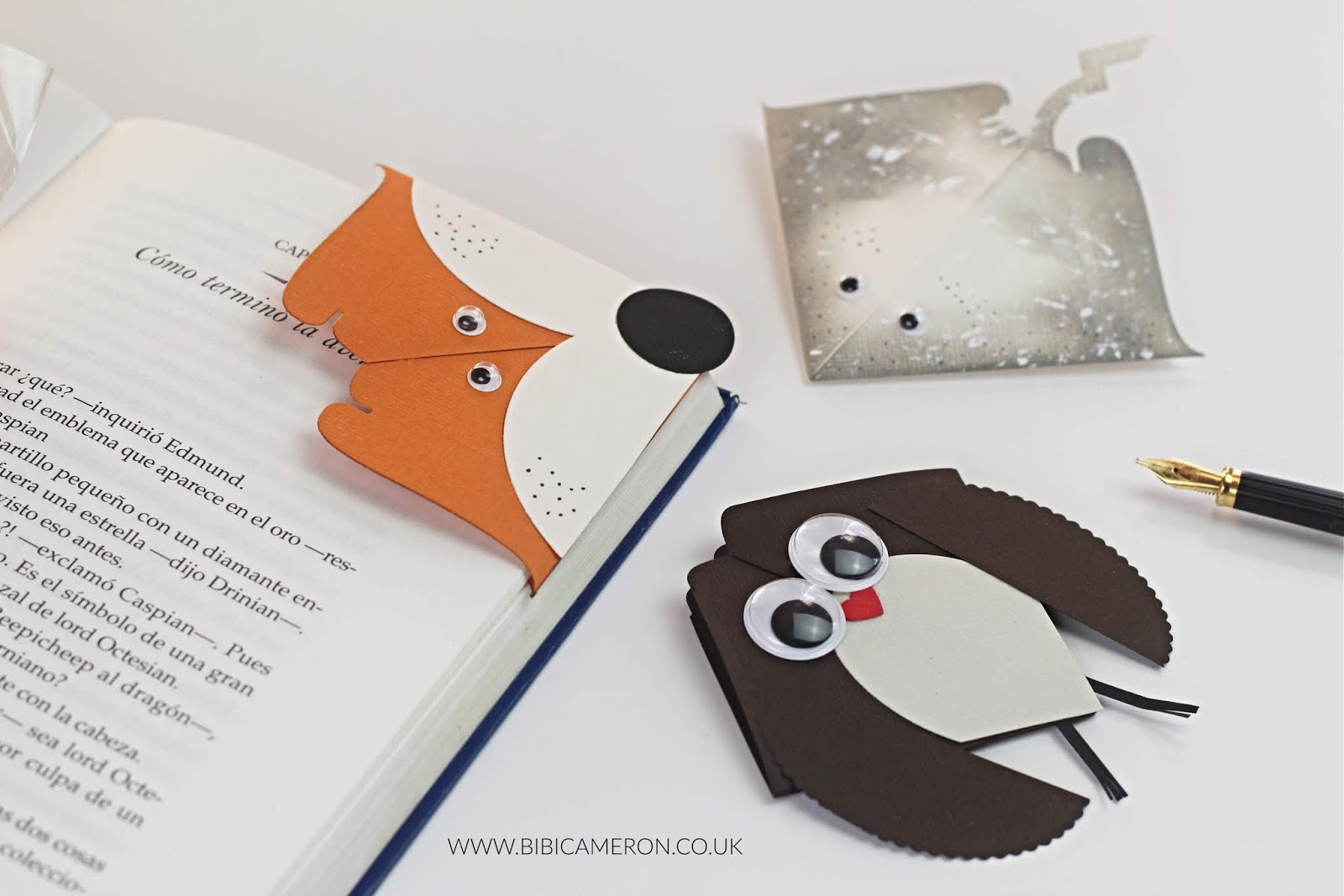 The craft Kit #15 has been sold out!! Nooooo… sorry about that but sometimes I don't manage to get my video post ready before it is gone. so keep an eye on the kit website here!
To Pre-order the kit 16, click here! It is a Valentine-themed kit and those who purchase the kit while available will received in early December.
PIN ME
That's all for today.
Thanks for stopping by and for your kind comments, I always read them all and I'm happy to answer any questions.
Subscribe to my blog here! or my Youtube Channel here! To receive notification when a new post or videos go live.
Happy Crafting and many hugs
x
Bibi
Supplies
Just a note to let you know that when you buy through the links below I get a small commission at no extra cost to you. Thanks for your support.