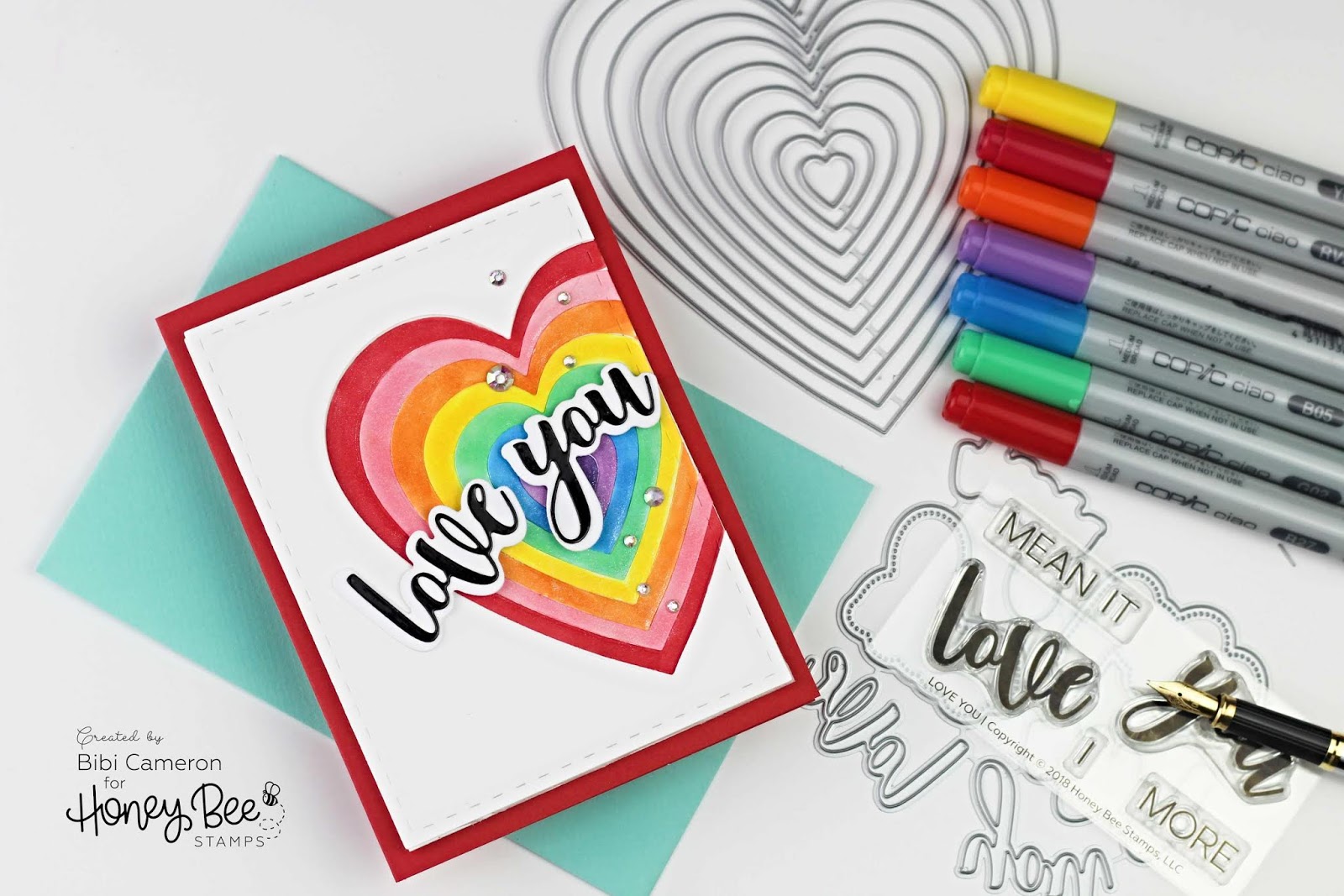 Happy card making day everyone!!! today I'm sharing a super easy and quick card idea using beautiful Honey Bee supplies. This is an A6 standard American size ( 4-1/4″x5-1/2′)
I used Staking Hearts Honey Cuts ( dies) and Love You honey cut steel dies for today and I added colours using Ciao Copic Markers.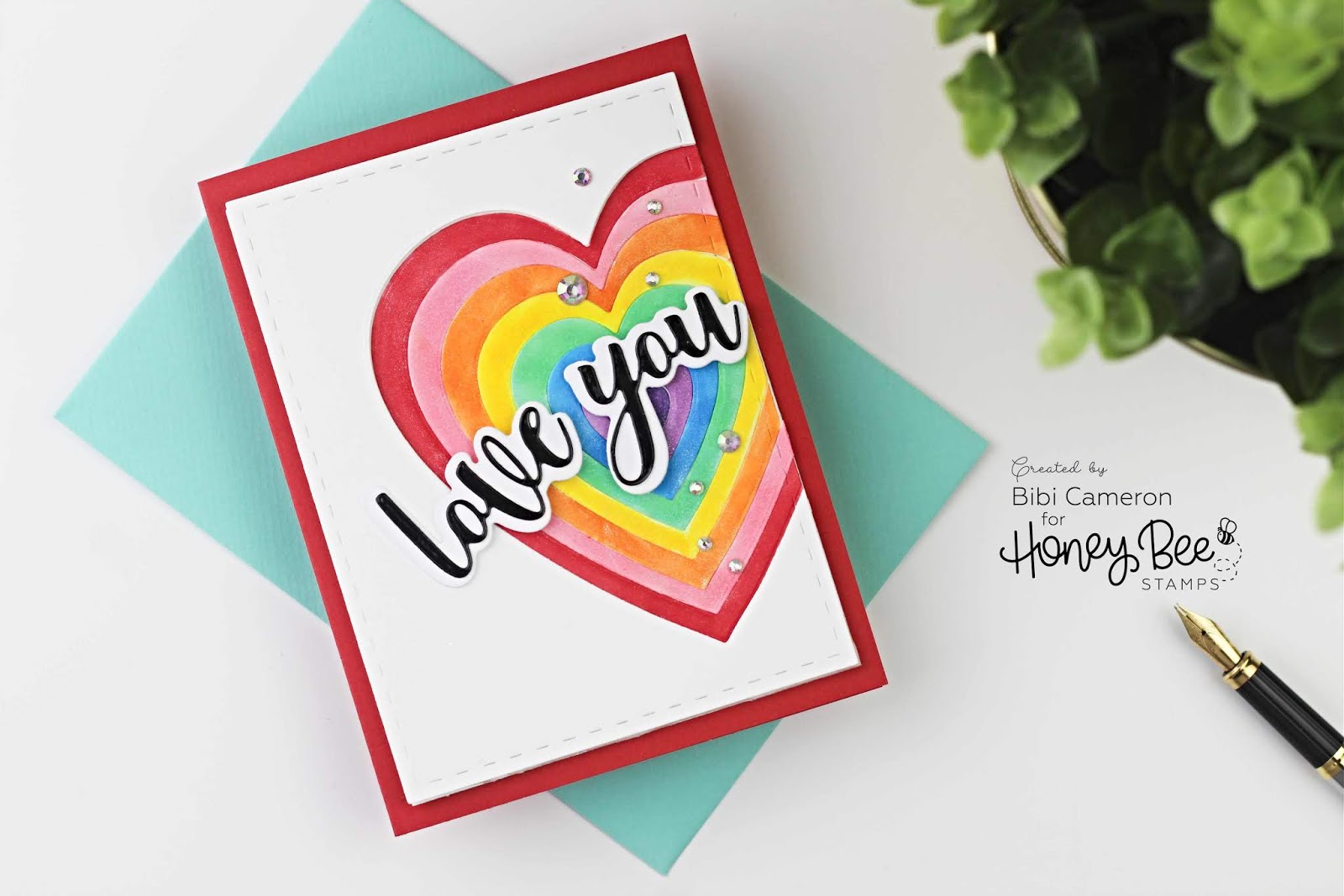 The truth is that I was going to create a heart shaped window on the front panel of this card and I was going to stamp a love – Christmas scene inside using one of my fav stamp sets ever by Honey Bee called Let it Snow .
I planned using Staking Hearts Honey Cuts ( 10 pieces die set). These dies come all attached by a wire and using players I removed the 2 largest dies in the set. I left the other 8 dies together and I die cut the window in the front of a panel I previously die cut using A2 double stitched frame dies … and WOW !!!!
I loved the way the heart die cuts looked!! they were perfectly symmetric heart-shaped rings, I could easily layer them together to create a fun and easy element for a card. I could layer them in many different ways as well but I also wanted to add dimension to this card so using double-sided foam I adhered the panel with the window on an identical piece of paper.
I added colour to the die cuts using copics and I glued them in the centre of the window.
You actually can cut paper in different colours and you can make up to 8 cards with all the die cuts but I'm working night shift and I didn't have the privilege to try this.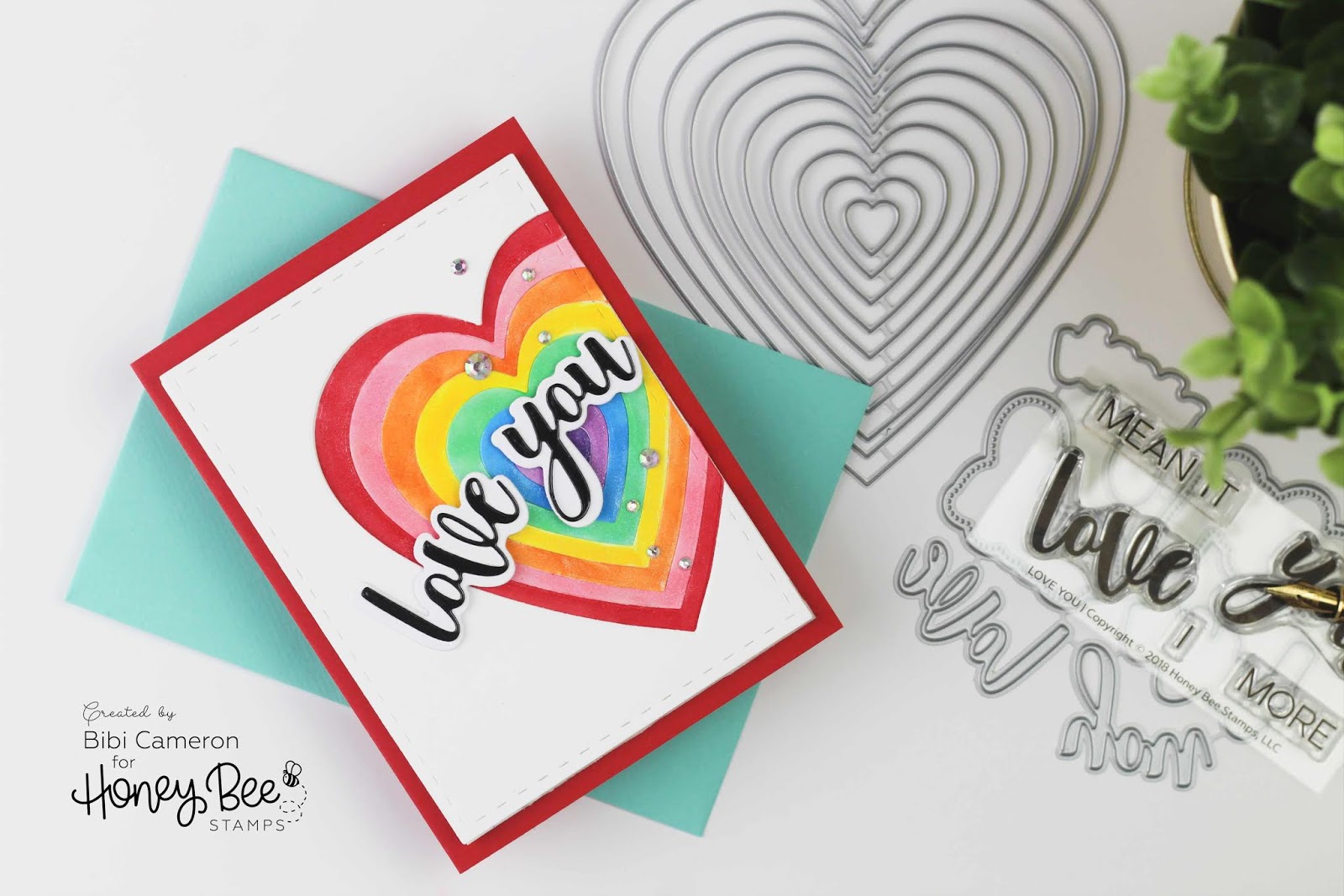 So at that stage, my original idea completely changed and I decided to create the card you see in the pictures.
For the sentiment, I also Love You honey cut steel dies to create the sentiment and although it is hard to see in the pictures I used Craft Perfect Black High Gloss Mirror Cardstock for the sentiment.
I embellished withTwilight Rhinestone Mix and applied shimmer using a Nuvo Shimmer Pen over the hearts.
The sparkle makes the hearts looks a bit funny in the pictures. It is a dark day here in Inverness and although I try my best to take accurate pictures the lighting is not helping. 🙁
Celebrate World Card Making Day with 20% off your Honey Bee Stamps order!
The promo is today and tomorrow till midnight.
coupon code: WCMD20 at checkout to qualify.
That's all for today.
I hope you enjoy this project!!
Thanks for stopping by and for your kind comments, I always read them all and I'm happy to answer any question.
Subscribe to my blog here! or my Youtube Channel here! To receive notification when a new post or videos go live.
Happy Crafting and many hugs
x
Bibi
Supplies
Just a note to let you know that when you buy through the links below I get a small commission at no extra cost to you. Thanks for your support.