Hi there! You can create from a galaxy to a beach scene with the new Nuvo Aqua Flow Pen's colours … They are just pure awesomeness!
For today's card, I only used 3 of the 12 new yummy colours so we have now 24 different shades to enjoy easy colouring or to create fun card backgrounds effects.
These pens are highly pigmented and as they are water based all you have to do is to add water for a soft look or use them pure to create striking, bold, dark, intense effects as the one in the card below.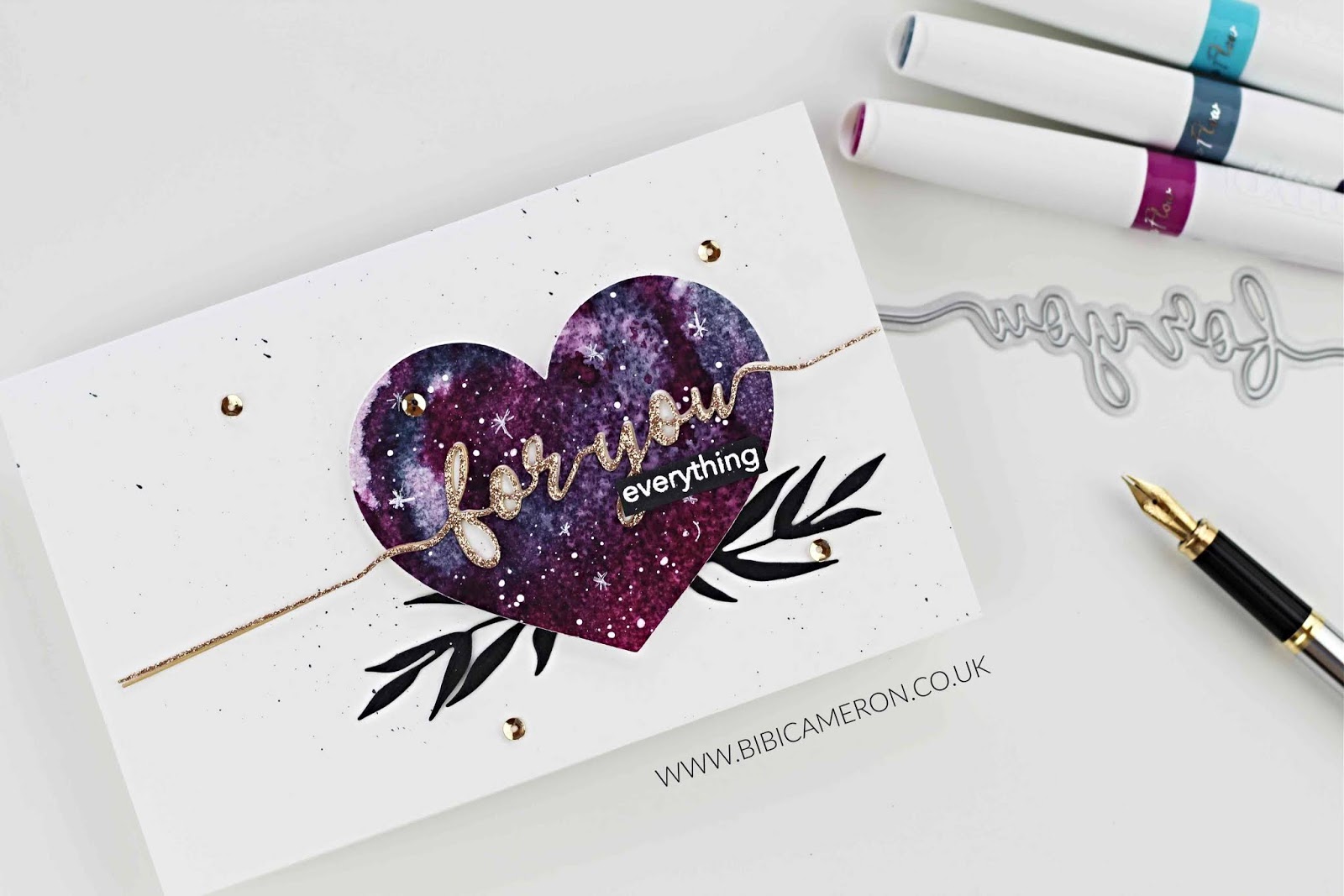 Pen colours used: French Wine, Wild Phlox, Flamingo Pink, Indigo blue.
Oh ! and these pens are also great to take on-the-go, their blendability is amazing so you can create new shades as well.
For today's card, I squeezed the pens to get their ink on a glass mat and I swapped watercolour paper over the ink to create a kind of galaxy look. I repeat the same process a couple of times and I was done . Can you see the colour intensity!!!! Just amazing …
I also went a bit romantic and I used one of the new stunning sentiments stripes by Tonic Studios and only available at HOCHANDAat the moment. I thought the sentiment was perfect to complete this card: "for you.. everything".. this means the whole galaxy… cute!
I added some dots and starts with a Posca marker and I embellished with gold sequins and a couple of black leafy die cuts.
That's all for today! I hope you like the card.
Subscribe to my blog here! or my Youtube Channel here!for more card ideas and tutorials directly in your inbox


Many hugs and happy crafting
x
Bibi
Supplies
I have listed some of the main supplies used … when you buy through the links below I get a small commission at no extra cost to you. Thanks for your support.