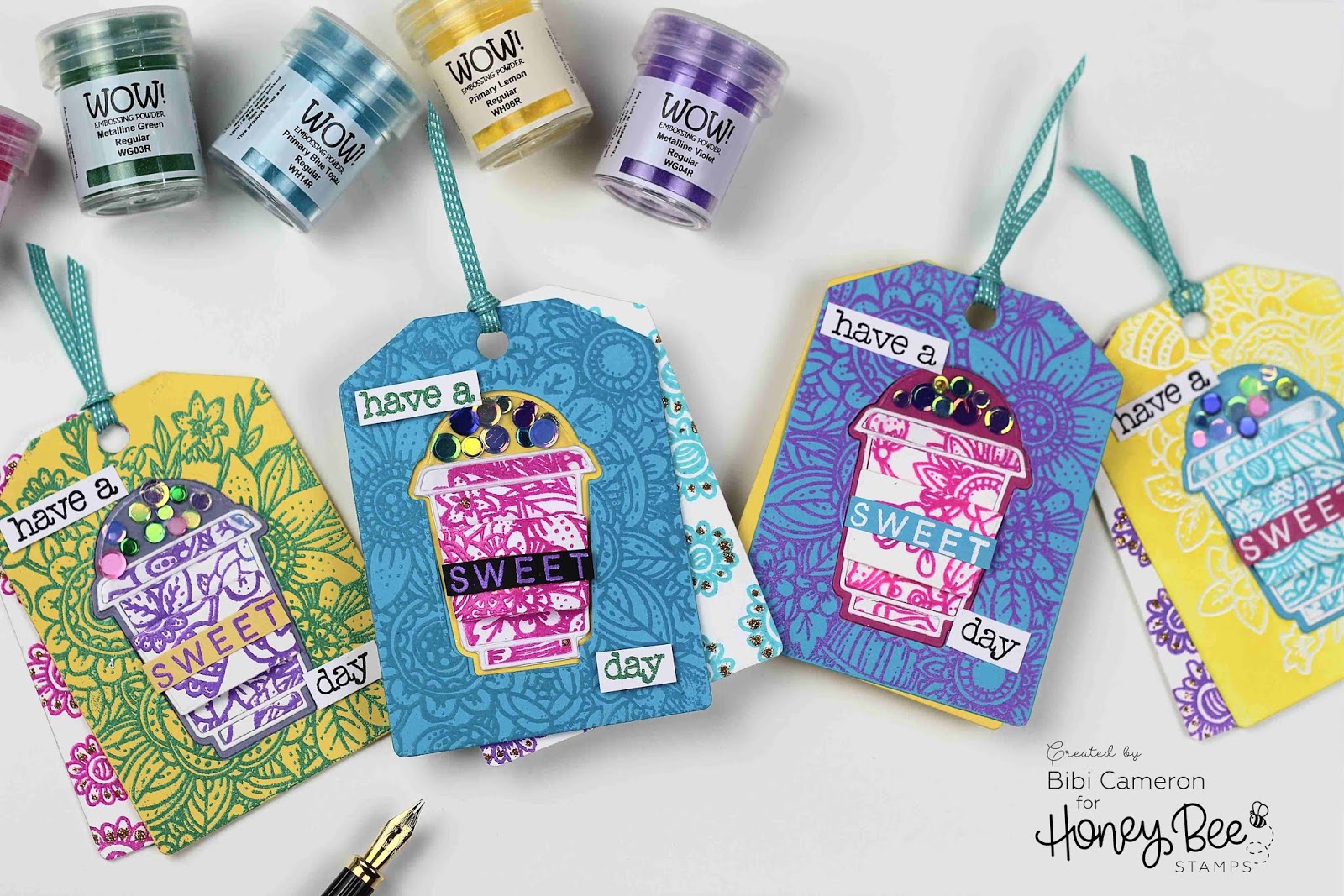 Hello everyone, welcome to a very special Blog Hop- Giveaway in collaboration with the WOW! Embossing Powder & Honey Bee Stamps.
I'm Bibi Cameron in the north of Scotland and for today I made bold and bright projects using yummy WOW embossing powder colours.
The stamped images and die cuts were created using Zen Bouquet stamp set, Spring Blossoms stamp set, Coffee Brake Die Set, Helloand Fabulous dies by Honey Bee Stamps.
I also used Nuvo Clear Mark Ink and Versamark Clear Ink and the Tim Holtz stamping platform to stamp the images.
All the papers, images and sentiments in this post are heat embossed with exception of a few sentiments on some of the banners. For those, I used black ink by Simon Says Stamp.
So for the tags in this post, I heat embossed the huge image from Zen Bouquet on different cardstock colours and then I die cut them and put them together as you see in the pictures.
I also used the three small floral stamps from Zen Bouquet to stamp backgrounds and I die cut them with a Gift Tag Die and place them behind the main tags just to add a little bit something.
To create all the tags I used translucent embossing powders: Blue Topaz, Fuchsia fusion; and Opaque embossing Powders: violet and Green metalline.
WOW Primary Translucent Embossing Powders will let light through and so the colour underneath will affect the finished result… In other words, the cardstock colour will affect the final colour of the embossed images.
Just to share a couple of samples, I applied blue translucent embossing powder on blue cardstock so it looks like a watermark (see the tag on the left). Using the same cardstock colour, I applied opaque violet metalline embossing powder and the colour stand out (see the tag on the right).
You will only get pure true colours of primary translucent embossing powders if you use white cardstock to stamp the images and that's what I did on the card below.
To make this card I first rubbed an anti-static bag over the paper and using one of the stamps from Spring Blossoms stamp set and I stamped the whole panel using clear ink. I sprinkle a bit of Fuchsia Fusion embossing powder on the top of the panel, then Blue Topaz on the middle and then WOW Gold Rich metallic embossing powder to finally heat set the whole image.

I also used Hello die and Simple Alpha stamp set by Honey Bee Stamps to complete the sentiment and I added Nuvo Aztec Gold Glitter accents.

I just wanted to share extra samples and ideas and on this card, you can also see the Blue Topaz Translucent embossing powder real colour.

I applied this blue translucent powder on yellow cardstock and the images look green and on pink and it looks purple, tone on tone it will look clear… I did the same with the translucent Fuchsia embossing powder and this powder on navy blue cardstock looks red … isn't is awesome!!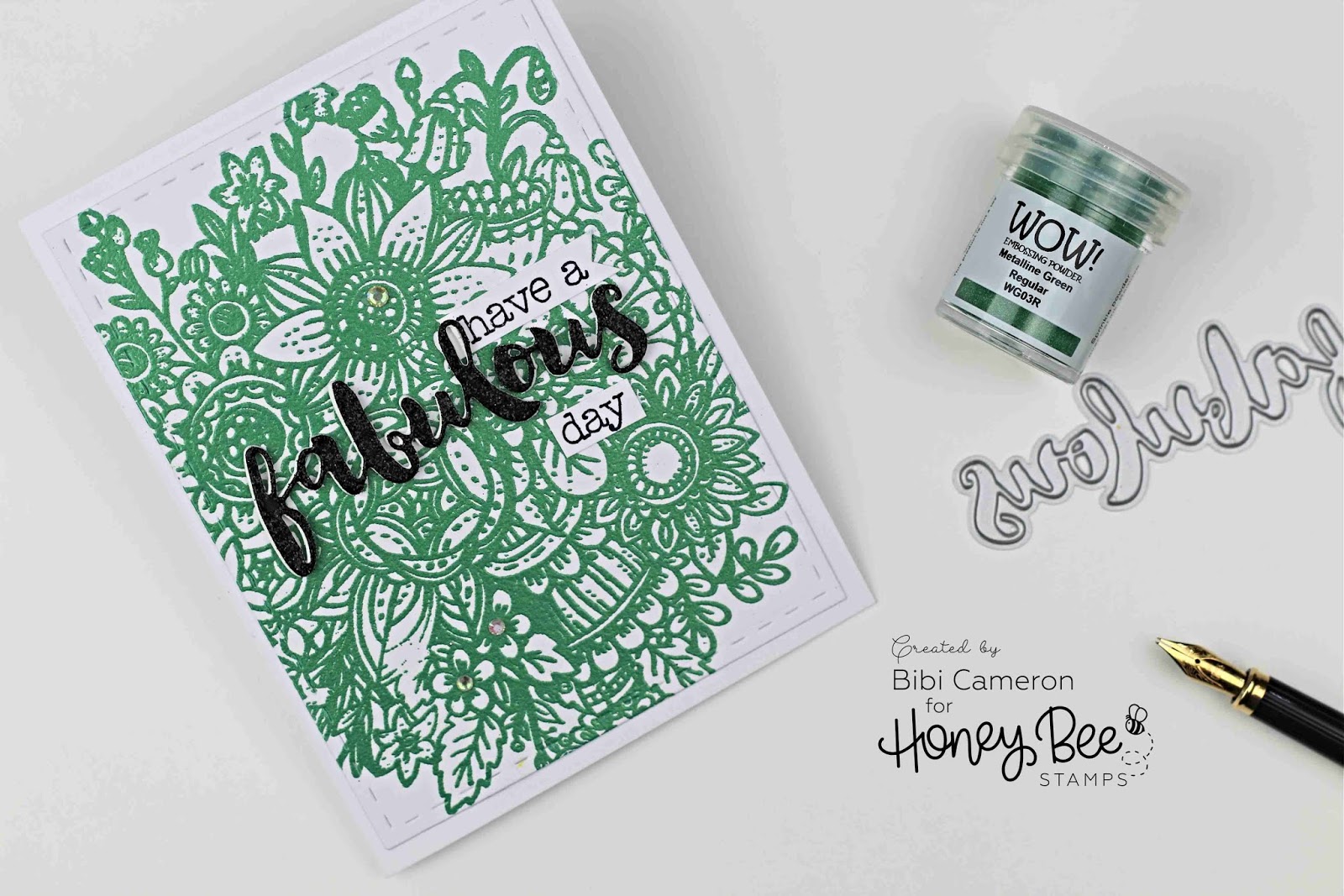 For this card, I used Green Metalline Embossing powder which is opaque and it shows a shiny reflection when viewed from different angles.
You can also see this vibrant opaque green colour of embossing powder in the first picture in this post. I applied it on yellow cardstock to make a tag and the colour stands out beautifully.
WOW! offer different types of embossing powder, translucent, opaque, metallic, pearlescent, glow in the dark, puff , Glintz, and glitter embossing powders, each offers beautiful stamping possibilities. I'm loving WOW opaque, metallic and glitter embossing powders!
Have a look at what everyone is making…the next in the hop is Brenda Noelke she is amazing!!!
BLOG HOP
Bibi Cameron >>> You are here!
We all hope this collaboration inspires you to experiment and try WOW embossing powders together with beautiful Honey Bee Stamps supplies.
If you get lost along the way, head back over to the Honey Bee Stamps Blog or the WOW! Embossing Powder Blog to blog for the complete list of designers joining in the hop.
GIVEAWAY!!!
No blog hop is complete without some prizes. Are you ready for some awesome giveaways?
Leave a comment on each blog post in this hop for your chance to win a Honey Bee Stamps – $50 Gift Card or 6 WOW! embossing powders of your choosing, along with a WOW carrying case.
The Winners will be chosen at random from the comments left on all the post of this blog hop by 12 pm EST on June 14th and will be announced on the Honey Bee Stamps blog on June15th.




That's all for today!

Thanks for stopping by and thanks in advance for your comments. I love to read them and to know what do you think.


If you wish to receive my blog post or videos directly on your email please Subscribe to my blog here! or my Youtube Channel here!


Many hugs and happy crafting
x
Bibi