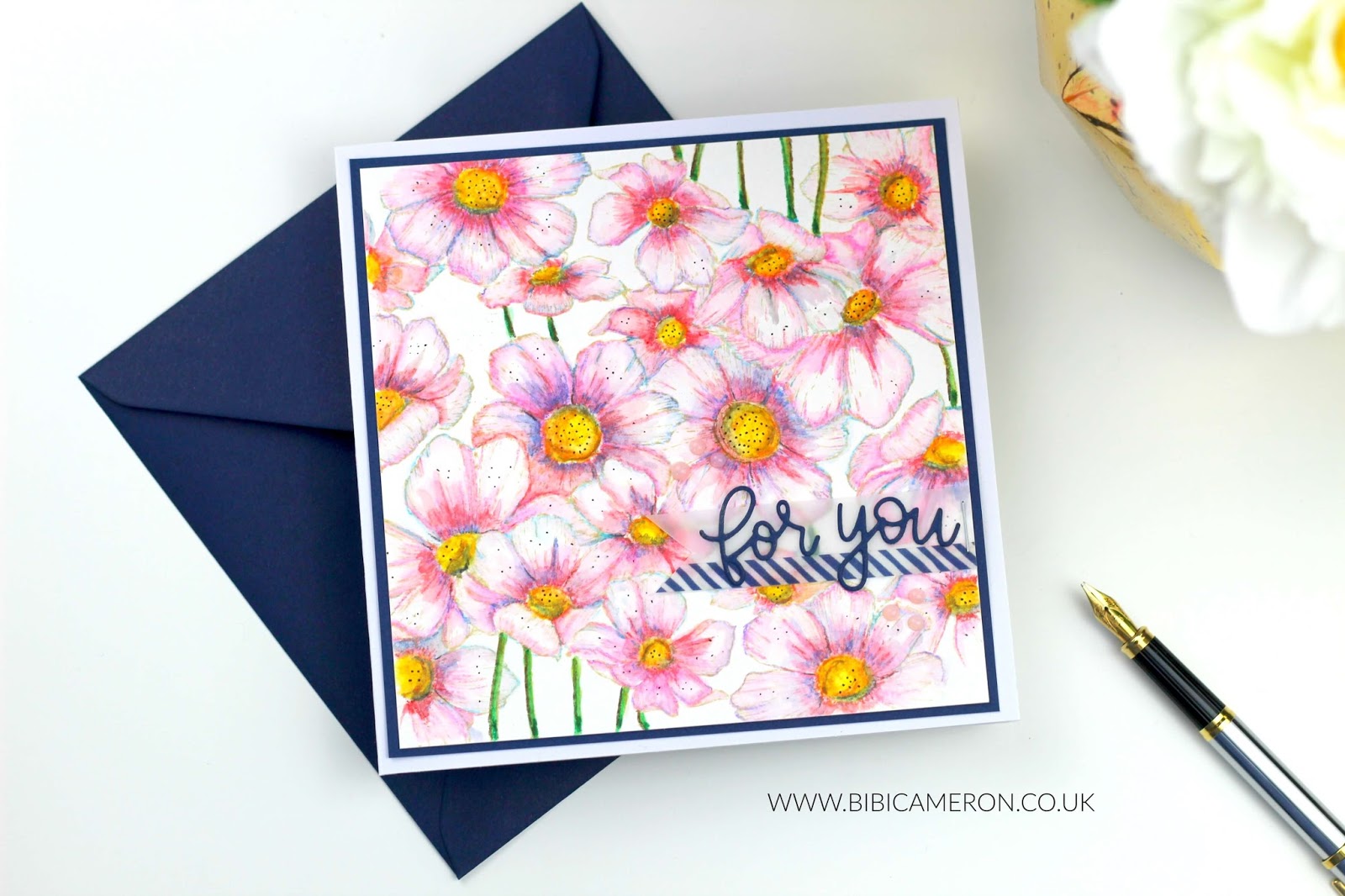 There is cosmos-mania in my craft room!!! I have over 10 projects to share with you made using Cosmos Background Stampand Cosmos Wafer die by Simon Says Stamp.
So here is the first one with a die cut sentiment made using "Here For You wafer die " also by Simon Says Stamps. I love it!
I'll come back with more of the Cosmos background on Sunday as I'll be the Special Guest at Simon Says StampBlog ! I love the card I made for them so please come back on Sunday to have a look and let me know what do you think!
Cosmos in Spanish means "Universe" so I was wondering why the stamp is called that way lol – Silly me… Cosmos is a flower, La flor de cosmos, Mirasol or Girasol Purpura in Spanish.
I'm completely ignorant when talking about flowers and I just went ahead adding colours to all my panels before looking online the real thing. The cosmos flower is purple!!! Nooooo
Anyway… I enjoyed the process of colouring this panel using the new Nuvo watercolour pencils just launched a few days ago here in Britain.
After finishing my card I decided to grab a draft sheet and I filmed a video to show you how I added colour to this panel so in case you want to have a look it is available now in my Youtube channel here! or below…
My video is not a tutorial by any means as I'm not an expert watercolourist. I just have a minimum knowledge of colouring techniques so that I'm able to add colours to my cards or to any other papercraft project.
If you ask me what is my greatest tip when colouring, I would probably say that it is essential to be at peace. I play on some uplifting music ( I love Spanish Guitar, Jazz, Chillout and wedding songs :), I grab a cuppa, turn the heating on and I found the experience relaxing and soothing.
Sometimes ( most of them) I don't care about where to put shadows and lights in the scenes. I don't even mind adding colours to the background… I just love spreading the watercolour pigments all over and transform a blank piece of paper into a handmade card and I try to make it as pretty as I can.
I stamped the 5-1/2″ image from Cosmos Background Stamp on a 6″x6″ inches piece of 300 grams watercolour paper.
I used the Tim Holtz Platform and Anquique Linen Distress Ink. I allowed the ink to dry as I didn't want it to mix with the washes of colour.
I apply colour directly from the pencils on "dry" watercolour paper, I diluted it and spread it with a Nuvo Aqua Brush fine tip. I use very little water. I allow the watercolour washes to dry between applications.
I embellished with Neat and Tangled sequins and Tonic Rose Water Nuvo drops ( when they dry they are clear. I took the picture when the drops were still fresh).
That's all for today! I hope you like this card, the products and the video. 🙂

Do not forget to Subscribe to my blog here! or my Youtube Channel here to get my latest blog post or video directly in your inbox.
Happy crafting
x
Bibi


Supplies