Hello everyone, Christmas is over 🙁 and I didn't have enough time to enjoy all the beautiful craft supplies for the season! Noooooo!!!! It is just not fair!
So today I'm sharing an idea to use the gorgeous Snowburst Collage Die by Simon Says Stamps (a Christmas – winter themed die) to create background panel for a birthday card. Why not?
I think we can create beautiful backgrounds for any occasion cards using winter dies.
Here is a picture of the die … How stunning is this?
I also used the die in the post here so you can see more samples and I'm sharing a 6″ minutes speed video ( no voice-over) to show you the easy coloring process using Brusho Crystal Powdersand Nuvo water brushes. You can also see how I put this card together.:)
The stunning floral image and the sentiment are from Make a Wish Stamp Setby Clearly Besotted, a British company with truly beautiful stamps and dies … All of them available at the Simon Says Stamp Shop here with worldwide delivery 🙂
To color the flower, I used Brusho Crystal Watercolor Powders another awesome British product and I also used the British Flag color combo + green.
I'm feeling very British today. Lol! It is my 5 anniversary living in the UK and soon we will have the last Visa – nightmare expensive application and hopefully, my oldest daughter and I will get "leave to remain in the UK" and perhaps citizenship next year.
For those who are new to my blog and YouTube Chanel, I'm from Colombia- South America, living in the very north of Scotland. It was here where I was bitten by the papercraft bug.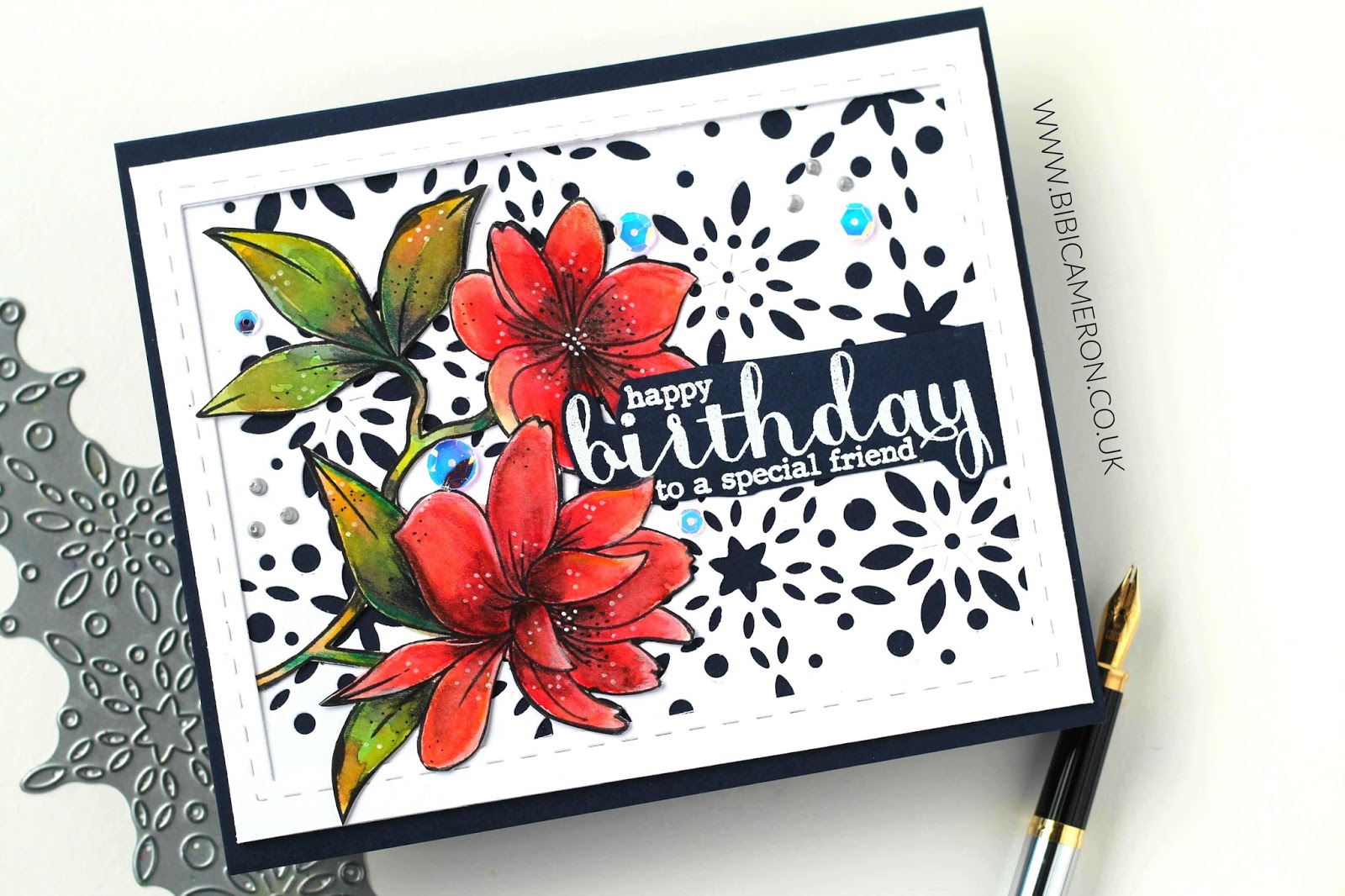 About Brusho Crystal Watercolours…
This s a British product and I love it! it is very versatile and it will allow you to apply a variety of easy and striking watercolor techniques. There is a similar American Brand called "Color Burst". I haven't try those but I guess they are very alike.
I made avideo using the powders with stencils here! so you can see even more ways to use the watercolor powder.
The dry, crystalline powder comes in little containers and when mixed with cold water provides a beautifully transparent and highly pigmented water-color wash, with incredible blendability. You can mix the powders to create new color shades, and altering the concentration of the paint you can also achieve soft or very intense colors ( add more powder and less water for intense colors. Add more water and less powder for softer colours)
You can easily control the medium using brushes or water-brushes or allow it to run free and do its magic when sprinkling the crystals on wet paper or on dry paper and then spray water to see the color burst.
Check out the super-duper easy card background below. I used the Brusho Crystal Watercolor after spraying the paper with a bit water and using a stencil. click here or on the picture below to read more.
Regardless the technique you use to work with this powders, they are extremely easy to use perfect to add colors to cards or any papercraft projects.
That's all for today. I hope you like the video, the supplies and the card.
Thanks for stopping by and happy crafting!
Do not forget to Subscribe to my blog here! or my Youtube Channel here to get my latest blog post or video directly in your inbox.

Hugs
x
Bibi
Supplies