Hello everyone, I'm in love with the stunning Sun Flowers from Summer Flowers Stamp Setby Simon Says Stamps! it has the perfect images to share with you an old coloring technique using Coloring Pencils and Artist Soft Pastels on black/ dark cardstock.
I was crazy to give it a try and apply it into cardmaking and stamping and I'm loving the results.
I have used Chameleon SET OF 25 Color Tones Double-Ended Colored Pencils, these pencils are WOW! My mum used Premium Prismacolour Colored Pencils very similar than Faber Castell Polycromos.
Oh! Any black or dark paper will be ok just remember that the paper's quality affects a bit the results so try to get good cardstock. Any artist soft pastels ( chalks) or Pastel Pencils will do the job. I used inexpensive Darwent Soft Pastels. You can also try this technique with any colour pencils but if you are tempted to get the Chameleon just do it!! You won't regret it, they are lovely.
Psss…and you give a try to this technique LET'S SHARE!! Join myFacebook group here!
Check out the video here to see how I do it!
Summer Flowers stamp set is simply beautiful and the " Thank You" sentiment is from Believe Stamp Set also by Simon Says Stamp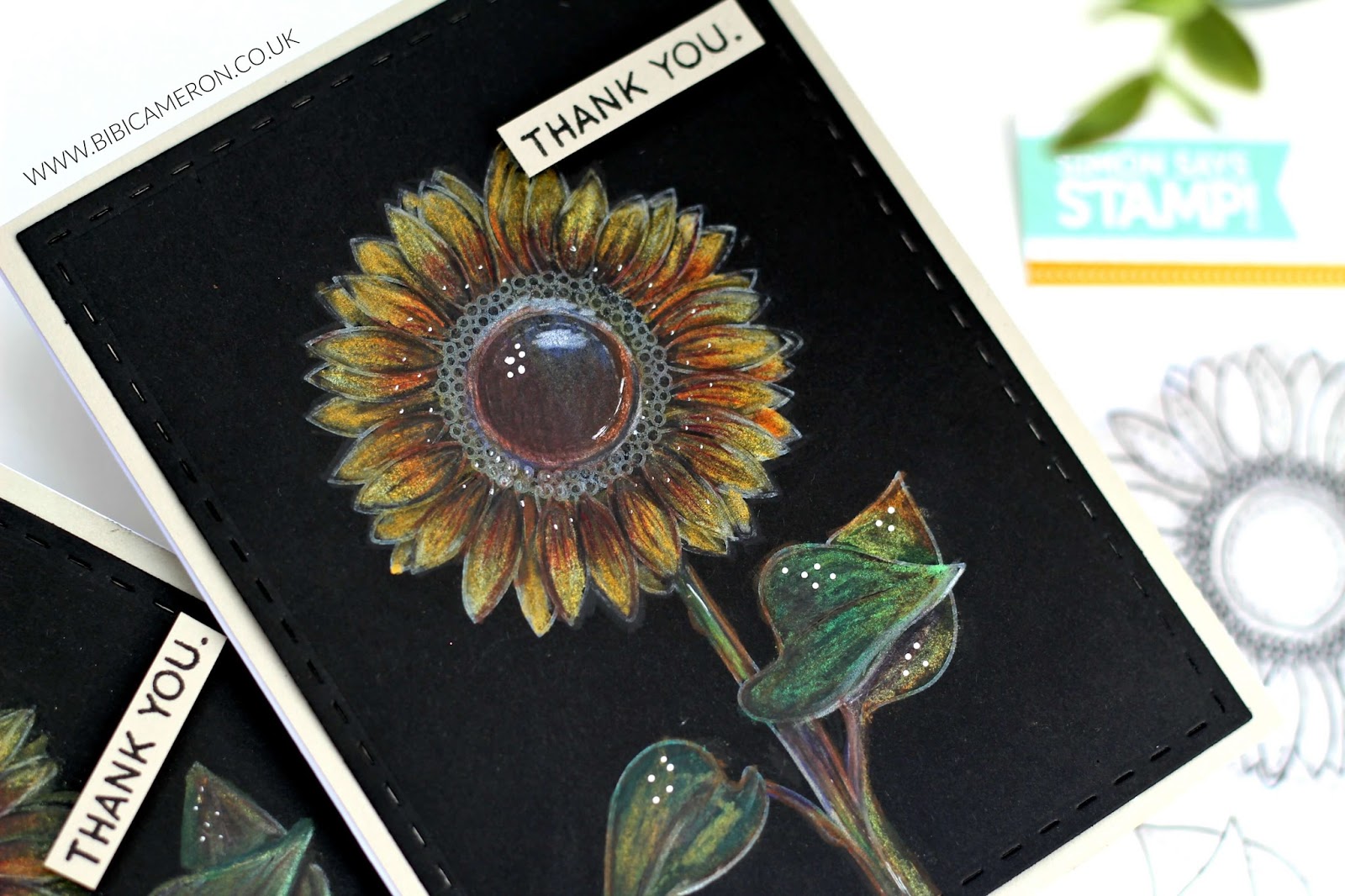 How to do it ?
1. Stamp with Versamark clear ink or white ink. Allow the ink to dry completely.
2. Apply thick soft pastels coat. You can use any colour.
3. Spray colour fixative. Allow it to dry.
3. Apply colour pencils starting on the petals' base toward the petals edges, overlapping layers of colours and starting from the darkest color to the lightest
4. Blend using blending paper tool.
5. Use a black art eraser to clean edges.
6. Apply white and dark dots with gel pens or markers.
Which Coloured Pencils I have used?
Flowers: Black, Brown, dark orange, light orange, yellow, light yellow and white. I used red to warmth the colour up and purple at the center of the flower to add shadows.
Leaves, dark and light green, yellow, brown, purple, white.
Tips:
Keep your hands clean and free of soft pastel dust.
Make sure the dark cardstock is free of pastel dust in those areas you don't want pastel before applying fixative.
Enjoy.
The flower on the left was stamped with Clear Versamark Ink and

the flower on the right was stamped with white chalk ink

.
When Stamping with different inks your flowers also will have a different look and feel.
The thickness of the soft pastel color base will also alter the results. Your flowers will look more translucent and less opaque when the layer is thinner… The colour won't show up as well in those areas without the soft pastel base.
You can also use this knowledge to play with the opacity and translucency of your compositions.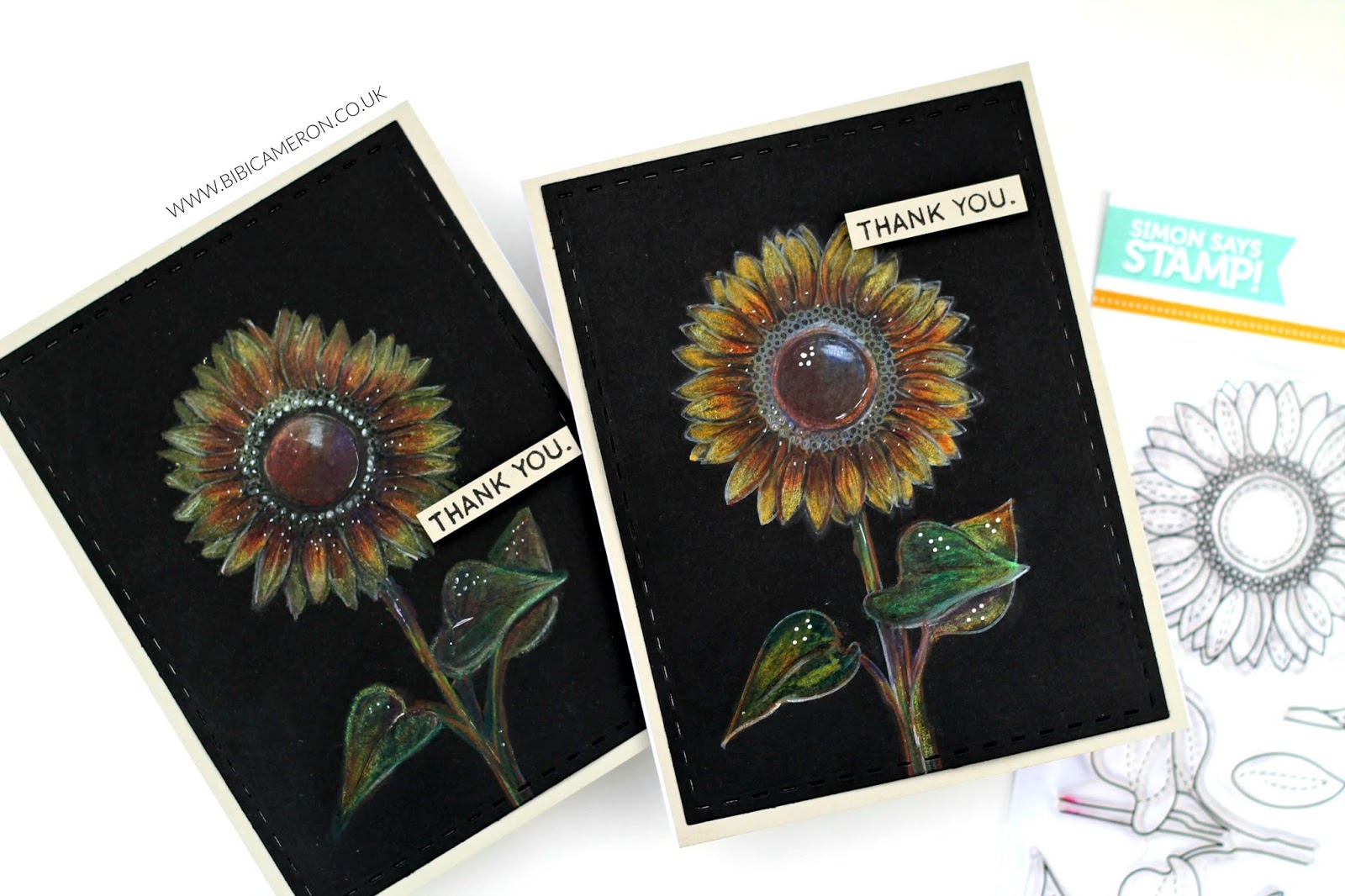 That's all for today. I hope you like these projects and I really hope I could inspire you to use your colour pencils in a different way when colouring your stamped images… soon I'll share an image colored with this technique in white and a time-lapse video. Make sure to come back!!!
Pssss…. Do not hesitate to ask any questions or leave a comment I would love to hear from you and do not forget to Subscribe to my blog! to receive via email my latest blog posts and news. All you have to do is to click here and add your email. Confirm subscription from an email you will receive immediately.
If you would like to place an order for any of the products used in this post or any other craft supply simply click on any of the images below to go directly to online shops 24/7. Affiliate links apply this means that I get a small commission when you buy through these links at no extra cost to you.
Thanks for your support
x
Bibi