Today I'm adding a new idea to use the beautiful and delicate images fromZen Floral Stamp Set and Bee-You-Tiful Sentiments Stamp Set by Honey Bee Stamps.
Stamping a plain die cut whit a non coordinating image is trendy you can create your own compositions and make things outside the box. This jar die cut is huge but you can do this with small letters, numbers, flowers or any die cut really . I have a couple of examples in my blog just have a look at my previous post.
I'm also featuring a beautiful die called Honey Jar Fold-A-Long Thinlits Diesby Jen Long available also at Honey Bee Shop. . You can make much more with this die but I only used the small jar die to cut a tag.
So here you have a sweet gift box with a tag …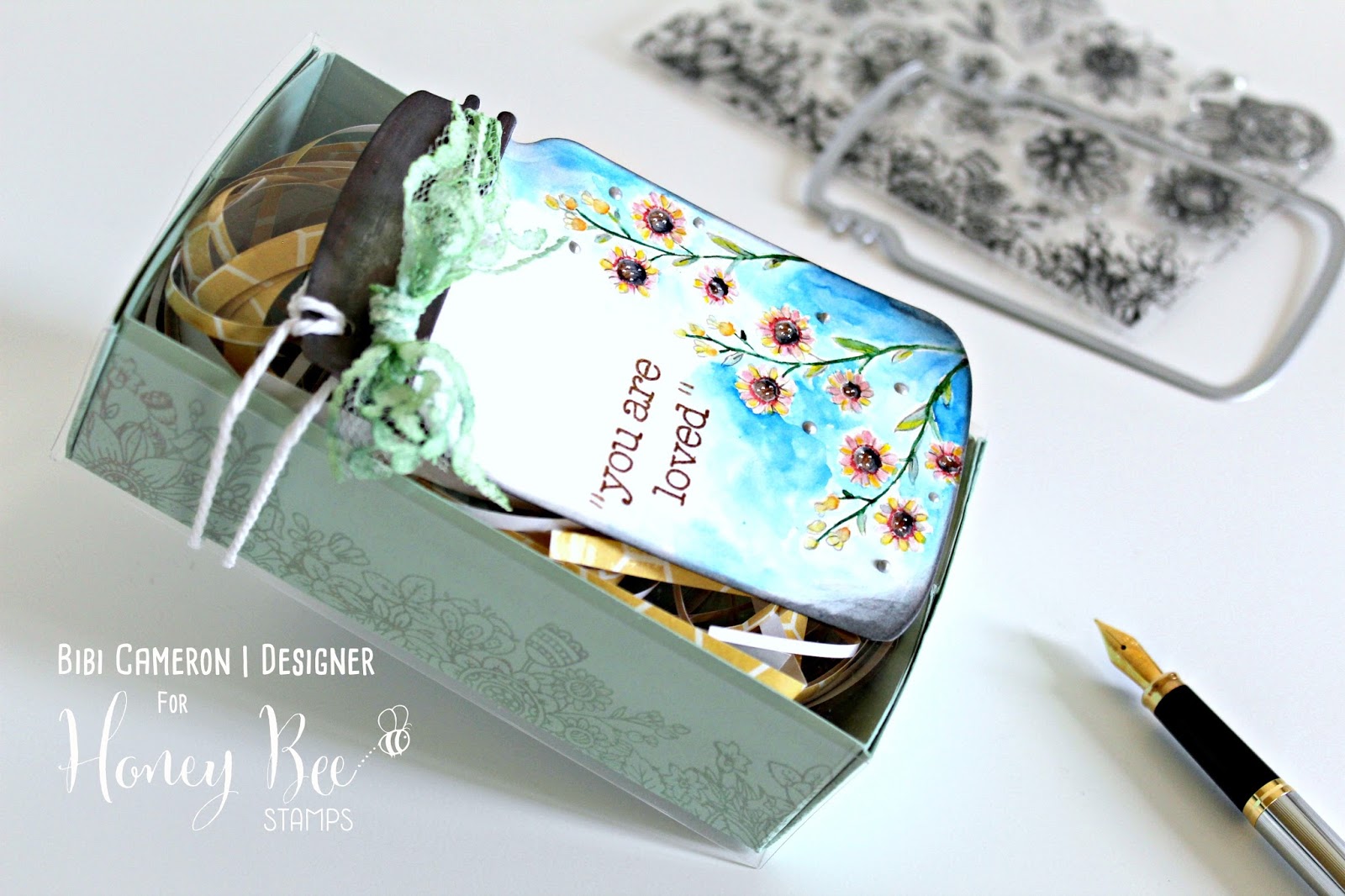 This is a good sized box: Width: 3″ inches | Height: 5-1/4″ inches | Dept : 1-1/2″ inches
Size in centimetres aprox :7.6 x 13.4 x 3.8 cm
To make the box
I cut an A4 sheet of cardstock to the size 6″ x 8 -1/4″ ( 15.3x 21 cm)
Then I scored the piece at 1-1/2″ (3.8cm) inches all around the edges.
Using the floral edge stamp in Zen Floral Stamp Set I stamped the edges of the box using a similar ink colour to the paper ( tone on tone Stamping )
I cut the corners in diagonal and pasted the corners in place using funky glue by Tonic Studios.
I also made an acetate band instead a lid
I cut an A4 sheet of acetate to the size 5-1/2″ x 9- 1/2. (14×24.2cm)
I scored the longest side of the sheet at 1-1/2 ", 4- 5/8 ", 6 1/8", 9 1/8 (3.8cm ,11.1cm, 15.5cm, 23.2cm)
I folded all the scoring lines
and I pasted the 3/8″ ( 8mm) flap with Funky tape by Tonic Studios on one of the sides of the box.
Note: you can also get that 3/8″ (8mm) flap below the box by scoring the acetate at 3-1/8 – 4- 5/8″, 7-5/8″, 9 1/8″ (7.9cm,11cm,19.2cm, 23.2cm)
To make the jar tag
I also used Nuvo Embellishment Mousses ( Black Ash and Gun Metal Grey) to paint the lid of the jar and I dyed an Ivory Lace using Green Nuvo Aqua Flow Pens + water.
Gosh seems I used all my goodies to make this project ! lol . I had so much fun as I did a little bit of everything.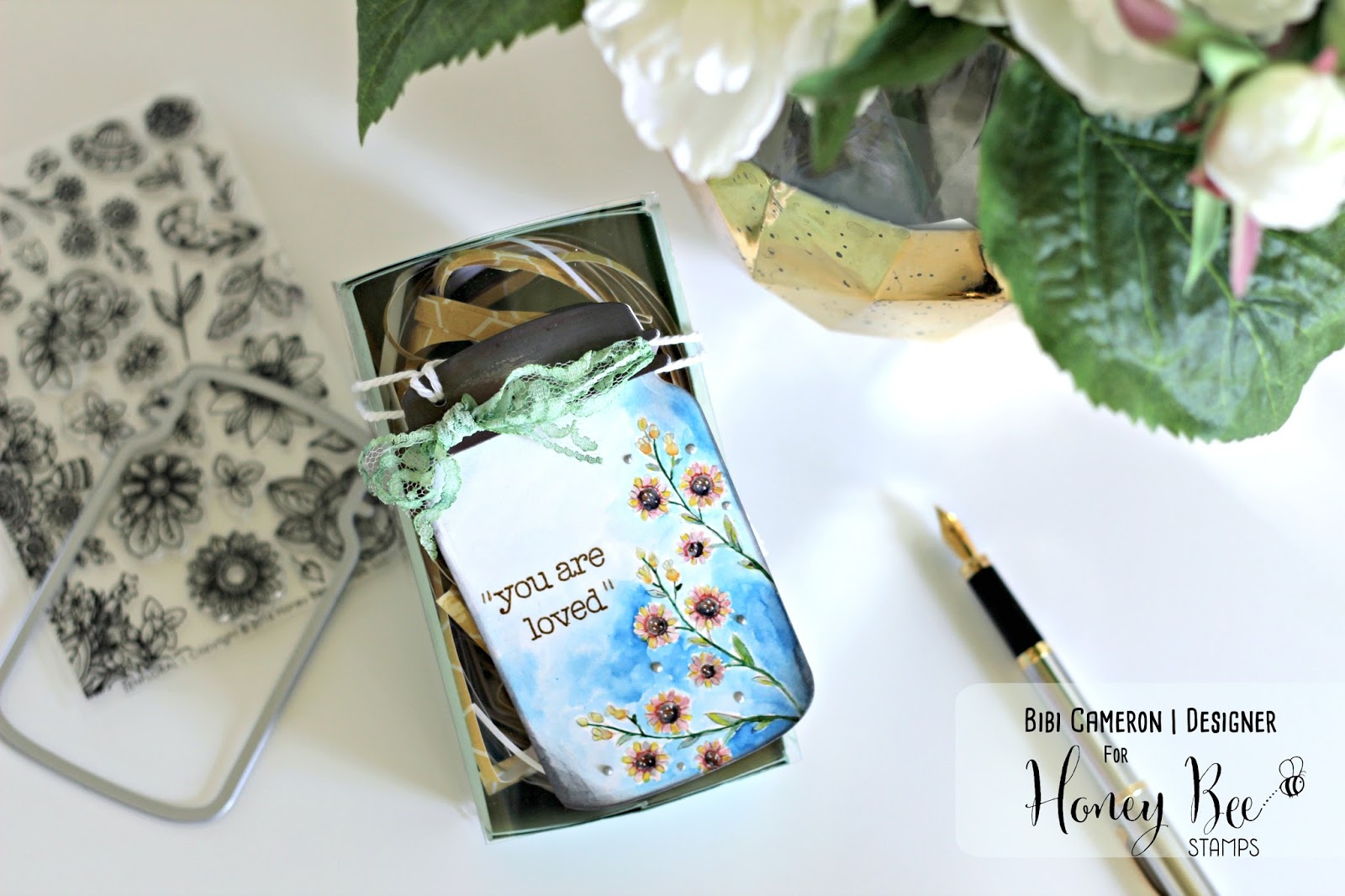 That's all…
I really hope you enjoyed my project. If you would like to place an order for any of the products used or any other craft supply simply click on any of the images below to go direct to online shops 24/7. Affiliate links apply. I get a small commission when you buy through these links at no extra cost to you. Thanks for your support.
x
Bibi