Hello everyone, I have 3 blog post for you today using Nuvo products Range by Tonic Studios, make sure to click in the next button at the end of each post to see them all.
In this post a 8″x 8″ inches butterfly frame. This is very simple project to share same pictures of the products applied on paper and also to give you some ideas to use them.
If you are in the UK – Europe you can buy Nuvo supplies at ww.hochanda.com and in USA- Canada and the rest of the word you can buy them at Simon Says Stamp Shop Here!
In the picture: Sapphire Blue Glimmer Paste, Paradise Blue Sparkle Dust, Pacific Teal Embellishment Mousse , Blue Lagoon Glitter Drops, Serenity Blue Embossing Powder.
I'm loving the colour and the results! and what I love the most is how easy is to use these products and how effective they are.
So I have this idea to create my very own stencil to apply the Glimmer Paste. I used Tonic Studios – Rococo Die And Stamp Set – Butterfly Juliet to cut 4 times a piece of metallic cardstock and I used this piece as a regular stencil to apply the paste so that I got the 4 sparkling butterflies on the panel background.
You can make personalised stencils with alphabets dies or any other to apply the Nuvo Glimmer Paste or Nuvo Embellisment Mousses in a very unique way.
I found that the paste slide easier on metallic cardstock and I if is cleaned straight away with a baby wipe your personalized stencil can be reused. You can also use acetate to make your stencils but I do prefer cardstock.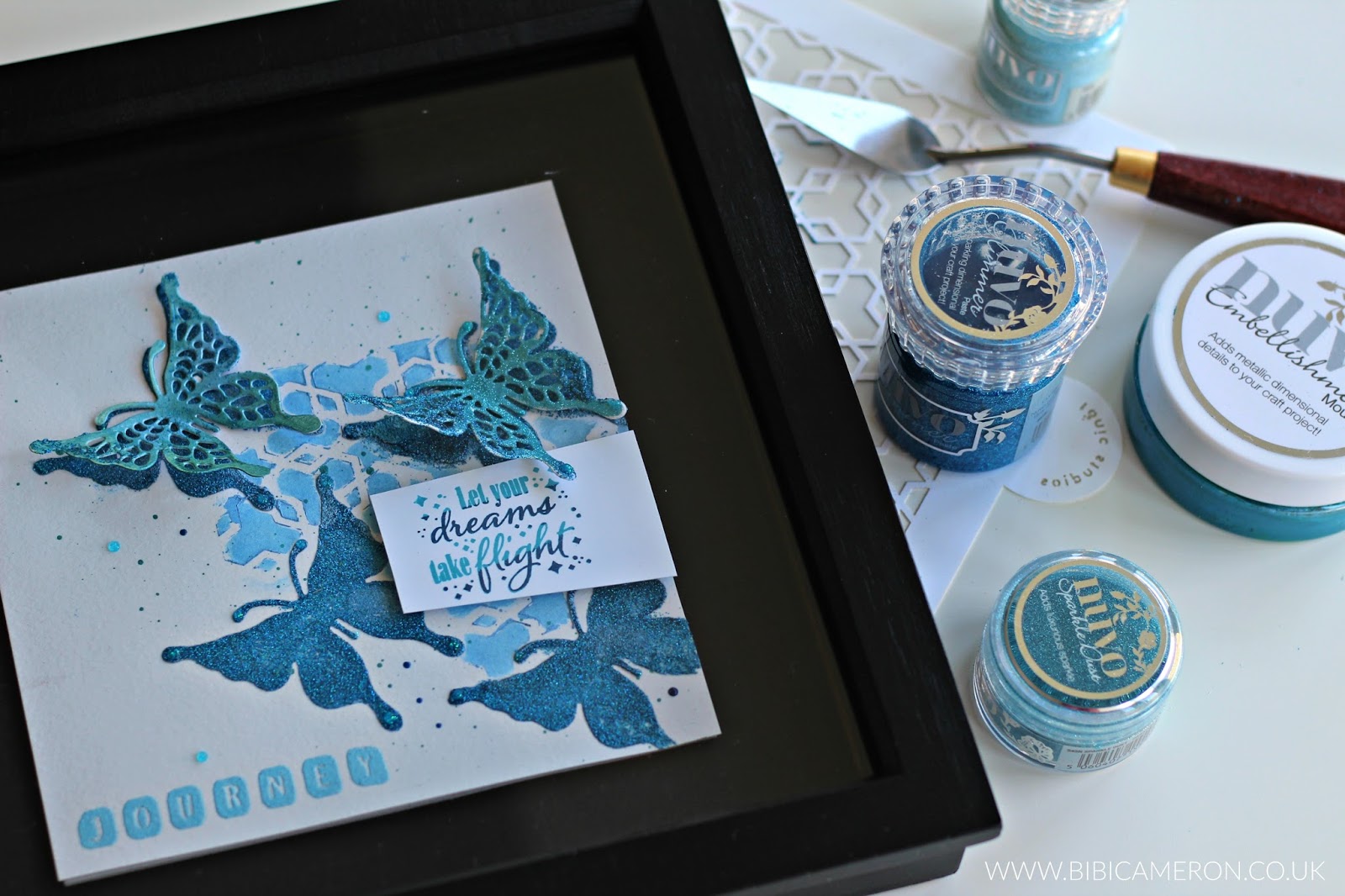 2 idea: I like to overlay images to add dimension and interest so I used the butterfly die used to create the stencil to die cut some butterflies and I overlaid them on top of the glittery images in the backgroud. This is also a good way to guarantee images coordination.
3 idea. Add colour to die cuts, ribbon or any other wooden or metallic accessory with sparkle dust, the mousses or the embossing powder is easy peasy.
Tip: For better results using Sparkle Dust I use Nuvo Glue Penor a double sided tape – sheet.
4 idea: I mix Nuvo Mousses with water and splatter the mixture on your projects background. This really add a fun texture and lots of interest to the projects.
5 idea: I use the Tim Holtz Stampin Platform to create a Ombré Ink effect on the stamped sentiment and to do this I ink the stamp with contrasting inks. Stamping first the whole image with the lighter colour and stamping over with the darkest ink colour applied just in some areas of the stamp were I want to create dept.
That's all.
I hope you enjoy this project and do not hesitate to ask any question or leave a comment I would love to heard from you.
x
Bibi
LET'S KEEP IN TOUCH!
Join my Facebook group | contact me at bibicameron@gmail.com| Subscribe to my YouTube Channel | Follow me on Google+ | Follow me on Pinterest and Instagram | Follow my publications | Subscribe to Newsletter|