Hello everyone, I hope you had a happy Easter. We were in holiday and despite we stayed at home I had to stretch the days to enjoy a bit of crafting but I couldn't stretch them enough for blogging or editing my latest videos using the beautiful stamp sets in the post today: More Spring Flowers Stamp Set (SSS1017037) and Sending Flowers by Simon Says Stamp.
I made a bundle of cards using these stamp sets, applying different watercolor techniques and also more traditional stamping techniques. I'll be sharing pictures of each card every day this week.
For today's card I used Kuretake : Gansai Tambi Japanese Watercolour Paints. Click here to see another card I made with the same image using watercolour pencils.
I think the rose stamp from More Spring Flowers Stamp Set provides a perfect image to get watercoloring practise and the results might vary depending the coloring tools you use.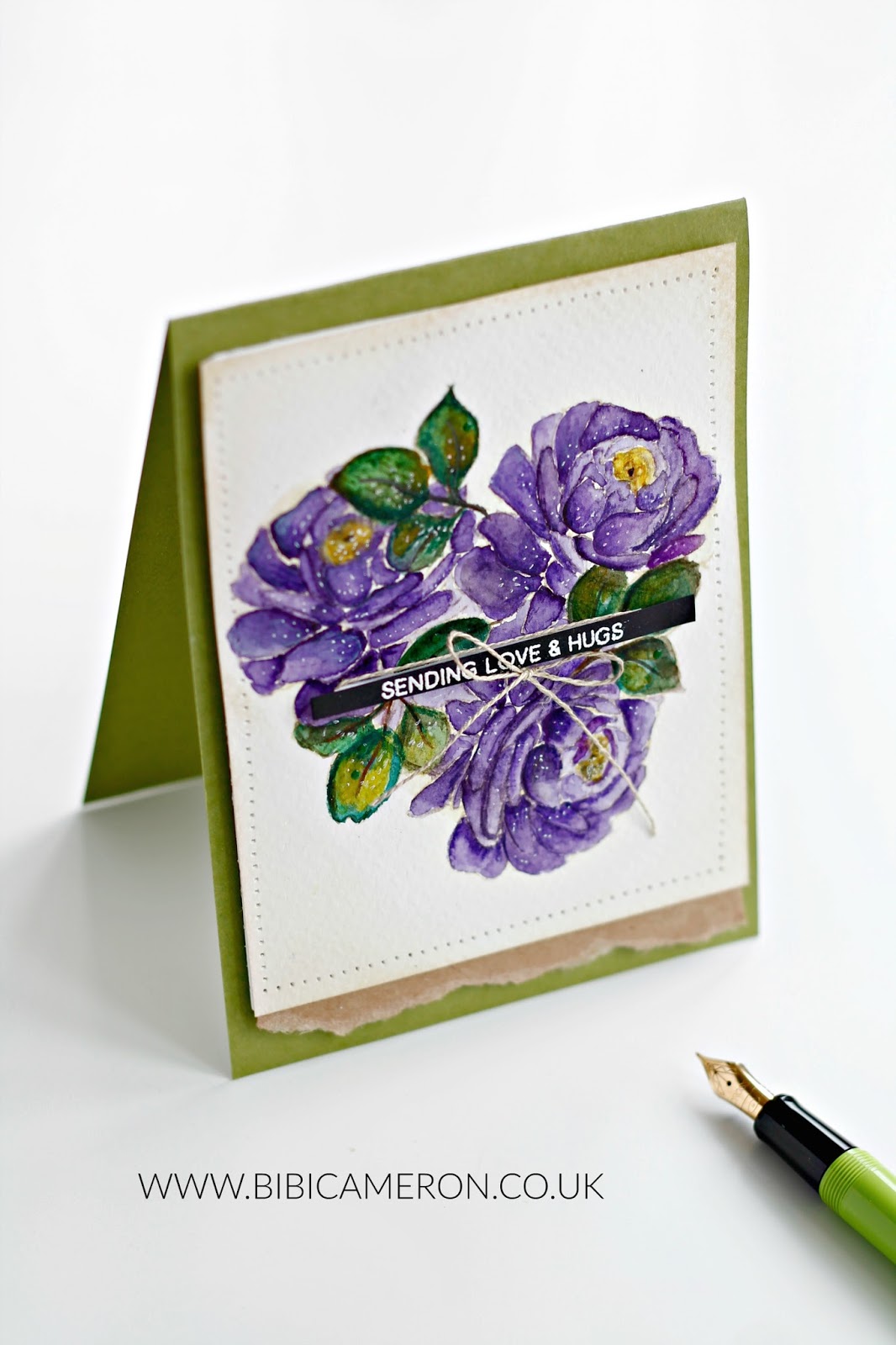 This time I tried to use one single watercolor shade to paint the roses. I used the purple #38 from Kuretake : Gansai Tambi Japanese Watercolour Paints 36 pan set. lovely watercolor paints, great quality, value for money , easy to blend and apply.
Instead a water brush I used a round watercolour brush #4 but you can use any of them. The Nuvo water Brushesare a great solution for card makers not only because of the price but also because the brushes has a very fine tip and they will allow you to work easily on small areas like the petals in these roses.
I tried to build a heart by stamping the rose 3 times on the center of the panel but I nail it! As I couldn't see the heart shape perfectly defined I used a heart die to make a mask , then I placed the negative mask on the watercolored panel and I sponged Antique Linen Distress Ink on top but that made the things worse as the distress ink covered the watercolor work! Noooo… what I was thinking about?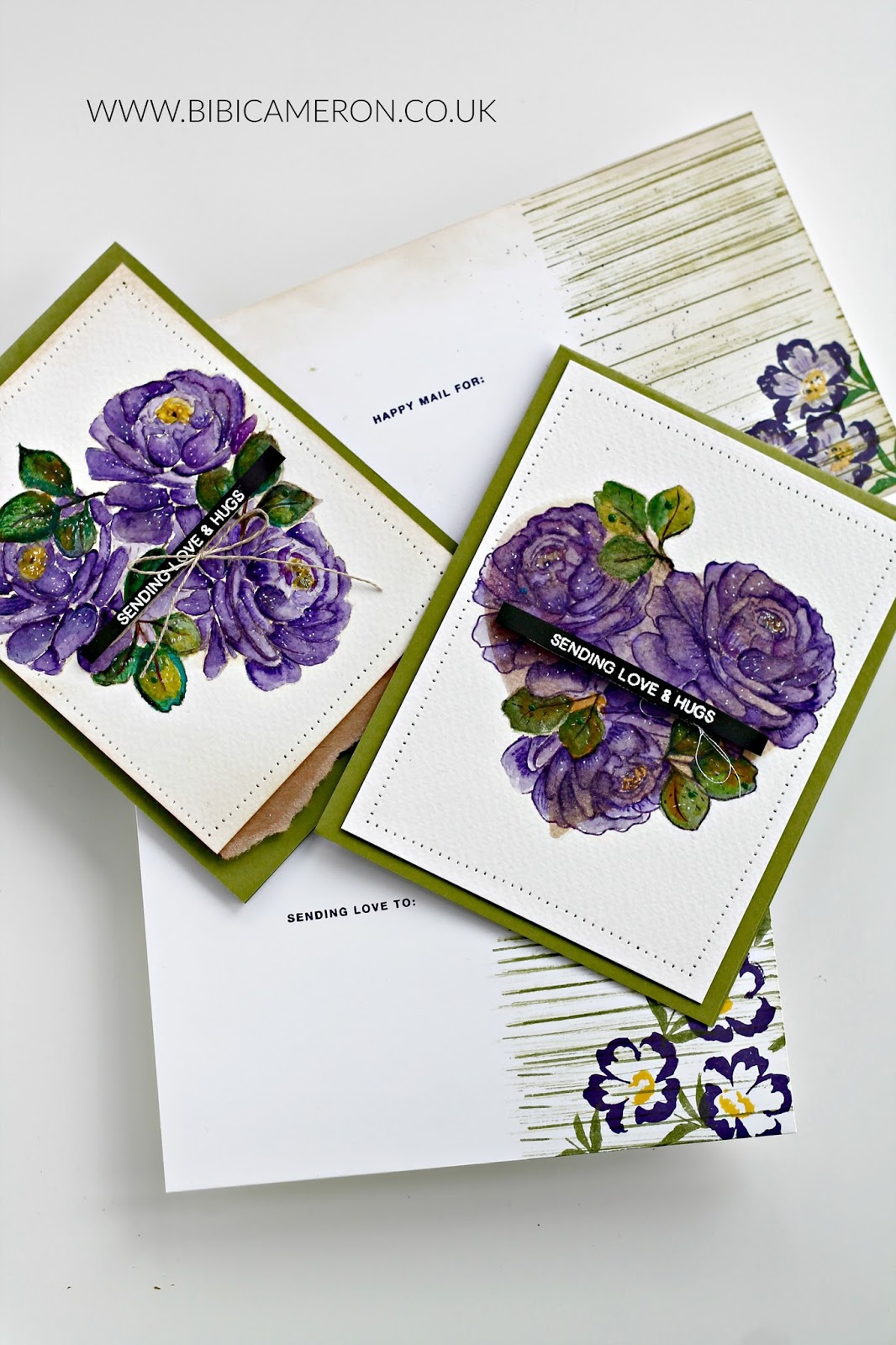 I stamped the images using Antique Linen Distress ink ( card at the right) and Dusty Concord Distress ink ( card at the left) on watercolor paper 300 gram, cold pressed. I applied the watercolour paint slightly diluted with water starting on the base of each petal and working towards the top, cleaning the brush half way to get a lighter shade at the top of each petal (By the way I still prefer Antique Linen Distress ink to stamp images that will be watercolored) as it blends nicely.
I also made matching envelopes using Sending Flowers Stamp Set by Simon Stamps, Perhaps I used the stamps in a very peculiar way as I used the " envelope lines stamp" to stamp a texture at the envelope side. I found very relaxing going a bit crazy with the stamp that way. Next time I'll try to create a woodgrain background with it. why not?
I used Stampin! Up! : Old Olive and Kraft cardstock, Linen Thread, White Embossing Powder, whisper White Envelopes, Elegant Eggplant ink and Old Olive ink.
That's all! I hope you enjoy the projects today. Do not hesitate in ask any questions or leave a comment. I would love to heard from you.

Happy Crafting
X
Bibi
LET'S KEEP IN TOUCH!
Join my Facebook group | contact me at bibicameron@gmail.com| Subscribe to my YouTube Channel | Follow me on Google+ | Follow me on Pinterest and Instagram | Follow my publications | Subscribe to Newsletter|
Supply List
Find main supplies used in this post in Simon Says Stamp shop . I get a small commission when you buy from the links below at not extra cost to you. Thanks for your support.